5 Essentials That Will Make Your Ladakh Bike Trip One To Remember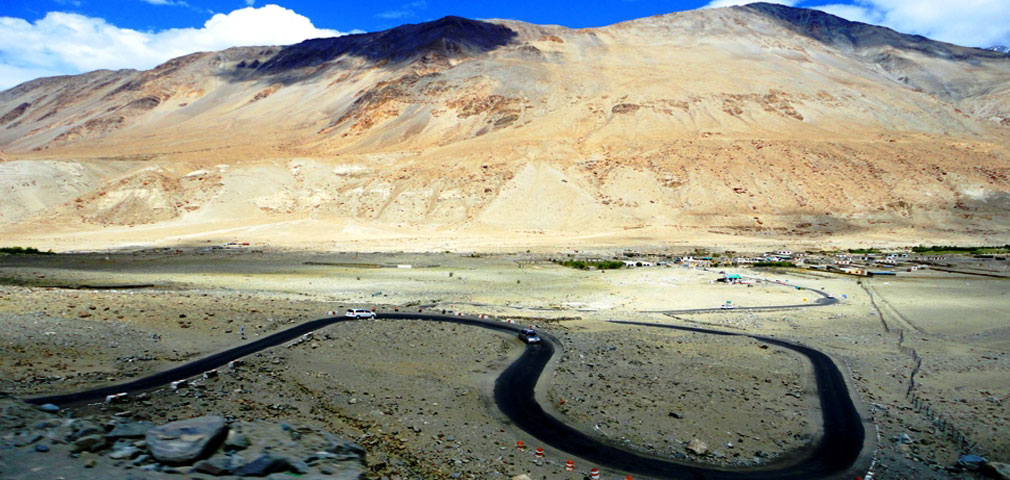 I am a happy-go-lucky person, who loves reading, writing and travelling. Gardening and good food are the other things that I am passionate about. My motto in life is simple, "Love what you Do and Do what you Love".
Latest posts by Meenakshi (see all)
Apart from being an adventure so unique, a bike expedition to Leh and Ladakh paves the best exploratory way to dive in the vibrant culture as well as the startling landscapes. The azure clear waters, serene picturesque lakes and a ruggedly handsome terrain lend immense popularity to Leh bike trip. It is a ride that surpasses the span of dreams and enables a rider to experience the sense of thrill and accomplishment in reality. There is nothing that calls for a second thought to embark on this heart-pounding experience.
Does the biker in you relate? There is much more to the Leh Ladakh trip than just traversing through the rough roads and passing through the high mountains. Pangong Tso and Khardung La Pass are not only popular as one of the highest motorable roads but also as places that provide a quick glance on the aesthetics of cultural roots and traditional heritage. In addition, it provides an opportunity to explore quaint villages and ancient monasteries that bear testimony to the glory of the past. So, here are the perfect 5 possible additions to your Leh-Ladakh bike trip that will make your expedition one of a kind.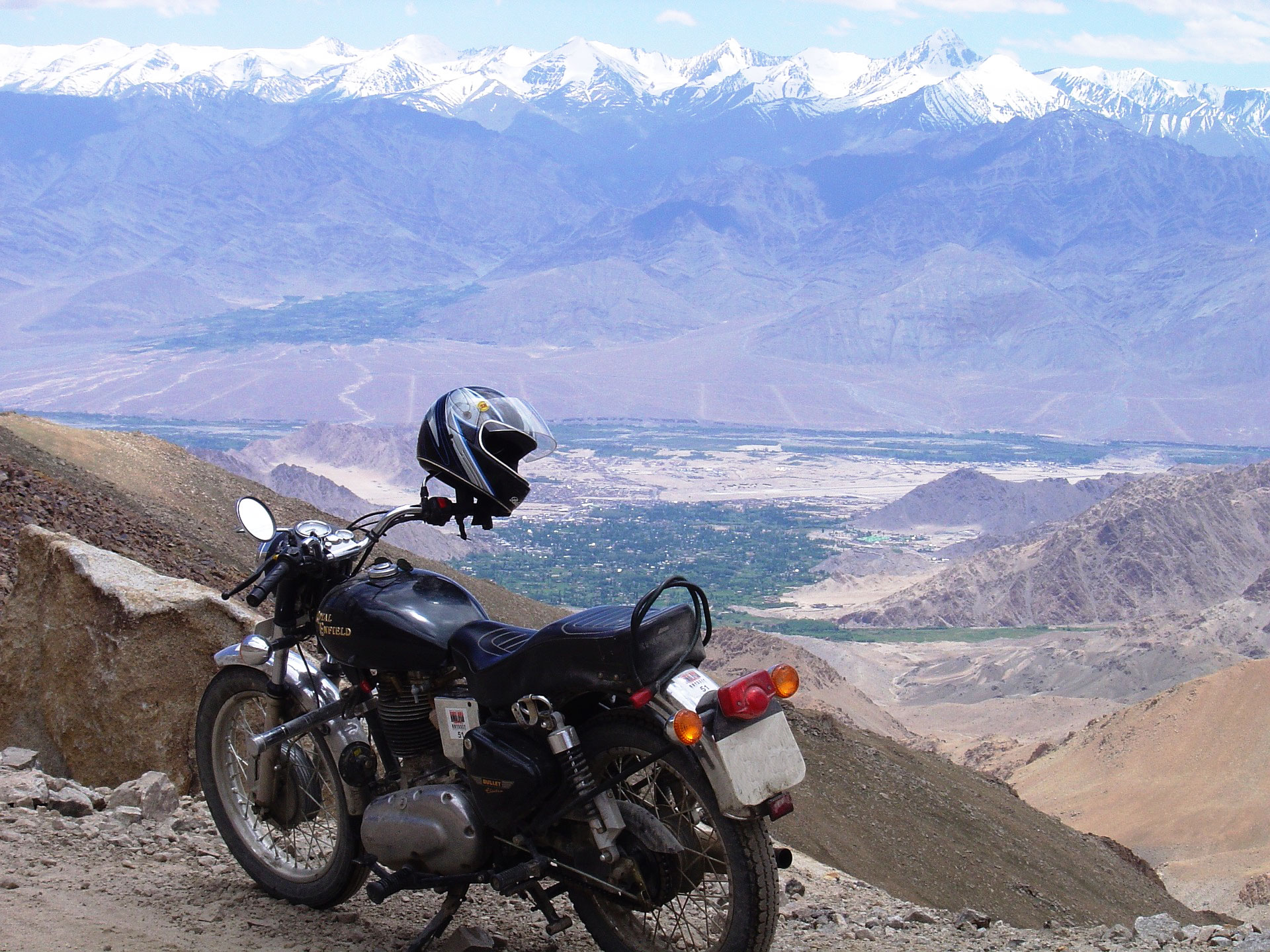 Count the 5 Essentials of a Leh-Ladakh Bike Trip: 
Enjoy the touch and go roads of Leh Ladakh: Starting the motorbike tour by riding on the challenging roads along Kullu valley, it gives a whiff of the challenges that a road trip throws. Rohtang Pass, Ladakh Highway, Khardung La Pass, Baralacha Pass, Chang La and Tanglang La and Pangong Tso are some of the toughest motorable roads that riders, coming from all different directions and routes across the world, have to cover to embark on the Ladakh motorbike tour. Though these roads borderline on danger, they offer a chance to admire the sublime beauty of nature which has been romanticized by the poets and has inspired them to look at life with different lens. While riding through these roads, there are several views that can take you through the door of a different world altogether. The view offered by the cascading waters of the Beas River, majestic hills covered with pine and deodar forest, rocky slopes of the mountains and sprawling apple orchards serves as the food for the soul. In particular, you cannot get your eyes off the picturesque landscape offered by the 134 km stretch of Pangong Tso beside the thrilling drive. In addition, it is advised to be cautious of the traps laid by such roads. These roads are popular for creating a sudden twist in gears and inviting one to speed up. So, it becomes extremely important to keep the mind in the right senses and that motor beat under control for the entire tour.

Savour the delicious Ladakhi cuisines on a cultural dive:For those who think that Ladakhi cuisine is all about momos and noodle soups, a trip to Leh Ladakh can help them to witness a delightful spread other than those popular dumplings. Heavily influenced by nearby regions such as Tibet and Kashmir, Ladakhi food has several options to offer. Some of these include Thukpa, Tigmo, Khambir, Apricot Jam, Moktuk, Skyu and Chhupri. The combination of Butter tea and Chaang is one of the favourites of the locals of the region and is equally popular among tourists. It also serves as the perfect companion in the chilly weather of Leh Ladakh.

Devour tasty Ladakhi cuisine. In picture: Thukpa

Discover the rustic allure of Ladakh's quaint villages: The true gems of Ladakh can be found in the places where the rustic charm of Ladakhi culture can be experienced. Jispa, Sarchu and Pang are the villages that lend a quick glimpse into the traditional heritage of Ladakh. Riding along a serene landscape situated at an elevation of 10,500 feet on the banks of Bhaga River, Jispa, offers a transforming view of the surroundings. To witness the brown colour terrain with barren slopes replacing the greener portions at the backdrop makes one feel that it is some different part of the game. Travellers can also explore Alchi village which is home to a popular Buddhist temple, Lotsawa Lha – Khang. Being symbolic of a perfect blend of excellent craftsmanship and Buddhism, the temple provides insightful about the religious influence on Ladakhi culture. There are several attractions in Sarchu and Pang villages that represent the customs, traditions and culture of the place in its true form.

A starry night in Ladakh

Visit Shey, Thiksey and other Leh monasteries: For those who wish to have a look at majestic, overpowering sight coupled with spiritualism and peace, Thiksey monastery in Ladakh is a perfect option. Being an exemplar of Ladakh's art and architecture, Thiksey monastery provides a profound insight into the heritage and culture of the Tibetan Buddhists. One of its prominent attractions is the 49 ft high statue of Maitreya in the Maitreya Temple. The statue holds historical relevance as it was installed to commemorate the visit of the 14th Dalai Lama to this monastery in 1970. The Shey monastery in Ladakh is another well-known sightseeing option. The monastery's wall paintings depicting tenets of Buddhism, Buddha and his disciples have never failed to draw the attention of the tourists. Some of the other monasteries that riders can explore are Matho monastery and Phyang monastery.

Thiksey Monastery

A day at Pangong Lake: Pangong Lake is a splendid lake situated in the upper reaches of Himalayan Mountain range in Leh district.Positioned at a height of around 13,900 ft, the lake serves as an important breeding ground for a variety of migratory birds like Brahmani Ducks, Rare black-necked cranes and Seagulls. One of the notable features of this lake is its ever-changing hues. The view offered by this transformation in colours is magical and majestic. Also, the glimpse of the serene, bright blue waters and rocky lakeshore of the lake can be mesmerizing for those who visit it for the very first time.

Pangong Tso Lake in Ladakh
Hey! Break all rules but not essential permits:
Do not forget to fill the Inner Line Permit application form before opting for a bike trip to Ladakh. The form is available from 9:00 am to 03:00 pm and can be accessed easily by referring to the link leh.nic.in. It is safe to carry photocopies of the form to avoid landing into an unfavourable situation.
Some of the important requirements for Indian nationals include a valid photo ID and attested photocopy as a proof of Nationality. For foreign nationals, it is important to get the inner line permit before visiting the areas like Turtuk, Panamik, Khaltse, Pangong, Changthang, Hunder, Tso Kar and Tso Moriri along with few others. According to the rules and regulations, the permit is valid for 7 days and is allowed only to a group of four or more foreign nationals.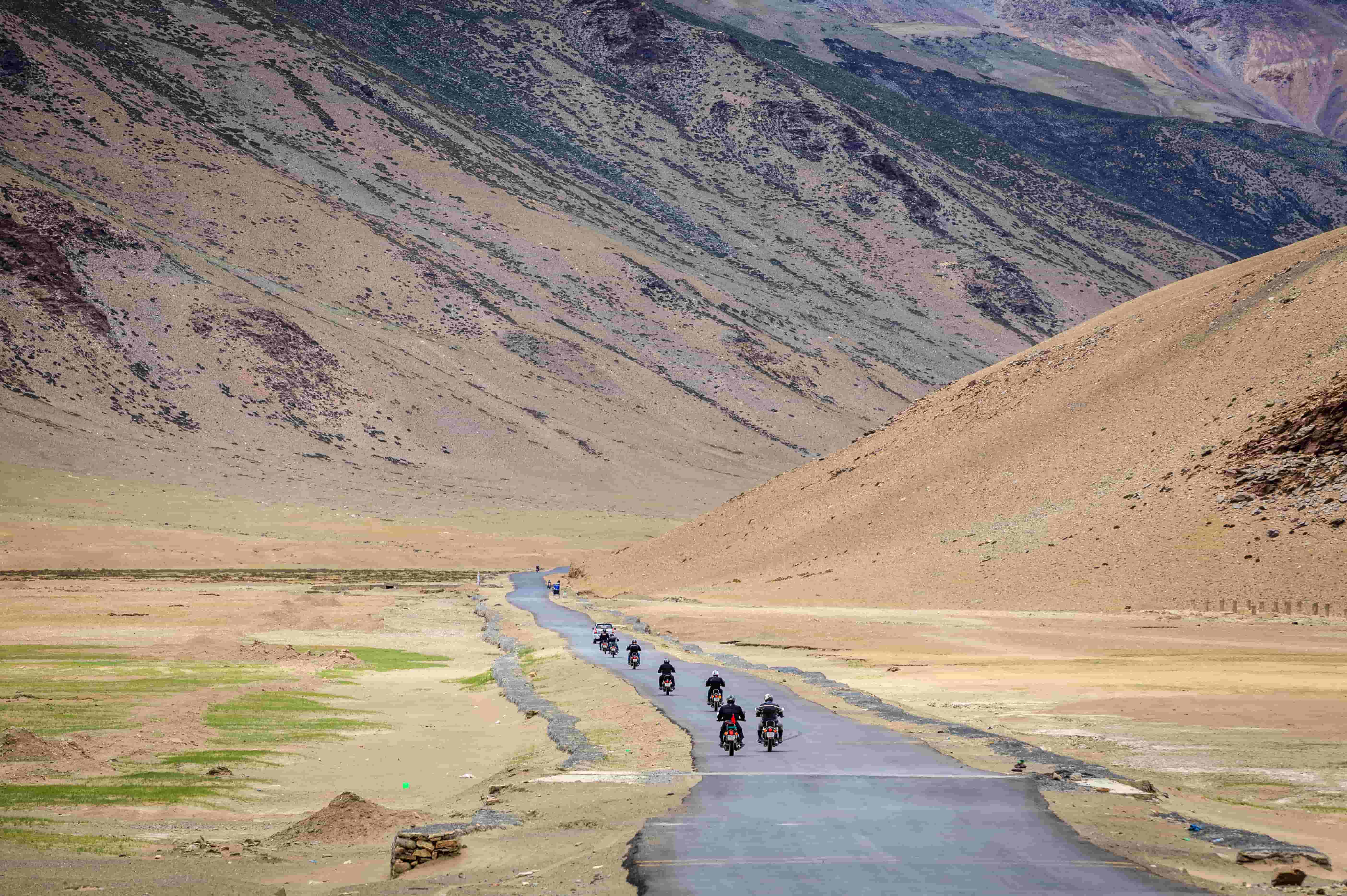 What if a bike ride to Leh Ladakh can set me and my soul free? The great derangement from life can never add to its definition. Rather, arranging it with sequels of some fun activities can help to add a dimension of thrill, excitement and enjoyment in life. Few choices, like a motorbike tour to Leh Ladakh, may lead to simple pleasures but an experience of a lifetime.