That time of the year when the colours around you are vibrant, and the weather is just perfect for everything you wish to do, you know it's Autumn. Autumn is indeed the perfect weather for trekking.  The tree leaves turn orange, and the views are splendid in November. So if you plan on going trekking in November, fret not! We have amassed the perfect curation of treks for you.
10 Best Himalayan Treks in November
1. Everest Base Camp Trek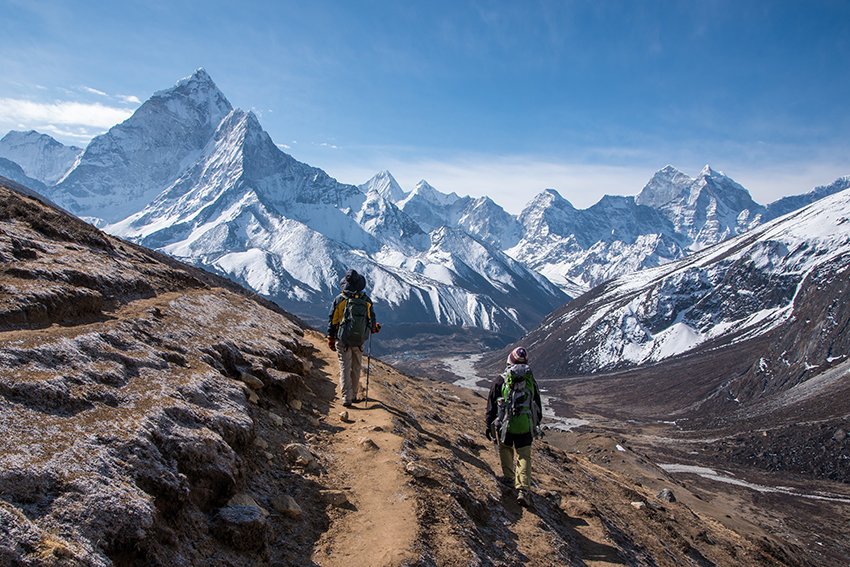 If you love challenges and are looking for breathtaking views of the highest peak in the world Mount Everest, then this trek is perfect for you! You will be trekking in the trails of the footsteps of legendary adventurers like Sir Edmund Hillary and Tenzing Norgay. Everest Base Camp Trek entails trekking at extremely high altitudes and tough terrains. Mesmerizing views of snow-capped mountain peaks is an icing on the cake. You will pass beautiful quaint villages, scenic glaciers and gorgeous valleys. You can start your trek from Lukla in Nepal and trek all the way to Kala Patthar at 18192 feet which is above South Base Camp.
Explore Everest Base Camp Trek
2. Annapurna Base Camp Trek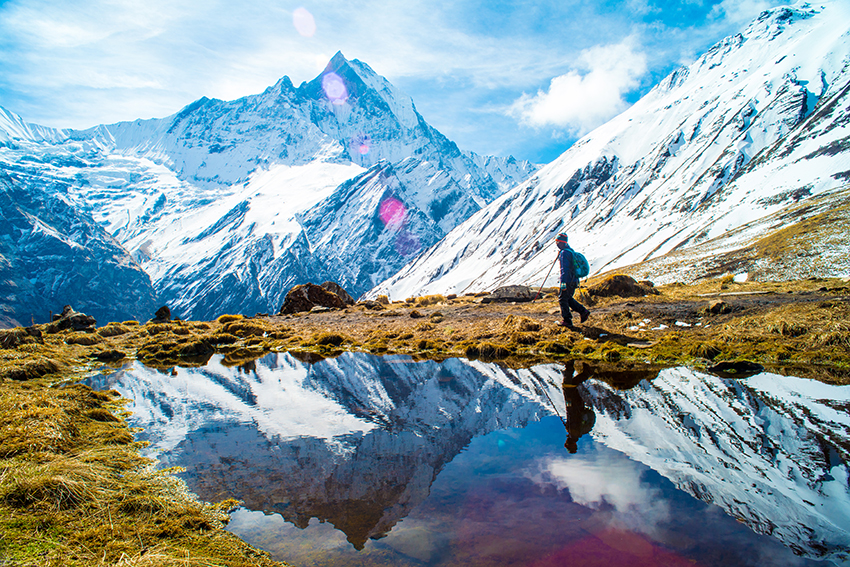 Annapurna is one of the most difficult mountains to scale, so trekking to the Annapurna Base Camp is also quite an achievement. The Himalayas is a collection of more than 14 mountains that are more than 8000 ft high, which are also known as eight-thousanders. Annapurna was the first mountain of eight-thousanders to be scaled. On this trek you can glance at the Annapurna and Dhaulagiri ranges and also get a close-up look at the massive mystic peaks of the eight-thousanders (Machapuchare, Annapurna South and Hiunchuli). You can start your trek from Pokhara, following which you will encounter lush forests filled with oak, pine, rhododendron, fern, bamboo trees and rice fields. The trails are long and tricky, but the sights are unimaginable. You will be crossing beautiful small villages like Sinuwa, Chomrung, Dovan. Nepalese culture is quite warm, you are sure to take back many pictures and memories.
Explore Annapurna Base Camp Trek
3. Har Ki Dun Trek
A part of the Garwah Himalayas, Har ki Dun lies closer to the border between Uttarakhand and Himachal Pradesh. The trek is beginner-friendly, so if you are new at trekking, this could be perfect for you. Enroute, you get an opportunity to soak in the beauty of Sankri, Taluka, Osla and Jaundhar Glacier. Enjoy splendid sights of snow-capped mountains at Jaundhar Glacier, witness exotic flora and fauna at Govind Wildlife Sanctuary, and right vegetation at Osla with Himalayan backdrops. Har ki Dun is a trek popular among many trekkers, for its moderate level of difficulty and scenic vistas.
Explore Har Ki Dun Trek
4. Kedarkantha Trek
Explore the beauty of Uttarakhand on the Kedarkantha Trek. The trek starts from Dehradun and takes you to the beautiful quaint village of Sankri, which is inside Govind Wildlife Sanctuary and boasts of exotic flora and fauna. You will then cross Saud Village, where the people live without any modern equipment and enjoy the simple pleasures of life. Continue your trek to reach the beautiful Juda Ka Talab, a splendid pond surrounded by lush pastures, maple, oak and Morinda trees. Kedarkantha is considered o be one of the best summits for beginners and has a mesmerizing view during the month of November. Snow-Capped mountain peaks, splendid meadows and beautiful forests are a treat to the eyes. Enjoy gorgeous views of sunsets with your family.
Explore Kedarkantha Trek
5. Sandakphu Trek
Sandakphu Trek is situated in the northern part of West Bengal. The trek starts from the beautiful village of Chitrey, from where you can glance at Kanchenjunga before starting your expedition. As you continue you're to reach Tumling, you wish cross forests full of oak, pindrow firs and morinda spruces, followed by an alpine meadow with splendid views. This trek is perfect for beginners and is moderate difficulty. It is one of the easiest treks one could take in this region. The views are mesmerizing and the feeling is beyond description. You will also enter Nepal and come back to India on the winding trail, while on the trek.
Explore Sandakphu Trek
6. Buran Ghati Trek
Buran Ghati Trek is a thrilling pass that lies at a high altitude of 15,000 feet in Himachal Pradesh. Experience lush green meadows, apple orchards, snow-clad mountain peaks, gushing streams, and warm Himachali localities. The trek tarts from the ancient village of Janglik, which is untouched by modernization. As you proceed further, you will cross a forest and reach Dayara meadows which is a sight to behold. You can spot sheeps grazing and enjoy marvelous beauty all around you. Further on, you will catch a glimpse of the mystic Dhauladhar range. Explore the beautiful and calm Chandranahan Lake and breath taking views of Buran Ghati at Dunda. In case of snow, you will also get a chance to rappel which is exciting, thrilling and challenging. This trek will surely not disappoint you.
7. Brahmatal Trek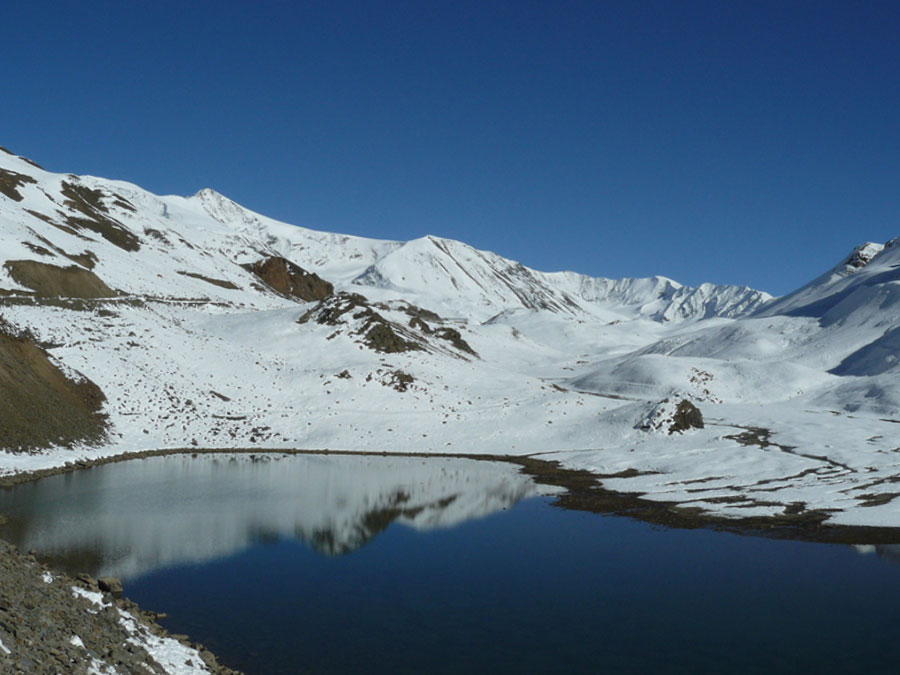 Brahmatal Trek is one of the most perfect treks for the month of November. It offers the most splendid views of Mt. Trishul and Mt. Nanda Ghunti. This is a snowy trek, with views of lush forests full of ancient oaks and rhododendrons, two beautiful lakes and one meadow. On your way, you will come across a white wall of the Trishul massif. As you reach Jhandi top, you will have the massive Mt Trishul on your right and Mt Nanda Ghunti to your left. At the highest point of the Brahmatal trek, you will also catch a glimpse of Mt Chaukhamba, Mt Neelkanth, and Mt Hathi Ghoda. You can also camp beside the frozen shore of Bekaltal and take back a lifetime of memories.
Explore Brahmatal Trek
8. Dayara Bugyal Trek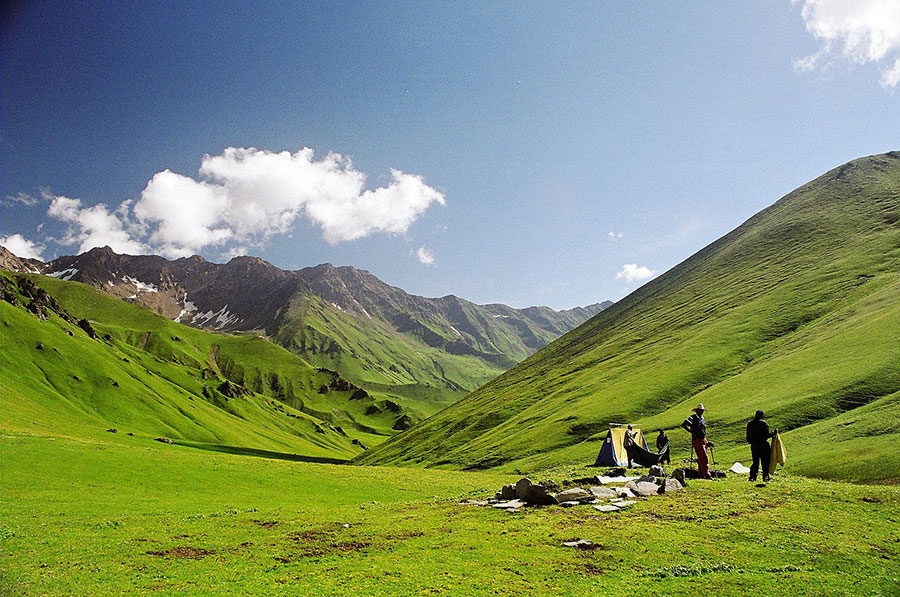 Dayara Bugyal is a perfect trek for beginners and has the best views to offer. You can experience beautiful alpine meadows and lush green forests. The trek starts from the beautiful village of Raithal, which takes you to a lush forest followed by the splendid Dayara meadows. You can also see striking views of the Gangotri range with Bandarpoonch. The entire trail is a pleasant walk with meadows, villages, temples and majestic views. This trek is definitely one to be added to your bucket list.
Explore Dayara Bugyal Trek
9. Nag Tibba Trek
Want to go on a trek over the weekend and experience a summit climb like a trek with splendid views? Nag Tibba Trek is the perfect one for you. The trail will take you through dense forests, ridge walks and mesmerizing views. Resting at 9,915 ft., you can catch the view of snow-capped Himalayan ranges such as Srikantha, Kala Nag, Swargrohini, Bandarpoonch and Gangotri. A short weekend trek from Mussoorie, this trek is great for beginners and trekkers looking for a short weekend trip.
Explore Nag Tibba Trek
10. Kareri Lake Trek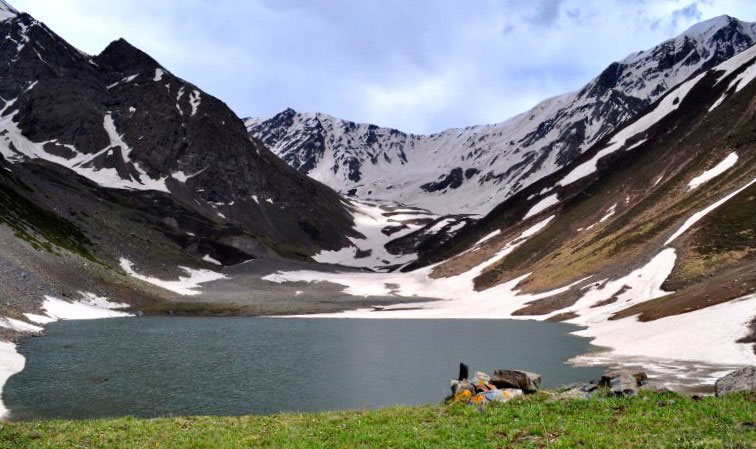 Kareri Lake Trek is situated at an elevation of about 2,950 meters in the Kangra district of Himachal Pradesh.On your trail, experience lush green forests filled with chir and chilgoza pines and great views. The trek starts from Dharamkot which is close to Mcleodganj. You will also get a chance to cross the Liund stream by boulders and temporary bridges, which is quite thrilling. It is a short and beginner-friendly trek.
Explore Kareri Lake Trek
We hope you've added some of the above treks to your bucket list for this autumn.
Happy Exploring!