Travel Goals: Why Kedarkantha Peak Is A Total Chase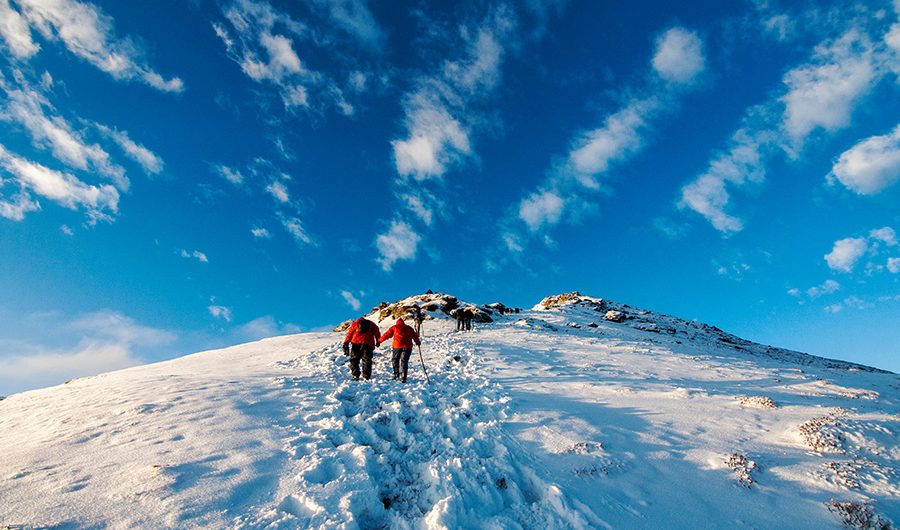 I am an ardent foody, who likes travelling. In my free time, I blast my ears with good-quality Heavy Metal. Watching culinary shows, writing songs, playing drums, guitar and keyboards, playing cricket and singing consume much of my leisure time.
The most striking Himalayan peak, Kedarkantha is situated at an elevation of 3150 m, in the Uttarkashi district of Uttarakhand. The rewarding summit to the ridge peak offers great views of 13 Himalayan peaks, such as Ranglana and Banderpooch. The trail goes to the Govind National Park which is home to exotic flora and fauna such as bears, leopards, and musk deer. One thing that motivates you to hike further on the challenging course encompassing rough slopes and sharp ascent and descent is the ever-modifying scenery of this spectacular place.
Moreover, this trek is considered an idyllic destination for both nature lovers and an ardent trekker. The trek begins from a peaceful village called Sankri, which is surrounded by the dense oak forest and snow-capped mountains. Also, the trek offers an exquisite sight of River Tons, which is fed by the glaciers. Filled with the majestic natural beauty and stunning views of the snow-clad mountains, trekking in the 'Land of Gods' always pleases the eyes and soul of the trekkers. The course combines the contrasting views of snow-capped mountains, glacial pools, and frozen streams on the lush green landscape. For those who love snow, Kedarkantha trek is a must-try.
Duration: 6 Days
Grade: Easy to Moderate
Highest Point: 3810 m (Kedarkantha peak)
Distance Covered: 22 km
Base Camp: Sankri
Here are the 5 reasons that would surely make your trekking experience a life-time experience:
A Drive in the Majestic Landscape


Your venture to Kedarkantha Peak starts with a drive from Dehradun, which is the capital of Uttarakhand. The road from Dehradun takes you through the remotest routes and some of the most popular hill stations in Uttarakhand like Mussoorie and Purola. With bushes and green trees on either side, these picturesque roads offer an ideal surrounding to those who are hunting for peace, away from the buzz of the city's life.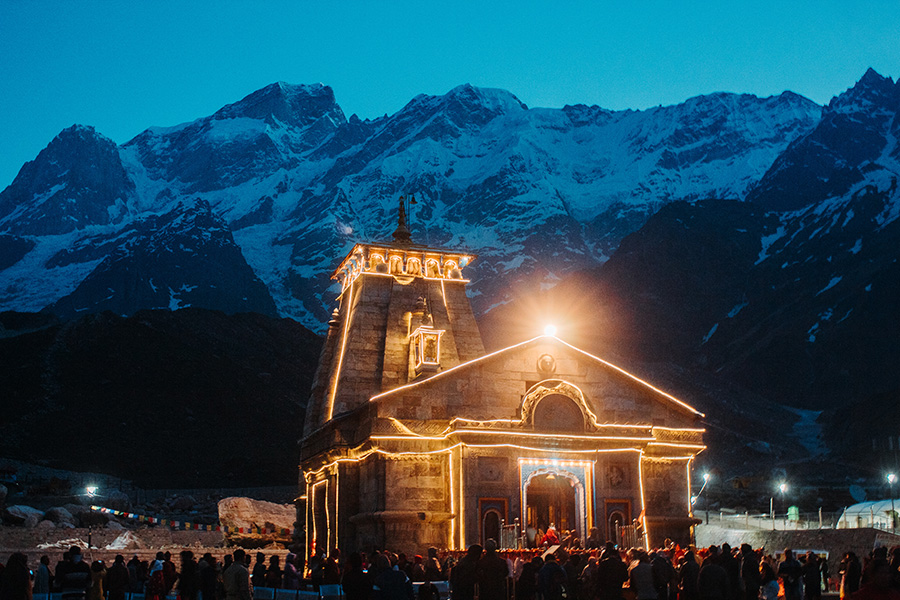 Spiritual Walk to Kedarkantha
Smeared in mythological connotations, Uttarakhand is one of the holiest of all Hindu pilgrimage centers. It is home to four great religious sites – Yamunotri, Gangotri, Badrinath, and Kedarnath. Locals of Kedarkantha believe that this place was supposed to be Kedarnath as Lord Shiva wandered here in a bull's avatar. After escaping from the Pandavas, he disguised as a bull to meditate in the valley. But the locals disturbed his peace and he fled from Kedarkantha to Kedarnath. Further, the villagers of Sankri believe that the Trishul of Lord Shiva, erected on the pile of rocks at the valley of Kedarkantha, guards them and fills the rivers of the Himalayas.
On the way to trek, you will come across an ancient temple, which comprises Lord Shiva, Lord Ganesha, and Goddess Parvati idols. The temple is a must-visit for Lord Shiva's devotees and for photography enthusiasts as it lends a great click for the camera.
Get Lost in the Mesmerizing Views of Smoky Mountains


You will be rewarded with a dreamy view when the green landscape will turn into snowy land. In winters, the forests of pine and trees showcase an ideal combination of frozen ice with greenery. The feeling of being surrounded by the smoky mountains is completely a unique experience in itself. Also, in the winters, the Govind National Park remains open, allowing the trekkers to explore the hidden gems in the scenic mountains.

A night under glittery sky aside gushing river stream 
The campsite of Kedarnath trek is one thing that will surely make your excursion faithfully spellbinding. Every day with the end of 5-6 hours of trekking, your tents are set amidst pictorial scenery that would surely worth all your pain and weariness. A night under the fancy sky and on a frozen land is like that you have stepped into a dreamy world. The campsites of Pukhrola and Akroti Thach, which are surrounded by pine and walnut trees, give you a lifetime experience.
Splendid 360-degree view of 13 Himalayan peaks
On accomplishing the summit, one can enjoy a dazzling view of the famous 13 Himalayan peaks like Bandarpoonch, Kala Nag, Black Peak, and Swargarohini. Nothing could be better than witnessing the magnificent and heavenly charm of these peaks with your naked eyes.
Best time to Trek to Kedarkantha Peak
Whether it's summer or winter, one can trek Kedarkantha Peak at any time of the year. In summers, the trek which is filled with vibrant fauna, green meadows, and lush emerald landscape always refreshes the trekkers' soul. However, in winters, one can experience the breathtaking vistas of the grand Himalayan peaks and remotest villages, which are blanketed with snow.
Due to harsh climatic conditions in the high altitudes, it is vital for the trekkers to plan the trekking expedition carefully. So, one is required to choose the right time considering acclimatization as the priority before heading for the trek. The best time to hike Kedarkantha Peak is either from April to June or September to December.  
From April to June, the temperature varies from 3°C to 8°C in daytime and -5°C to -1°C at night.
From September to December, the temperature varies from -4°C to 6°C in daytime and -8°C to -3°C at night.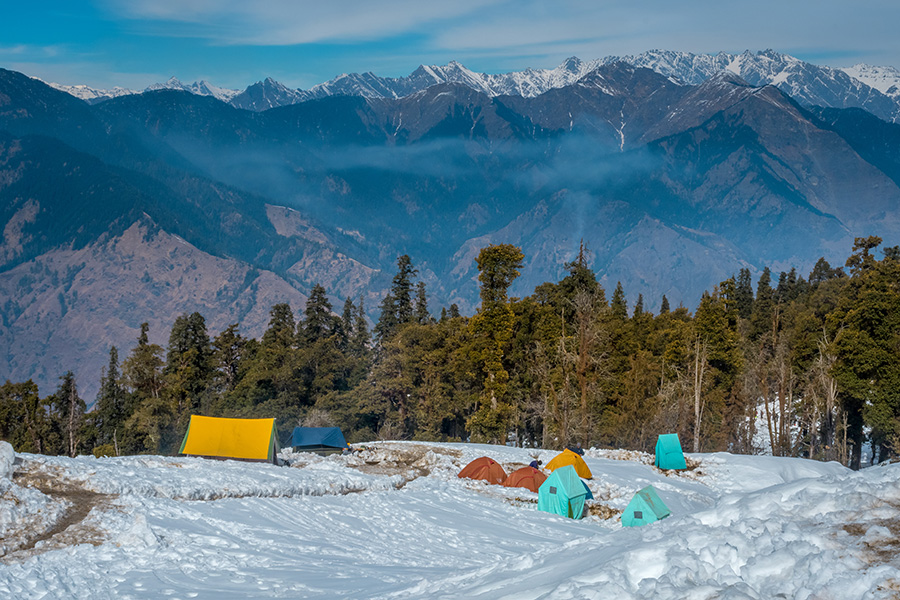 On this expedition, you will definitely explore the beauty beyond your thoughts, and with that, you also get a chance to get a glimpse of the socio-cultural lifestyle of Uttarakhand's folks. Meeting women who have come from far away villages in the dense forest, which is situated at a hilltop, to collect wooden sticks and fodder for their cattle is such a lovely experience that cannot be penned down in mere words. Kedarkantha trek is more than an excursion, it is an experience.