Many Adventures In The Beautiful Bir Billing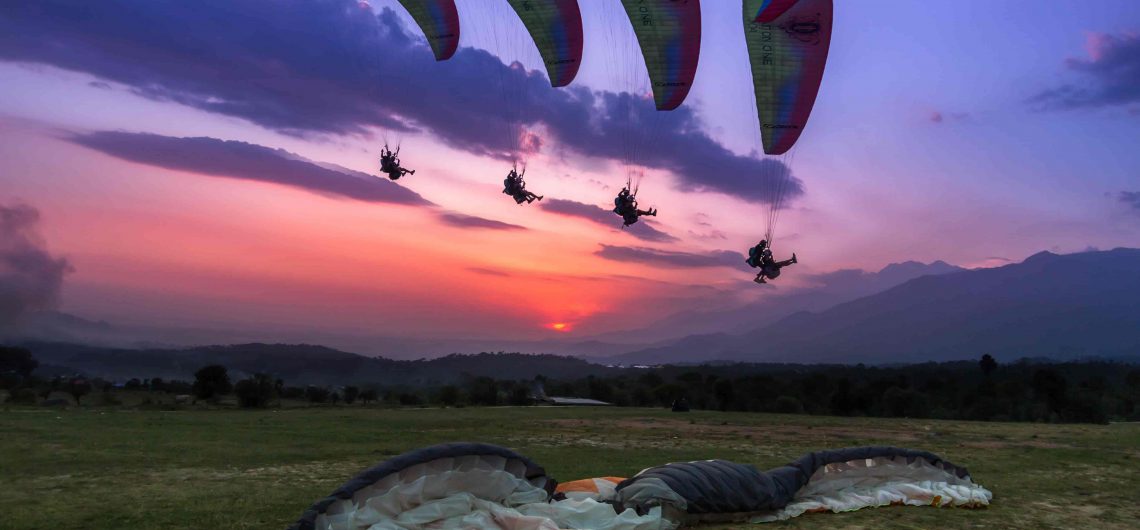 Vanika Sumbly has graduated from Delhi University with a major in English Literature. She believes traveling is truly the best way of passively exploring oneself. And writing about it is active exploration.
Beautifully nestled in the Kangra district of Himachal Pradesh, Bir Billing is the hub of all kinds of adventure activities. Famously called, "Paragliding capital of India", Bir attracts thousands of visitors throughout the year. Bir is a part of Billing Valley. The paragliders are launched from Billing and land down at the stunning site in Bir, after covering the distance of around 18 km. The landscape of Bir Billing features deep gorges, impressive snow peaks, misty woods, flowery meadows, lush green valleys, glistening lakes, gushing waterfalls and enthralling lakes.
A melting point of cultures
Amidst the scenic and serene settings, striking temples, soulful monasteries and stupas represent a perfect blend of Himachali and Tibetan culture. Not only Himachalis, a sizable community of Tibetan refugees also resides in the village. The Bir Tibetan Colony features several monasteries and local restaurants, where travelers can enjoy lip-smacking delicacies with an essence of the friendly culture that Bir offers. The incredible sight of bhikkhus and Tibetan monks offering prayers in the monasteries give a sense of peace to one's soul.
Many-splendoured Tea Gardens 
Famed for organic tea farms, the Bir Tea Factory is one of the most popular tourist destinations in Bir. As the tea factory remains open to the public travelers, visit the place along with their children to learn about the plantation skills of India's most consumed hot beverage. Hills are always suitable for tea production and this is why one can find various kind of tea that are grown in the garden and processed in the Bir Tea Factory.
The factory is located in close proximity to Bir Bazaar, from where one can buy a selection of dry fruits, fragrant tea, handmade articles etc. In the tea garden, a sight of men and women labours dressed in traditional attires with a beautiful basket on their back is a great capture to the cameras of photographers.
Paragliding, Hand-gliding, Motorbiking, River rafting, Trekking and Camping: Bir Billing has it all! 
Soaring High: Tandem Paragliding


One of

the major highlights of Bir Billing is Paragliding. Nothing could be more eventful than flying under the sky from where you can see a whole different world around. Remarkably, Bir is considered as the world's second best site for paragliding after Lake Como in Italy. Paragliders are launched from a lush green valley of Billing, which is situated at a height of about 2400 metres. And these paragliders land in the grassland at the western edge of the Bir Tibetan Colony in Chowgan.


Landing at Bir Billing grounds

Keeping the protection in mind, beginners get a chance to enjoy an adventure-packed ride in a two-seater glider with a skilled trainer. Bir witnesses a huge crowd in October as it hosts the event of 'paragliding pre-world cup' every year.

Trek To The Top

Bir Billing offers a number of trekking options to the adventure enthusiasts and nature lovers. This activity gives you an opportunity to explore the exotic Himalayan flora and fauna, stunning rivers, gushing streams and waterfalls. From easy to difficult and 1 day to 1-week treks are available near the Bir Billing. Some of the trekking destinations include Sach Pass to Pangi Kareri Lake, Manimahesh Lake and Chamba over Jalsu Pass.

Camping in Bir



Staying at hotel becomes dull at times, especially when you're surrounded by the mountains and lush greenery. To have a wonderful experience in the lap of nature, you need to avoid the option of hotel booking as Bir gives you a chance to spend a night under the glittery sky at some of the exquisite locations. While living in tents, you can enjoy the sights of splendid vistas of nature.
Plan a weekend in Bir
If you are on long holiday and have explored enough of Bir Billing, then you can opt any destination from the list of wonderful weekend getaways near Bir Billing.
There is no dearth of amazing weekend getaways from Bir Billing. Getaways like Manali, Leh, Ladakh, Kullu, Shimla, Dharamshala and McLeodganj offer peaceful surroundings that revitalize your mind and body with exciting activities. Other nearby attractions include: 
Deer Park Institute

Chokling Monastery

Dharmalaya Institute

Sherab Ling Monastery

Baijnath Temple

Drukpa Kagyu Monastery

Chowgan Tea Gardens

Tashi Jong Village

Chauntra Bazaar
If you're looking for accommodation options at Bir Billing
Tatva Bir Camp

Siddhartha Greens Bir Billing

Hotel Paul Manor

Big Mountain Camps

Bir Resort

Camp Oak View
If you're looking for some food joints…
Norgay Kitchen

Sterling Restaurant

Glider's Pizzeria

Bruce House

Cafe Cloud Door
How to Reach this Amazing Holiday Destination?
Bir Billing is very well connected to other Indian states. As it is situated away from the hustle-bustle of city amidst the snow-capped mountains, one has to put an extra effort to reach there as there is no direct flight or train available from the major cities like Delhi and Mumbai. However, the travel journey to Bir is joyful and a one of its kind experience.
Flight: The Kangra Airport is situated at a distance of 68 km from Bir Billing. The airport is situated in Dharamshala and is very well connected to and from Delhi and Mumbai. However, passengers can board a non-stop flight from Delhi to Dharamshala and a connected flight from Mumbai. Notably, the air route remains closed due to bad weather, especially in winters. After reaching the airport, travelers have to hire a taxi or board a bus to reach Bir.
Train: At present, one can get a toy train that takes you to Bir Billing. Kangra valley railway runs a toy train from Pathankot, which covers the distance in 7 hours via Ahju. The distance between Pathankot and Bir is around 143 km.
Taxi or Bus: If you're among those who always look for astounding vistas or adore long drive then you should visit Bir either by taxi or bus. You can board a bus from the Inter-state Bus Terminal (ISBT) and it takes around 12-14 hours to reach Bir. Notably, the distance between Delhi and Bir is around 520 km.
If you have decided to hit Bir Billing by road then you can follow these routes:
Route 1: Delhi>Ambala>Banur via Chandigarh bypass>Kiratpur>Anandpur Sahib>Nagal>Una>Kangra>Palampur>Baijnath>Bir
Route 2: Delhi>Ambala> Banur via Chandigarh bypass>Kharad>Kiratpur>Bilaspur>Mandi>Jogindernagar>Bir
Is Bir Billing Accessible throughout the Year?
The entire summer season is an ideal time to beat the heat of hot cities like Delhi and Chandigarh. Here, the weather remains pleasant and the temperature ranges between 10°C and 22°C. Notably, the monsoon season receives moderate to heavy rainfall and the region might become prone to landslides causing blockage of roads. So, this is not an advisable season for a visit.
Despite the harsh and cold weather in winters, Bir experiences a heavy flow of tourists. Also, the months of October and November are perfect for paragliding and the average temperature ranges from 4°C to 12°C. The temperature drops below freezing point at night in the months of December and January.
What are you waiting for? Plan a trip to one of the most splendid tourist destinations in Himachal Pradesh to explore the fun like never before!