A Mesmerising Journey to the Sublime Valley of Flowers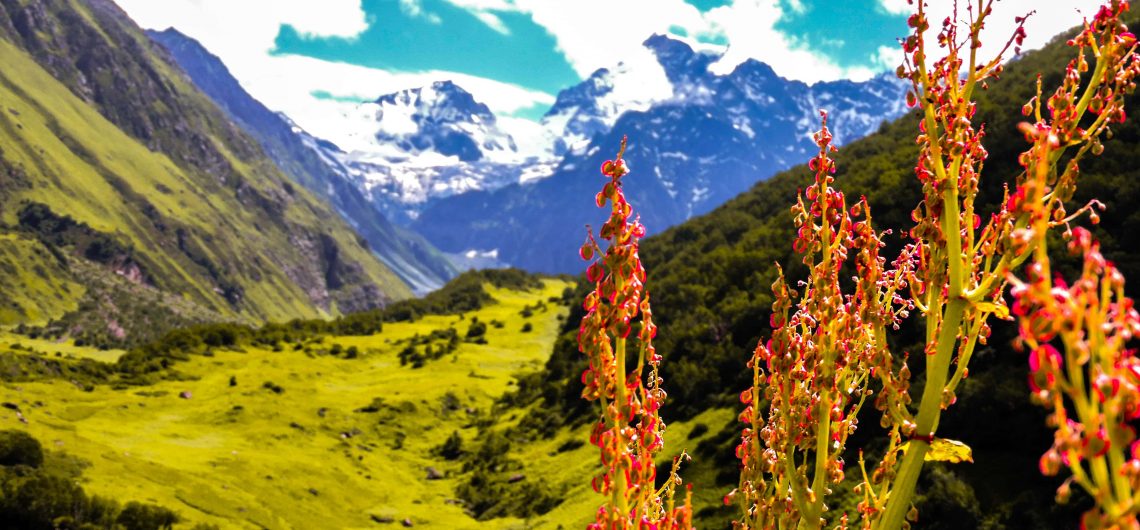 I am a happy-go-lucky person, who loves reading, writing and travelling. Gardening and good food are the other things that I am passionate about. My motto in life is simple, "Love what you Do and Do what you Love".
Latest posts by Meenakshi (see all)
Known for its meadows of endemic alpine flowers, Valley of Flowers is located in the 'Abode of God', Uttarakhand in Chamoli District of the Garhwal region. Be it nature lovers, mountaineers or botanists, a walk to this striking UNESCO World Heritage Site is an apt choice to enjoy the eponymous Himalayan valley, which is replete with rich biodiversity and breathtaking surroundings. While trekking to this sublime beauty, you will pass through an off-beat trail, isolated hamlets, abandoned areas and diverse species of flora and fauna, which is an experience of a lifetime. Perched at an altitude of 4,389 m, the valley is home to endangered animals, including the brown bear, blue sheep, Asiatic black bear and snow leopard.
Experience of 'Paradise' before Reaching the Final Destination
Being one of those rare natural botanical gardens in the country, a trek to this floral city is known for evoking an unfathomable elation in the mind of trekkers. When one of my friends, who is an ardent trekker, asked me to accompany her to the Valley of Flowers, I quickly signed up without any second thought. Next day, we began our journey at 4 am. Traveling via Dehradun brought back so many fond travel memories for me. We soon reached Haridwar, which is the starting point of the Valley of Flowers trek.
The journey started with a trail from Haridwar to Govindghat. We reached Govindghat via Rishikesh, Devprayag, Srinagar, Rudraprayag, and Karanprayag. However, one can also reach the place via the winter abode of Lord Badrinath and Joshimath. Along the way, do not miss an opportunity to witness the holy confluence of Bhagirathi and Alaknanda Rivers that together form the River Ganges. Though it's a long journey, the path is fascinating when one notices the stunning convergence of these two rivers. It is likely that you may get tired, therefore, it is advised to take a short break and relax in a gorgeous apple orchard on the way.
After some rest, it was time for us to move from the base camp Govindghat to Ghangaria. The first day of Valley Of Flowers trek began with a 14 km gradual ascent from Govindghat to Ghangaria. The beauty of a number of waterfalls and lush greenery hypnotized us. In addition, the villagers told us that the world's highest Gurudwara and the most revered of all Sikh Shrines, the 'Hemkund Sahib', is situated nearby, at an altitude of 4,329 meters. Ghangaria is a base camp for the Valley Of Flowers trek, and people can avail different services that include hiring a mule or using a helicopter. We had booked rooms at Garhwal Mandal Vikas Nigam, which is considered as the best place to stay in Ghangaria.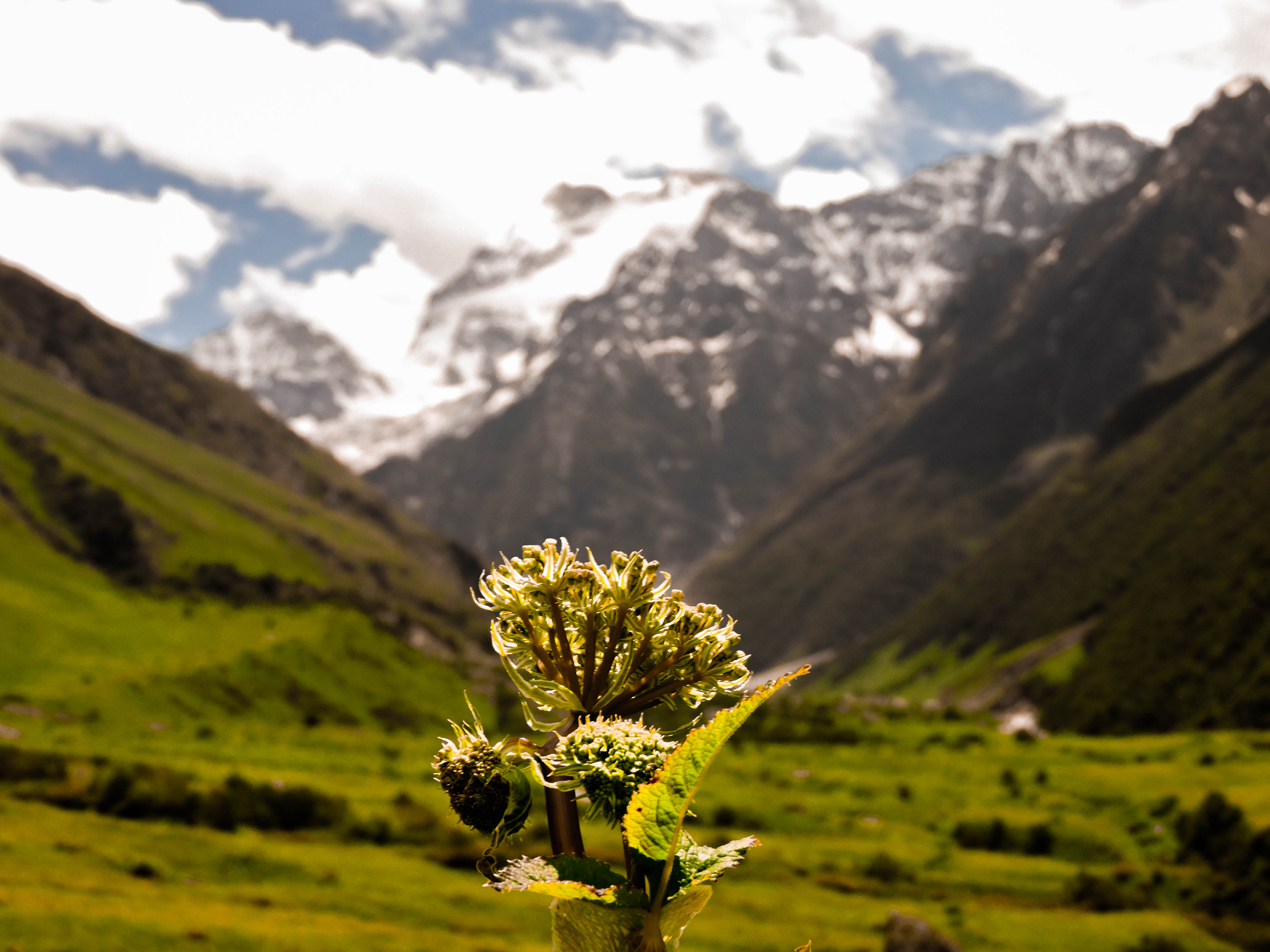 Time to Explore 'Flowery Wonderland'
Next day after having some scrumptious Aloo Paranthas, we started a trek through Ghangaria to Valley of Flowers. The most difficult thing during the trek was to face heavy winds, but it was heartening to see that trekkers were helping each other to move ahead comfortably. As we scaled a height of 3,858 m to arrive at the Valley of Flowers, we witnessed thousands of flowers in full bloom. Our eyes were glazed by a fantastic and beautiful sight. At the starting point of this national park, I came across the Balsam flowers that sported bright light pink, blue and orange colors, followed by Himalayan Slender Tape Vine, Meadow Rue, Dwarf Globe Flower, and Marsh Marigold. The majesty of 'Brahma Kamal' (Saussurea obvallata) too was evident among the cluster of white and black Daisy flowers. It took around four hours to admire the rare and exotic beauty of the flowers spread like a blanket sheet, stretched over an expanse of 87.50 km. A unique blend of snow-capped mountains, green meadows, and white clouds made our trek a dreamlike adventure.
Know how the Valley was discovered?
As we had hired a guide to know better about the place, he told us that the credit to discover the valley goes to two British people i.e. mountaineer Frank Smith and botanist Joan Margaret Legge, who explored the valley together in the 1930s. However, botanist Prakash Chandra Kala from the Wildlife Institute of India spent a decade in the valley. During that period, he compiled two books known for having an inventory of all the flowers that blossom here, with their common and scientific names.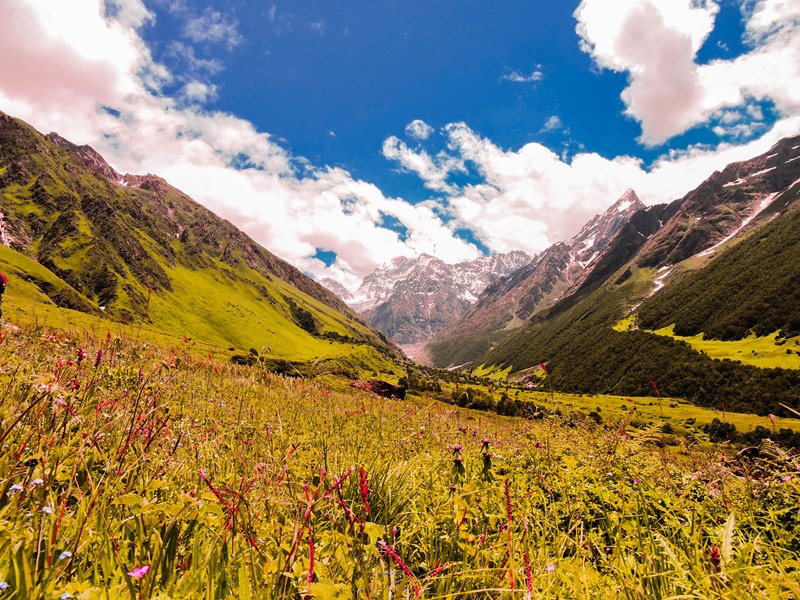 Travelers Take Some Notes!
The floral site is a feast for the eyes and lends a unique experience in itself. The trail will become steeper, however, the finest creations of nature will keep you inspired and enchanted. When the much-awaited destination is right in front of you, it seems that every ounce of energy lost in the trail did not go in vain. Most of the people experience mixed emotions where excitement and relief come together to celebrate the joy of achieving something that you have aimed for.  You should spend some peaceful time in the lap of nature and capture some scenic images in your heart. Notably, it is a tea house trek because there are a number of tea-houses that bring you the finest qualities of fragrant teas.
The best time to visit the valley is from July to September, as flowers are in full bloom at that time. However, don't forget to carry your rain gear, because it is the monsoon season after all, and it keeps raining here. Importantly, shoes play a major role during a trek, so one should avoid wet shoes and opt for shoes with water resistance.
What to Eat inside the VOF?
VOF doesn't offer any food facility to its visitors. You need to carry food packets with you but you are required
to eat the food outside the valley as there are no options to eat inside the park. Please don't ruin this pristine
paradise by leaving wrappers and plastic bottles. Let's not waste admirable efforts of Bhyunder Eco-
Development Committee (EDC), Bhyundar which is working hard to keep the valley clean and green.
Accommodation Options
There are hardly any accommodation facilities available outside the VOF. One can avail the guest houses,
lodges and camps in Ghangaria. So far, the best option to stay is GMVN, Ghangaria by Garhwal Mandal Vikas
Nigam. Some people prefer to stay at Govindghat, Auli or Joshimath as the hotels available there offer better
facilities. Remember, if you book your hotel or camp any of these three areas, you need to travel for around
30 minutes to reach the base camp i.e. Ghangaria.
Helicopters and Pony Facility
Helicopters and pony facility is offered to the tourists. As compared to pony ride, a Helicopter ride is quite
short and relaxed. However, its operation entirely depends on the weather condition. During bad weather,
helicopter facility is not provided. Travelers who are planning to trek can also buy wooden sticks or trekking
poles to ease their 6-8 hour journey.
Mobile Network and Internet Services
Before you head for VOF, keep in mind that Ghangaria offers electricity but there is hardly any mobile
network facility for the travelers. You may find fellow travelers getting signals of Idea at the VOF entry gate.
Notably, there are satellite phone booths in Ghangaria from where you can make calls.
Timings for Trek
You are not allowed to trek after 2 pm from Govindghat to Ghangaria as you need to trek 17km. In order to go
back to Govindghat on the same date from Ghangaria, you need to reach the base camp by 3 pm. Then only
can you start the trek down to Govindghat at 3 pm as it would take around 4 to 5 hours. Horse riding isn't
available after 4 pm as there is a fear of wild animals and landslides.
Let your fears speak out loud and explore the valley to the fullest, take photos and let the fresh air and
pleasing scent of the flowers revive all your senses on this beautiful trek.