Encountering the Royal Bengal Tiger at Bandhavgarh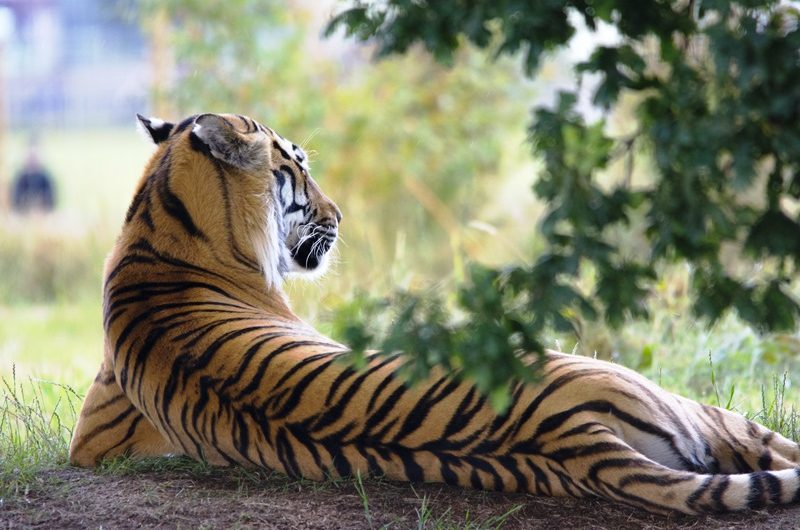 I am an ardent foody, who likes travelling. In my free time, I blast my ears with good-quality Heavy Metal. Watching culinary shows, writing songs, playing drums, guitar and keyboards, playing cricket and singing consume much of my leisure time.
People have all sorts of dreams and fascinations about travelling the world. Then, there must be some, who would like to never get out of their home and for whom travelling could be exhausting. I personally have never encountered one such person in my life, and therefore my conclusion is that most of us love to experience what the world has to offer. Going back to my point that different people have different choice of destination in mind, yet when planning a vacation, most of us come up with names like Goa or Shimla and the likes. Do not get me wrong here, these mainstream holiday destinations are by all means totally worth it. But, the fact is that they are mainstream after all! Most of us have actually been to a few of these locations as kids. Don't believe me? Just ask your mom and she will take out those huge old photo albums consisting of pictures of you as a toddler, sitting in your parents' lap against the setting of at least one of those generic holiday destinations. Well, this blog is not written to discourage your grand plans for a memorable break from your routine life, I am just trying to remind you that our incredible country has more than just scenic beauty. The world knows that we as a nation are proud owners of some of the richest wildlife areas found on earth. So, how about ditching the sceneries this time and going off on an adventure with the intriguing fauna of Bandhavgarh? Allow me to elaborate more on this proposition and make you want to arrive at this majestic location by the next flight!
You Deserve Something Offbeat!
Not everyone is a travel writer and consequently, not everyone can be hopelessly in love with their job. Apologies for bragging, but this is the truth, bitter but true nonetheless. So, if I can crave something different even after not having a soul-sucking job, you, my friend most definitely deserve it! Going on a beach vacation or to enjoy the mountain air certainly does the job, but what if you can get something new and offbeat, and at least as good if not better? I, for one will grab the opportunity in a flashing moment. This magnificent national park found in the state of Madhya Pradesh is truly one such opportunity. I mean, think of it, whose mind comes across Madhya Pradesh when pondering upon places apt for holidaying. But then that is the entire point, the actual charm of going for an offbeat experience that not a lot of people have the courage to take. If you do have it in you to "unfollow" the crowd and make your own way, a few days in the wild should be on your list.
Encountering the Magnificent Bengal Tiger
One of the largest crowd-pulling factors about Bandhavgarh National Park is that it has the highest density of the world-famous Bengal tigers. As it is tigers are a unique sight because of notorious poachers, and even when we do get to see them it is in a zoo, where the poor animal is nothing but a sorry sight. But in Bandhavgarh, beautiful yet terrifying tigers are present in dense numbers, giving you a chance to encounter them while touring the park. If wildlife holds your attention and you know what to do with a camera, Bandhavgarh National Park is where you should come and flaunt your photography skills. The natural habitat of numerous animal species, this area is a glimpse into the priceless treasure of India, made up by rare wild animals. A wildlife enthusiast is bound to know about the world's second most photographed tiger, named Sita. Well, you will be glad to know that the majestic creature was found nowhere else but here. This lush abode of various animals will also make for a mesmerising trip for anyone, who wants to spend time away from the noise of cities.
Other Fascinating Animals and Birds found Here
More than 250 species of birds and 22 species of mammals can be found in the vast expanse of Bandhavgarh National Park. The best thing about being here is that you get to see all these amazing animals living in their authentic habitat. There are no cage-like structures to restrict the graceful movements of a leopard or spotted deer. Exuding an enthralling and mysterious charm, a tiger can be seen here, going about doing whatever it is that a tiger does. For a birdwatcher, this place is nothing short of a dream. Also, if you are as fascinated by butterflies as I am, the chances are that you will have the time of your life here. As I write this blog, I cannot help, but feel like I am a part of the famous Jungle Book. Although none of us is Mowgli and must not wander in the jungle unsupervised, there are ways in which one can explore Bandhavgarh. You can either go on a Jeep safari or ride an elephant's back to spot a tiger here. Elephants are used by the forest officials for the purpose of tracking a tiger. Once the elephant tracks a tiger, it will take you directly to it for sightseeing. The activity becomes all the more adventurous as it has to be done early in the morning. From the break of dawn to nine or ten in the morning is the window in which the animals are most active.
History, Mythology and All That!
Interweaving of history and mythology is something that we Indians love to do. These stories, partially factual and partially fictional go back to times, when there was no written literature. Since then, these legends have been passed on from generation to generation in the form of folklore. Such legends are indistinguishable elements of our national character. Bandhavgarh also holds this sort of significance due to a mythological legend attached to it. It is said that the fort present on the mountain in the forest was given to Lakshmana by Lord Rama, hence the name Bandhavgarh, meaning the brother's fort. The time of origin of the fort is unknown, but its references can be found in ancient books, dating back to some 2000 years ago. Written proofs of the rule of several dynasties over the region can be found in and around this area. Before it was declared a national park, this forest used to be the hunting ground for Maharajas. One especially cool fact about Bandhavgarh is that the ancestry of all the white tigers in the world can be traced back to this jungle. Caves as old as built in the 10th century are yet another fascinating part of Bandhavgarh National Park. Now these caves serve as home to the wild animals. Keeping up with the mythological theme of the forest, the Charan Ganga River flowing through here is the spot for numerous religious sites. The 65-feet long statue of Lord Vishnu, positioned horizontally as he is resting on seven-hooded Shesh Nag can be seen at the origin of the river. A 10th-century temple dedicated to Goddess Durga is situated on the bank of the same river. All in all, Bandhavgarh is one such place where your thirst for knowledge about wildlife, history and mythology will be fully satiated.
Remember those Panchatantra tales which we used to read as children? The memories of talking about the animals and the beautiful forests of those stories may cross your mind when you are here. Situated in the heart of India, Bandhavgarh is a world within itself; a world of intriguing wild animals, glorious history and thought-provoking legends. Add a dash of nostalgia to it and there you have it, a perfect holiday! Whether you go with family and friends or solo, the forest will not only bring you closer to nature but also show you the grand scheme of things. While sitting in our air-conditioned offices and homes in the city, it is easy to be deluded into believing that civilisation has achieved a lot. But when you go and spend a few days in the midst of such wilderness is when you know how much we still don't know about nature and its creations. When planning a trip to Bandhavgarh, do not forget to check the ideal time to visit the jungle as nature runs its own course no matter how advanced we may think we are. Make sure to bring a good camera along on this trip, so that you do not miss anything at all. The rare animals, beautiful butterflies, awe-inspiring greenery and carefree birds, everything and anything in Bandhavgarh is worth capturing through your lenses. And before you post those spectacular pictures on the social media, be prepared to become a celebrity among your friends for having gone on such an adventure!