Making A Cycling Tour In Meghalaya Even More Fun

I am an ardent foody, who likes travelling. In my free time, I blast my ears with good-quality Heavy Metal. Watching culinary shows, writing songs, playing drums, guitar and keyboards, playing cricket and singing consume much of my leisure time.
How beautiful would a place be, the name of which translates into the Abode of Clouds?! I am talking about Meghalaya, one of the seven states in Northeast India. The Northeast is arguably the least explored part of the country, and this is perhaps why it is not as chaotic and commercialised, and also as polluted as the rest of India. If you are anything like me, then you would want to stay in such a place, rather than concrete jungles. Now, I know it is a bit exaggerated as it is not possible for us to leave our job and comfort of city life to go live in the middle of nowhere. But, at least we can take a trip to a place like this; just to see how amazing nature looks, undisturbed by human influence.
Meghalaya has everything a nature lover would want; hills, greenery, waterfalls, valleys, ponds and rivers. Another good thing about the state is that the weather here is always on the cooler side even if it is winters, meaning that it never gets too cold. Sure, there are roads to this relatively unexplored state, but I wouldn't want to go that way. The best way to see Meghalaya would be trekking, the quintessential mountain activity. Its hills are not too high; hence, perfect for hiking even if you are not too experienced. Still consider walking uphill to be too much work? Then, might I suggest cycling? It is any day faster than walking and also an eco-friendly way to explore Meghalaya, where nature reigns supreme.
I am certainly going to go on a cycling tour to the state whenever I get the chance. It would help me cover a substantial distance at once and also keep me close to nature. I have always loved the winding mountain roads, but have never had the chance to drive on them. Since my driving is not perfect yet, I think cycling is the way to go. I have researched comprehensively about cycling tours to Meghalaya and found that such a trip doesn't merely involve riding from one place to another, but a lot more. I have made a bucket list of what all I want to do and see in the state, which I will now share with you.
Go during the Monsoon
Most of the travel sites would tell you to avoid travelling to Meghalaya during the monsoon as it is one of the wettest places on earth, but following the advice would keep you from seeing nature in the best form. During the somewhat dry summers and winters, the landscape of the state becomes brown and a little lifeless. But, as the rains come, everything comes to life and becomes all lush and green. You would love cycling on roads, lined by tall trees that would make the air incredibly fresh and healthy to breathe. There are loads of waterfalls in the state, especially in the Khasi Hills that literally overflow during the rainy season. A huge volume of water, falling from high cliffs, makes a loud roar and forms a cloud as the wind blows. You have to capture the scene in your camera and record the sound of the roar as well. This will not be possible in other seasons as during such times, the flow of water is less and the spectacle is not as bewitching.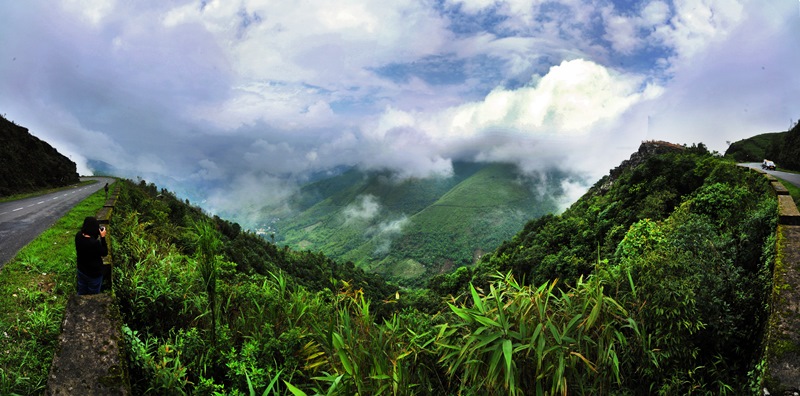 Visit the Villages of Mawphlang and Mawlynnong
Two places you must take a trip to on your bicycles are Mawphlang and Mawlynnong. You don't have to worry about reaching it on your own as most cycling tours to the state include visiting these destinations. Mawphlang, a small village, is renowned for its forests or groves that are considered sacred by the local population. This is the reason the forests have been allowed to grow on their own for thousands of years. On the way to the forests, you will be travelling through grasslands, lined by pine-covered hills, but as you near the sacred groves, you will notice a sharp contrast in vegetation.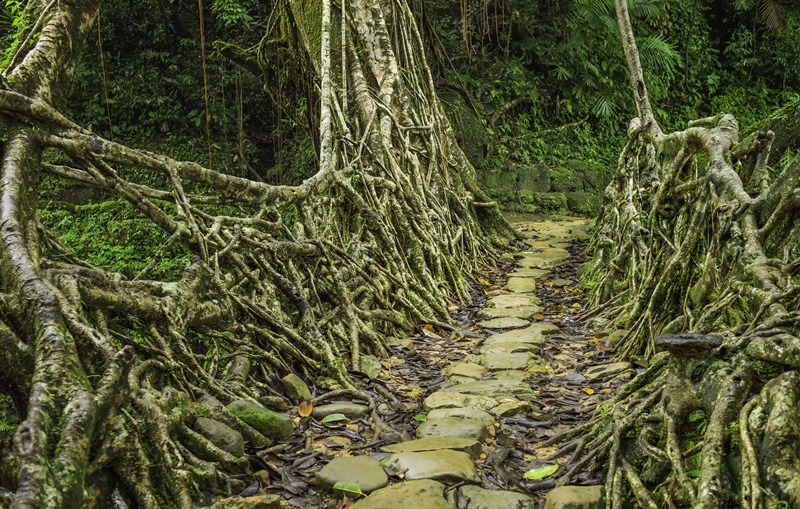 Once you reach the grove boundaries, you may have to dismount from your bike and walk. Here, you will see an astonishing variety of plants, trees, butterflies and flowers, many of which you would have never seen before. The trees here are covered with ferns and orchids as the region is quite damp. Crisp, brown leaves cover the ground, making it an ideal place to sit and meditate for a while in cool climes.
Mawlynnong, on the other hand, is known for being the cleanest village in Asia, a title it received in 2003. All through the village, people, cleaning their homes and streets, is a regular sight. So, don't litter; instead, throw whatever you need to in bamboo dustbins. The air here will be the cleanest that you would have breathed in a long time. Another plus point about the village is that there are numerous ponds and rivers near it, wherein you could take a dip. The cool waters would definitely relieve you of any tiredness cycling may have made you feel.
Trek to a Living Root Bridge
You absolutely have to do this whenever you come to Meghalaya. These natural wonders, created by minimal human effort, are unique to the state. As there are numerous rivers here, many of which flow through dense forests, the Khasi people have been using the bridges to cross them for ages. They place two trunks of betel nut trees parallel to each other across the river. These trunks are placed in such a way that they touch the stem of a type of fig, known as the rubber tree. The rubber tree has long, hanging roots like a banyan tree that entwine around the betel logs, forming a mass of roots strong enough for people to walk.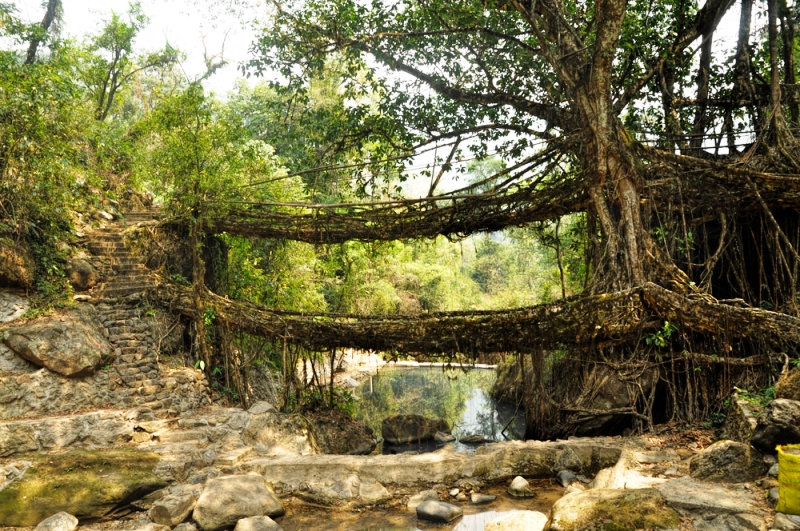 It takes 12-15 years for the bridges to become strong, a process, which keeps on continuing for as long as the trees are alive. Some bridges are so strong that almost 50 people can walk on them at a time. Many of the famous living root bridges are near Cherrapunjee and Mawsynram. There are normal bridges, called single-decker bridges; those with two passages side by side, known as double bridges; and even those with a bridge one above the other, rightly named double-decker bridges. By visiting them, you also get to enjoy trekking, as roads have not been constructed inside the forests in order to keep them undisturbed.
Go Caving
Now, this is for those, who like exploring new sites, and can afford to do a bit of physical work. As the name suggests, caving is an activity, wherein people head to remote caverns, and Meghalaya has no dearth of such natural marvels. One of the most famous, though not remote, is Mawsmai Cave in the East Khasi Hills district. Fortunately for you, the cave is lit artificially as it is a popular tourist attraction. An uneven and upward-sloping passage leads to the cool, damp cave, which would make a perfect hideout for werewolves or vampires if it were from a movie. Another renowned cave here is Krem Lymput, the best part about which is a huge chamber called the Mughal Room (I have no idea why it is called so). Krem Mawjymbuin, yet another such cavern, has a stream flowing through it! Cool, isn't it?
If you take your bicycles to the Jaintia Hills, then you can stop to explore Krem Liat Prah, currently the longest cavern in the country at a whopping 25 km. It is still being surveyed, and its length is likely to increase as more caves are connected to it. You could even go to Synrang-Pamiang to see rock formations in colours like blue, green, white, grey, black, red and orange. Now that is intriguing. Its floor is full of small calcite formations, known as cave pearls. One cave, which I am really interested in visiting, is Krem Lubon because its entrance is behind a waterfall! Woah…You will need to crawl to get in as the passage is really narrow and lined by stone walls.
Krem Chympe is a cave, which seems to be right out of a fantasy tale. Its entire length contains a river, which has many lake-like sections, formed naturally. To explore it, you will need to swim for around 4 km, so I say you get another pair of clothes, and a swimsuit. Krem Mawshun is yet another cave, with a river flowing through. Another such cavern in the area is Kotsati, which requires you to swim in order to enter inside.
See Waterfalls
I wrote earlier that Meghalaya has many waterfalls, and I'm about to visit at least the famous ones. The thing about these falls is that many have a local legend attached to them. Among the most renowned here is Nohkalikai Falls, which numerous cycling tours would take you to. With the cliff almost 1115 feet above the plunge pool, it is one of the highest in the country. As per legends, the fall is named after a Khasi woman, who had jumped from its cliff. Nohkalikai Falls comprises a main stream with several falling on both its sides. Kynrem, the highest waterfall in the state, comes down in three stages.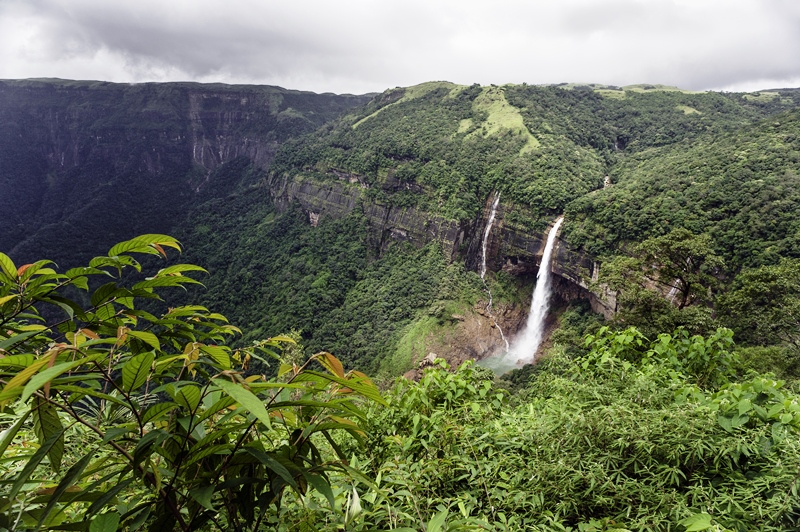 Mawsmai Falls or Nohsngithiang Falls comprise seven separate streams falling side by side, because of which it is also called Seven Sisters Falls. In the monsoon, you might find it hard to distinguish the streams from each other because of the huge volume of water falling down, resulting in the overlapping of streams.
So, this is my bucket list of what all to do and see during a cycling tour in Meghalaya. It would allow you to ride on curving and sloping mountainous roads through enchanting scenery, no doubt, but also add to your experience.