Northeast India– A True Explorers' Delight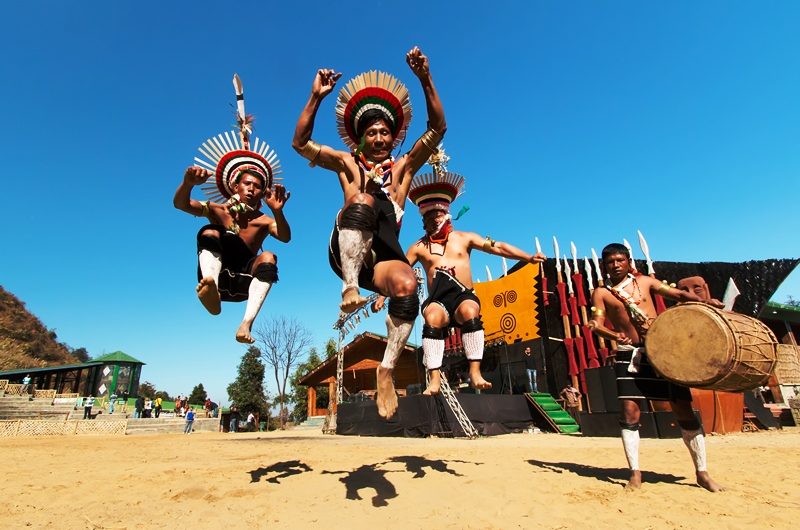 I am a happy-go-lucky person, who loves reading, writing and travelling. Gardening and good food are the other things that I am passionate about. My motto in life is simple, "Love what you Do and Do what you Love".
Latest posts by Meenakshi (see all)
Nowadays, we hear people, especially youth, talking about travelling and exploring new places. But, what do most do? They go to places like Ladakh, Goa, Kasol and the Andaman and Nicobar Islands, making these places somewhat of a tourist cliché. What I mean is that these places have become so popular that many people visit them and there is almost nothing new left to explore. Whatever there is in such places, the tourist guide books have in their pages. So, what are we really 'exploring' by going to places, where already so many have been.
I want to go some place I can be at peace in, see unharmed nature, breathe unpolluted air and mingle with the sporadic population, which lives there. A place, which has caught my eye recently, is Northeast India, where not many go, resulting in its being peaceful, unpolluted and non-commercialised. The region has been shrouded in so much mystery that many don't even know which states are there.
Keep reading to find out about the hidden gems of the Northeast; places and legends about the region that are unknown, but worthy of admiration and exploration.
Loktak Lake – Where Land Floats
Located in the state of Manipur, Loktak Lake is the world's only solitary floating national park! Confused as to how a lake can float? Even I was when I first heard about it. The answer is that the floating landmasses on the water, called phumdis, are made of decaying animals and plants that get mixed with humus and become stable. Their thickness can be from a few centimetres to around 2 metres. Their size is another thing to talk about; the largest phumdi covers an area of around 40 sq km! These biomasses are so strong that many people have built huts on them…It is not just the phumdis alone that make the lake such a good place to visit, but the biodiversity it supports as well. The lake is home to Keibul Lamjao National Park, the only place to see sangai, a subspecies of Eld's deer. The lake's waters are home to ducks and carps, whereas the phumdis provide refuge to hog deer, boars and sambar deer.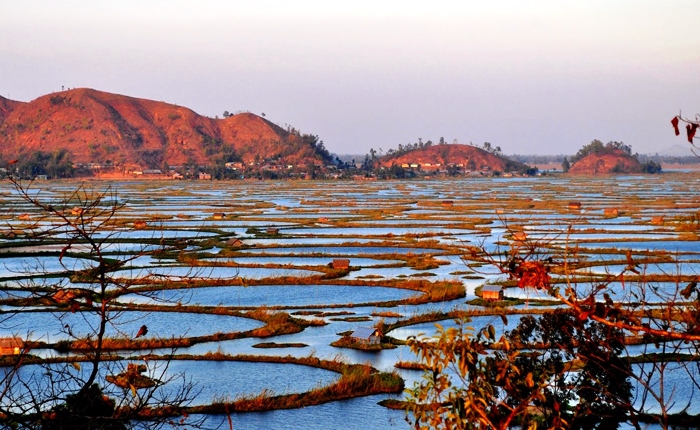 Vantawng Falls – In Honour of the Fishlike
When we talk of waterfalls in the Northeast, those of Meghalaya come to mind. But, there is one in Mizoram, which is equally fascinating. The name is Vantawng Falls. About 108 km from the state capital, Aizawl, the falls are formed by the Vanva River. It is named after Vantawng, a character from local Mizo legends. The story goes that the man was a great swimmer; in fact, so great that he could hover over the falls much like a fish. His act was a source of amusement and awe for the inhabitants. During a performance, a log hit his head, killing him; later, the falls were named in his honour.
With a height of around 750 feet, Vantawng Falls is the highest waterfall in Mizoram. You cannot get to its top as the hills are quite rugged; hence, a special viewing platform has been constructed. Even from there, it is almost impossible to track the river because the vegetation is just so dense. Remember to come here during monsoons as the heavy rains swell the waterfall, resulting in mist and a rainbow.
Unakoti – A Place of 9999999 Faces and Two Myths
Enveloped in immense lushness and surrounded by waterfalls, Unakoti is a scenic site in Tripura. But, its natural beauty is not its biggest draw nor is the fact that it is a pilgrimage destination for the devotees of Lord Shiva. Its main highlight is bas-reliefs, sculpted on hills that apparently add to number 9999999, giving it the name Unakoti, meaning one less than 1 crore. Now, there are two legends associated with this; both related to Lord Shiva.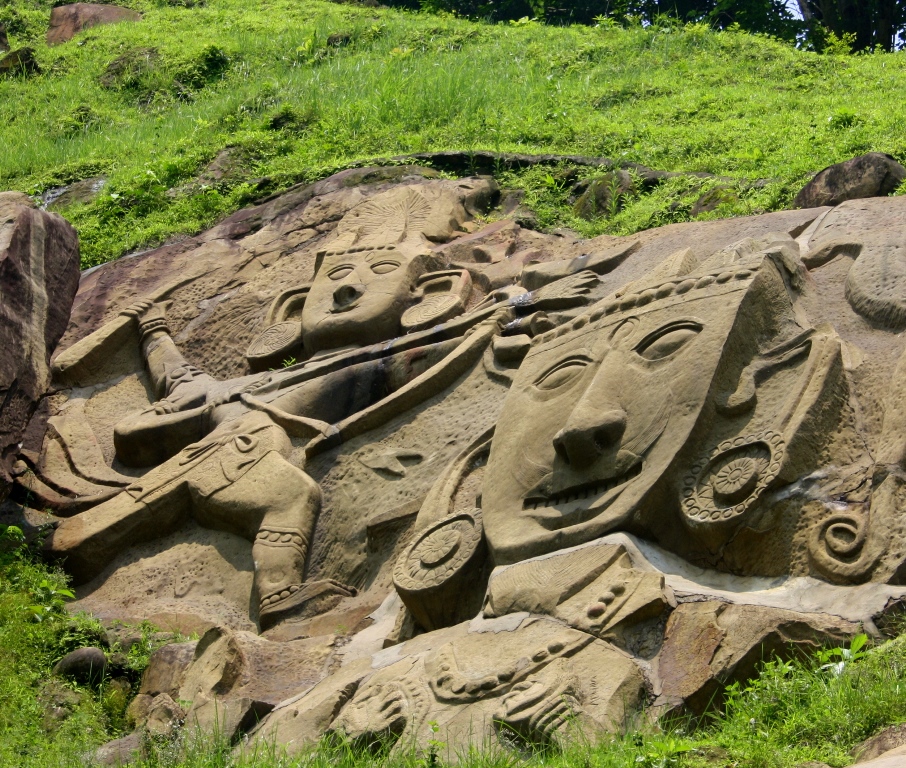 One says that once, when the deity was travelling with 10000000/1 crore gods and goddess to Kashi (Varanasi), the party halted at night. Lord Shiva ordered everyone to wake before dawn, but no one did except him. So, he cursed everyone to turn to stone. It is said that these deities are imbedded in these bas-reliefs.
The other legend says that a local sculptor, an ardent follower of Lord Shiva and Goddess Parvati, wanted to travel to Mount Kailash with them. In order to avoid the situation, Lord Shiva asked him to make 1 crore bas-reliefs before dawn. The sculptor tried, but could only manage 9999999 reliefs, following which the couple left him here and left for their home.
The sculptures here are of Lord Shiva, Lord Ganesha, Lord Vishnu, Goddess Durga and Nandi.
Longwa – A Treasure Chest of Heads, Tattoos and Battle Tales
Situated deep in the hills of Nagaland, right on its border with Myanmar, is the village of Longwa. It is home to the Konyak tribe, one of the largest ethnicities of the Naga people. As you are in the village, you would see houses decorated with animal skulls. Wait, it gets spookier. If you happen to get inside one of the local's house, you will see human skulls on display! It is because the tribe, like most Naga communities, has had a long history of warring. After killing their opponent, they take their heads as trophies and proudly display it in their homes. How many heads a Konyak brought signified his status in the village. The remnants of wounds all over their bodies are a testament to the great battles they have been in; with humans and animals. Not all Konyaks hunt for heads now, and those who do or have in the past, are easily distinguished by tattoos on their bodies.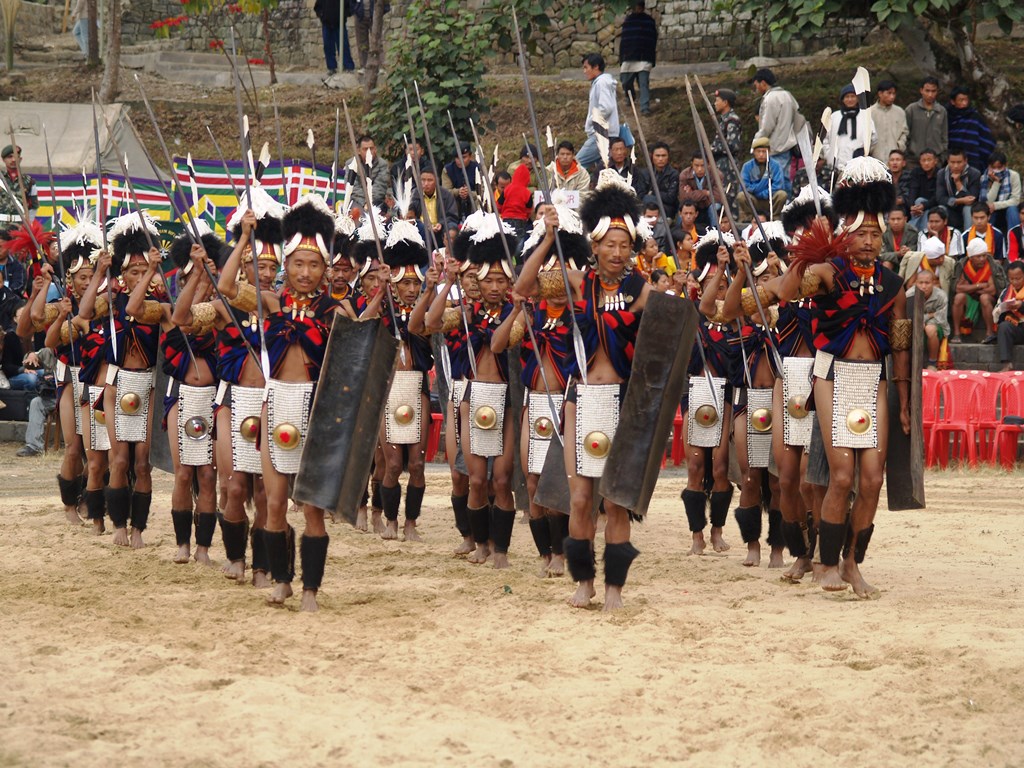 The hunting lifestyle and rugged hills have blessed the Konyaks with longevity; most village elders are nearing 90 or are older. The entire country recognises their fighting skills; the Indian Army has an entire regiment named after them; the Naga Regiment.
Umngot River – Spot the River
Through a little town in Meghalaya, named Dawki, flows the Umngot River, which must be the cleanest of all in India. The river water is so clear that at times it doesn't look like a river at all. You can actually see the river bed, around 12 feet below, clearly. Remember to sit on a boat and stop rowing for a while. If you are not careful, you might forget you are on a river; it is just so transparent. The lush hills all around give the river floor a sharp emerald colour. You will be able to distinguish small and large rocks, and the fish swimming in the water. You will, in fact, be able to see the boat's shadow on the bed. From a distance, it seems as if the boats are floating above the river bed in air because at times it is impossible to see a clear layer of water until disturbed by ripples. Learn some photography tricks because such a scene will make incredible photos.
Tharon Cave – An Explorer and Adventurer's Delight
Tharon Cave in Manipur is unlike many others in the country as it has not been 'developed' especially for the purpose of tourism. There are no lights inside, helping it retain its natural charm, which has been variously termed as wildness. The darkness inside would take away your heart if you crave for adventure; remember to carry a torch and wear a helmet. The cavern is properly ventilated as it has 5 entry-exit points. What makes the cave of interest to historians is the evidence, supporting the existence of the Hoabinhian culture, the remains of which have also been found in North Vietnam! You can take help from a detailed map, showing narrow chambers and connected passages, carved at the cave entrance.
Ziro Valley – Where Ugliness means Safety
Ziro is a region in Arunachal Pradesh, where the landscape is stunning, but the women quite ugly. Don't get me wrong; I'm not looking down upon them or mocking them, but it is how it is. You too will say this once you see those hideous plugs in their noses. What I'm shedding light on is that this has been a deliberate practice among the Apatanis, who live here. In the days of yore, there would be frequent clashes between clans. And, every time, the men of the victors would take the women of the losers as trophies, much like the Afghans and Mongols did when they invaded India.
To avoid the women being kidnapped, plugs were fitted in their nose. The idea was that because the Apatani women were the most beautiful among those of all tribes in the region, they were the object of desire of all men. Hence, in order for them to not be taken away, it was decided to make them look ugly or let's say less beautiful. Over time, it became a ritual that the women went through as soon as they started menstruating. Nose plugging is now a dying ritual, which hasn't been practised since 1970 as per some reports. So, most of the women with their nose plugged are quite old. The women also have tattoos on their faces, much like the warring Naga people of Nagaland.
Man, with so many interesting places to visit and people to meet, the Northeast stands out as one of my new favourites for a trip, and I am sure, once you venture there, it will become an instant hit with you as well.