When I Almost Gave Up on the Chopta Trek!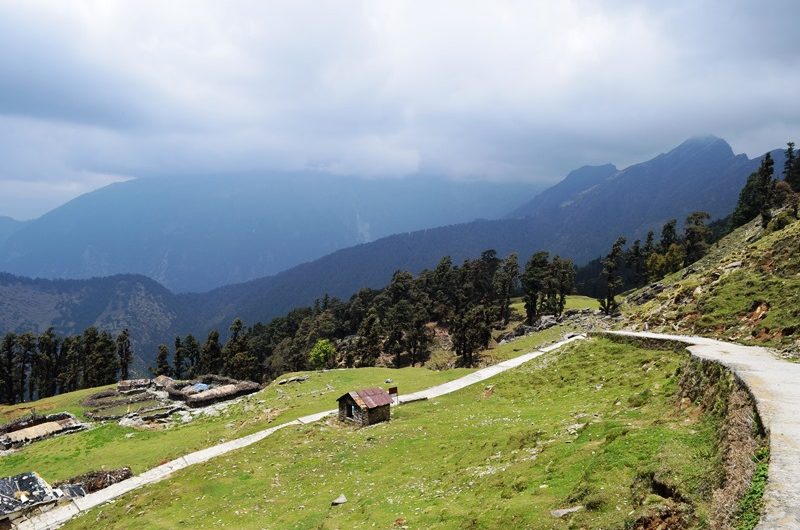 I am a happy-go-lucky person, who loves reading, writing and travelling. Gardening and good food are the other things that I am passionate about. My motto in life is simple, "Love what you Do and Do what you Love".
Latest posts by Meenakshi (see all)
Little did I know that my short adventure trek to Chopta Tungnath Chandrashila will turn out to be the adventure of a lifetime! I could so much relate to a quote that I read recently by Lin Yutang, "No one realizes how beautiful it is to travel until he comes and rests his head on his old, familiar pillow". But for me it was more like an adventure which I survived and at that moment all I wanted to do was to go home and be warm and comfortable!
The only reason that this trek is so close to my heart and I will remember it forever is because I remember how I almost gave up! I gave up on walking further, to save myself from all the pain. It's good to travel in a group sometimes. If I was on a solo trek I would have been stuck somewhere in the mountains. Not that I mind that, but I would have been surely hopelessly lost!
We boarded the train and reached early morning at Haridwar. We had our trek planned and we were supposed to reach Deoria Tal, one of the most beautiful places I have ever seen, before sunrise. Our tempo traveller took us from the city of Haridwar to the quaint village known as Ukhimath in the Himalayas of Uttarakhand. I was fascinated to see the confluence of Alaknanda and Bhagirathi that makes the Holy River Ganga. We reached our base camp by afternoon and started trekking towards the enchanting lake which was not more than 7 KM one way. We had our tents already set on the lush meadows of Deoria Tal for the overnight camping! It was a fairly moderate trek. I was sad to see the gloomy weather and the clouds covering all the mountains peak!
We reached 5 minutes before the sunset! I won't say we missed it because we could anyway not see anything due to the cloudy weather. We settled in our tents after paying a short visit to the Tal. It was raining as we had  hot tea and snacks in our tents. It was not as I imagined; I was hoping for a clear sky and a starry night. But to my surprise, just when I went outside my tent, the clouds parted and gave way  to a sky that was jet black, dotted with diamond like stars.  The sight of those shooting stars and the calmness of the place was more than peaceful! Nothing can be more blissful than lying down under the blanket of stars with your favourite playlist and good bunch of people, and that's what I had! I know that that is one memory I am going to cherish for the rest of my life.
We slept off early hoping to see the clear sky and a mesmerising sunrise over the peaks in front of our tents, which, as the trek leader said, were white as a dove.
I woke up to one of the most beautiful sights! The peaks were glistening at dawn and I decided to take a walk around the Tal before the sunrise. I took my camera and strolled around to capture those amazing mountain peaks from every angle I could. After witnessing the beautiful sunrise and eating the scrumptious breakfast, we left for Sari Village, from where we had started our trek. We had one more trek awaiting us at Chopta.
Tungnath Temple is said to be the highest Lord Shiva  temple in the world! I was very excited to trek to the temple and reach the summit of Chandrashila Peak. But the gloomy weather was back again! This time it also contributed to the temperature, as it continued to drop. Our trek leader suggested that we take our raincoats in our day pack along with an extra jacket.
We started trekking to the temple; the meadows were awe-inspiring and the view around was stunning. We continued trekking and the weather kept getting worse.
We were just 2 KM away from our destination when it started raining. There was no place around to take cover so I wore my raincoat and started walking towards the teahouse which was a few meters away. As soon as I got there, I could see the temple close by, but realised that it wasn't only raining, but there was hail too. I was sure that we would not be able to go further, but our trek leader decided to take a lunch break and wait for the weather to get better. While we were having a hot cup of tea and delicious Maggi, the weather got better. I started moving towards the temple, and I was the first one to reach the destination from our group. I started exploring the place around and was looking for the way to reach Chandrashila Peak.  Soon after that the rest of the group joined and we had a really interesting photo-op. The weather kept getting drearier and soon our trek leader told us that Chandrashila Peak won't happen. We all saw the logic in that, but were disappointed still.
We were told to trek down before the weather took another turn for the worse. On ur way down, a few people in the group took short cuts and descended down pretty fast. I was with the trek leader who was picking up trash that careless travellers had left behind.  I decided to join him. I had my raincoat on, and few minutes later it started raining heavily. We kept picking up the garbage and kept looking for our group. We had split half an hour ago, and I was hoping I would find them in the last tea house which was 3 KM from our base camp.
The tea house was small and old, covered with rugs and weak wood. Our group was waiting for the rain to stop, but to our horror, it wasn't raining anymore. We were stuck in the middle of a hailstorm in a small tea house with 9 people in it. The lush meadow I saw 3 hours ago had turned white. The hails were as big as stones. We were running out of time, as it was already 5:30 PM and the sky was kind of dark already.
As soon as the hailstorm stopped we started trekking down., It was getting dark and it was hard to figure out how to walk on all the hail. After all that slipping and sliding we reached our base camp Chopta. Our tempo traveller was nowhere to be seen. There was no mobile network and all we could do was wait. So after waiting for about an hour in a tea shop our trek leader got one local open-minivan driver to drop us at our campsite which was around 3 KM downhill the road. We could see nothing but heaps of hail all over the road, and our van started to skid towards the dead end of the road.
I was terrified and scared. It was 9 at night, and the hail storm had started again. All of us were trying to move the heaps of hail by our hands and use a bit of battery left in the phones as torches. We were not ready to give up, but nothing was working out. There was this big mountain wall on one side throwing heaps of hail every now and then, and the deep trench on the other. The trek leader went downhill to see how far we can move. That moment, we all were just sitting in the van, I, deep in thoughts was thinking that may be this it, I may not be able to get out of it ever. There will be no rescue and I gave up the hope of getting out of that storm. But just when I needed the push, one of our team members said that we ought to move on and walk downhill. It was dark, we just had 2 phone torches with 7 people and an empty, dark road full of heaps of hail. We kept on walking until we found our campsite.
No it didn't get easy yet! Our camps were destroyed by the mighty storm! The helper were sitting in the broken tent and waiting for us. While we were trying to figure out our next move, our driver turned up! We were scared to sit in the tempo traveller, as our last experience of sitting in a vehicle was not so great, but he said that he could try and get us downhill to the town! And finally we were riding down! Keep in mind that were completely soaked, cramped, tired and a wee bit shaken from the experience. So the very mention of a guest house with warm food made us take the plunge.
We took the chance and reached a homestay for the night! It was cozy, especially after having walked 3 KM in a hail storm and thinking if you could ever reach home! The food tasted like the best ever. We spent the night there, and left the next morning for Haridwar, where, before catching the train back to Delhi, we indulged in some shopping and street food sampling. We also spent some time by the Ganges, listening to the ever pleasing Ganga Aarti.
Now that I am home, I cherish those moments and I am happy to have had that adventure in my life where I almost gave up on my life! Sometimes it's good to have such adventures in your life! They help  you  grow into a stronger version of yourself!