Pangong Tso – Things You Probably Didn't Know!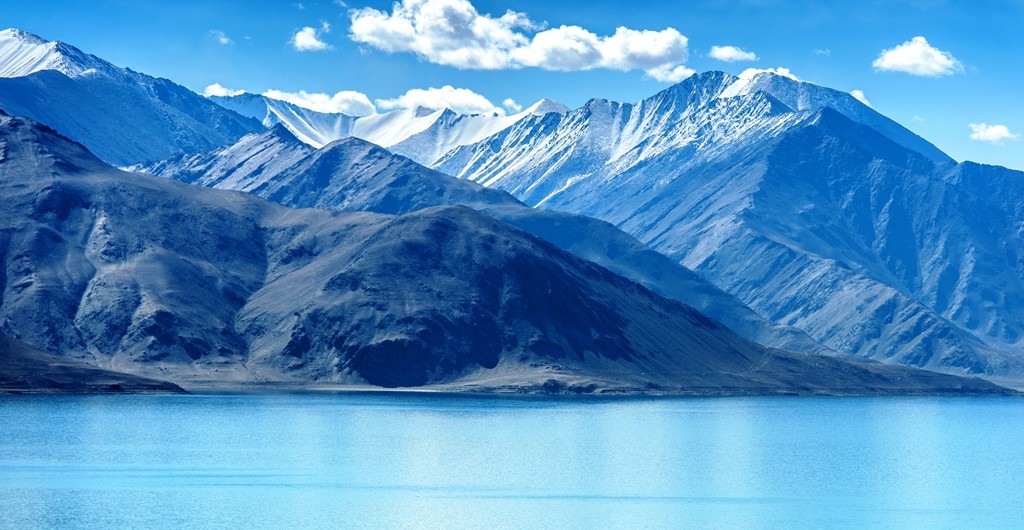 I am a happy-go-lucky person, who loves reading, writing and travelling. Gardening and good food are the other things that I am passionate about. My motto in life is simple, "Love what you Do and Do what you Love".
Latest posts by Meenakshi (see all)
The reflection of the barren mountains and a clear blue sky on the placid waters of Pangong Tso Lake is one sight that will remain etched in my mind forever!
It was the month of June, a year back, when the opportunity to travel to Ladakh came my way; all thanks to a friend of mine who loves heading to the Himalayas whenever he can. We were joined by a few more of his adventurous friends in Delhi. Initially, the group had planned a bike trip to the Ladakh region, but for some reason decided against it later. And so we ended up taking a flight to Leh Airport, which by the way, is among the highest airports in the world. The first couple of days of the trip were spent in local sightseeing; we decided that we should acclimatise to the local weather before heading to Pangong Tso. During these two days, I found some really interesting things about this lake by talking to the locals, and by reading a few geography journals and travel experiences on the internet. So, read on to know about these interesting things about Pangong Tso and how amazing my trip was!
The Movie Affair
The movie 3 Idiots, which released in 2009, made everyone sit up and take notice of the beauty of Pangong Tso; the way it was captured in movie's climax scene. I am sure, you remember it! However, for Pangong, its tryst with the celluloid screen began in 1998 with the song "Satrangi Re" from the movie – Dil Se. This song was shot in the winters; hence, you will see the lake all frozen up. Next, it featured in an animated English movie called The Fall and a Hindi movie Heroes in 2006 and 2008, respectively.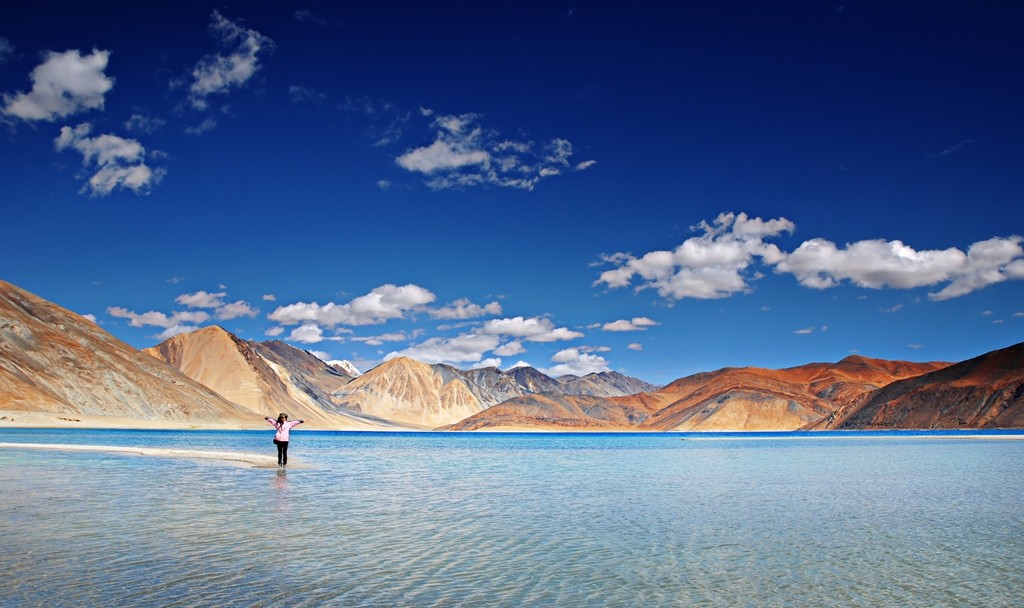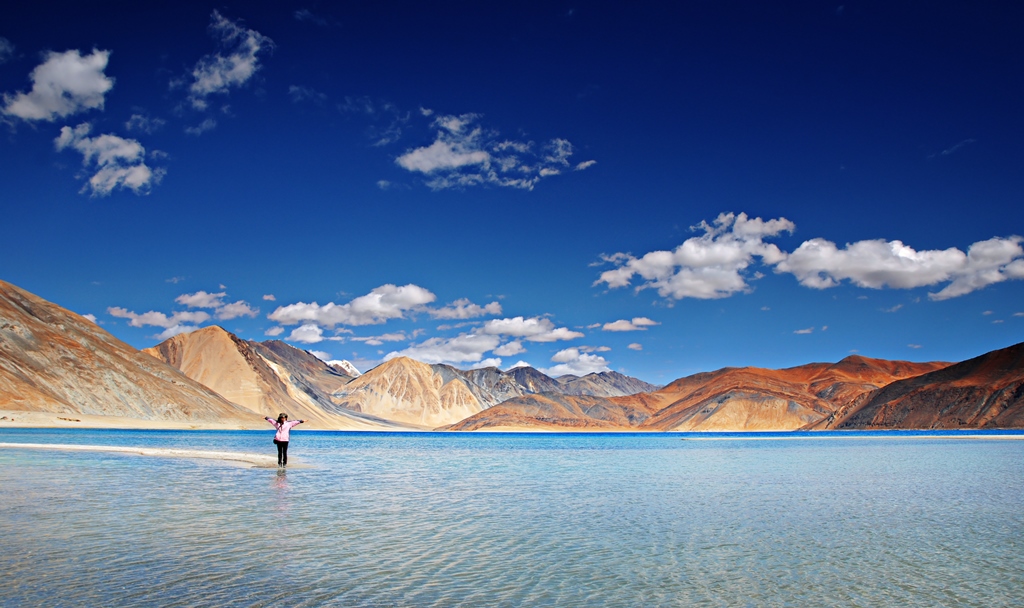 In 2012, came the Shahrukh Khan-starrer Jab Tak Hai Jaan, which was extensively shot in Ladakh and had a few scenes with Pangong as the backdrop. In addition to these, the lake site has been filmed for many other Hindi and regional songs since 2011; the most popular ones being "Dil Haara" from Tashan and "Banjarey" from Fugly. There was a time when most Indian filmmakers went abroad to shoot their movies, but in recent times, the trend has changed. Now, we see filmmakers choosing Indian locations for their movies, and the best example undoubtedly is Pangong Tso.
Border Dispute
Did you know that only one-third of Pangong lies in India and the remaining in Tibet? That is how it is! Since the Line of Actual Control passes through the lake, it is a delicate border point and hence, boating on the lake is strictly prohibited.
In October 1962, during Sino-Indian war, this area saw heavy military action; and since then, it has been a disputed territory. There is a section of the lake, about 20 km east of the Line of Actual Control, which is claimed by India, but is controlled by China. Much before this Line of Actual Control was demarcated; similar attempt was made in the 19th century with the demarcation at the southern end of the lake, which was called Johnson Line. The eastern end of the lake is disputed between India and China, while the western end is disputed between India and Pakistan.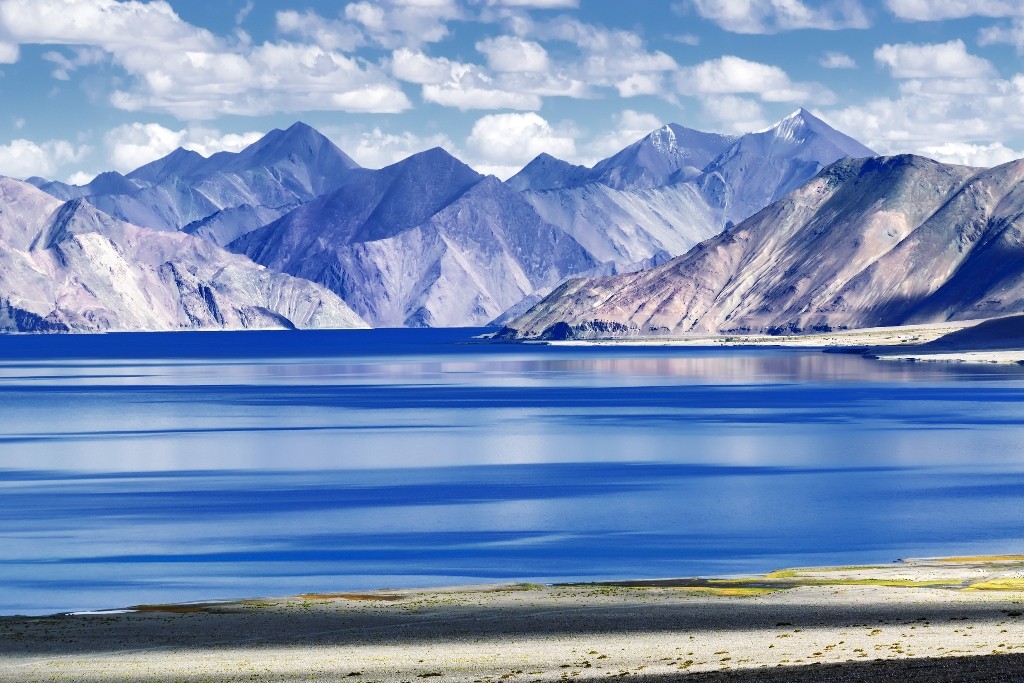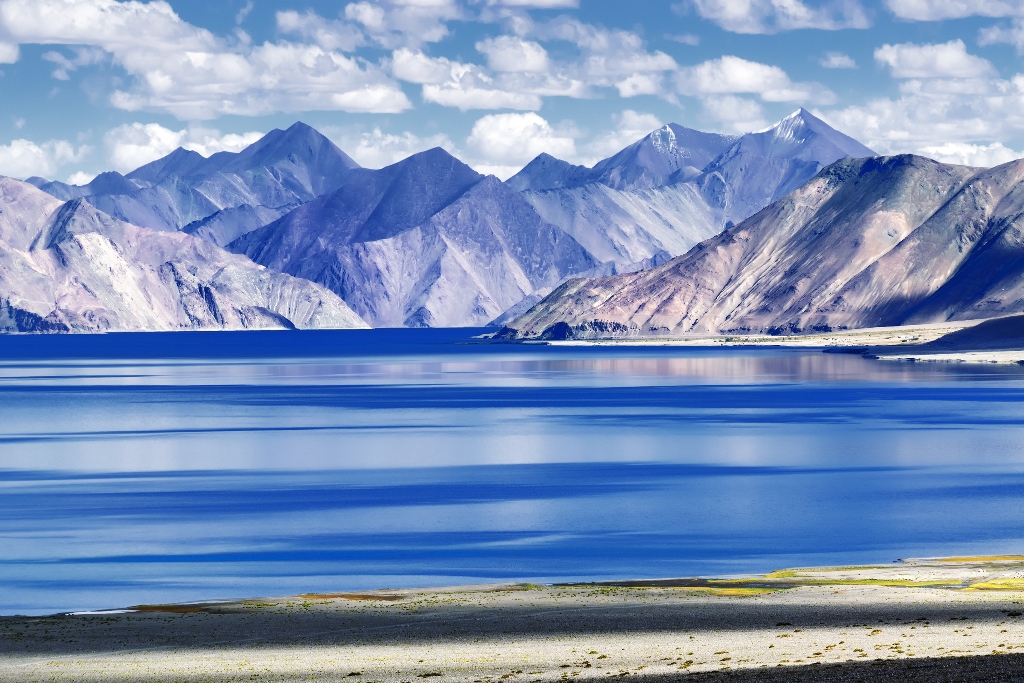 Owing to its proximity to the border, till 2014, visitors were required to get an Inner Line Permit from the concerned authorities to come to this lake. However now, one can show any of their photo identity cards, such as Aadhar Card, Passport and Driving License to get access not only into this area but some other popular destinations in Ladakh; no Inner Line Permit is required anymore. However, this is valid only for Indian nationals; foreigners wishing to visit the lake need to apply for Protected Area Permit (PAP) through a registered travel agent in Leh, in a group of two or more.
As a tourist, one is allowed till the village of Spangmik to visit the lake. Though camping sites are set up on the lake shore for adventure freaks, it is advisable to not stay in those camps, since after dusk, the weather becomes quite harsh. However, if one can brave this weather, then witnessing the sunset and sunrise can be an amazing experience.
Flora and Fauna
One of the most interesting facts about Pangong Tso is that even though it contains saline water, it completely freezes in winters. It is among the highest brackish water lakes in the world. But owing to this saline water, the lake has low micro-vegetation. Barring some small crustaceans, there is no aquatic life in the lake; though, some perennial herbs and shrubs species do grow in the marshes formed around the lake.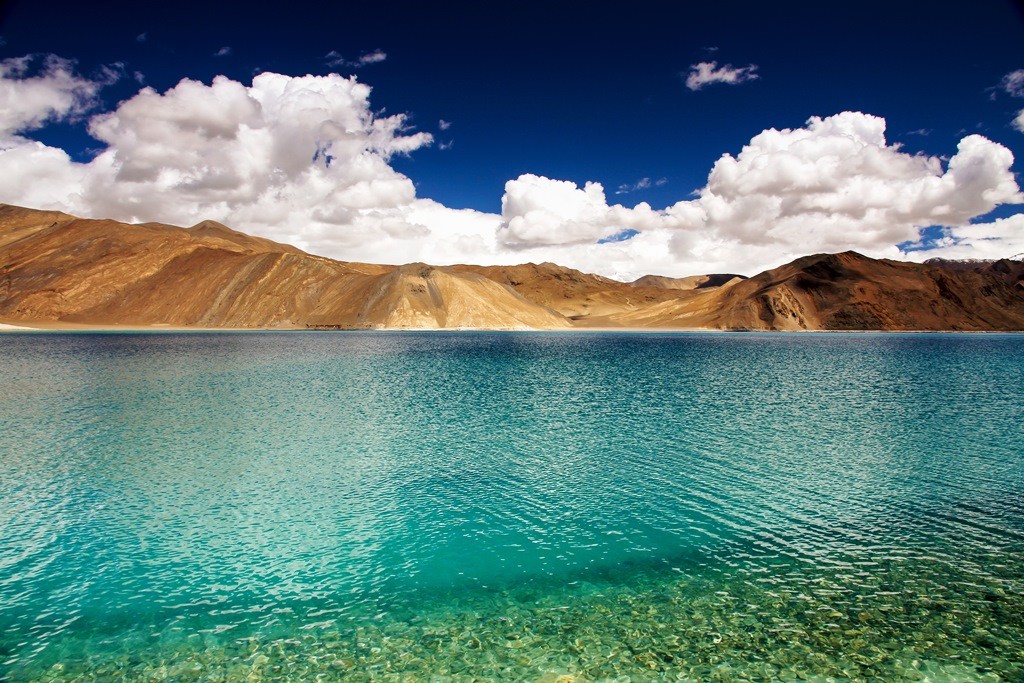 On the other hand, the lake serves as a breeding ground for a variety of birds, especially migratory ones like seagulls, rare black-necked cranes and Brahmani ducks. During summers, bar-headed geese can also be witnessed here. All this makes the lake a favourite spot for birdwatchers and nature enthusiasts. In addition to birds, the region around the lake supports some wildlife species as well, such as the Ladakhi marmot and kiang.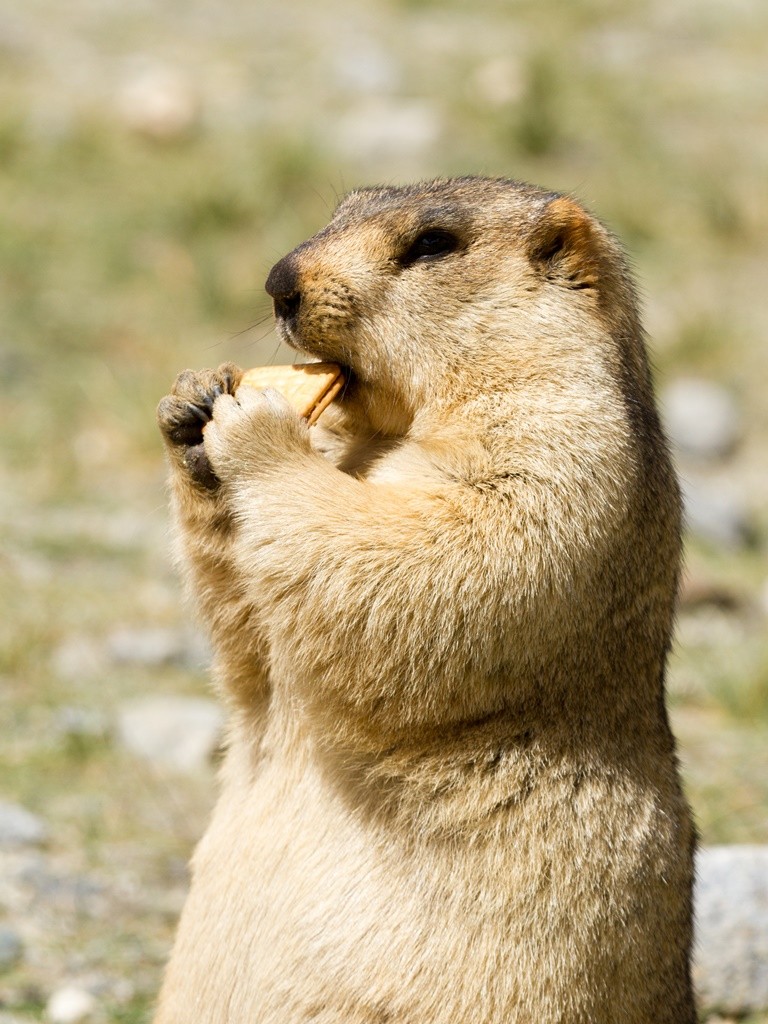 This lake gets filled by various streams that flow from Tibet, while from the Indian side, two streams feed it; thus forming wetlands and marshes at its edges. In the past, this lake had an outlet to a tributary of the river Indus called the Shyok River; however, it was closed off owing to natural damming. In recent years, it has been observed that there is a 5 m thick layer of laminated sand and mud in the lake, suggesting that it has shrunken in recent times. Therefore, suggestions have been made to include it in the Ramsar Convention, which is an international treaty formed for the conservation and sustainable utilisation of wetlands like these. If that happens, then the lake would be the first trans-boundary wetland under this convention in South Asia.
Ice skating
Another interesting trivia about Pangong Lake is that in winters, since its water freezes and becomes solid, an ice skating festival is organised here, which sees participation of ice skaters from across the globe. This gala event also sees cultural performances from the local people.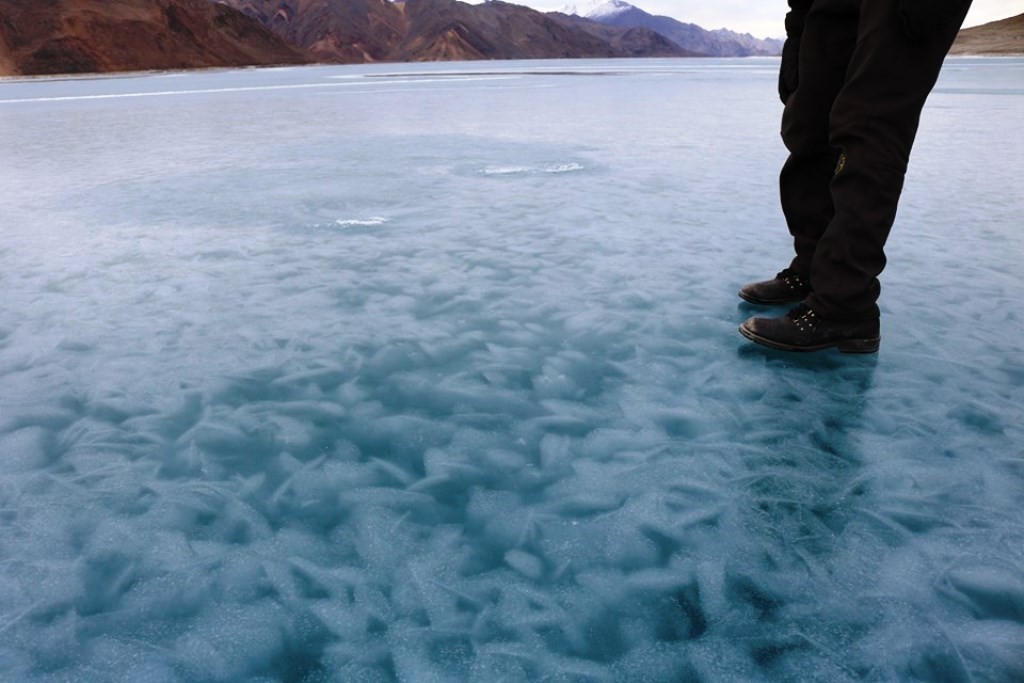 After finding out these interesting facts about Pangong, my excitement level went a notch higher, and I was too eager to make the journey the next day. I could hardly lie still in my bed out of excitement.
The Journey through Chang La
By now, we had hired a taxi to take us to the lake from the Leh town. As we drove along, the driver informed that the route to Pangong passes through Chang La, which is among the world's highest motorable mountain passes (5360 m), and we simply couldn't wait to experience that phase of the trip. And truly, it was awesome! During our 5-hour ride from Leh to Pangong, what we witnessed is still fresh in my mind. The rocky terrains, the view of the high mountains and deserted regions, made me feel too insignificant in front of these wonders of nature.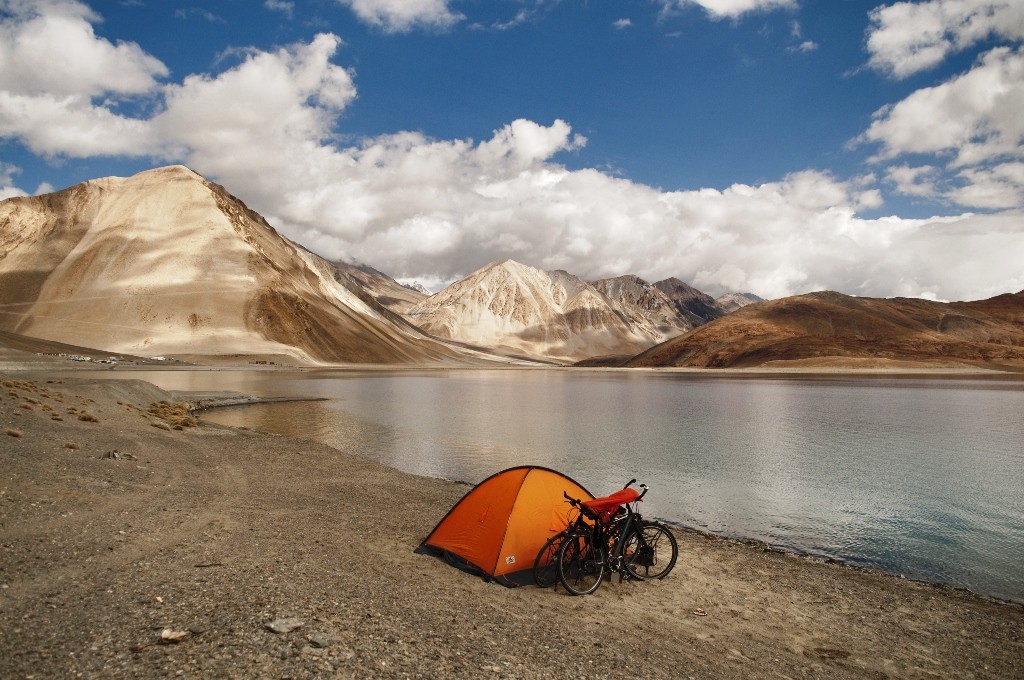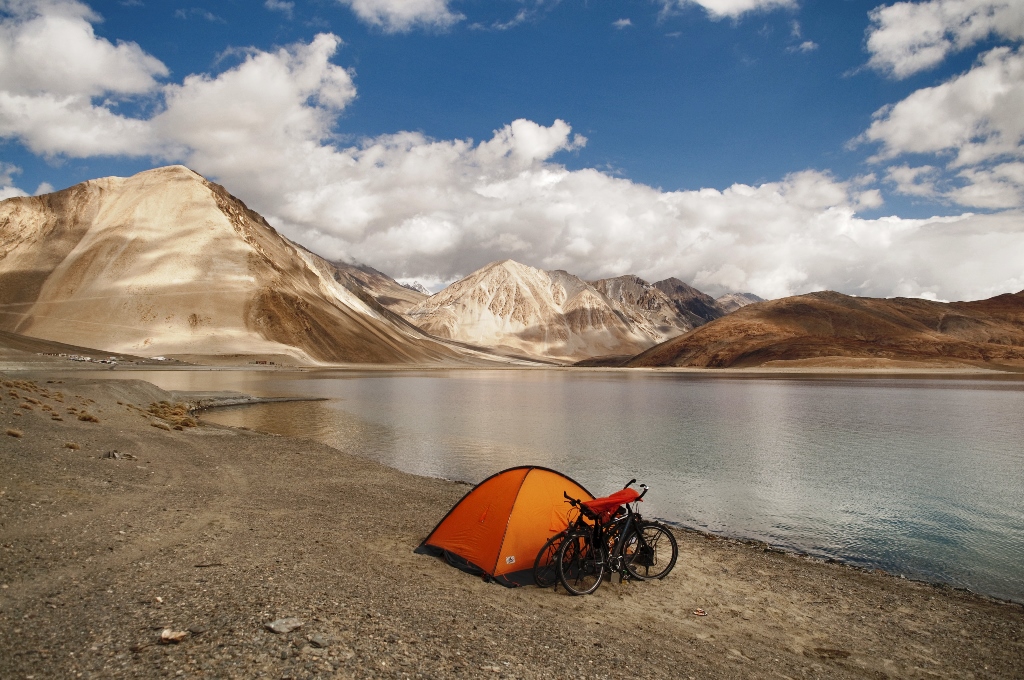 As we drove close to the lake, the azure waters, with the mountains in the backdrop and the rocky lake shore simply took my breath away! I had never seen such a beautiful sight in my life. For the next few minutes, none of us even uttered a single word. We were lost in the beauty of nature! In the next four hours at the shore, all we could manage to do was just sit there and look at the scenic vista as others headed towards the lake, walking on the narrow ramp-like land formation that led into the lake. It was one of those days when you realise what ultimate freedom and tranquility actually feels like!
If you too wish to feel the same and witness the real beauty of nature, then get along some friends, complete the travelling and accommodation reservations to proceed to Pangong Tso. I can assure you that this journey would eventually become one of your top adventures in life. However, before making the reservations, do keep in mind that the lake is open to visitors only from May till September as winters in this region are too inhospitable.