Sikkim Tour On Motorbike: A Whimsical Experience with Friends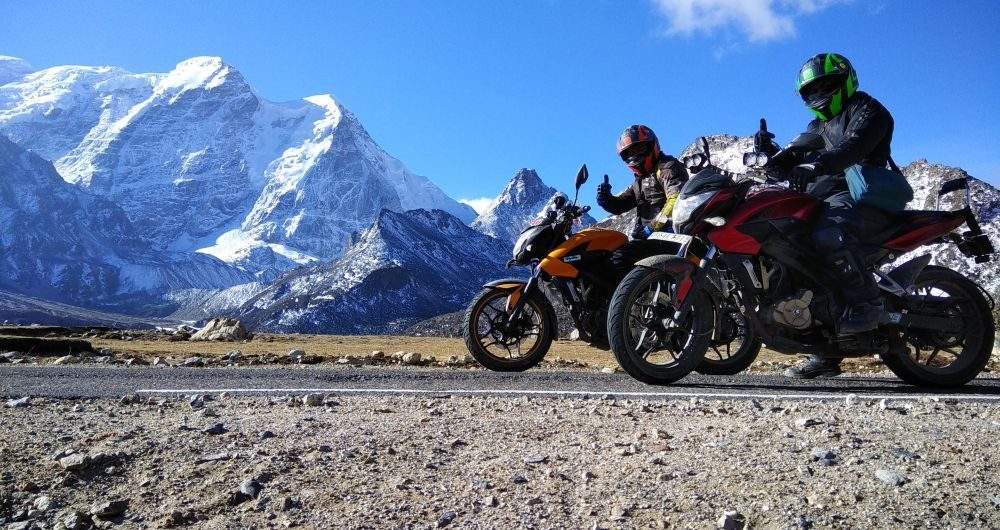 Sikkim, a tiny hill in one of the most stunning states of North-East India is sure to bring you peace and solitude on your visit. With cerulean lakes, lofty mountains, quaint villages, and pristine scenery, a road trip to Sikkim lure adventure freaks, nature-buffs, and trekkers owing to its myriad nature charms.
This year in September, I got lucky as I was finally able to turn my holiday plans into reality. Taking a break from the hustle and bustle of city life is not easy for an office goer. The happiness of just packing my bags and leaving for the vacation is unexplainable. I was yearning for a break! And for that matter, my holiday destination was Sikkim (Yayyy!) and if I could say "it was a motorbike trip to Sikkim". Sounds interesting, right? A place that has not been explored extensively is capable of giving moments you never thought you could have experienced.
It was a Saturday night when I was telling my mother how beautiful this state is. I was telling her about the Silk route, the natural spa of Yumthang, Gurudongmar Lake, Lachung and more. While conversing about these kinds of stuff, we were also packing the essentials for my tour as I had to leave the next morning for my journey. At dawn, I left from my home to the airport for my flight to Siliguri. On reaching the Bagdogra International Airport, my excitement was kissing the sky and I was thrilled to commence the journey.
The Trip Begins Here
 "You people are very lucky," said the taxi driver, who took us to the hotel for check-in.
The driver further continued, the weather cleared today morning, as it was raining cats and dogs for straight three days. He looked like a hospitable man, wearing a clean light blue shirt paired up with a jacket, and a crisply iron trousers. The best part, he was talkative, so we told him that we are here to take a motorbike tour of Sikkim. He looked thrilled and his interest piqued quite soon, so we asked him about the local delights, places to explore and off-beat sites to see. Soon while chatting, we reached the hotel.
"All the best for your trip, it was great talking to you all" the driver expressed while taking out our luggage from the car. 
As I entered the hotel, the staff greeted humbly and showed me the way to the reception, where I filled all my details for check-in. After settling my belongings, I headed out with my friends to explore the surroundings and also had a brief with our team and trip leader. After bike allocation, we explored the city and later went back to the hotel for some rest as tomorrow we had to wake up early to leave for the much-awaited motorbike tour across the state.
"Early to bed, early to rise, make your travel journey a blessing in disguise."
As soon as the sun peeps out, we were told to pack up our belongings as our trip leader was about to guide us on how to tie your backpack on the motorbike. We were told to carry minimal stuff i.e. only the essentials needed for the journey. After checking our bikes and a hearty breakfast, we left together for the ride to Gangtok.
I must say that the splendour of Gangtok will ensnare you instantly at one glance. I was thrilled to firstly ride the journey with my friends, and secondly exploring Sikkim on two wheels in a single trip.
From traversing the uphill routes to glancing the magnetic landscape of Sikkim, this place houses nature in a way found nowhere else. The flutter of prayer flags and the rhythmic chants of monks throughout the city gives one an insight into the cultural side as well. Later, in the evening, we went back to the hotel. My room's balcony was filled with my friends, chatting about the travel stories, Sikkim treks and appreciating the nature of Gangtok.
"Here, it's so green and breezy", said Gaurav, while sipping his cup of tea.
"I miss mingling with nature when I am in Delhi", said Rishabh, while gawking at the trees from the window of our hotel.
Then, at midnight, our drowsiness conquered us all to take some sleep for the next morning ride.
"Hey! Get up, come and see this", said Radhika, pointing out the sunrise and its myriad shades in the sky.
The view was unmissable, it looked as if the sun broke into a colour palette. The morning came, and we all got ready to leave for the next destination, which was Lachen, a base for Gurudongmar Lake. We were so thrilled to see the confluence of Lachen and Lachung Rivers, which later combine to form a Teesta River, a religious river to the locals. Riding the bikes through the mountains, side by side to the river for an entire day, now it was time to chill for a while. We reached the hotel, kept our bikes and head out to the city's food arena by walking. The fragrance of Thukpa from the big-stirring-pot watered my mouth for some hot meal. Post dinner, it was time to cuddle up in the squishy bed for a sound sleep.
In the next two days, we explored the most rewarding sights of our trip to Sikkim; the Gurudongmar Lake and Yumthang Zero Point. I had read quite a lot about these two places that 'how much it attracted tourists from all over the globe'. Named after Guru Padmasambhava—also known as Guru Rinpoche, the founder of Tibetan Buddhism, this site is sacred for Buddhists, Sikhs and Hindus. Well-known as one of the highest lakes in the world, Gurudongmar Lake is a revered site, where many travellers try to take a dip in the freezing waters of the lake for a reward of blessing from the divine. Caution: Do it at your own risk, it is bitter.
Yumthang Zero Point is famous for its loads of snow, crooked pathways and if you get lucky you might even see the frozen river or half-frozen river, depending on the weather conditions. It is called Zero Point, as after this there's no motorable road and visitors are not allowed to go further beyond this point due to proximity to Chinese Borders.
Another noteworthy place was Zuluk; the spiral roads, the picturesque landscape of Kanchenjunga range and the feel of riding the motorbike on hairpin curves were just so awesome. Soon after riding the exhilarating tracks, we halted for some tea at a small hut whose unique selling point was its sweeping view of the mountain range in the backdrop.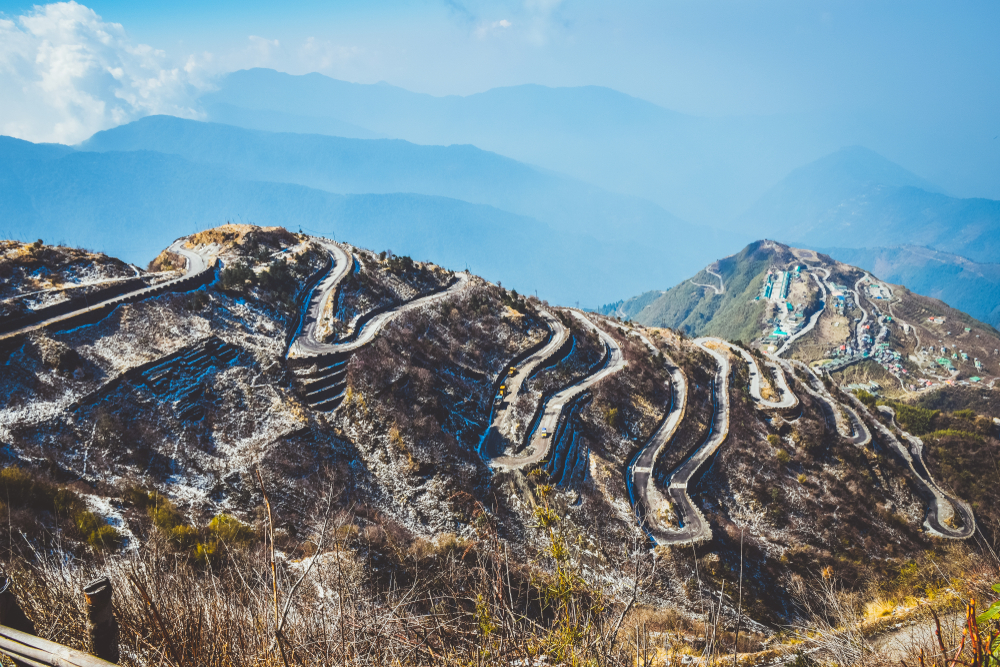 We sipped our hot pipping tea and chatted for a while. It was our last day so we were recalling the best moments of our journey.
"I loved the confluence view of Lachen and Lachung River", happily said Radhika while sipping her tea.
"No, man! Do you guys remember that amazing turn at Zuluk, I was shit scared at first but then I managed to make a turn", exclaimed Harshit, an experienced bike rider.
"Loved the tranquillity and the calmness of the people here," I said.
"True that", said Radhika.
After clicking some pictures to the remarkable backdrop of Mount Kanchenjunga, we continued our journey back to where we started, Gangtok. On reaching, we were quite exhausted, so we rested for an overnight in Gangtok. The next morning, we all moved back to Siliguri, from where our return flights were scheduled.
To conclude the best, I would say the journey was memorable, unique and different from what I usually experience. I think it was due to the pristine environment and tranquillity within the valley. People were not in a rush, the air quality was splendid, nature was spell-biding, and the most important I was away from my daily life in a metro.