Stok Kangri Expedition: Conquer Your Fears

I am an ardent foody, who likes travelling. In my free time, I blast my ears with good-quality Heavy Metal. Watching culinary shows, writing songs, playing drums, guitar and keyboards, playing cricket and singing consume much of my leisure time.
The initial point of Stok Kangri trek is at Leh. Here, you get acclimatized for the trek. Leh is accessible by road and air. The road travelers can reach here via Delhi, Chandigarh and Manali. Though, the road journey is quite hectic and considerably longer than a flight, the picturesque sights along the way will make it all worthwhile. The roads going to Leh are accessible only in summers because cold weather and snowfall during winters makes the roads unusable.
All Assemble at the Base Camp
Perched at an elevation of 20,180 ft., the Stok Kangri trek is known for real adventure. The height offers spectacular views of Tibet in the East and Himalayas in the South. The expedition starts at Leh and goes to the astounding Khardung La at 18,372 ft. 
Undoubtedly, the base camp which is situated about 15 km away from Leh, is an amazing place to be. It offers a course that requires physical strength and fitness for high altitude climbing. Moreover, the base camp is set beside a frozen river, which makes it an ideal camping spot for the trekkers. Not only this, the valley embraces striking pasture lands, which are usually covered with snow and alongside flows a water stream channeled from Gulap Glacier's moraine.
Embark On An Unforgettable Journey Today (But first plan for it!)
Due to the heights, the temperature at Stok Kangri drops below freezing point. Considering the climate, the best time to embark on this trek is from July to September. The weather between October and November is harsh yet suitable for the trekkers who are willing to challenge themselves and take the risk. For the rest of the months, the route going towards Leh and Ladakh are padlocked and trekking is forbidden.
July to September: The temperature ranges from 20°C to 15°C during the day time and 7°C to 2°C at night.
October to November: The temperature ranges from 15°C to 10°C during the day time and 5°C to -5°C at night.
Go On This Trek For
Leh: One of the most friendly-places for the travelers in India. The place is surrounded by well-designed stupas and beautiful mud-brick hamlets. Travelling to an ancient town built by King Sengge Namgyal in the 16th century is a journey in itself, as it was once ruled by royal families whose relics still remain conserved.
Khardung La: Khardung La is a lifted mountain range that lies at an altitude of 18,372 ft. It is the gateway to the magical valleys of Ladakh's Siachen Glacier and Nubra. The place that offers splendid views of the Karakoram Range is often known as the 'Pass of Lower Castle'.
Stok Village: The structural designs of Stok Village blend ideally with traditional and the contemporary architectural styles. The two major attractions are Stok Palace and Stock Museum. Both these sites offer panoramic views of the valley from the rooftop.
Delve in the rich cultural experience with the locals
Peace loving locals in the region of Ladakh are absolutely distinct from the rest of the country. Their food, lifestyle and dressing are something that one should experience at least once in a lifetime. The reflection of Buddhism is widely visible in their culture with the Buddhist monasteries and its engravings. Generally occupied with their traditions and beliefs, the Ladakhi community finds joy in their religious and socio-cultural activities.
Stok Kangri: A story of fears and thrill
Stok Kangri Trek is not for all! It is a 9-day expedition that will test you emotionally, physically and psychologically. Moreover, when you will come back home, the summit will give you jitters for over a month. Low oxygen levels, dark surroundings, challenging winds and the uneven slippery path will make you curse yourself, asking why you decided to scale this peak.
The harsh rays of the sun, dry winds, freezing cold nights, surprising flower trails, thorns and rocks, beautiful rivers, snow-capped high passes -all of the elements joined hands to instill in me a lasting inspiration.
My trek to Stok began when I headed from Leh to Chilling, a village situated along the banks of River Zanskar. Accompanied by our guide and her staff, five of us started trekking from Chilling and crossed the River Zanskar through a pulley bridge. Later that day, we stayed at Chilling and paid a visit to Buddhist stupas, monasteries and local markets from where I bought a woollen sweater for myself. I had a great time with the local kids who were playing football; they got way too excited when we requested them to add us to their respective teams.
Next day before my scale to Chang Ma, for which I had been maintaining my fitness for these past four months, there was some uncertainty caused by the harsh weather and an unexpected decline in our team as two of our team members decided to go back. Chang Ma is situated in the South of Leh, and from the motor vehicle, I enjoyed dazzling views of magnificent mountains and the blossoming green gardens nuzzled amidst them.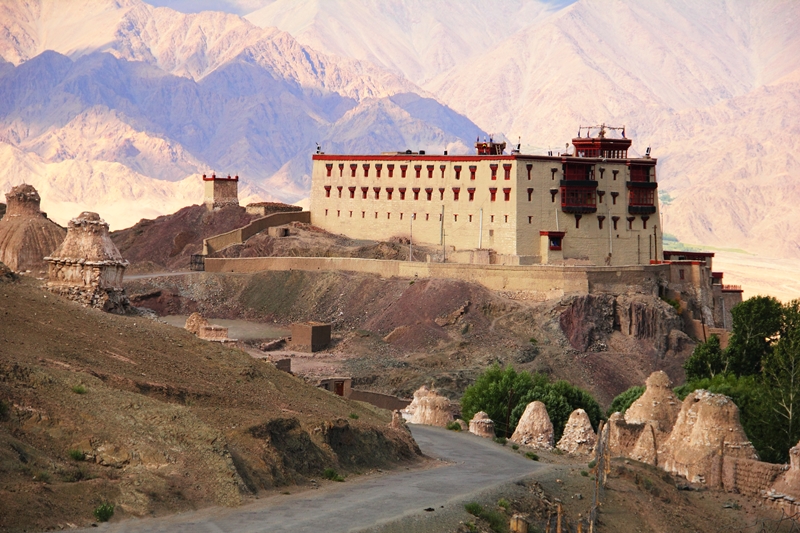 When we reached Diskit Monastery, the locals told us that it was constructed sometime in the 14th century.
Around 5 pm, we arrived at a beautiful campsite at Chang Ma. After taking rest for an hour, our trek guide summoned us and gave us the following instructions, "Step your feet firmly and use your heels to move down", as we headed out from our base camp to practice a little. The giant white shoes are also used by our soldiers on borders. The soft surface and heavy leather coating inside allow you to dig your feet firmly into the snow. While walking with heavy weight on my ankle, I fell down several times and couldn't decide whether the practice session was fun or irritating. Our tents were set up on a rocky and uneven slopes, the experience was completely strange all together as it was hard to lie on the rough base.
At 2.30 am, we were rounded up for a marvelous early morning climb. I immediately wore my gears, which included snow boots, four layers of clothing, trek pants, harness, crampons and a rucksack with a warm water bottle, energy bars and food. And so, we all were ready to scale 3,000 feet in the next few hours, the trial started with a steep climb. At 5:45 am, the course welcomed us with colorful Buddhist prayer flags that marked the beginning of the ice masses. Yes, the white milky glaciers! The mount to the edge began here, and I felt both woozy and giddy with gratitude for where we have reached. We passed through stunning streams, alpine lakes and scenic high-altitude Ladakhi mountain valleys.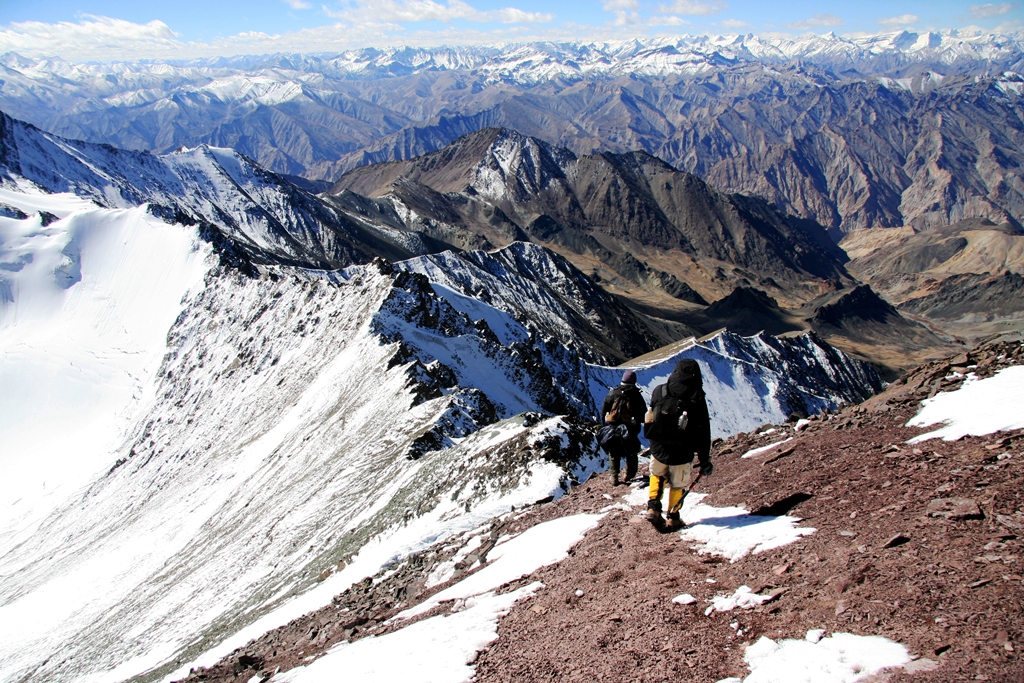 Soon, an hour-long hide-and-seek game of the Sun ended as it shined out brightly against a blue charming sky. While rest of the environment was subtle, the only thing that was moving ahead with us was the crystal-clear white clouds. Around 9 am, we arrived at Mankorma, we spent our day there for acclimatisation and training at a few smaller peaks here. Mankorma was a treat to the eyes since it offered us a picturesque sight of grey and purple mountains that seemed like something out of a fairy tale.
Next day, while on our way to base camp we enjoyed the views of some beautiful peaks like Parcha Kangri and Gulap Kangri. Along the way, I captured spectacular pictures of mountainous meadows and sheep grazing on soft green grass. After 3-4 hours of trekking, we arrived at the base camp. It was day 6, we rested in our camps to get acclimatized to the geographical conditions and weather. Our guide provided us key information that was a must to scale the summit. She talked about various challenges and hazards that we might face during the trek. She also handed me a trekking map with all the important guidelines mentioned on the back of a map. Later, we took out our cameras and captured some stunning views of valley and sunset.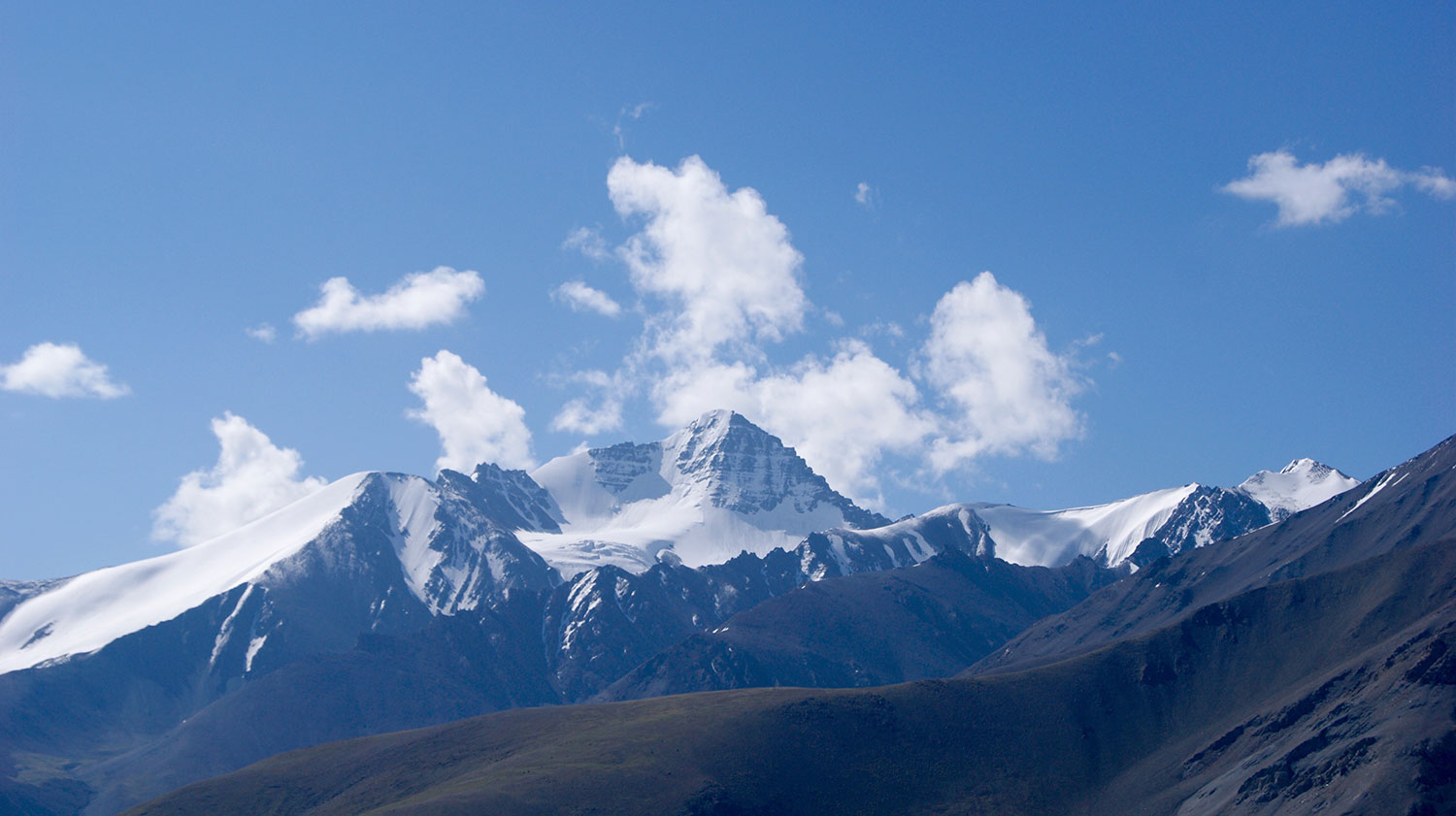 Next day, after 9 hours of steady climbing, we reached over 19,850 feet, it was the highest point that I had ever climbed in my life. To be very true, our guide's instructions and training helped us a lot in dealing with breathing issues, and also motivated us to aim high. The slope was at about a 75 degree incline and the trail was loaded with small rocks and massive boulders. The Stok Kangri trail was packed with moraine, glaciers and steep snow-white slopes.  In total, it took us around 9 hours to reach the destination. It was right here when we were surrounded by the colossal Himalayan ranges of Karakoram and Zanskar, including K2, the world's second highest peak with an assortment of gentle clouds around it. With the feeling of scaling Stok – so high above the unaware beings that exist on Earth, I was enveloped by a sense of gratitude for my team.
I settled myself in the right place and delightfully absorbed the panorama around. But the picturesque views eluded us too soon as we had to descend to return to the base camp before sunset.
We moved downwards, the dusty snow made it effortless for us to slide down rapidly. I felt like I'm a part of some Telugu action film as we held our trekking poles like a handle and swiped down like a rocket. Just kidding! After 8 hours, we reached the Buddhist flags from where the story of our glacier walk had started. Next day we were back in the abode of Leh valley. I boarded a flight for Delhi next morning, thinking that despite all the odds, it was the best trek of my life till date.
And, whenever, I look back at the journey encompassed with gigantic mountains overpowering the beautiful landscape, my heart says only one thing, "It's not the mountain we conquer, but ourselves".
Important Information: Permits
A person is required to carry driving license, voter ID or passport (along with visa for non-Indian travellers). A passport size photo and a medical fitness certificate are a must for the trek. Notably, a person has to take a climbing permit from the Indian Mountaineering Foundation in Leh which is mandatory for the trekkers. It takes almost a day to be issued.
Region: Leh Ladakh in Jammu and Kashmir
Duration: 8 Days
Grade: Difficult
Max Altitude: 20,180 ft.
Approx Trekking:  40 Km
Airport: Kushok Bakula Rimpochee Airport, Leh
Trekking Gear You'll Need
Trekking shoes and 4 to 5 woollen socks
Thermal innerwear, heavy fleece clothes
Torch, whistle, camera
Winter jacket and water proof coat
Trekking pants, woollen cap, gloves, etc.
Sunglasses, Trekking Pole, Water Bottle
Sun screen lotion and other toiletries
First aid kit, Swiss knife