Triund Trek: A Real Treasure Trove For Adventure Lovers!
I am an engineer by education, but a blogger by choice. With a keen interest in portrait and nature photography, I never forget to carry my DSLR when on an outing or celebrating special occasions with dear ones. In free time, I love to read and write blogs, or stay busy with my kiddo.
Located in the majestic Dauladhar Range of the Himalayas in Himachal Pradesh, Triund trek (3,000 meters) is among the most popular treks in India. The main cause of popularity is its moderate climate, snow-capped mountains, natural grandeur, green-lush valleys and serene environment. The exhilarating views of Kangra Valley from the Triund top feel like some fantasy. One can experience the exquisiteness of nature at every step of the journey. While the tricky route and tiresome curves on the way bring difficulty for the first time trekkers, chilly breeze takes away all the weariness as soon as you reach Triund peak.
In Himachal Pradesh, places like Triund and Mcleod Ganj showcase the Tibetan culture with vivid monasteries, striking architecture, prayer flags, wheels, vibrant markets and Buddha's stupas.
Night camping at Triund is an experience to die for!
It is true that stunning views of mountain ranges, green forest and water streams will make your trip memorable but what makes it a lifetime experience is night camping at Triund top. A beautiful campsite next to gushing streams and a night spent under the dark blanket of white glazy stars will turn out as the best camping experience ever!
Where do we start?
There are several starting points for the trek but McLeodganj or Dharamkot are among the most popular ones. From Dharamkot, a 7 km trial goes to Galu Temple. Here you will witness a beautiful sight of the valleys and Dharamsala cricket stadium. Triund is just a few metres away from here.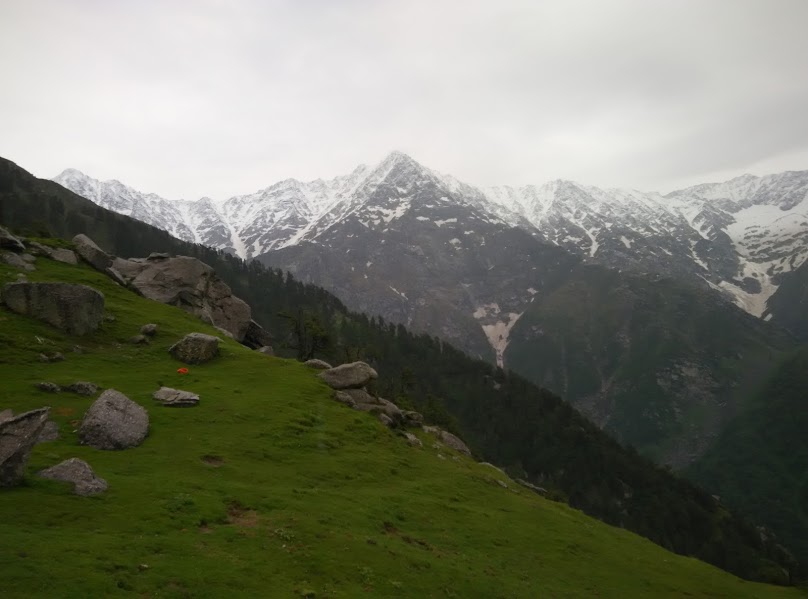 The Best Time to Visit
Triund trek is available around the year, except from January to February. The best time to visit is from March to June and September to October as at this time, there is no snowfall and the weather is quite comfortable to enjoy clear views of the mountains.
March to June: The temperature ranges from 20 °C to 10 °C during the day time and 7 °C to 2 °C at night.
September to October: The temperature ranges from 10 °C to 7°C during the day time and 5 °C to -5 °C at night.
Pack a bag! 
Warm jackets, caps and gloves (in case of cold weather)

Trekking shoes, Trekking pole

Water bottles, energy drinks

A pair of sunglasses, camera

Basic toiletries, bed sheets

Power bank, Flash light (with spare batteries)

Insect repellent, First-aid kit
Attractions Nearby:
A day at Dharamsala Stadium: You don't need to worry even if you're not a cricket lover; a trip to Dharamsala offers an enriching experience. The stadium is situated 1,457m above sea level amidst the setting of the pictorial Dhauladhar Range. You may not know this but it is a favorite holiday destination of Aussie cricketer Mathew Hayden.
Offer prayers at St John's Church:  Designed in neo-Gothic architecture and dedicated to John the Baptist, it is a perfect place to offer prayers and click pictures. The church which is surrounded by Deodars, has the Belgian stained-glass windows donated by Lady Elgin, wife of Lord Elgin.
Take bath at Bhagsunag Waterfall: Take an early morning stroll to the stunning Bhagsu Falls located just near to the Bhagsunath Temple. It is one of the best tourist attractions in Mcleodganj. A 20 m high waterfall offers a spectacular view and it holds the attention of its visitors in such a way that they want to get lost in its beauty.
Attention, Shopaholics: Don't forget to take back some souvenirs!
Kotwali Bazaar in McLeodganj is an ideal destination for shopaholics. Tibetans sell beautifully handcrafted sculptures, accessories and utensils. Prayer Thangkas, Tibetan artifacts and dresses, rugs, carpets, bronze or silver statue can be purchased from here.
Triund Trek Tales 
For city dwellers, hills are the best place to get a break from noisy city life and mundane schedule. And what's better than going on a long weekend trip in Himachal Pradesh. Taking the benefit of the opportunity, I decided to ask some of my friends to accompany me on a trip and our bags were packed immediately thereafter.
Home to Dalai Lama, Dharamsala is all about grand monasteries, colourful flags, rolling prayer wheels, ringing bells and an abundance of flora and fauna.
Our journey began from Delhi at around 10 pm. The thrill of going to our favorite holiday destination doubled this time as we had a plan to scale Triund. On that day, we hardly slept for an hour, most of our night was followed by researching about the Triund trek. Next morning, our Volvo dropped us at Dharamsala. It was around 7 am and we checked into our hotel.
Tip: Though the Best Western Indraprastha Spa Resort is quite costly, they offered us a good discount as we used to visit it at least five times a year.
After a warm welcome by the hotel staff, we went to our rooms. We had a scrumptious breakfast and some of my friends decided to sleep for a while. I was a bit impatient as I didn't want to spend my precious time sleeping. Thus, I first visited Dal Lake that was located very close to our hotel. My family had warned me to not come back if I didn't visit Bhagsu Nag Temple so I decided to go check it out. I had planned it in such a way that my friends were already at the waterfall (Bhagsu Nag Waterfall), I took a pleasing stroll from the temple to the decided destination. After spending a little while there, we decided to move ahead and pay a visit to Tsug Lhakhang together, it is the residence of Dalai Lama along with his private office and temple. As we reached that place, the weather changed and it all turned dark and breezy. The sudden change of weather is kind of usual here, don't worry. The only thing that gave us a feel of heaven was the mesmerizing beauty of lush valleys surrounding us and a spectacular view of Tsug Lhakhang.
Next, we were hungry so our next two hours were devoted to a couple of cafés like Indique, German Bakery and Buddha Delight Café. You will find everything here to soothe your hunger pangs: maggi, momos, pancakes, thupkas, pizzas. The night was spent at the hotel. From there, we immediately rushed to Naddi View Point to capture the sunset in our respective DSLRs. The night was spent in our hotel.
The morning of Day 2 was quite a lazy one. After getting dressed, we moved to Jimmy's Italian Kitchen where we gorged ourselves in white sauce pasta and smoky red wine sauce chicken. It was like offering you something just at half of what you get at Big Chill. It was hard to move with stuffed bellies but somehow we managed to reach shopper's paradise i.e. the Kotwali Bazaar. I bought a variety of jewelry for my cousins and a Buddha sculpture for my father who is an ardent devotee. We shopped around for 2 hours and later we tried the traditional Himalayan momos filled with Pak Choi and Potato. The breathtaking view is worth the hike.
We spent a night at Dharamkot which is a small village next to Mcleodganj. Here, we enjoyed the wood-fired pizzas along with freshly made apple juice. We also ordered a plate of pita and hummus and I must say that an entire plateful of hummus is not meant for people with low-appetite.
The final day had arrived! It was a time to pave our way for some adventure. A 9 km trek to Triund from Mcleodganj provides breathtaking view of Kangra Valley and snow-capped mountains. The trial was getting steeper and the curves were making it difficult for us to continue the trek. We had Maggi and some snacks midway. Reaching the top was worth all the puffing and huffing. I headed further up, after consuming a cup of ginger tea. Another halt was 'Magic View Mountain' which offers panoramic scenes. The splendid views of Dhauladhar Range, and overlooking Kangra Valley and Dharamsala stadium from the top were way better than what I expected. Under the shadow of the glittery sky, we had a camp stay for the rest of night.
The last day was quite exciting, we moved to Bir Billing in Palampur, where we decided to jump off a mountain cliff with a paragliding chute, situated at an elevation of about 2,600 m. I felt like a free bird when I jumped from the top. While swaying under the sky, I enjoyed mesmerizing views of lush green tea gardens.
A closer look at the jewels hidden in the snow-capped mountains gave me a gamut of experiences that I would surely cherish until the next time I visit.