Triund Trek: Unraveling Himachal Pradesh's Treasure Trove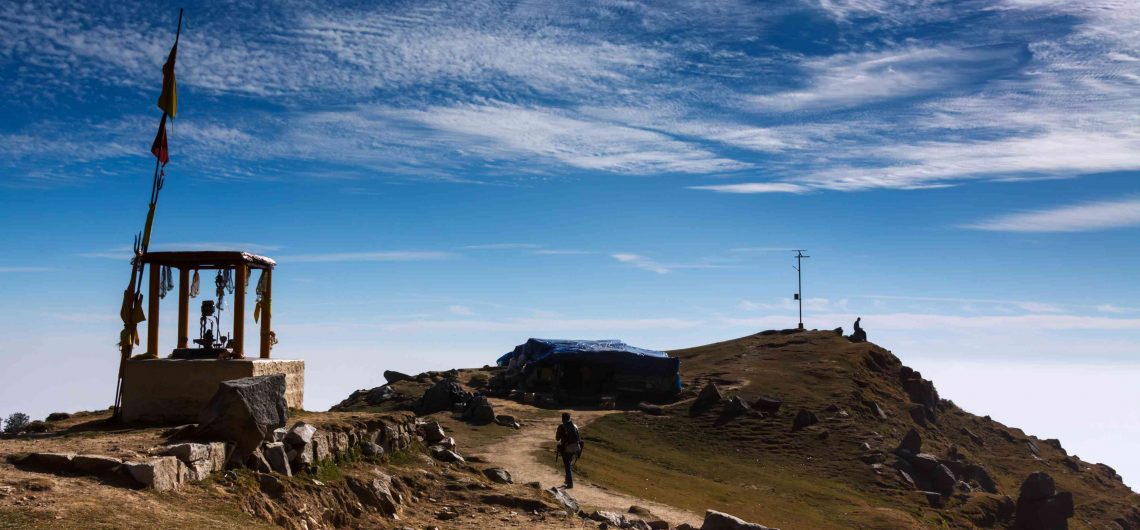 Tanya has been an adventure kid from her childhood days when she explored the deepest secrets of the seas of Tamil Nadu, Andaman and Goa and experienced swimming and scuba diving. She now calls herself a Himalayan Traveler. She claims her first love is the Himalayas, everything else comes after that. Solo traveling gives her a high like meditation and she loves to live outdoors where there is no box. Post backpacking for a few years she decided her calling was trekking and wishes to see the highest mountains of the world, but not climb them as a mark of respect. All the base camps are on her list. She is very inspired by the book "Wild" and wishes to hike the Pacific Crest Trail solo sometime. She loves to write about her travel experiences and connecting them to a way of living life as a person and believes that "Life is either a daring adventure or nothing at all".

Latest posts by Tanya Roy (see all)
For a city dweller, nothing could be more relaxing and joyful than travelling to hills that are covered with lush greenery and fresh air! Such enchanting beauty and peace can be witnessed in the 'crown jewel of Dharamshala', Triund. With all its natural appeal and majesty, Triund is positioned beautifully between the laps of Himachal Pradesh's Dhauladhar Ranges and the captivating Kangra Valley. Also, Triund is among India's most popular trekking destinations for the youth, and attracts lakhs of adventure lovers from all across the country. The tricky terrains and curves offer a perfect treasure trove to its trekkers.
Here's why to pack your bag for Triund
Triund boasts of the lively and distinctive Tibetan culture with splendid monasteries that are equipped with beautiful cloisters, idols of Buddha, wheels and supplication banners. While on your trek to Triund, you will witness some of the finest views of the lush green mountain ranges, white clouds and the dense forests. One of the best experiences to be had on this trek is to witness the myriad starry constellations setting the night skies dazzling.
Notably, the Triund trek is a steep ascent of over 1,100 metres. It is neither a lengthy nor a difficult trek.  From Galu temple, it only takes around 3 hours to reach Triund. The journey of steep climbing begins at the last 2 km from Snowline Café, which means the trekking is quite hassle-free.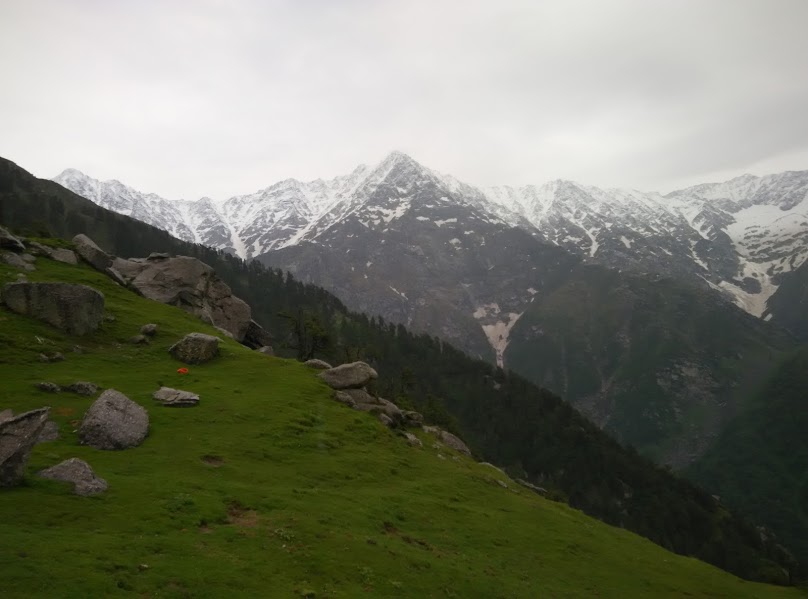 Reaching Triund from Mcleodganj
Galu is a starting point of the Triund trek. In order to reach Galu, one can either hire a taxi from Mcleodganj, or just start the trek right from there. Many travellers start their trek from Bhagsu Nag which is famous for the stunning waterfall. Moreover, while trekking from Galu, one has to follow a path which goes through a dense forest covered with deodar and oak trees. In case, you face any difficulty while climbing up, you can hire a horse/pony to reach the top.
The beginning of My Triund Adventure
I started my solo journey at around 5am from Delhi, taking a route via Sonipat, Panipat, Ambala, Chandigarh and Solan. Because I didn't want to miss the Parathas of the most famous restaurant, Amrik Sukhdev, I stopped my car at Murthal.  I gobbled 3 buttery Parathas with a glass of creamy Lassi that was actually a divine treat to my taste buds!

I reached Dharamshala by 5pm, and searched for a place away from the hustle-bustle of the town. After visiting several guest houses and hotels, I ended up settling at a hotel in Naddi village which was much more secluded and peaceful than the other places I had searched. Enclosed by the village, the hotel offered wonderful views of the splendid Dhauladhar Ranges.

On the next day, I decided to go to Bhagsu Nag Temple which is situated in Mcleodganj. Before reaching there, I came across St. John's church. Without a second thought, I parked my car and went down to the cathedral.

Later I visited Bhagsu Temple, Dalai Lama Temple and Dal Lake. After capturing several photos with my DSLR and getting mesmerized by the calmness of the soothing environment of Dalai Lama Temple, I went to Jimmy's Bakery for breakfast and Taste Of India for lunch.  In the evening, I explored Tibetan Market, where I did some shopping for my friends and family.

On the second day, I started my long awaited trek to Triund from Naddi village at around 9 am. After collecting information from locals, I first reached Dharamkot covering a distance of 3 km. The trek was delightful, with sights of colourful prayer flags, flowers, mud houses and alpine trees. Meanwhile, I met few other trekkers as well. After introducing ourselves we headed towards Galu Devi Temple, which serves as a base for the trek. I stayed there for 10 minutes to refill my water bottle and to click some pictures. One thing that I can't forget was the group of talented mountain goats; talented because they were balancing themselves amazingly while grazing on that steep mountain!

The last one hour of the trek was a test of my fitness, as I was exhausted by the end. I reached the top of this majestic hill by 2 pm which, I think, was good timing. The glance of Triund top was the curtain raiser to all my expectations. It gave peace to my mind while soaking away all my tiredness. The biggest surprise that was waiting for us was snowfall. I stayed overnight in the camp that was set on the top of Triund hill, and the night sky, with all its twinkling stars, mesmerized me.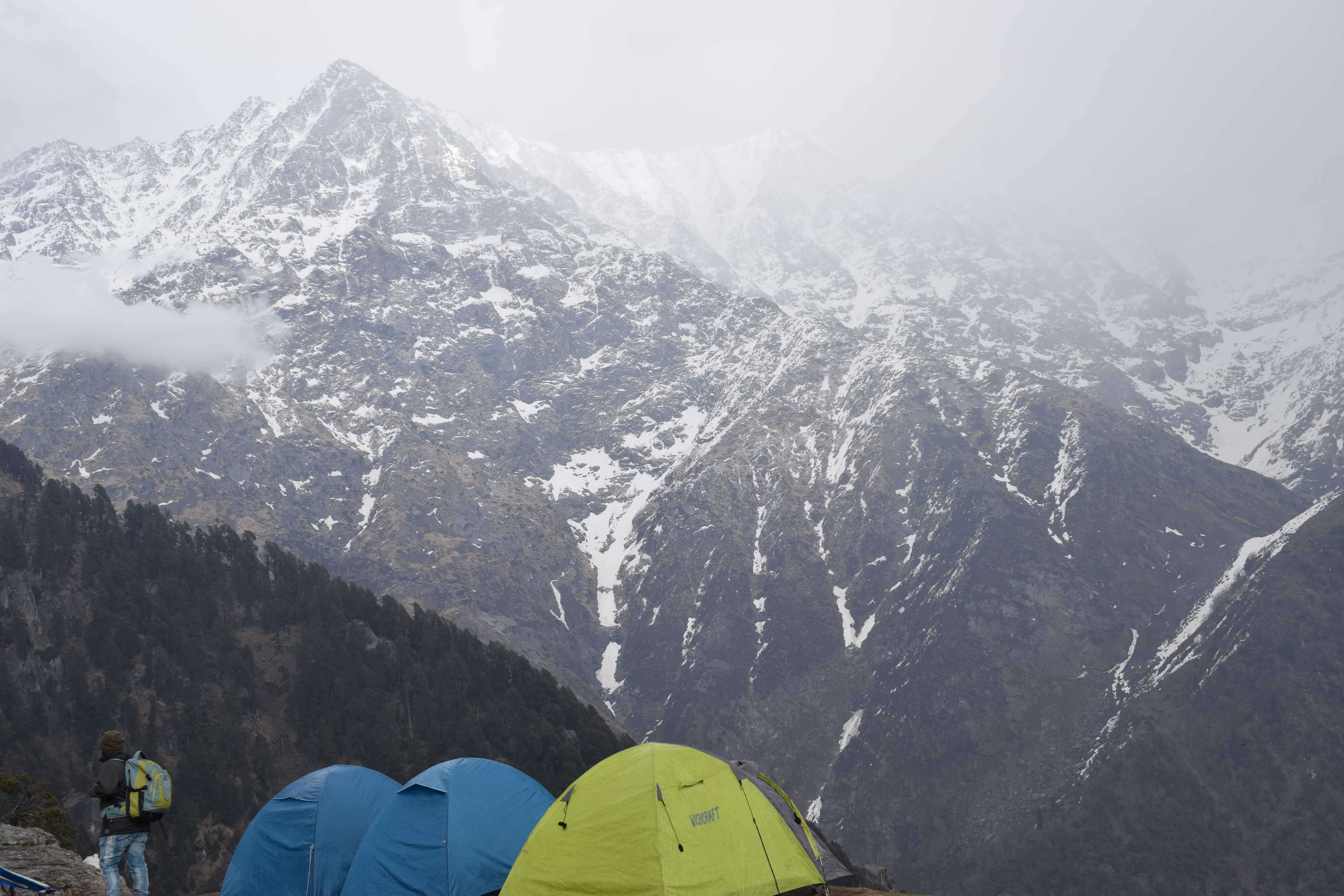 Best time for the Triund trek
March to May is considered as the best time for the Triund trek. However, September to December is also a good time to go. It keeps raining in June and July, but people who enjoy the monsoon can still go for the trek.
Things to Do
After reaching Triund top, don't be in a hurry! Sit there, and enjoy the majestic views.

On the way to Triund, get some energy by gorging on some healthy snacks and refreshing tea or coffee at the cafes there.

If possible, stay at Triund top for the night to get the most beautiful camping experience.
Must carry essentials
Jackets and sweaters

Water-resistant shoes and an extra pair of socks, skin moisturizers and sunscreen lotion

Energy bar and snacks, water bottle

Good camera and a pair of sunglasses

Torch, trekking-pole

First aid kit and insect repellent
Checkpoints of Trek
Galu Devi Temple

'Rest A While' Cafe

Magic View Cafe and Best View Cafe
Some amazing nearby attractions
The Namgyal Stupa

Tibetan Institute of Performing Arts

Bhagsu Waterfalls
Must-visit Cafes
Magic View Café

Shiva Café

Best View Café

'Rest a While' Café
What more do you want? Try out the Triund trek in Dharamshala to make an invigorating exploration of the Dhauladhar peaks and camp under a star studded sky to fully unwind. Beware the feeling of not wanting to come back!