Kheerganga-Where the mountains meet the moon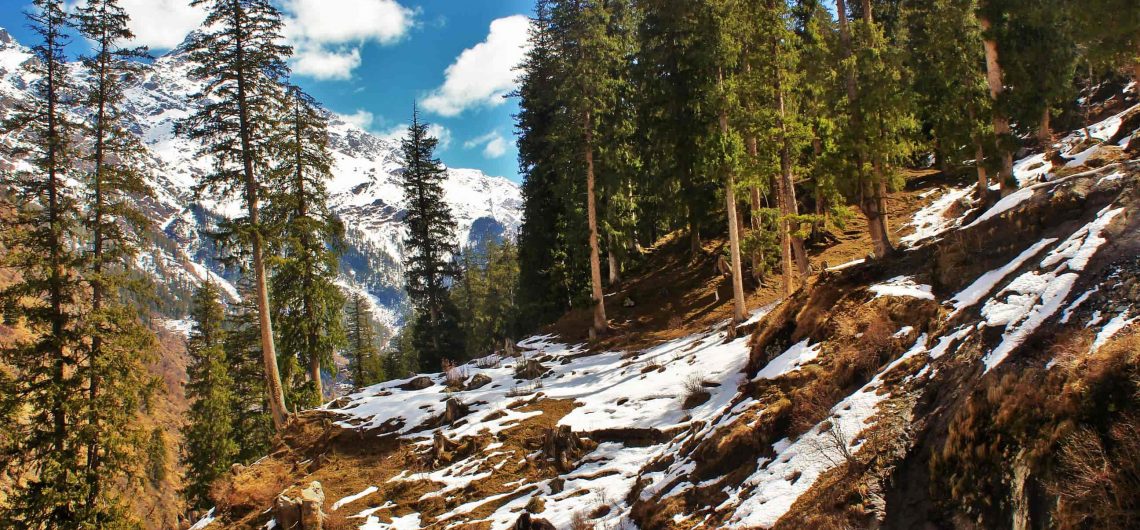 I am a happy-go-lucky person, who loves reading, writing and travelling. Gardening and good food are the other things that I am passionate about. My motto in life is simple, "Love what you Do and Do what you Love".
Latest posts by Meenakshi (see all)
In the abode of Himachal Pradesh, lies a beautiful place called Kheerganga (3500m) at the extreme end of Sylvan Hills' Parvati Valley, where it is believed Lord Shiva meditated for thousands of years. The lush greenery of the mountains, the elegant River Parvati and picturesque skies are undoubtedly a much-awaited delight to a trekker's eyes and soul.
The place has a religious significance for both Hindu and Sikh pilgrims. Situated 22 km away from Manikaran, Kheerganga is popular for its hot water spring even during heavy snowfall and bathing in it is an experience you will definitely cherish. While trekking, the trail unveils popular tourist destinations en route like Rudra Nag Waterfall and Shiv Temple. You should go ahead for the Kasol – Kheerganga trek to experience peace in the soothing sights of the great Himalayas.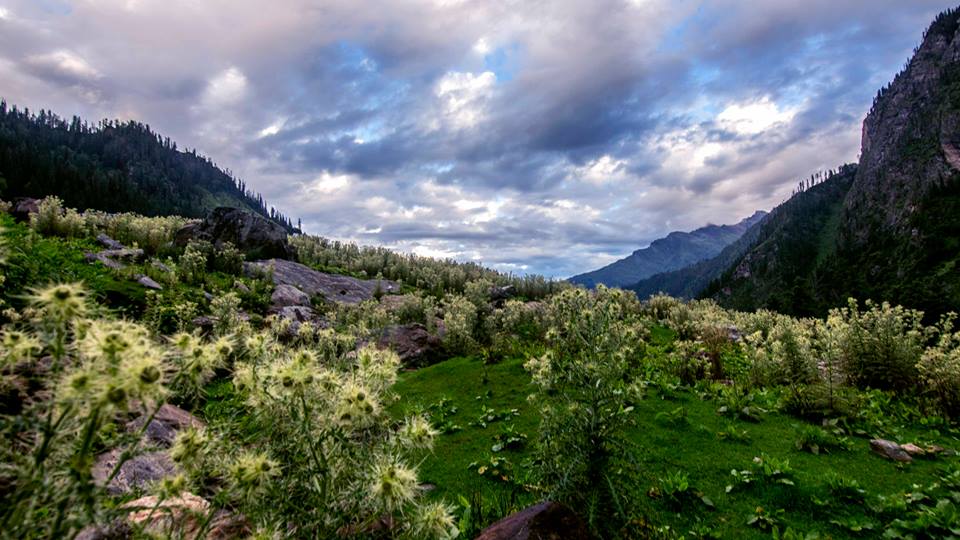 How 'Kheerganga' came to be called so
A few believe that it was the son of Lord Shiva, Kartikeya, who came here after losing a race to his brother Ganesha. He remained in a 'Samadhi'(meditation) for thousands of years. It was Lord Shiva who tried to tempt his son by channelizing a stream of Kheer (rice pudding) to bring him back. The actual meaning of the word Kheerganga is 'milky white sacred water'.
A Trek to Kheerganga
Almost three years back, when I went to Kasol with a group of my childhood friends, I heard about Kheerganga from the people who were coming back from the trek. They told us that despite its obvious challenges, the trek was an incredible experience that would make for a lifetime of memories. Since then, Kheerganga had been on my list of places to go, till the opportunity finally presented itself.
Last month, I decided to go for the trek, and after my packing, I went to Shivaji Stadium from where I was supposed to board a tempo traveller bus at 10 pm. I wore my headphones comfortably, turned on the music, and settled back. We took a pit stop at Murthal for dinner, where I enjoyed Pyaaz Parathe with pickle and curd, then we headed for the road again. This was for the first time I was travelling solo, so my over-excitement hardly let me sleep on the bus.
The morning started with a stunning sunrise view that I enjoyed from a local Dhaba where we relished tea and sandwiches. After crossing the bumpy path of Manikaran and Kasol road, the bus dropped me at the Kasol Bus Stop at around 2 pm. I met a few other people at the bus stop who were planning to trek to Kheerganga at 2pm. Rather than saying yes to them, I decided to find a hotel for a night stay in Kasol as I wanted to be completely rested for the journey. After relaxing for 2 hours, I took a stroll to the Kasol Street that is also referred to as Mini Israel, because of the many Hebrew inscribed signboards and a variety of scrumptious Israeli dishes that are being served in the restaurants and cafes.
Next day, I started my expedition at 6 am after grabbing some toast from the hotel's restaurant. I first visited a nearby temple where I met my guide, who had 8 years of experience in trekking. We set our target to reach Kheerganga by noon. From the temple, we moved to Barsaini, the base camp, which is also the convergence point of the Parvati and Tosh Rivers. On our way to the top, we walked through the majestic landscape along with a splendid sight of nature. We passed a few wooden bridges, tricky terrains and slippery curves. I captured several mesmerising views of the sky, waterfalls and birds in my camera. We reached Rudra Nag Waterfall at 10am, where we stayed for 15 minutes to admire the beauty of the hills.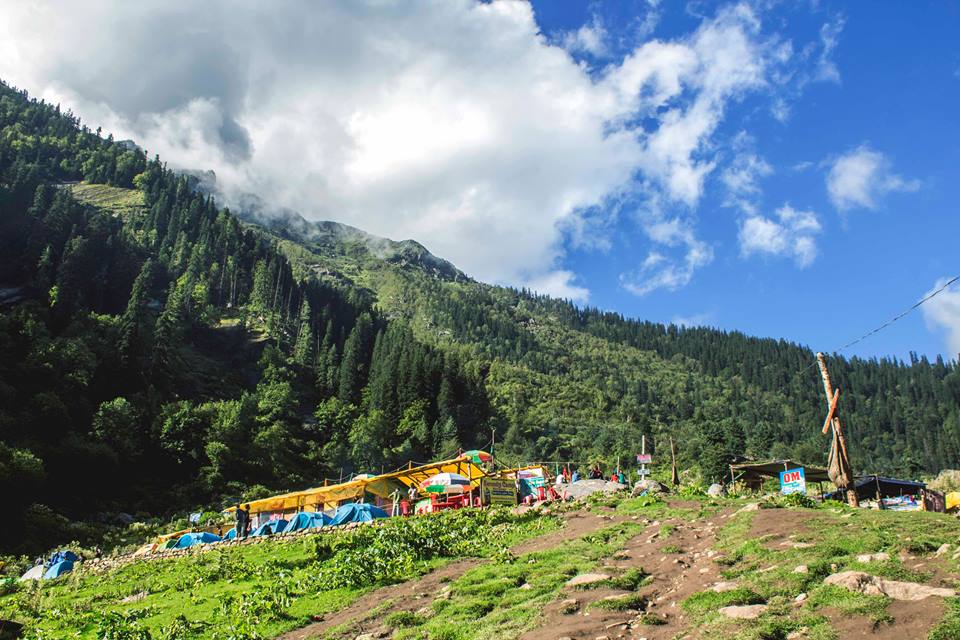 We also came through villages Kalga and Pulga, where the locals sang a few Himachali folk songs for us, and that moment was truly divine! They briefed me about their lifestyle and the locals offered me a traditional desert of Himachal, Mittha, which is prepared with rice, jaggery, raisins and dry fruits. Further on, the route became sublime, with sights of temples, flowing water streams, flowers, mud houses and alpine trees.
We reached the green meadow of Kheerganga bang on time!  I took a refreshing dip in the hot spring that washed off all my tiredness and leg pain from the journey. That day, I decided to spend a night in the camp. To celebrate the achievement of trekking, a bonfire was arranged for all of us at night. Playing cards, Antakshri and dancing set the tone right for the night. That was another sleepless night as people were busy interacting and sharing their experiences with each other.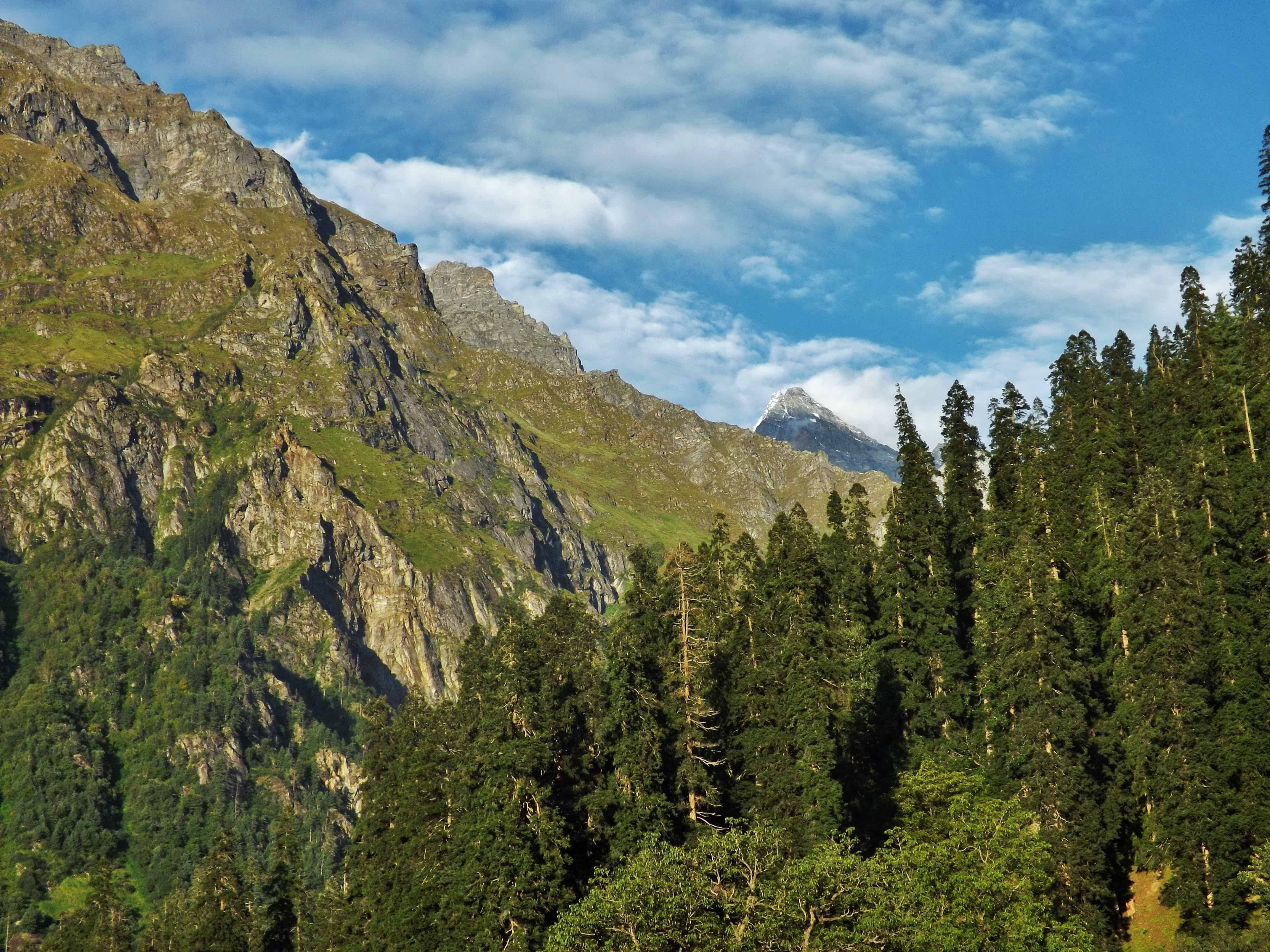 I had a sleep for about 2 hours and I woke up to the chilly morning breeze with a splendid view of the sunrise and flying birds. After having breakfast, I went to take another dip in the hot water spring.We started the trek back to Barsaini after breakfast at 11:30 am which took us 3 and a half hours, and then we returned to Kasol, which is just 3 km away.
Things to Carry
Sunglasses

Sunscreen

Trekking shoes and trekking pole

Mosquito repellent

Warm clothes

First aid kit
Kheerganga Trek Highlights
Length: 1 Nights 2 days

Maximum altitude: 3050 m

Delhi to Kasol: 520 km

Kasol to Barsaini: 40 km

Barsaini to Kheerganga: 12 km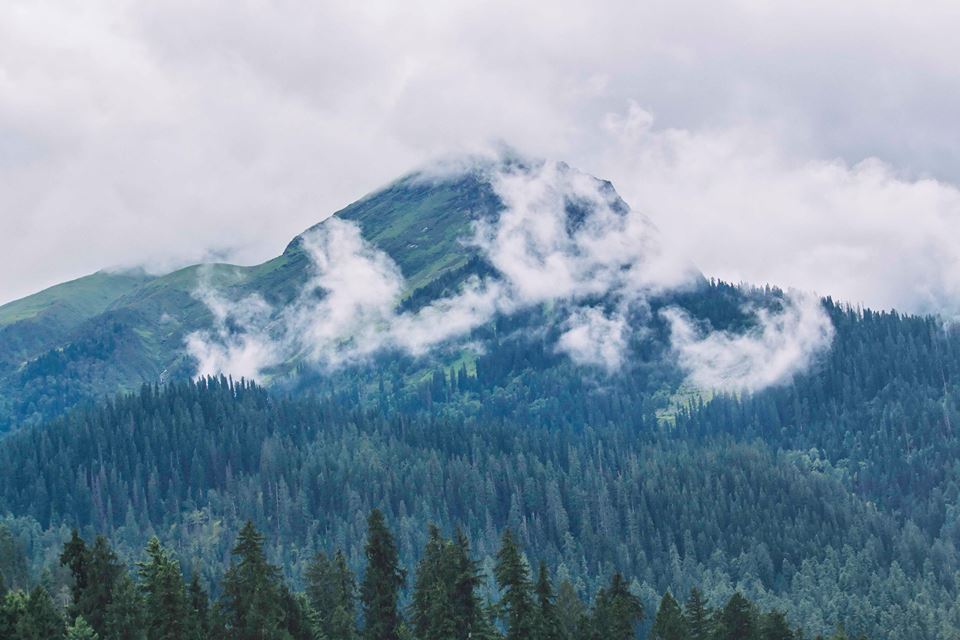 Things to keep in mind
Avoid taking shortcuts in the mountains

Leave the least amount of ecological footprint by choosing to not litter on the trail

Watch your steps at the slippery Hot water spring

No mobile networks at Kheerganga
Must-Try Cafes
Buddha Place

Moon Dance Cafe

Mama Cafe

Jim Morrison Cafe

The Evergreen Cafe
Recommended Hotels
ADB Rooms Summer Hills

The Woodward Two

Hotel Sandhya, Kasol

Parvati River Kasol
Soak in the rejuvenating essence of Pin Parvati valley as you explore the breathtaking views of Kheerganga, setting out from Kasol. Unwind and unravel in the arms of nature.