Head Out To Himachal Pradesh: Beas Kund Trek, Bhrigu Lake Trek, Rupin Pass Trek And More

Tanya has been an adventure kid from her childhood days when she explored the deepest secrets of the seas of Tamil Nadu, Andaman and Goa and experienced swimming and scuba diving. She now calls herself a Himalayan Traveler. She claims her first love is the Himalayas, everything else comes after that. Solo traveling gives her a high like meditation and she loves to live outdoors where there is no box. Post backpacking for a few years she decided her calling was trekking and wishes to see the highest mountains of the world, but not climb them as a mark of respect. All the base camps are on her list. She is very inspired by the book "Wild" and wishes to hike the Pacific Crest Trail solo sometime. She loves to write about her travel experiences and connecting them to a way of living life as a person and believes that "Life is either a daring adventure or nothing at all".

Latest posts by Tanya Roy (see all)
With magnificent snow-clad mountains, beautiful river streams and mystical ancient temples, Himachal Pradesh is one of the most striking states in north India. The state reflects a perfect blend of Himachali and Tibetan culture. Hindu temples, Buddhist stupas and vibrant monasteries hold the essence of two different cultures and traditions together on one scenic landscape, which adds lots of charm to the beauty of Himachal Pradesh.
Its snowy peaks, emerald environs, Himalayan, Dhauladhar and Pir Panjal ranges, and picturesque yet smooth and rough trails, make Himachal an ideal destination for climbing, skiing, paragliding, bungee jumping and trekking. With evergreen exquisiteness, rustic hamlets, dream-like natural architecture and friendly locals, every step into the spectacular valley brings a different world in front of you. The eternal splendor of McLeodganj, Manali, Kasol, Lahaul and Spiti, displays various colors and richness of alluring terrains.
Trekking Expedition in the Land of Gods…Let's Go!  
Moving away from the hectic and noisy city life for trekking is undoubtedly a perfect way for you to revive yourself. Every hill station in Himachal Pradesh has a number of treks which take you to extremely remote, peaceful and scenic areas. It doesn't matter whether you are an amateur or ardent trekker, Himachal is known to accommodate the taste of each and every individual.
So, here's a list of treks that can be undertaken by adventure enthusiasts and nature lovers.
Duration: 4 Days
Maximum Altitude: 4342 m  
Trekking Distance: 35 km
Level: Moderate to Difficult
Best Time: May to September
Temperature: Day – 12°C to 18°C, Night – (- 6°C) to 4 °C
At a height of 4342 m, Indrahar Pass offers enthralling and majestic views of Dhauladhar range. The trek begins from McLeodganj and goes to Indrahar Pass through the dense forests of deodar, suspension bridges, snow patches and gushing streams. The route will take you to some of the most amazing sites that would surely be an amazing feast for your eyes. After hiking through challenging and difficult routes, you'll spend a night under the glittery sky. And, one of the most stunning campsites on this trekking expedition is set near Lahesh Caves.
Duration: 3 Days
Maximum Altitude: 3690 m
Trekking Distance: 32 km
Level: Easy
Best Time: May to October
Temperature: Day – 10°C to 16°C, Night – (- 5°C) to 6 °C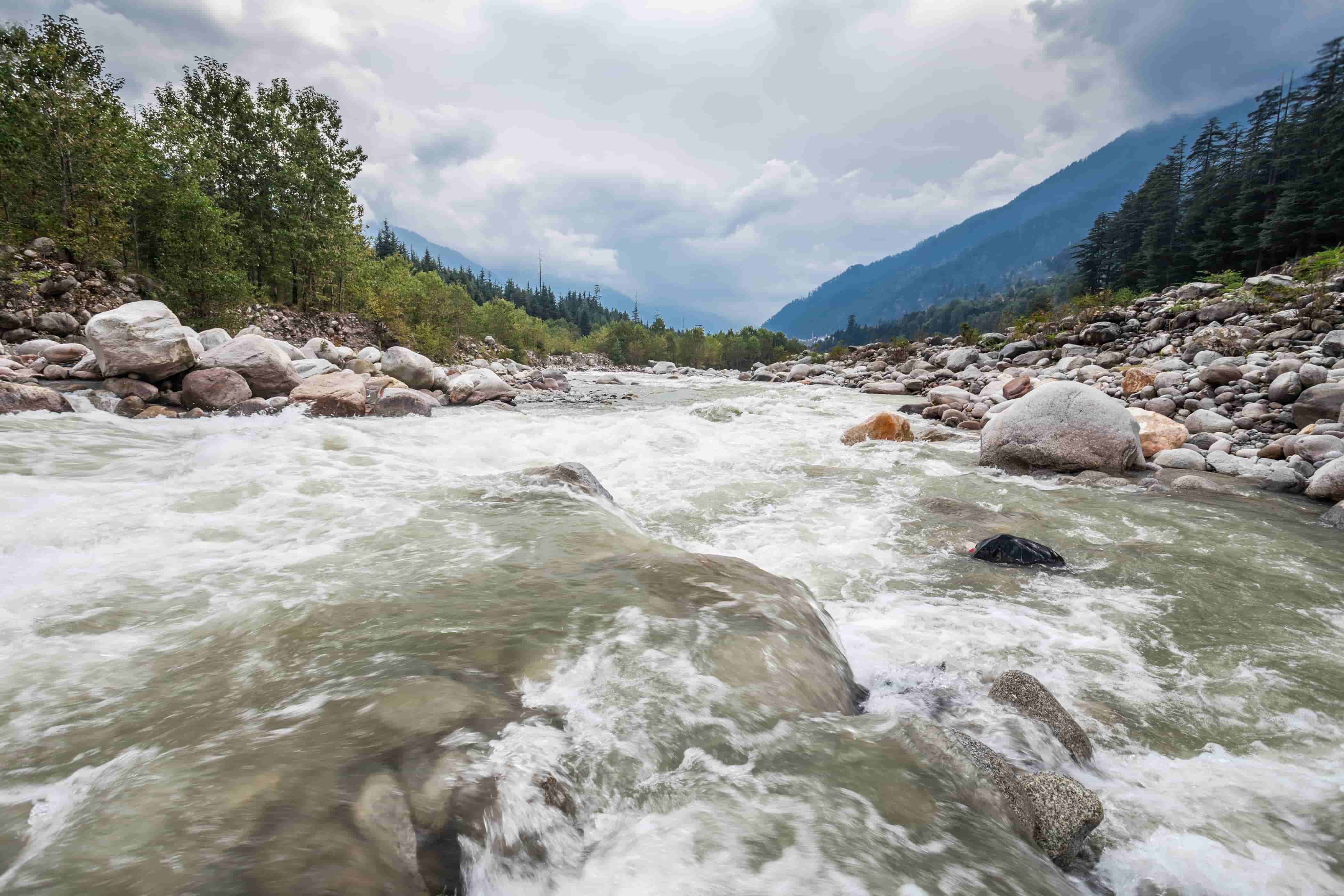 If you're looking for an easy trek then you must undertake the Beas Kund trek. On the journey, you have to follow a stream of River Beas in the opposite direction to reach the summit. Throughout the trek, you will be surrounded by lush green trees, alpine meadows and exotic flora and fauna. The 3-day trek begins from Dhundi, an idyllic spot for photography enthusiasts. Further, the course takes you to the mark from where striking River Beas originates and Hanuman Tibba is visible. Also, if you want to climb Ladakhi or Friendship peaks then Beas Kund is the place to be.
Hampta Pass with Chandratal Trek
Duration: 5 Days
Maximum Altitude: 4297 m
Trekking Distance: 26 km
Level: Easy to Moderate
Best Time: Mid June to Mid October
Temperature: Day – 8°C to 12°C, Night – (- 5°C) to 4 °C
Nestled at an elevation of 4,297 m, Hampta Pass is known for the magnificent views of Himalayan and Pir Panjal ranges. The trek goes to Hampta Pass from Manali through Jobra, Chika and Balu Ka Gera, and ends in the valley of Chandra and Spiti. The trail, which starts from the dense forest of deodar and pine, takes you to an open lush green valley and gradually to a barren land featuring snow patches. On your way to the summit, you will come across the beautiful Lahaul and Kullu valleys and glistening Chandratal Lake. The most amazing part about this trekking venture is that it serves an ideal route for both the beginners and ardent trekkers.
Duration: 10 Days
Maximum Altitude: 5319 m
Trekking Distance: 78 km
Level: Moderate to Difficult
Best Time: June to September
Temperature: Day – 6°C to 10°C, Night – 0°C to 5 °C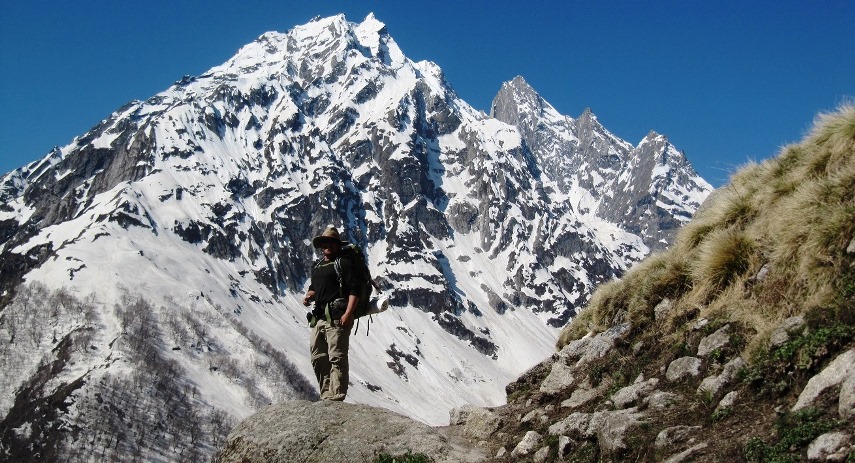 One of the longest and popular treks in Himachal Pradesh, the Pin Parvati Pass trek is a must for adventure enthusiasts. On this journey, you can witness a majestic sight of the Parvati Valley, which is spread across Kullu and Spiti. While the Pin Valley displays a barren land, the Kullu Valley consists of vibrant flora and emerald scenery. Also, these two sites differ from each other, in terms of culture and traditions. Further, the trek begins from an isolated village of Rumsu and goes through gushing rivers, cuddling streams and deep forest to Pin Parvati Pass and impressive monasteries.
Duration: 13 Days
Maximum Altitude: 6000 m
Trekking Distance: 48 km
Level: Moderate to Difficult
Best Time: May to June, September to October
Temperature: Day – 12°C to 20°C, Night – (- 2°C) to 6 °C
The Deo Tibba trek lends an exciting and thrilling opportunity to the adventure lovers. This trekking expedition requires experience and moderate physical fitness. The journey begins and ends at a high-altitude Himalayan resort town, Manali. You will be walking through pasturelands, glaciers, forests and rough ascents and descents.
From hanging glaciers to flourishing meadows, witness the spine-chilling places during the trek. One thing that will keep you energetic and accompanies you on this journey is the views of the lofty mountains covered in the layers of snow. Further, the trek gives an opportunity to the adventure enthusiasts to witness the beauty of Dharamshala and McLeodganj.
Duration: 4 Days
Maximum Altitude: 3099 m  
Trekking Distance: 29 km
Level: Easy to Moderate
Best Time: May to June, September to October
Temperature: Day – 10°C to 16°C, Night – (- 5°C) to 8°C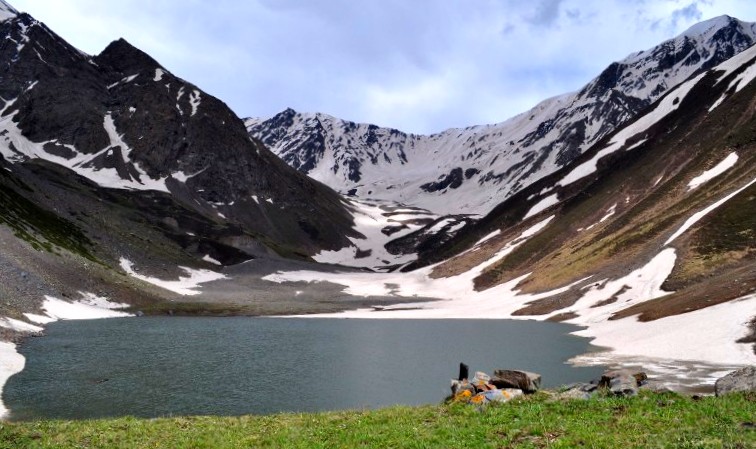 A small enchanting glacial lake, Kareri is situated at an elevation of around 3,099 m above sea level. The place captivates the trekkers with its unusual beauty, tranquil surroundings and refreshing air. The pond is enclosed by velvet-like grasslands and soaring trees. The trekking expedition starts from McLeodganj and gives you a chance to explore the Tibetan culture and lifestyle.
The campsite of Lioti is a delightful experience. The course from Lioti to the eye-catching pond offers beautiful views of nature, which is a treat to your camera. After reaching the famous Hindu temple of Goddess Guna, you can explore the spiritual sight of the place too.
Duration: 7 Days
Maximum Altitude: 4000 m
Trekking Distance: 50-60 km
Level: Moderate to Difficult
Best Time: June to September
Temperature: Day – 14°C to 20°C, Night – (- 2°C) to 10°C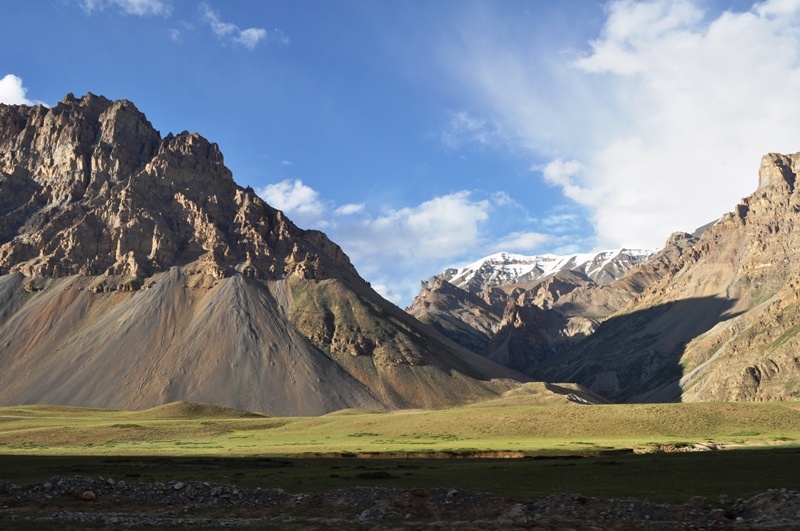 The Bhabha Pass trek starts from the tranquil hill station of Shimla and takes you on an electrifying road trip to the beautiful Kafnu Village, after covering a 206-km ride. On your way to Kafnu, you will come across the impressive peaks of the Himalayas. Also, a walk into the dense forest of birch and pine will surely be a treat for senses. Further, the trail will turn difficult with narrow and sharp ascents after crossing a river on the third day of your venture.  Moreover, a walk on the snowy moraine and icy patches will surely test your trekking skills.
A ride from Kaza to Chandratal Lake will take you through the striking monasteries and a wonderful place called Kunzum La. Also, the charming Chandratal which is popular for its moon-like shape, offers one of the fascinating sights for your naked eyes.
Duration: 8 Days
Maximum Altitude: 4648 m
Trekking Distance: 52 km
Level: Moderate to Difficult
Best Time: May to June, September to October
Temperature: Day – 13°C to 18°C, Night – 0°C to 7°C
Nestled at a high altitude of 4,648 m, Rupin Pass offers absolute exhilaration and delight to the trekkers. The picturesque trek begins from Uttarakhand and ends at the scenic land of Himachal Pradesh. The trail takes you through rustic hamlets, startling rivers, suspension bridges, dense forests, lush green pasturelands, and garrulous streams and waterfalls.
The trek begins with a trail through the greener landscapes of Dhaula. And, later it moves to the frozen landscape surrounded by snow-capped mountains. Notably, 80 percent of the trekking expedition will be undertaken in Himachal Pradesh.
Duration: 2 Days
Maximum Altitude: 3500 m
Trekking Distance: 12 km
Level: Easy
Best Time: October to June
Temperature: Day – 14°C to 20°C, Night – 2°C to 10°C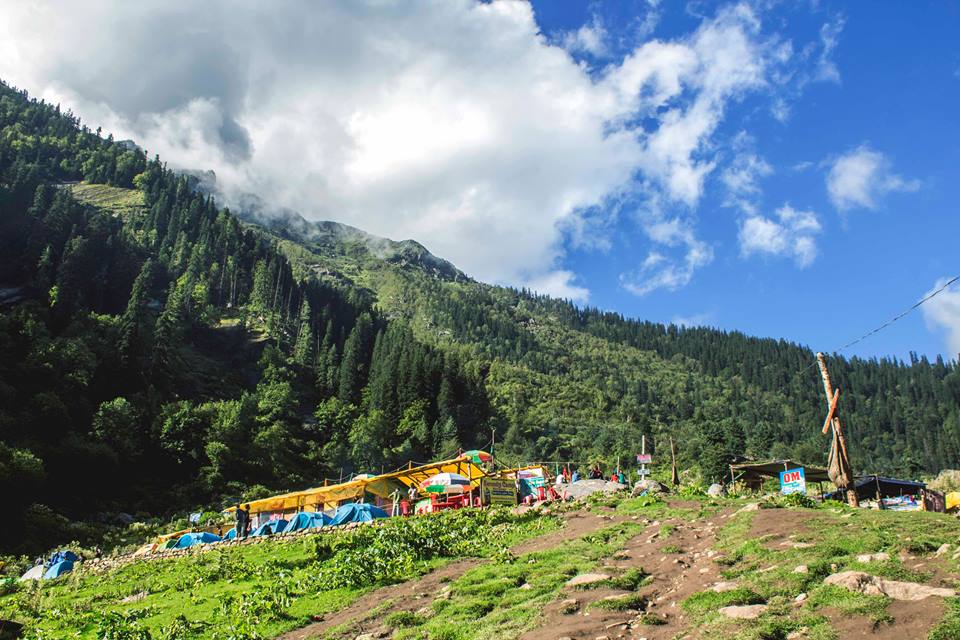 The abode of Lord Shiva and his son Kartikeya, Kheerganga is beautifully located at a height of 3,500 m from the sea level. It is believed that around thousands of years ago, Lord Shiva meditated at the Sylvan Hill of Parvati Valley. The snow-capped peaks, lush green environs, gushing River Parvati, and exotic flora and fauna, are certainly a much-awaited pleasure to the trekkers' souls. 
Duration: 4 Days
Maximum Altitude: 4267 m
Trekking Distance: 29 km
Level: Easy to Moderate
Best Time: Mid May to October
Temperature: Day – 20°C to 25°C, Night – 5°C to 7°C
If you want to treat your eyes with awe-inspiring scenery, then you just need to say yes to the Bhrigu Lake trek. The meadow trail takes you to the quaint lake, from where you can see the beautiful mountains and clear sky; adding an extra charm to the stunning place. The journey gives you an opportunity to meet the locals and explore the Himachali lifestyle and culture. Not just this, refreshing air and the fragrance of dense forests and apple orchards will revitalize your senses. Further, the trek starts from Gulaba Village and takes you to the charming lake through the green pastureland and startling streams, along with the splendid views of the Kullu Valley.
Duration: 2 Days
Maximum Altitude: 2730 m
Trekking Distance: 12 km
Level: Easy
Best Time: December to February
Temperature: Day – 8°C to 12°C, Night – 2°C to 6°C
The Prashar Lake trek is a must-visit for those who want to undertake an adventure expedition in the winter season. The stunning lake is surrounded by grassland along with a pagoda-style temple featuring three floors. Built in the 13th century by King Bansen, the old temple is dedicated to the sage, Prashar.
The locals believe that the lake was discovered by the Pandavas. The trail will take you through steep ridges, rough slopes, striking rivulets and forest of fir and cedar trees covered with snow. The adventure begins from the beautiful village of Jwalapur and takes you to Prashar Lake, where you get a chance to enjoy a bonfire night on snowy land under the glittery sky.  
So, get ready for a whole new experience as you escape the mundane city life with these wonderful treks in Himachal Pradesh.