5 Reasons Why Beas Kund Is Our Top Choice For A Summer 2018 Trek
I am an engineer by education, but a blogger by choice. With a keen interest in portrait and nature photography, I never forget to carry my DSLR when on an outing or celebrating special occasions with dear ones. In free time, I love to read and write blogs, or stay busy with my kiddo.
Amidst the royal mountains of Himachal Pradesh, the Beas Kund Trek takes trekkers away from the hustle-bustle of the city, along the banks of River Beas. Passing through the lush green meadows and glaciers, the trek offers majestic views of snow-capped mountains of Pir Pinjal ranges. The grasslands of Bakartach and Dhundi are magnificent in their own beauty.
Origin of the Beas Kund
Situated at a high altitude of 3,800 m, the stunning lake of Beas Kund is fed by glaciers. The term Beas has been derived from the word Vyas (Sage), while Kund means a lake. It is believed that in this sapphire lake, Rishi Vyas, the author of the Indian epic, Mahabharata, took his daily bath. Visitors travelling here often take a dip in the icy cold lake.
As it is an easy trek with less curves, rough and slippery path, it doesn't require any prior experience.
Base camp: Solang Valley, Manali
Duration: 3-4 days
Difficulty level: Moderate
Maximum altitude: 3800 m
Trekking distance: 32 km
Average hiking daily: 4-5 Hours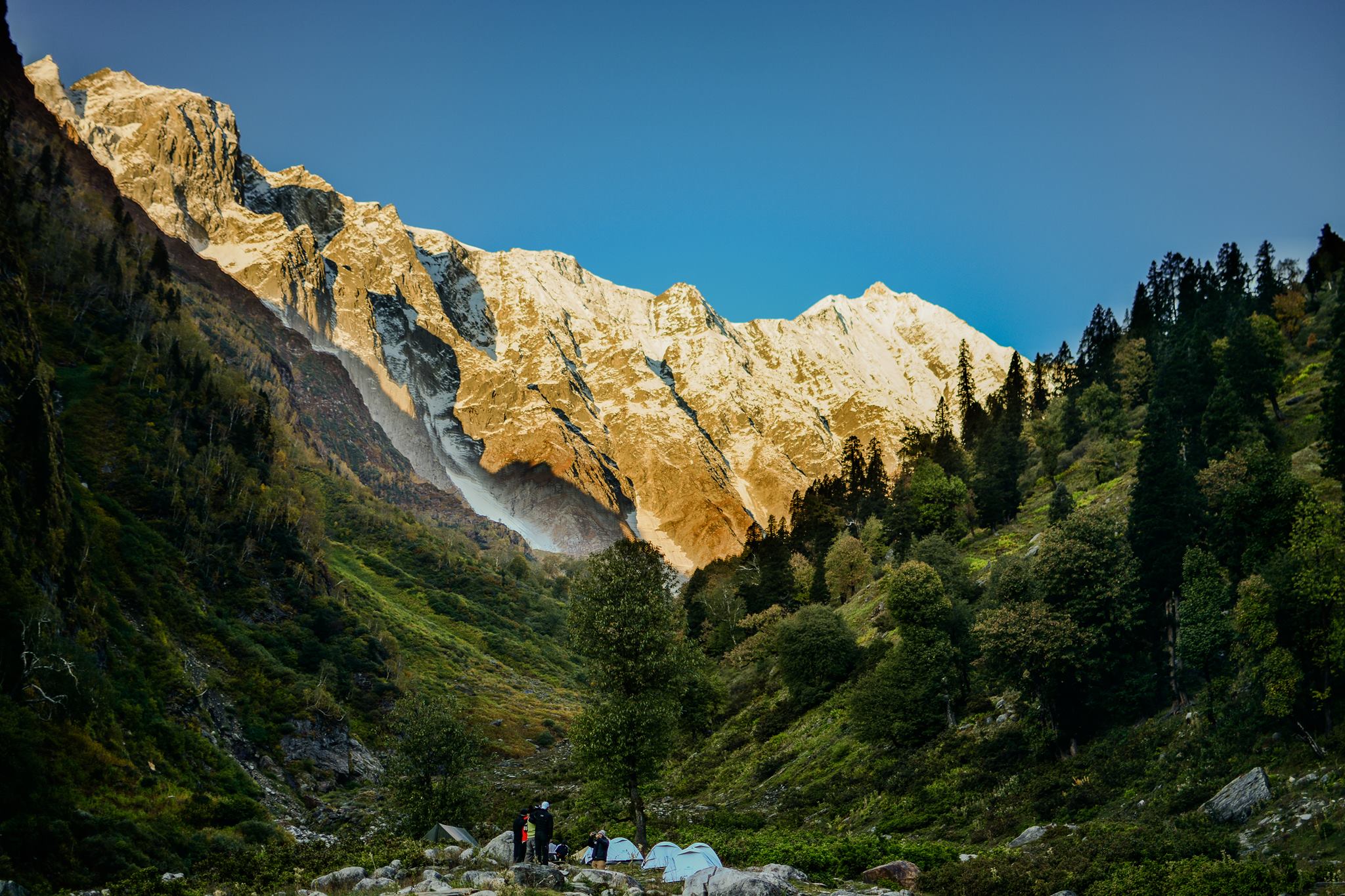 Beas Kund Trek: Quick Itinerary
The trek starts from the mesmerizing valley of Solang and passes through lush green meadows, small streams, and waterfalls, before continuing towards stunning snow-covered mountains. The next stop is Dhundi, which is known as the birthplace of River Beas and is surrounded by dense forest of deodar and oak. Here, you will spend the night at the campsite, set by the striking stream.
After crossing a few bridges lies Bakartach, from where one can enjoy a 360-degree view of the Great Himalayas. Here, a trekker will be surrounded by the mighty peaks of Deo Tibba, Hanuman Tibba and Shitidhar. This is an ideal spot for photographers as it offers an opportunity to capture some lifetime memories in camera. You will reach the final destination in a matter of hours.
Right Time to Trek
A perfect time to explore the Beas Kund Trek is from mid-May to mid-October. During this period, the weather remains pleasant.
Summers are quite cool, with the maximum temperature of 25 degrees Celsius and minimum of 10 degrees. In the winter season, between November and February, the place receives a good amount of snowfall, and temperature ranges from 12 degrees Celsius to -15 degrees Celsius.
So here are five reasons why Beas Kund Trek has become one of the most sought-after treks this summer: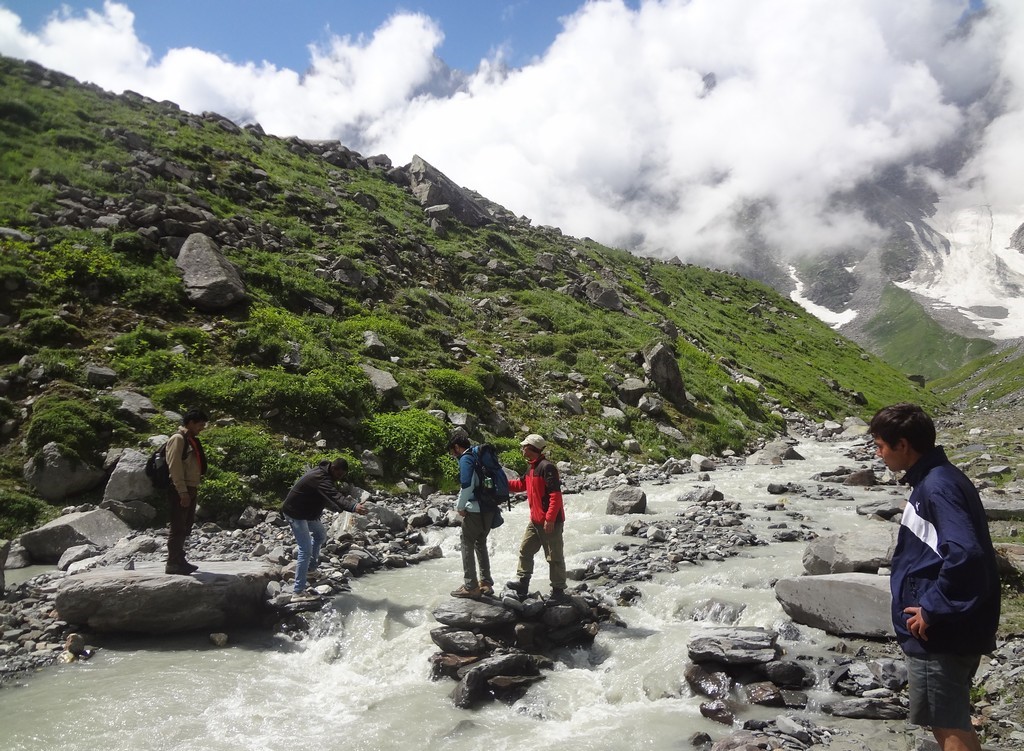 Trekking along Alpine Glacial Lake:

What can be more exciting than trekking along a serene high altitude alpine glacial lake! The trek offers an opportunity to cross mountains and witness the source of the Beas River with your own eyes. It is a rocky yet picturesque spot with the River Beas flowing through the forested hills. The campsite arranged by the river will give you real thrill and your ears will be pleased by the wonderful sound of gushing water. Here, you will realise that this was a moment you were looking for, away from the hustle-bustle of city life. The cool breeze and sight of maple, deodar, toss and oak trees on the way can make you feel rejuvenated.

Beaskund Trekking

 

Stunning Views of Some Amazing Peaks:

It is at Dhundi where you will witness the splendid sight of four major peaks of Himachal Pradesh – Friendship Peak, Hanuman Tibba, Deo Tibba, and Shitidhar. Standing at an altitude of 5289 m, Friendship Peak is a magnificent mountain, which is a part of the Pir Panjal range in Himachal Pradesh's Kullu District. Also called White Mountain, Hanuman Tibba is the highest mountain in the Dhauladar Range of Himachal Pradesh.
Capture the views of Solang Nullah and the Manu Temple:

In the abode of Solang Valley, Solang Nullah is a stunning stream flowing through snow-capped mountain peaks, dense forest encompassing wild colourful flowers and lofty trees. It is the most serene place on the earth where nature remains in its purest and artistic form.

One of the most-famed religious sites in Manali, Manu Temple, is named after the holy Sage Manu, who is believed to be a divine creator of the human race. According to Hindu mythology, he lived and meditated in Manali. Thus, the temple holds great significance for Hindu pilgrims.

Meeting the Locals:

The trek gives you a chance to meet locals of Burua, Goshal and Sannag villages. Talk to them and try to know about their simple yet fascinating lifestyle. Himachalis are true devotees of nature, and they are quite reserved about their culture and traditions. However, they share a great bond of brotherhood and togetherness. Also, they are very helpful and if you're lucky enough, they may offer you lip-smacking local delicacies. In village markets, don't forget to buy uniquely designed handicrafts and paintings made by the locals.

Spend Night under the sapphire glazy sky: 

Your campsite will be arranged in the beautiful location at Dhundi from where you will be able to enjoy striking views. Celebrate the victory of completing the summit with bonfire and music. And last but not the least, spend a night under the sapphire sky amidst the scenic landscape and be the admirer of its magnificent beauty.
It might not be a trek that gives you a sudden adrenaline rush; however, its natural beauty will offer excitement and leave you in a state of awe. So, if you want to make some beautiful memories filled with the scenic beauty of green landscape, streams, waterfalls, and flora and fauna in the beautiful Himachal Pradesh, then there is nothing to wait for; pack your bag and say yes to Beas Kund Trek.