An Experience Like Never Before 
The Chadar trek is a must for all those people who are living in cities and have been seeking an opportunity to have freedom from their hard-working lives for a short while. After completing it, one will realise the immense beauty of pristine nature and why it needs to be protected. The Chadar trek is a completely different trek as it involves walking on a frozen Zanskar river at an altitude of 13,000 ft for days in sub-zero temperatures at around -25 degree Celsius. The experience of trekking on an aqua blue ice trail between calm brown mountains along with cold breeze is an experience within itself. This trek has been categorised under the major difficulty level trek, as it requires a heavy amount of exertion. One is also required to have a proper guidance before beginning this trek. The trail of this trek is approximately 105 km and on an average, a trekker will be walking a distance of 15 to 17 km per day.
During winter, this frozen lake route of Chadar is one and only route that connects Zanskar Valley and Ladakh.
Special Treats: MAJOR VILLAGES EN ROUTE
Villages falling in the trail of Chadar trek are Nerak and Lingshed. Trekkers will be coming across these two villages on different days during the trek.
NERAK: It is one of the two villages where the trekkers will be taking their stoppages. The views of the sunset from this point are worth witnessing. Travellers should definitely click some pictures from this point. Trekkers will be reaching towards this village after witnessing the captivating frozen waterfall and the massive Tibb Cave. This village serves as a major base camp of the Chadar trek. In order to reach Nerak Village, trekkers will be climbing a steep mountain trail. This village houses facilities such as a rudimentary health dispensary and a solar plant. There is also a residential school at this village where students study till the elementary level. All the basic essential goods including ration are bought for an entire year and are brought in this village from a small settlement of Wonla, which is located at a great distance and is situated across the Zing La pass. Only the Chadar trek trail connects the Nerak Village with the outside world. This village is home to around 30 families.
LINGSHED: Trekkers will be arriving at the village of Lingshed. Trekker arriving in Lingshed will be delighted to know that this village is known as one of the oldest villages in Ladakh. This village is filled with an ample amount of nature's beauty. It is also home to the Lingshed Monastery, which is one of the oldest monasteries in Ladakh. This monastery is a famous tourist attraction. By now, the trekkers would have visited popular tourist spots such as Gyalpo and Dibyokma. Gyalpo is an enchanting campsite which is located in a meadow in the Zanskar River. At this region, travelers will discover imposing peaks and large natural rocks which are naturally sculpted in abstract shapes. Dibyokma is another stoppage point during the Chadar trek. From this point, travelers can enjoy a breath-taking view of the Himalayas, it is also known as the most peaceful point of the trek.
---
Dreamlike Chadar Trek: Enjoy Camping Under Starlit Skies 

During the night, the travelers will also get the opportunity to see a vibrant sky full of stars. The Chadar trek is known for its rough camping conditions and fluctuating temperature, there will be several instances where trekkers would be required to manoeuvre through difficult terrain of the trek and climb cold boulders of ice and rock.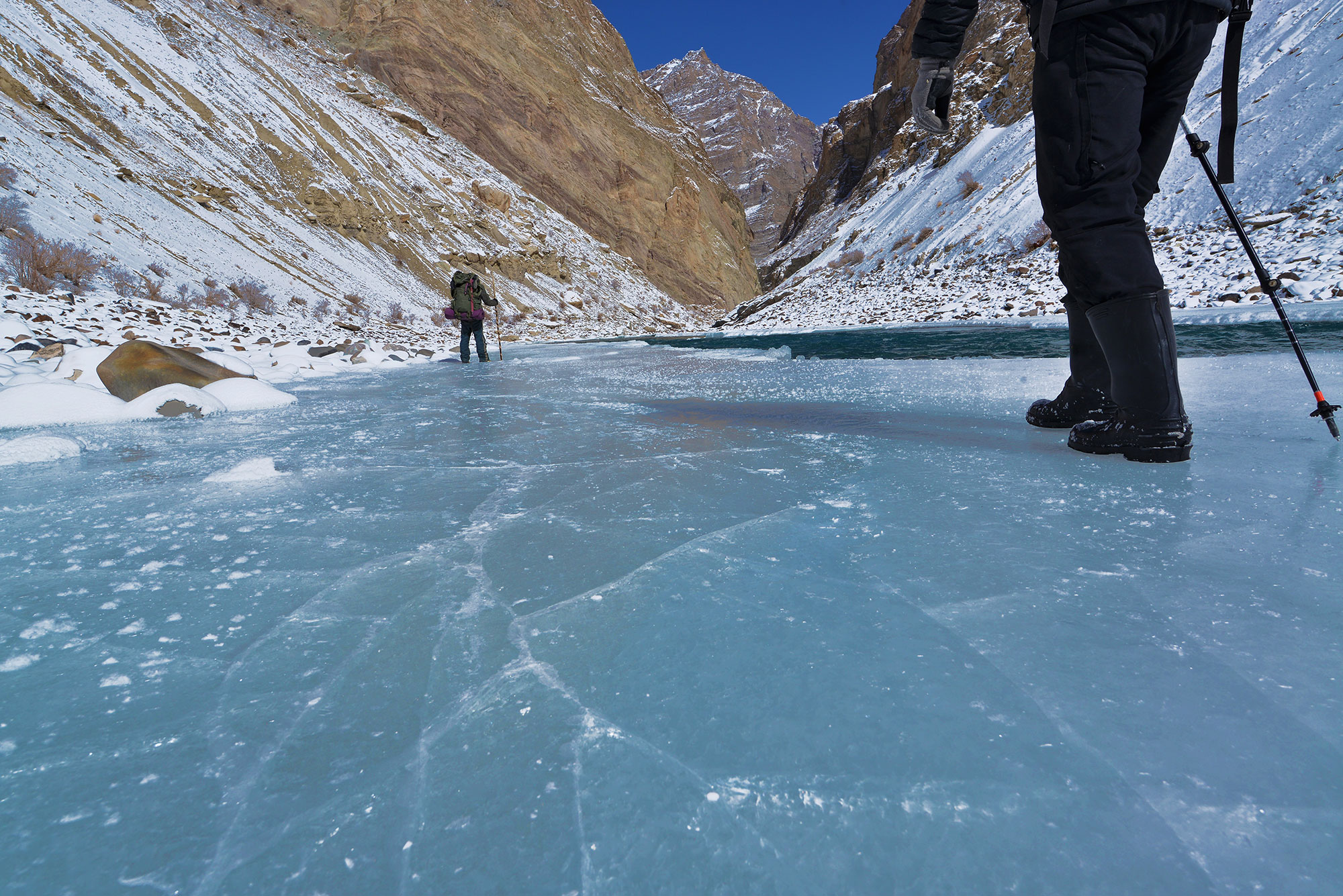 The wide frozen aqua blue ice trail formed by Zanskar River in winters between massive, calm, golden brown mountains is the prime factor which makes Chadar Trek a special trek.
Lifesaver Tips: Exercising Precaution While Treading On The Frozen River 
It is suggested that one should share his or her schedule to go on Chadar Trek with at least one friend or family member. This will ensure that he or she has someone for help in case of an emergency.

It is advised to carry warm clothes as there is a high probability of temperature to drop extremely low.

Travelers are suggested to carry ample quantity of edible food and water with them, as there might be a shortage of food and water during the trek.

One should not forget to carry a first-aid kit and medicines, as the travellers will be involved in activities which will require a lot of exertion and will be often getting minor bruises and cuts during the trek.

One should ensure that the trail of the trek stays clean and they should not pollute the trail or dump anything during the trek. Travellers are also advised not to use shampoos and soaps at any of the waterfalls.

One should respect all religious faiths and the calmness of all the shrines that fall en route.

One should not disobey or disregard any of the instructions and tips given by the guide.

Avid skipping any of the meals during the trek as the intense terrain of Chadar trek will require trekkers to have a high amount of energy.
The best time to go on Chadar Trek is considered to be the winter season between the months of January and February. At this time, the Zanskar River is considered safe and is suitable for walking.