Adventure Travel Tales: Adrenaline Filled Skydiving near Delhi
Vanika Sumbly has graduated from Delhi University with a major in English Literature. She believes traveling is truly the best way of passively exploring oneself. And writing about it is active exploration.
For people who love adrenaline pumping through their systems and want to experience the thrill of a lifetime, skydiving is just the thing for them. A dive from 10,000 feet above the ground does indeed send a chill down your spine. When it comes to safety, skydiving in India was considered notorious earlier. But now things have completely changed. Skydiving is gaining popularity among the youth as an exhilarating experience, and who can blame them? Just imagine yourself- jumping out of the plane, the wind rushing past as you free fall for the next 30 seconds, and then floating back to land as you gaze at the surreal beauty that is our Earth. So one early morning, I set out to tick one more thing off my ever-growing wishlist for this year – skydiving. 
I had done some research beforehand on where to go, and I chose the most reliable and safest skydiving site, Skyhigh India, situated at Uttar Pradesh's Aligarh – Kanpur Expressway, at the 'Aligarh Airstrip'. After making some inquiries, I came to know that it is the first full-time commercial skydiving drop zone in India that not only matches international standards but is also affiliated to the United States Parachute Association (USPA). After covering about 140 km, in just two and a half hours via the Yamuna Expressway, I reached my destination.
I went inside their training institute and met several adventure lovers from around the world. We all started introducing ourselves to each other.  Some of them had already done skydiving in some other countries and they shared their thrilling experiences with me. All this was only building up my excitement, and I couldn't wait to actually experience it myself!
We were all then introduced to the instructor, who told us that skydiving was initially not considered to be a sport, but was meant to save victims of aircraft accidents and to help with positioning armed forces on the battleground. He further said that at present, Skyhigh India only offers Tandem Skydiving and solo skydiving courses are soon to be introduced. Luckily, we got an opportunity to meet its founder, Rudra Bhani Solanki. In a conversation, we got to know that Tandem Skydiving is perfect for first timers as it is the safest and easiest style of skydiving. All you have to do is follow instructor's guidance, take the flight up, jump and enjoy the breathtaking views! It all sounded so easy!
The parachute would be your only flying machine to provide you protection up in the sky. In case you're planning to go for skydiving, just make sure that you get an experienced and qualified trainer, and feel free to talk to the people around you if you have any doubts.  At Aligarh Airstrip, I got a parachute that had an installed Automatic Activation Device (AAD). Also, the team provided me ground training where I was trained in all the safety measures. All the parachutes at Skyhigh India are regularly inspected and maintained for safety. In the training session, I learned various tactics and skills which I could later apply while skydiving. The instructors were truly the best, with a lot of experience in this particular field. If you are a first-timer, Sigma Tandem Parachute Systems is highly recommended as there is nothing to worry about. Everyone has to compulsorily undergo a training session of three to four days at the camp, even if they have already done skydiving before.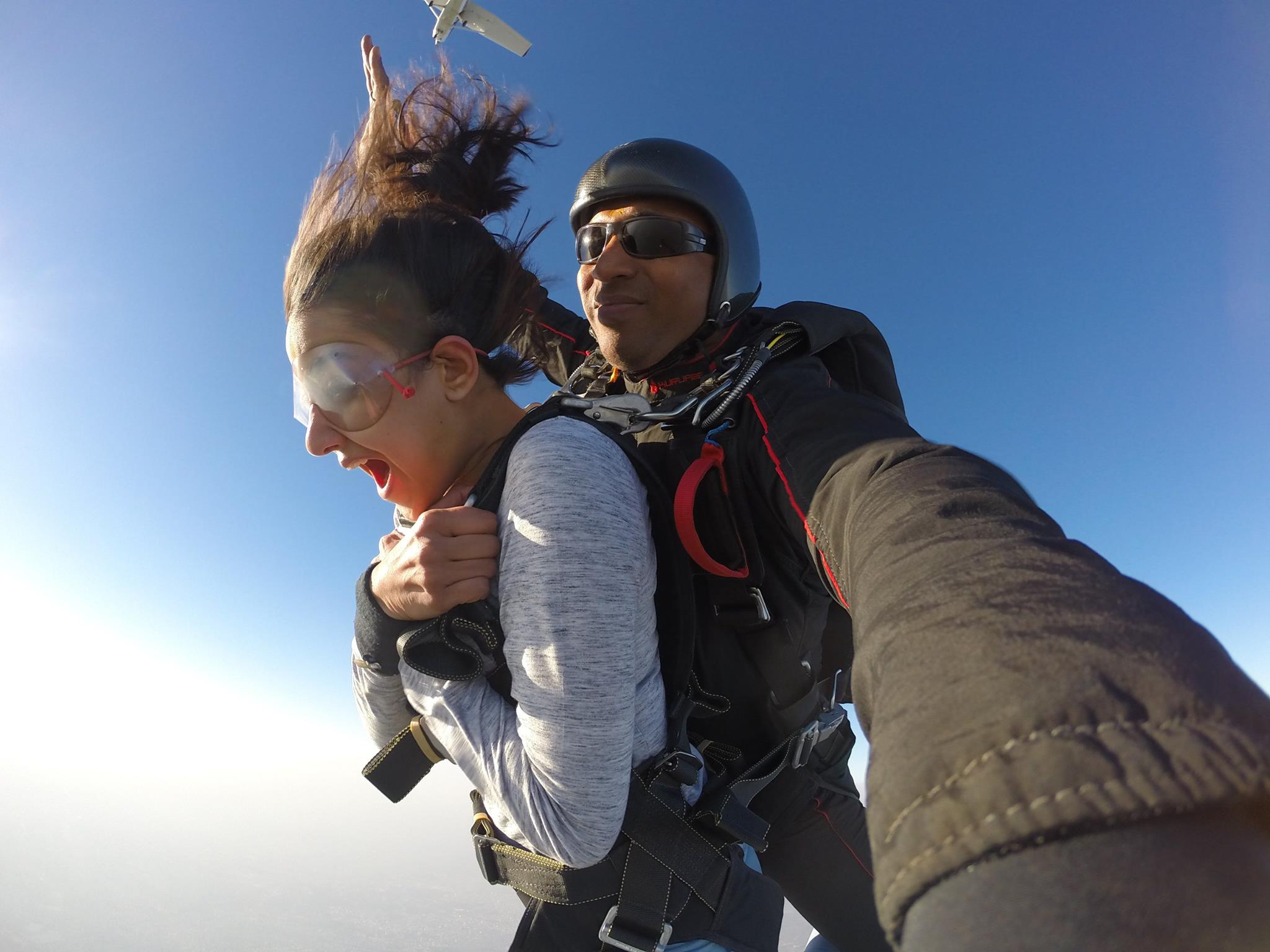 How It All Went Down
Finally, the day came which I had been excitedly waiting for; the day when I was going to do the skydive. All the equipment that I was supposed to carry had been previously tried and tested, so there was nothing to worry about.
In no time at all, I was taken up in a plane, ascending to the required height. While I was ready to experience the delight of my first tandem jump, I was safely strapped and securely tied together to the instructor by the assisting team. Another instructor made space for us in the aircraft. As I stood near the door, everything appeared so tiny to me, and that scared me a bit. I reminded myself that what I need to do was to rely on my instructor and wait for his guidance. In 30-40 minutes, the plane was in the drop zone. As I was told earlier in the training session, I kept breathing deeply and after five or six deep breaths, I jumped. The free fall lasted for 20-30 seconds, but nothing will be able to describe how I felt. It was exhilarating, with the wind in my face, hurtling towards the ground, at a speed of at least 200 km/hr! Free-fall was the most breathtaking, frightening yet exciting thing I had ever done. My mind was totally blank, as I experienced the thrill of the moment with a broad smile on my face that'll definitely be back every time I will think about this. The parachute opened suddenly, and then we were floating gently down. My instructor kept guiding me with the basic tricks of the parachute, showing me how to turn it left or right. Together, we both circled and I couldn't resist yelling at the top of my lungs.  I was on the ground in the next 30 minutes.
There is no doubt in my mind that those 30 minutes were one of the most exceptional moments of my life! I would carry this memory for a lifetime. All the credits for that remarkable 30-minute skydive go to Skyhigh India, which never compromises on safety equipment because, for them, the safety of their customers is of utmost priority. The instructors are the best that anyone is likely to find, as they are qualified and experienced. The activity here is safe and promises the best experience.
When it comes to health or body weight, anyone up to 90 kilos is fit to jump. Notably, if you have any heart-related problem, you need to show a fitness certificate signed by your consultant. Skydivers need to wear appropriate clothes as no ill-fitted clothes or strappy sandals are allowed. It is necessary to carry your athletic clothes and sports shoes.
If Safety Is A Concern 
My skydiving adventure has reassured me of one thing – there are many safe avenues where people can indulge in this activity without any apprehensions about safety. After some research, I also learned that there were some organisations in the Northern part of India which were rigorously working towards restoring people's faith and confidence, and aim to make skydiving an accessible activity for everyone. 
All the adventure lovers in Delhi, now you don't need to look for other avenues for Skydiving as you have a perfect option near you. Are you ready to create an unforgettable memory? If yes, then just brace yourself and go for it!