Adventure Legend – Amelia Earhart
I am a happy-go-lucky person, who loves reading, writing and travelling. Gardening and good food are the other things that I am passionate about. My motto in life is simple, "Love what you Do and Do what you Love".
Latest posts by Meenakshi (see all)
AMELIA EARHART – Charismatic Trail-Blazer
1. Queen of the Air
Amelia Earhart's pioneering efforts in aviation brought her international respect and fame – and not just in her own lifetime.
On May 20, 1932, Earhart, 34, set off from Harbour Grace, Newfoundland (Canada), in a Lockheed Vega 5B. Some 14 hours and 56 minutes later, and tested to the hilt by challenges both meteorological and mechanical, Earhart touched down in a meadow in Culmore, a hamlet just north of Londonderry town, in Northern Ireland, to become the first woman to fly solo – and non-stop – across the Atlantic Ocean (earlier, in 1928, she had become the first woman to cross the Atlantic as a passenger).
2. Making of an Aviator
Amelia Earhart was destined to stand out, to be different, after her mother determined not to bring her daughters up as "nice little girls".
A 10-minute plane ride in Long Beach (California) convinced Earhart (aged 23 at the time) that flying would be her life's calling. This persevering and plucky young lady saved $1000 by taking up odd jobs so that she could take flying lessons, and give wings to her dreams. Being a woman, Earhart had to battle extra (male) expectations and try that much harder to fulfill her hopes and realize her ambitions. Little, however, would faze this extraordinary woman in a life replete with achievement and adventure.
3. Appetite for Altitude
In 1922, aged 25, Amelia Earhart bought a resplendently yellow Kinner Airster – a two-seat single-engine biplane made in the USA – which she called "The Canary".
A few months after buying "The Canary", Earhart would take the plane to an altitude of 14,000 feet (4300m), creating a new mark for a female aviator. She would proceed to fly even higher in 1931, piloting a Pitcairn PCA-2 Autogiro to 18,415 feet (5613m). A couple of months before her 26th birthday, Earhart received her pilot's license from the Fédération Aéronautique Internationale (the 16th woman to be issued one) – she was on her way to adventure celebrityhood.
4. Home in the Sky
The cockpit would become home for Amelia Earhart, while the glamorous but grounded American became a role model for a still-young nation.
In August 1928, Earhart became the first woman to fly solo (and non-stop), coast to coast across the USA, from Los Angeles (California) to Newark (New Jersey). In January 1935, she flew solo from Honolulu (Hawaii) to the mainland (Oakland, California), the first pilot – male or female – to do so. In the same year, Earhart piloted her plane, alone, from Los Angeles to Mexico City and from Mexico City to Newark – feats of aviation which, again, were unprecedented for an aviator.
5. Selfless Amelia
Amelia Earhart possessed a competitor's instinct but she was also a stickler for fair play and a great sport to boot.
In Earhart's maiden competitive race – the 1929 Air Women's Derby, from Santa Monica (California) to Cleveland (Ohio) – she was tied for first place with Ruth Nichols, in the last stop before Cleveland, when her rival's plane overturned after colliding with a tractor at the end of the runway on take-off. Earhart rushed to the wreck to help her friend out, and only took to the air after ensuring that Nichols was unharmed. She lost time, and ultimately finished third, but her act of gallantry and unselfishness was that of a true-blue adventurer.
6. Woman for All Seasons
Amelia Earhart may have set all those marks up in the air but for all her achievements, she was a personality who had her feet very much on the ground.
Fiercely dedicated to championing the cause of women in aviation, Earhart was active in forming The Ninety-Nines – an outfit devoted to female pilots – and was a visiting faculty member of Purdue University's aviation department. At Purdue, she advised women on careers and helped motivate them by her passion for flying. And besides being a member of the National Women's Party, Earhart was one of the first champions of the Equal Rights Amendment – an icon for generations of American women.
7. The Mystery that Won't Go Away
The circumstances surrounding Amelia Earhart's demise, in 1937, still remain a matter of conjecture, 77 years on.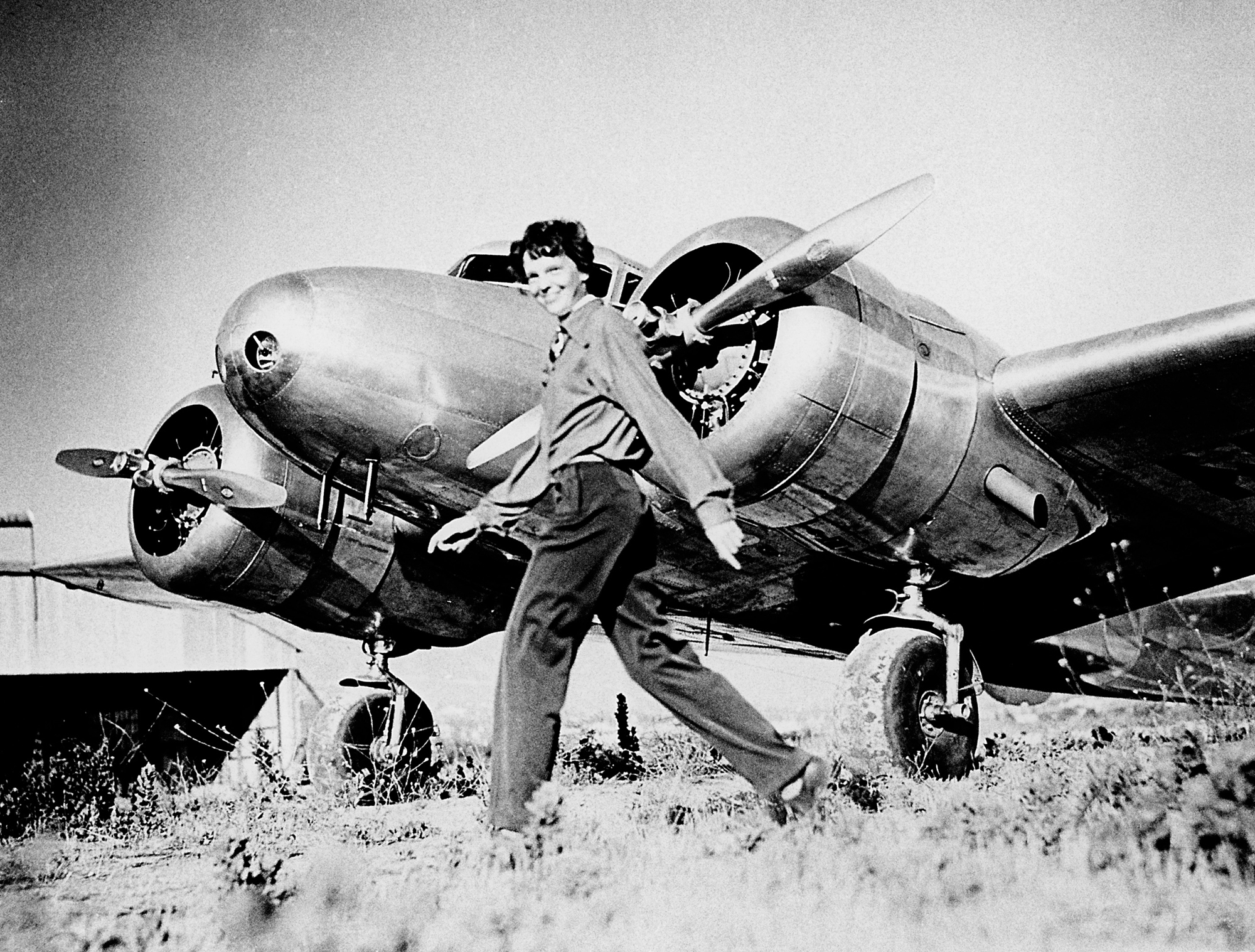 Piloting a Lockheed Electra 10E (a twin-engine monoplane, financed by Purdue), Earhart disappeared near Howland Island, over the central Pacific, while on a circumnavigation of the globe. Starting from Miami (Florida), Earhart had already covered approximately 35,000km (22,000 miles) by the time she reached Lae (New Guinea) four weeks later, including halts in South America, Africa, South Asia and Southeast Asia. Though parts of her plane were located, her remains (and those of her navigator, Fred Noonan) were never found. It's a mystery that continues to intrigue to this day, only adding to Earhart's aura.
Read more here.