Kasol-Kheerganga Trek: A Journey to Lord Shiva's Abode and a Natural Hot Water Pool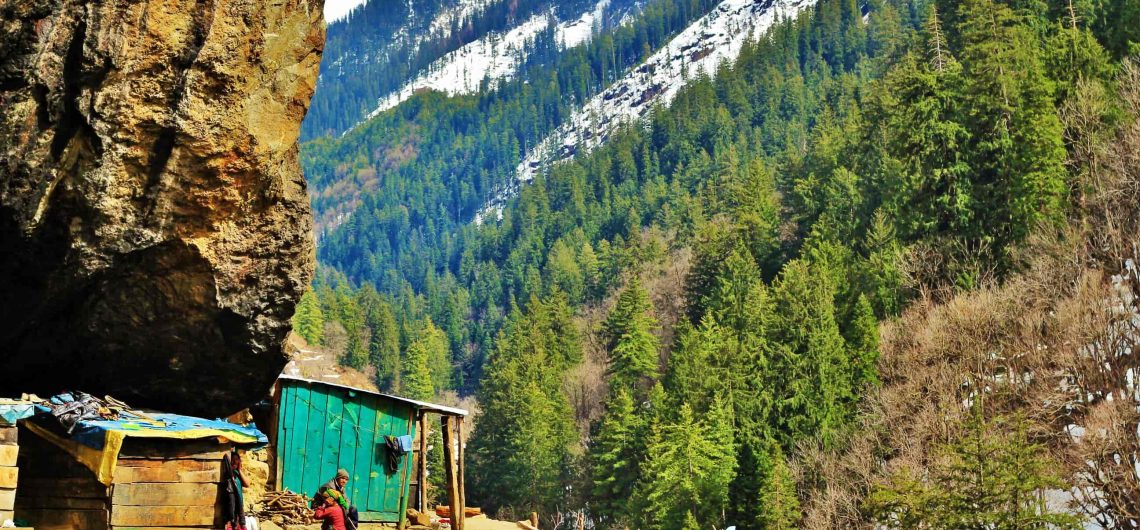 I am a happy-go-lucky person, who loves reading, writing and travelling. Gardening and good food are the other things that I am passionate about. My motto in life is simple, "Love what you Do and Do what you Love".
Latest posts by Meenakshi (see all)
Perched at an altitude of 3,500 m, Kheerganga is nestled deep in Parvati Valley in Himachal Pradesh.  It is believed that Lord Shiva's son Kartikeya meditated here for thousands of years. On the Kasol to Kheerganga trek, you can experience a rare combination as you will take a bath in the hot spring while the surroundings are chilled and covered by snow.
Moreover, stunning views of mountains, waterfalls, mountain animals, and oak and deodar trees are a much-needed feast for the trekker's eyes. The trail unveils a few of the most fascinating destinations such as Rudra Nag Waterfall and Shiv Temple.
A Serene Visit to Kheerganga
Trekking to the magical Parvati Valley still seems like a dream. It was a place which I wished would remain a secret as I couldn't stop myself imagining about those majestic valleys, mountain goats, green lush mountains and peaceful oak forests.   
My journey to Kheerganga began when I boarded a taxi from Delhi's Paharganj to Kasol with my younger sister. After 12 hours of tiresome journey and covering 550 km, we finally reached Kasol. Kasol is one of the most beloved destinations among youth though, we preferred to move to Tosh, the nearby village.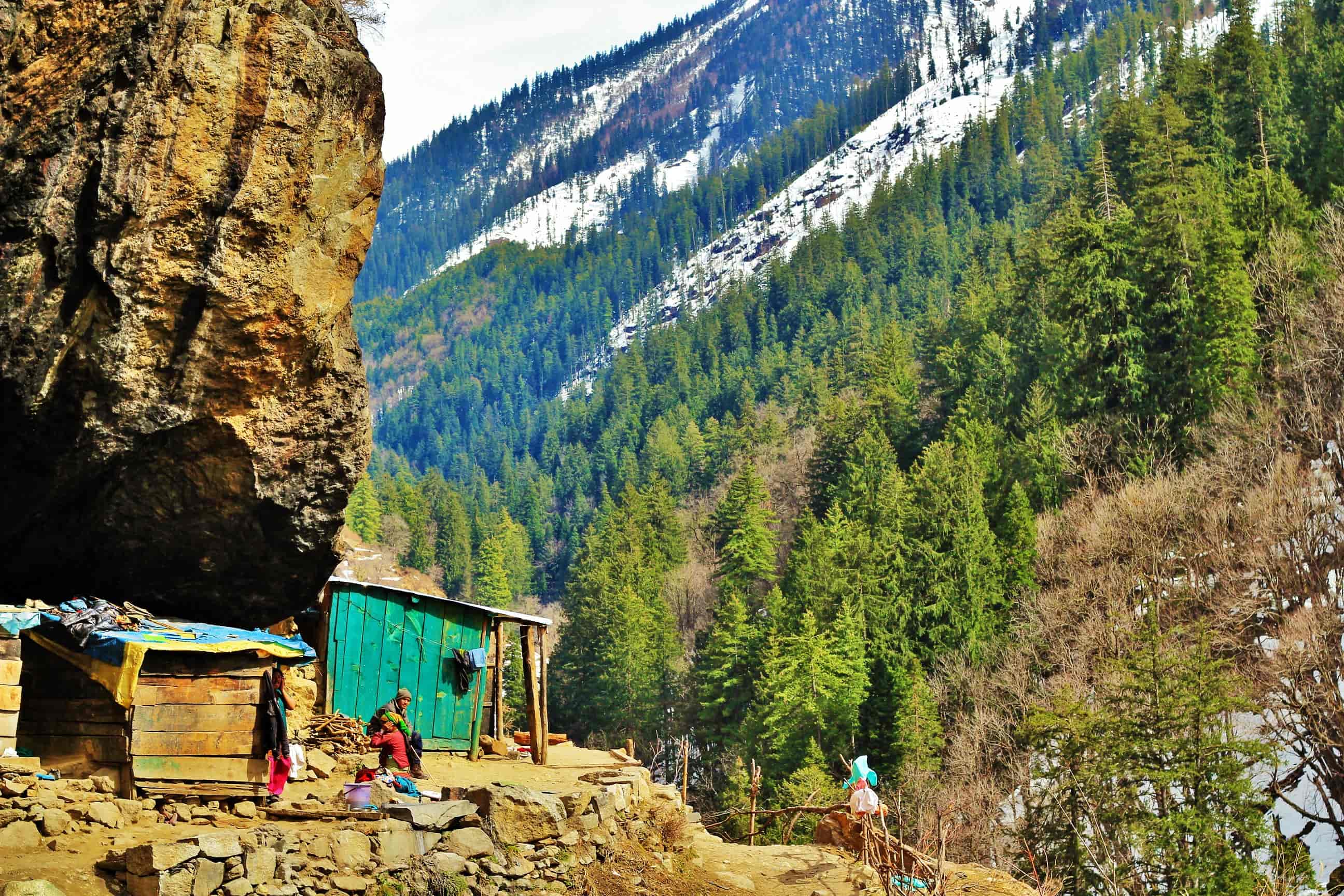 We had Aaloo parathas at Sasi Restaurant and then we kept moving ahead. The trail had no roads and we walked through green land and reached the beautiful village of Tosh. 
On the first day, we wanted to take rest as much as possible. In the evening we visited local bazaars, enjoyed local delicacies and coffee in a nearby Amsterdam's coffee shop. We played badminton with the local girls, gave them chocolates and clicked several pictures with them. At Tosh, villagers sit together after a long day of work and smoke chillums.
Next day, the thrill of Kheerganga trek began from Barshaini, which is enveloped by lush green trees. Also, it is a confluence point of Rivers Parvati and Tosh. We reached the base camp at 10 am. We had delicious breakfast at Prem Cafe. From there, we walked through the splendid landscape and enjoyed magnificent sights of nature. While trekking, we passed a few wooden bridges, waterfalls and hamlets.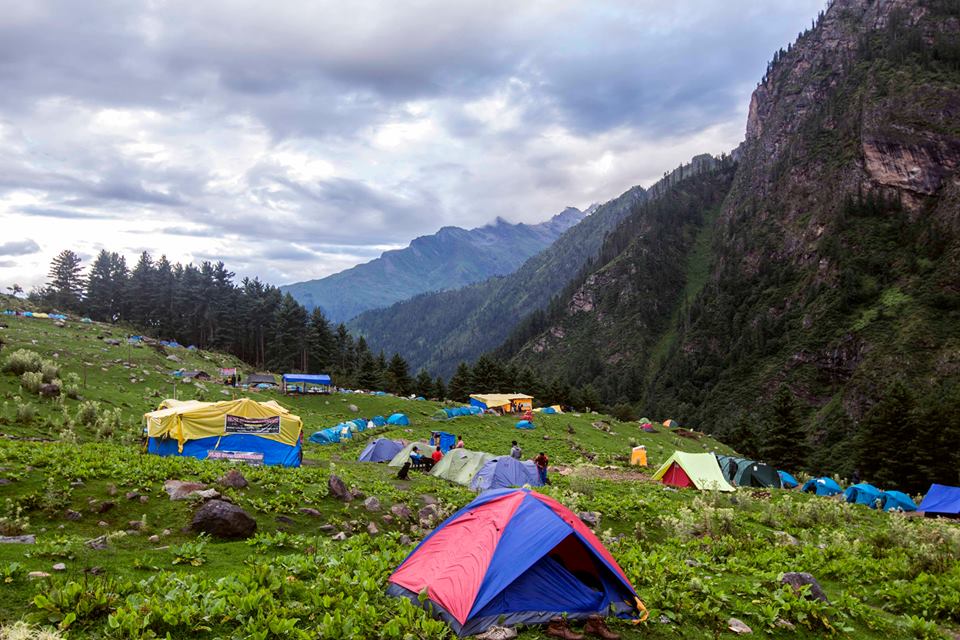 We both captured some amazing pictures in our DSLR. After two hours of moderate trek, we arrived at Rudra Nag and stopped there for a while to admire the beauty of nature. This dazzling serpent-shaped waterfall is considered as one of the main tourist attractions in the Parvati Valley. Here we met a local who told us that there are other villages as well, like, Kalga, Pulga and Tulga. He said that thousands of years ago, there was a very powerful demon, Tadkasura, who defeated Devas. The Devas  then visited Brahma, who told them to worship Mahadevi. It was Mahadevi who told them-'I would soon reincarnate and get married to Lord Shiva, and the offspring would defeat the demon'.
Later, we kept climbing for 3 hours. We followed the marks imprinted on trees; the trail was quite an arduous climb. My sister asked me the same question for at least five times, "How far do we need to climb in one day?" Surprisingly, before she asked the same thing for one more time, we suddenly came across a sign saying "Welcome to Kheerganga".
The green meadow of Kheerganga was right in front of us. There was nothing to wait for, we kept our bags in the tents and took a refreshing dip in the hot springs. It simply washed away the weariness of the trip. This pool was divided into sections one for men and the other for women.
Later, we visited Kartikeya Cave and offered prayers to Lord Kartikeya. Amazing weather, sights of mighty peaks, green forests, friendly locals and the therapeutic water of the hot springs made our journey worth. We spent a night at our campsite at Kheerganga.
Next morning, we woke up to a wonderful view of the sunrise. After taking a bath in the divine hot water pool again, we descended towards Kasol through the same route that we followed to reach Kheerganga. For me, it was mystery-packed trek which involved lots of excitement and thrill.
Best Time to Visit
One can visit Kheerganga from Kasol from March to June or October to November. This place experiences soothing climate throughout the year. The weather remains pleasant and in summers, the temperature varies from 15 – 22 degrees Celsius while in winters, it varies from 3 to 10 degrees Celsius.
Must Carry Essentials
Sunglasses and Sunscreen
Trekking shoes and trekking pole
Camera and torch
Mosquito repellent
Warm clothes and rain coat
First aid kit
In the backdrop of the mystery hidden in the majestic Parvati Valley in Himachal Pradesh, it would be really exciting to unravel these untold tales on your own. Moreover, the beautiful views of the meadows and dense oak forests make Kasol-Kheerganga trek a must-do for every avid trekker.