Why 'One Is Not Enough' For Mount Everest Base Camp: A Detailed Account of the EBC Trek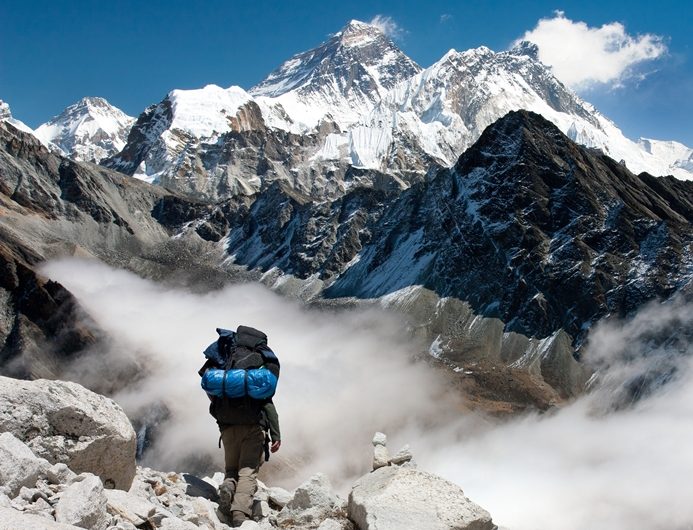 I am an engineer by education, but a blogger by choice. With a keen interest in portrait and nature photography, I never forget to carry my DSLR when on an outing or celebrating special occasions with dear ones. In free time, I love to read and write blogs, or stay busy with my kiddo.
Everest is one of the most popular destinations in Nepal which is known for its majestic mountains and magnificent hills and peak. A trek to Everest Base Camp is a journey where dreams and expectations of an adventure lover turn into reality. Every step of the journey takes you to the most breathtaking mountain region and it also gives you an opportunity to get acquainted with the unique Himalayan culture and mountain climbers known as Sherpas. Moreover, while trekking to an altitude of 18,513 ft., you will be challenged by tricky slopes and curves, rough terrains and slippery path.
My Meeting with Himalayas: A Journey That Changed Me Forever
There would hardly be anyone who doesn't admire the stunning beauty of the mountains. The Himalayas have always intrigued me and I had never dreamt that it would ever be so accessible! While watching a video on YouTube, I learnt about the Everest Base Camp trek, and I was so fascinated by it that I decided to look more into it. After contacting a travel agent and planning a thorough itinerary of the trek, I began my prep in the rundown for this expedition and started working on my fitness level and physique.
Three weeks passed, and now it was time to board a flight to Kathmandu. I was welcomed by my guide at the airport and later we both headed towards our hotel. On Day 1, the guide held a pre-trek meeting where we were briefed about the trek and introduced to our fellow trekkers. Later, we visited world's three UNESCO heritage sites i.e Bhaktapur Durbar Square, Boudhanath Stupa and Pashupatinath Temple.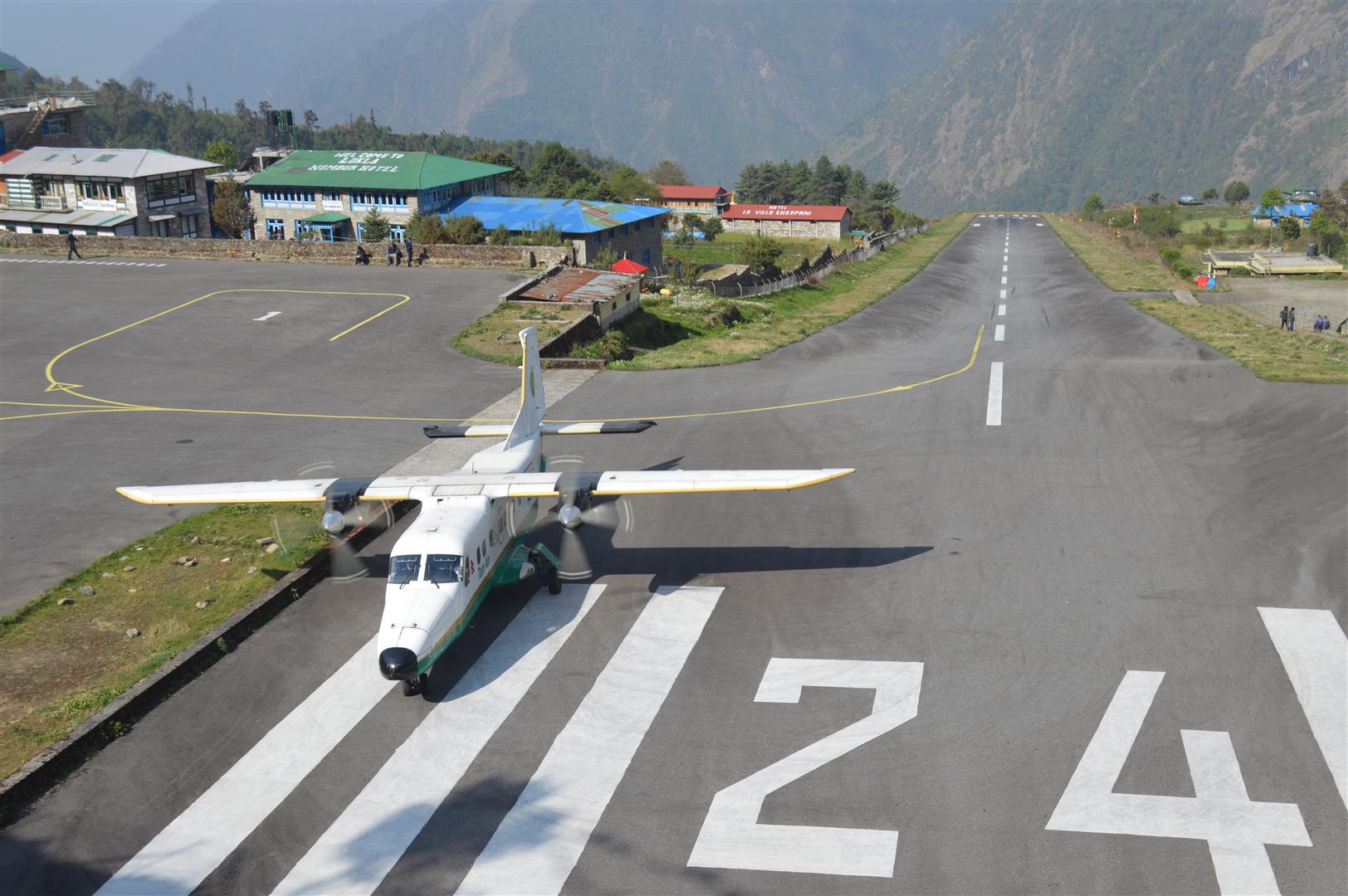 Next day, we had an early morning flight from Kathmandu Airport to Tensing Hillary Airport at Lukla which is said to be the gateway to Everest. The landing at Lukla alone gave me an adrenaline rush as it is called the world's most dangerous airport. Our porters were already waiting for us there. After breakfast and a brief stay in the tents, we descended towards Dudh Koshi River.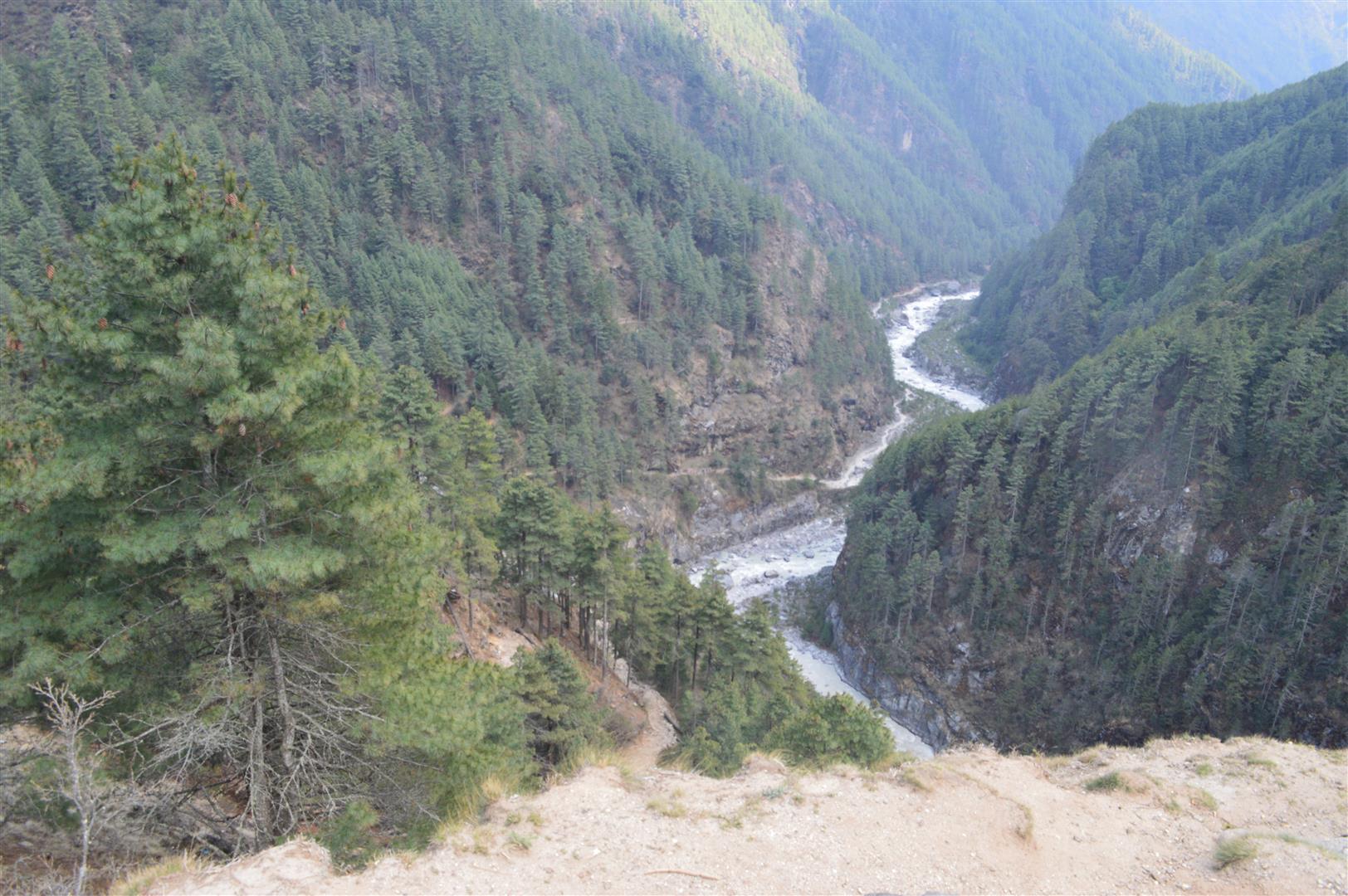 Our eyes were stunned by the beauty of the river. We clicked several pictures there and then moved towards Phakding. That day, the walking was quite easy and it took almost three hours to reach Phakding where the guide had arranged a night stay for us. We slept early that day as we were told that next day trek would be quite challenging.
Our trek started at 8 am and we continued to walk along the bank of Dudh Koshi River. Crossing several suspension bridges, we entered Sagarmatha National Park which is a home to rare species like the snow leopard, musk deer and red panda. We met several Sherpas here and they shared their inspiring mountain climbing experiences with us.
From there, the trail climbs up steeply until we reached Namche Bazaar which is the largest village in the region. We were amazed to see quality restaurants, shops, hotels, bakeries and internet cafes at such height. Also, there were two banks and one ATM.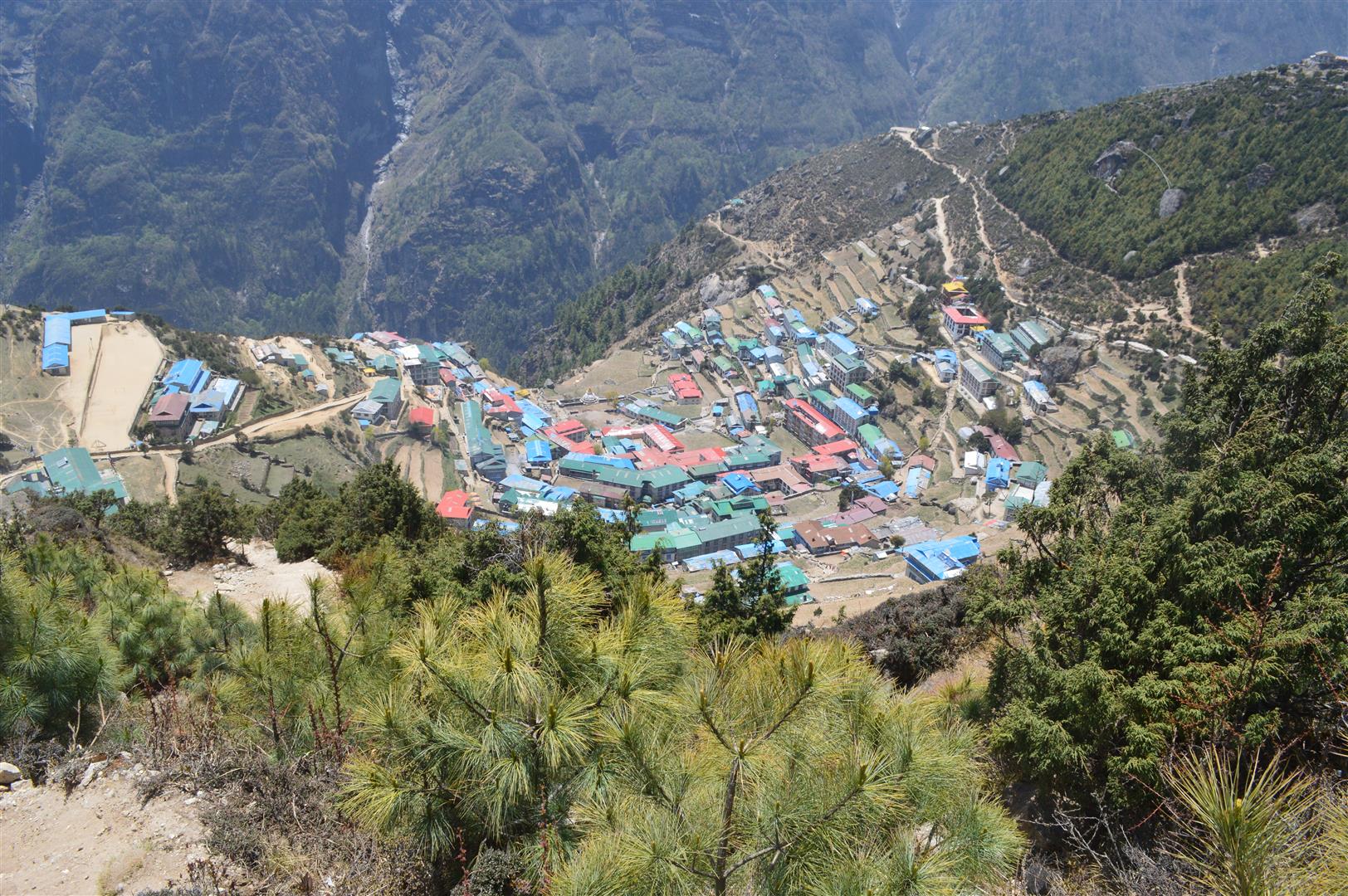 On Day 5, our guide told us that there were two acclimatization stops and after 5 hours of trekking, we reached Hotel Everest View, which is one of the highest perched hotels in the world. While sipping a coffee and gobbling a cup of Maggie, we enjoyed a beautiful sight of Himalayan ranges. On the way, we also visited Sherpa Museum where we saw photographs of mountain expedition of the greatest climbers i.e. Edmund Hillary and Tenzing Norgay. The trail to the hotel offered spectacular panoramic views and luckily the weather was clear that day so we got a chance to see a magnificent view of Mount Everest and Ama Dablam. Another morning, the trek continued along the glacial river of Dudh Koshi. After 4 hours of trek, we reached Tengboche and visited local monasteries. It is believed that Tenzing Norgay spotted this monastery from the summit of Everest. The trail continued for one more hour until we reached Mong La, where we had lunch.
Next morning, we walked through dense rhododendron forests and steep slopes. From the forests, we reached meadows and small grasslands. From there, we saw Cho Oyu, which is said to be the world's sixth highest mountain. The trail took us to Inja Khola and then climbed up to Pangboche where we had our lunch. We captured mesmerizing views of Mount Ama Dablam and after 2 hours of trek we reached Pheriche and proceeded to the Imja Valley. Here, we passed through River Lobuche and went on a steep hike to Dingboche for overnight stay.
Day 7 was an acclimatization day. As we didn't want to lose this opportunity, we walked to a Nankan Sa Peak situated at 4,900 m. From here we got to see the world's top three mountain peaks – Mount Cho, Mount Lhotse and Mount Makalu.
Next day, we went from Dingboche to Dughla, the trail offered some of the best views so far as we enjoyed the sight of magnificent mount Pumori (7,138 m) and a glacial lake.
On Day 9, we climbed to Lobuche which is positioned next to the Khumbu glacier. We crossed Dughla Pass/ Thukla Pass.
Day 10 was the moderate trek of around 6 hours. It was an absolute glacier course which took us to Gorakshep (5,170 m) and it eventually proceeded to the Everest Base Camp (5,364 m). This part of hiking made me feel like I'm stepping towards heaven amidst the glaciers. It was the most important and difficult day of the whole trip. We continued walking on the side of Kumbhu glacier; it took 3 hours to reach the base camp where we saw colorful tents of mountaineers who were attempting to climb the gigantic Mt. Everest. We stayed here for a brief period and celebrated our accomplishment like winners. We clicked as many pictures as we could. Two hours later we found ourselves in the lodge at Gorakshep where we spent the night.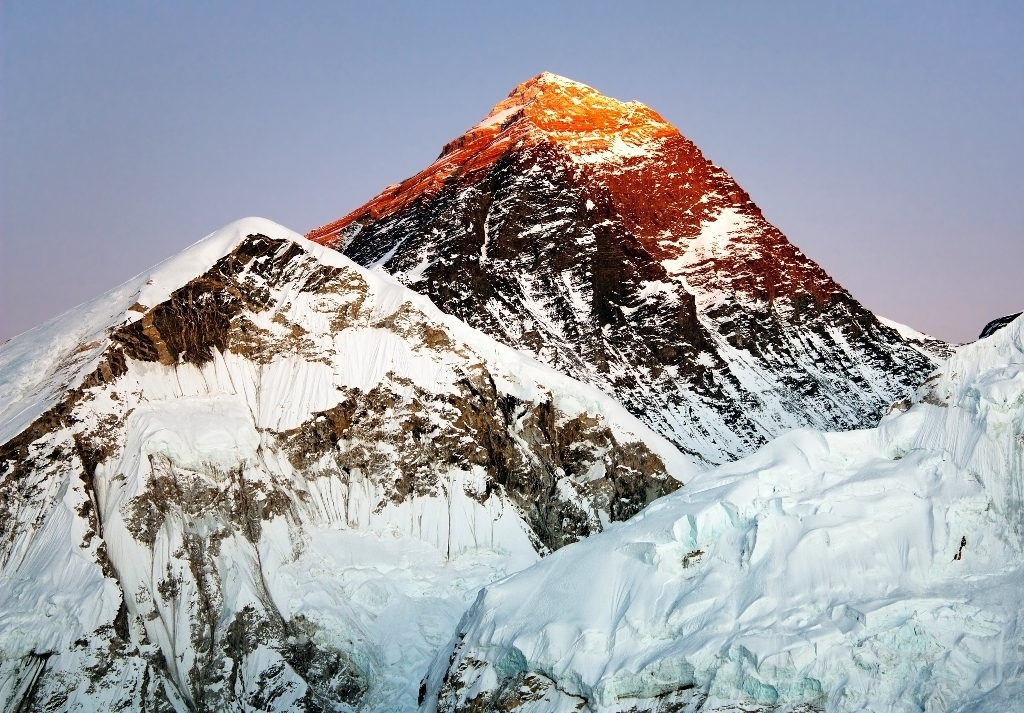 Next morning, with the support of the headlight, we hiked to Kala Patthar at around 4 am where we saw the most magnificent view of Mt. Everest. After breakfast, we descended to Loubouche for lunch and finally Pheriche which was an end to the wide Himalayan valley. Next day, we climbed down to Namche Bazaar and there we bought souvenirs. On day 13, we hiked to Lukla and on day 14, we proceeded to Kathmandu.
Take a Note!
Maximum Height: 18,513 ft
Difficulty Level: Strenuous
Nearest Airport: Kathmandu, Nepal
ATM: Namche Bazaar has two banks and one ATM point
Trek Time: 14 Days
Best Months to Visit
Except for January, July and August, all other months are suitable for the trek.
Trek Itinerary
Kathmandu – Lukla – Namche Bazar – Tengboche – Lobuche – Gorak Shep – Everest Base Camp – Kala Patthar – Namche Bazaar – Lukla – Kathmandu
What level of fitness is required?
A trekker has to hike at altitudes higher than 12,000 ft and that too for 6-7 hours daily. Also, due to lack of oxygen,  breathing issues are a problem. Thus, both mental and physical fitness are required for this trek.
Believe me, a meeting with the jewels hidden in the snow-capped mountains of Everest gave me an array of experiences and memories that one should definitely experience at least once in a lifetime.