Markha Valley trek: A Tea House Trek to 'The Land Of The Passes'
I am a happy-go-lucky person, who loves reading, writing and travelling. Gardening and good food are the other things that I am passionate about. My motto in life is simple, "Love what you Do and Do what you Love".
Latest posts by Meenakshi (see all)
When it comes to trekking, nothing could be more enthralling than the Markha Valley trek in Ladakh. It is also known as 'Tea House Trek'. An awesome 8-day trek amid cold desert develops both thrill and excitement in the land encompassing exotic flora and fauna, high passes, deep and shaved gorges, and fluttering colourful Buddhist flags. While embarking on the trek, passing the little hamlets constructed in conventional style is a unique experience in itself as it provides a closer view of Ladakh's lifestyle and culture. A sight of the vibrant rock figures against white dancing clouds and majestic mountains like Kang Yissay, Stok and Zanskar are always of interest for the trekkers.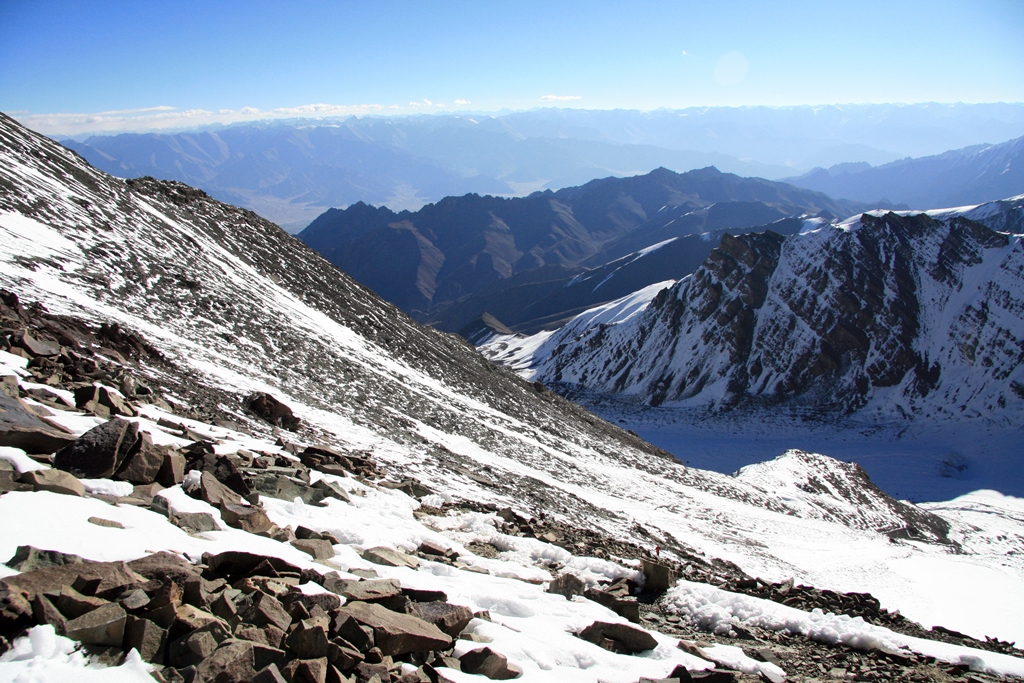 Despite being a tricky trek that includes long hours walk, brook crossings, sharp ascents and descents, it is a must-try for adventure enthusiasts and nature lovers!
Altitude: 5130 m
Trekking Distance: 75 km
Difficulty Level: Difficult
Nearest Airport: Kushok Bakula Rimpochee Airport, Leh
Base Camp: Spituk
Best Time to Trek: Mid June to September
Long story short: Markha Valley Trek Explained
The trek offers astounding views of Markha Valley and several other peaks. Initial two days will be spent becoming accustomed to the cold place where temperature even falls below 0 degrees. Also, travellers can explore Leh Palace, forts, museums, Buddhist monasteries and local markets. Next day, following the way to Ganda La (4800 m), reach stunning Markha Village where the night will be spent in a camp.
Next day, drive to the village of Spituk and then hike towards Zingchen to reach a green dale named Yurutse. On day 4, after ascending for 4 hours, reach Siku passing Ganda La. From Siku, come back to Markha village, following the route along with River Markha. On day 6, move towards Thachungtse for an overnight stay. Go after a gradual descent and reach Nimaling. Shang Sumdo will be the last trekking destination, from here, a trekker will move towards Leh.
Trekking Gear Essentials for Markha Valley Trek
Trekking shoes and trekking pole

Warm clothes/Mosquito repellent

LED Flashlight/Headlamp with extra batteries

Extra pair of woolen socks/ Raincoat/Gloves

Sunscreen Lotion/ Sunglasses/Lip balm

Water Bottles/Energy drink and bars

Emergency Medical Kit
Itinerary Breakdown: My Meeting with Mountains and Dancing Clouds
Being an adventure enthusiast and a firm believer of Buddhism for years, I feel Ladakh is more than just a tourist destination. A blend of colorful monasteries, dome-shaped stupas and a serene barren landscape offer an ideal glimpse of Buddhist culture. So this time, when I visited Ladakh with my friends, we planned to hit the Markha Valley referred as 'The Land Of The Passes'. The trek gave us a chance to explore the Hemis National Park and meet our nomadic brethren.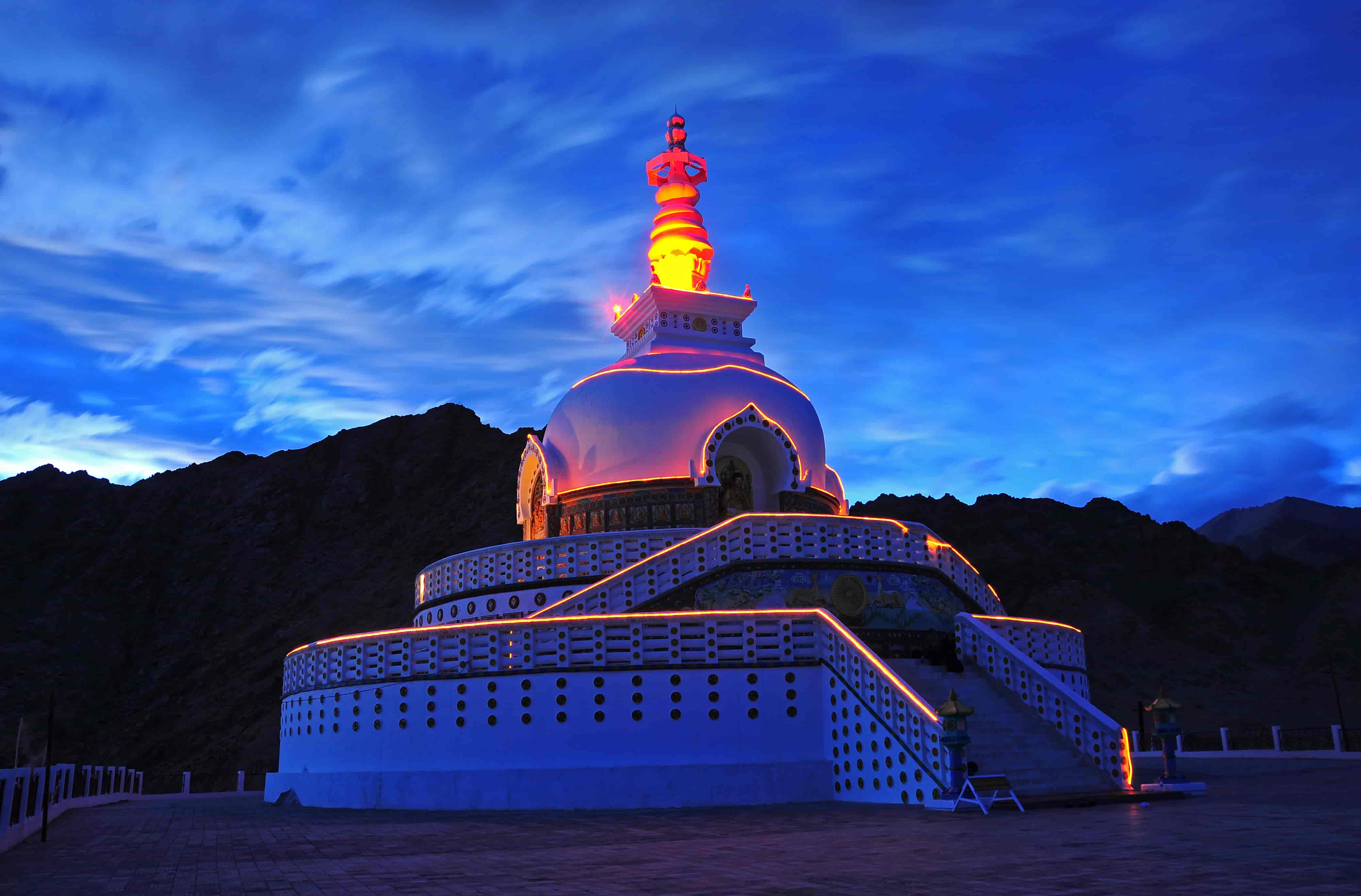 Day 1: We boarded our flights to Leh at 7 am. A flight to Leh is always a feast for the eyes as it offers the mesmerizing views of snow-capped mountains. Moreover, landing is an adventure in itself as the airport strip is flanked by the mountains on both sides. Our tour representative was waiting for us outside the airport, when we met him, he greeted us with flowery headband saying "O-Jullay!"(You're welcome). He took us to our pre-booked hotel and later briefed us about the trek itinerary.
As Leh is encompassed by three Himalayan ranges – Ladakh, Karakoram and Zanskar, there was nothing to wait for! We kept the luggage in a storeroom and went out to explore the valley that boasts several wonderful attractions including Pangong Lake, Nubra Valley, Shanti Stupa and Stok Monastery. After visiting some places, we came back to the hotel around 5 pm. In the late evening, we took a stroll to Moti Market near Leh Bus Stand, from where I bought two jackets and we all had the yummiest momos ever! The night was spent in the hotel.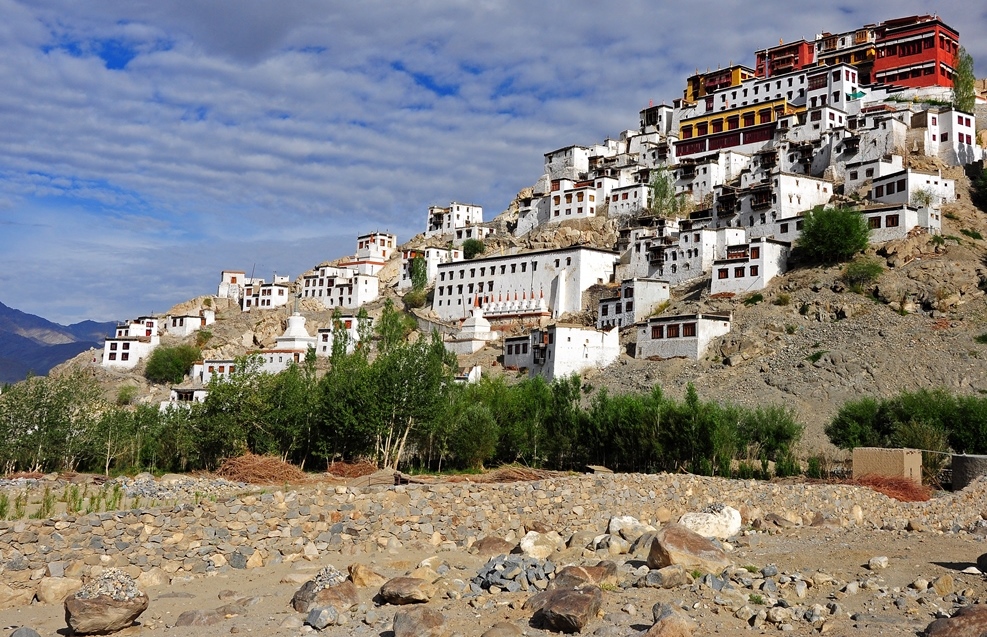 Day 2: As told by our tour representative, we had to stay at Leh today as well, in order to acclimatize to the cold weather, height and declining oxygen levels. After having Ladhaki butter tea and sandwiches, we thought to explore more of Leh before Markha Valley trek begins. On our way, we witnessed the beauty of the Ladakh plateau. Our driver took us to the Thiksey Monastery, located around 22 km from Leh. It was the most striking monastery complexes that I have ever seen, though, it reminded me of Potala Palace in Lhasa. We consumed lip-smacking authentic Tibetan food in its restaurant.
Day 3: Next morning, we woke up to a stunning view of sunrise amidst the hill and lush green fields. After having breakfast, we put our rucksack on and met our tour guide who was waiting for us in a car, just outside the hotel. The trek began with a drive and gradually we crossed Zinchen Gorge, which is an extended desolate desert.
Within next two hours, we reached Spituk Village where we had a cup of coffee. Afterwards, we hiked to an easy slope and arrived at Zingchen in next 1 hour. It was a lush-green valley, amid rocky and sandy hilly landscape, and Zingchen is the place where the River Rumbak surges into the River Indus. From here, we trekked through green barley fields and beautiful streams. On reaching Yurutse, we saw that beautiful campsite was arranged by our guide. We stayed there overnight.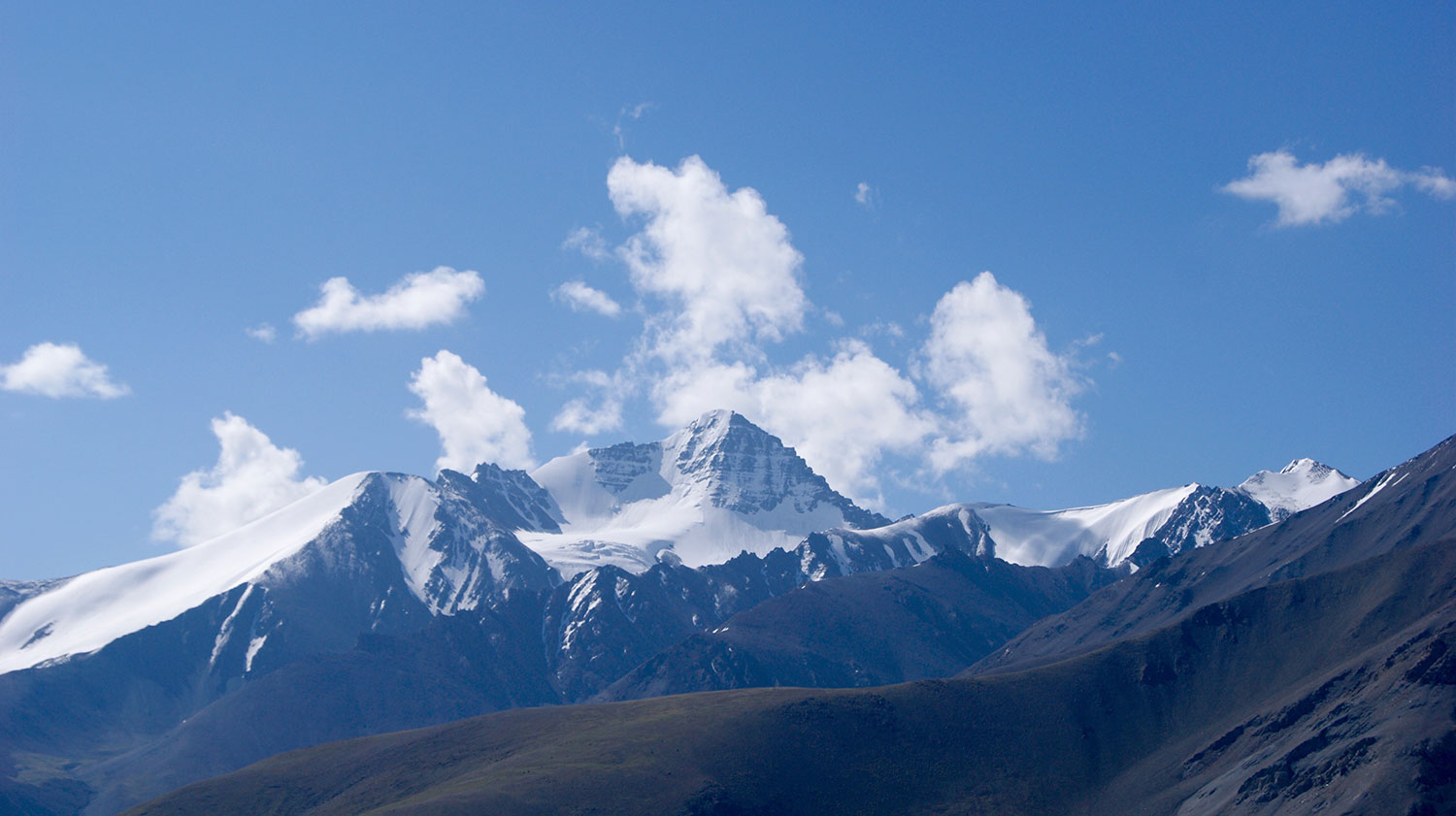 Day 4: On this day, we explored the beauty of Hemis National Park and we were fortunate enough that we got to see a rare sight of Ladhaki Ural (mountain goat) and argali (a Tibetan Sheep). Also, the park is home to snow leopard, blue sheep, wolf and red fox. We continued walking alongside the bed of wild roses and through a valley embellished with colorful Tibetan prayer flags fluttering in the cool breeze.
It took us around 2 hours to reach Ganda La,  situated at the height of 4900 m. We stayed here for a while and I also captured some beautiful views in my DSLR. Later, we descended to Skiu, we realised that the sight of terrain is turning rough and rocky. In around 4 hours, we reached to Skiu, which is situated at the confluence of rivers Markha and Shgri Nala. We paid a visit to Skiu Monastery after which we enjoyed a beautiful sight of a sunset from the top of the valley. Magnificent views of Stok Kangri and Stok range dazzled us.
Day 5: It was quite an easy day trek, along with the banks of the Markha River. Enroute, there were several green willow thickets and barren cliffs. We visited religious shrines at Lhatos and saw a wide range of stone inscriptions at Mani Walls. We crossed River Markha and reached to a beautiful village, Markha. There were 15-20 houses, a monastery and fort. 
Later, we were told that about 3 km above, there is a Dhaba run by the Women's Association of Ladakh, where one can get buck-thorn juice and traditionally made wheat biscuits. We tried to talk to the locals with the help of our guide as no one knows how to speak Hindi or English there. We stayed in village quarters.
Day 6: Next day, we followed the trail that took us to Markha Valley. We captured several pictures of ancient monasteries including Techa and ruined castles. We reached Umlung in two hours. Gradually, we crossed Kang Yaste and Hangskar which is the last village in the valley. Here, we had a cup of tea and snacks. From here, we walked through a steep and rocky ascent that brought us to Thachungtse campsite.
Day 7: Today, we had to walk around 6 km. We woke up early today and after breakfast, we headed toward a stunning plateau of Nimaling. After 2 hours of climbing, we reached to a pond where we filled our empty water bottles. Following a grassy pastureland, we reached Nimaling. There were eye-catching streams on my left and to the right, it was the grand Kang Yatse peak. I also clicked pictures with herders who brought their cattle for grazing. Here, we enjoyed a bonfire night at the campsite and Ladakhi delicacies such as Thupka, Tigmo, Skyu and Khambir.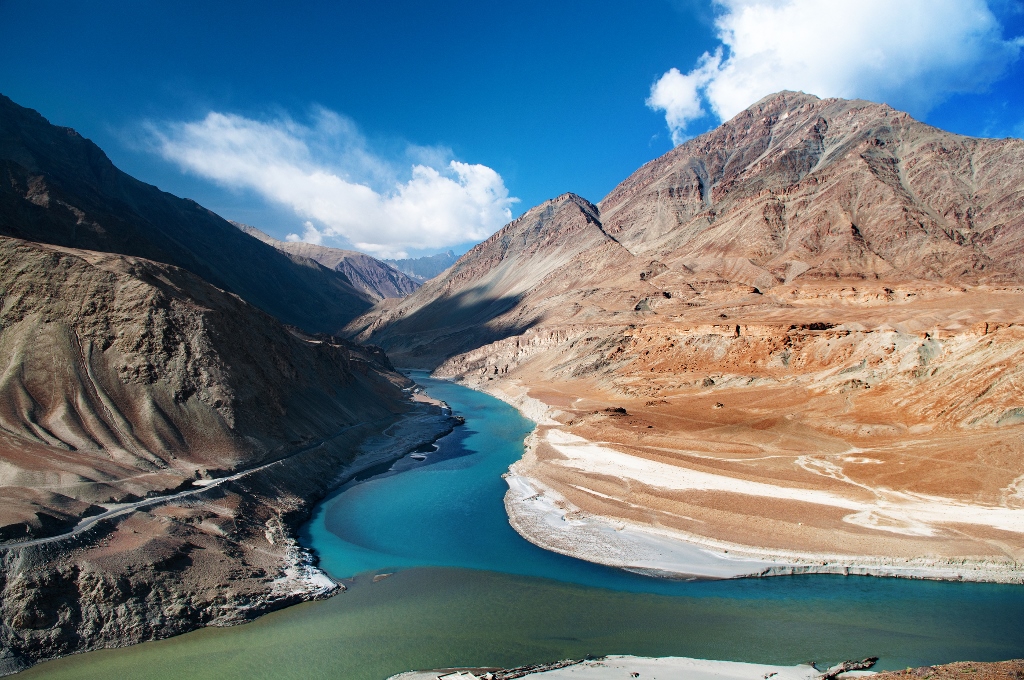 Day 8: We were quite sad today as it was going to be the last day of trekking. But as rightly said, one journey has to end to begin another, we moved downward towards Shang Valley. We stayed there for 15 minutes. Later, we crossed Kongmaru La, which was the highest pass on the Markha Valley trek. This peak offers impressive views of Ladakh Range and Indus Valley. In next 2 hours, we reached Shang Valley and a course from here took us to the last trekking spot, Shang Sumdo. In a taxi, we came back to Leh and spent the night in the hotel.
Day 9: With a heavy heart and lots of memories, we drove to the Leh airport.
While you are at it, don't forget to visit these cafes! 
Tibetan Kitchen
German Bakery
Dzomsa
Open Hand Cafe
Lala's Cafe
It was truly a beautiful and culturally rich experience! Everyone should explore the hidden beauty of Ladakh. So, go ahead and give a chance to the serenity of the Markha Village to take away your stress and fears.