Exciting Winter Treks in India You Must Take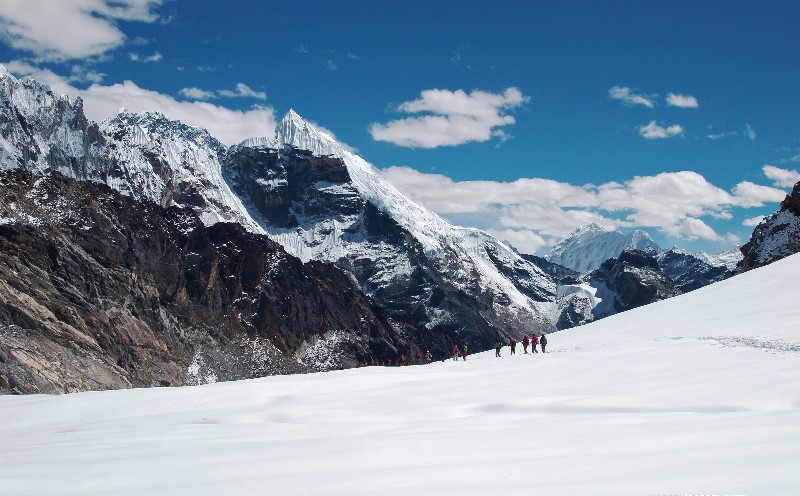 I am an ardent foody, who likes travelling. In my free time, I blast my ears with good-quality Heavy Metal. Watching culinary shows, writing songs, playing drums, guitar and keyboards, playing cricket and singing consume much of my leisure time.
Is winter the right season for trekking in the Himalayas? Of course it is! The Himalayan slopes turn magical as it begins to snow.
As the temperatures plummet below zero degrees and the sun rays breathe life into icy terrains for increasingly shorter duration, trekking can be a daunting task. But the rewards of traversing through snow are immense – the shroud of white covering trees and meadows meeting the clear blue sky is a treat to the eyes. You will be surprised to see how the weather changes from sunny to overcast in the blink of an eye – it begins to snow in no time. Listen carefully if you are inside a tent when it is snowing – you might mistake snowfall for raindrops at times.
Snow treks are little more challenging than normal treks because it involves more equipment to allow smooth movement. Common accessories like waterproof gloves, woolen socks, and scarves are a must along with specialised gears such as micro spikes, trekking poles, ice pick and gaiters that you learn to use during the trek. These gears are especially designed to ease your walk through both light and deep snow as well as ice sheets of various densities.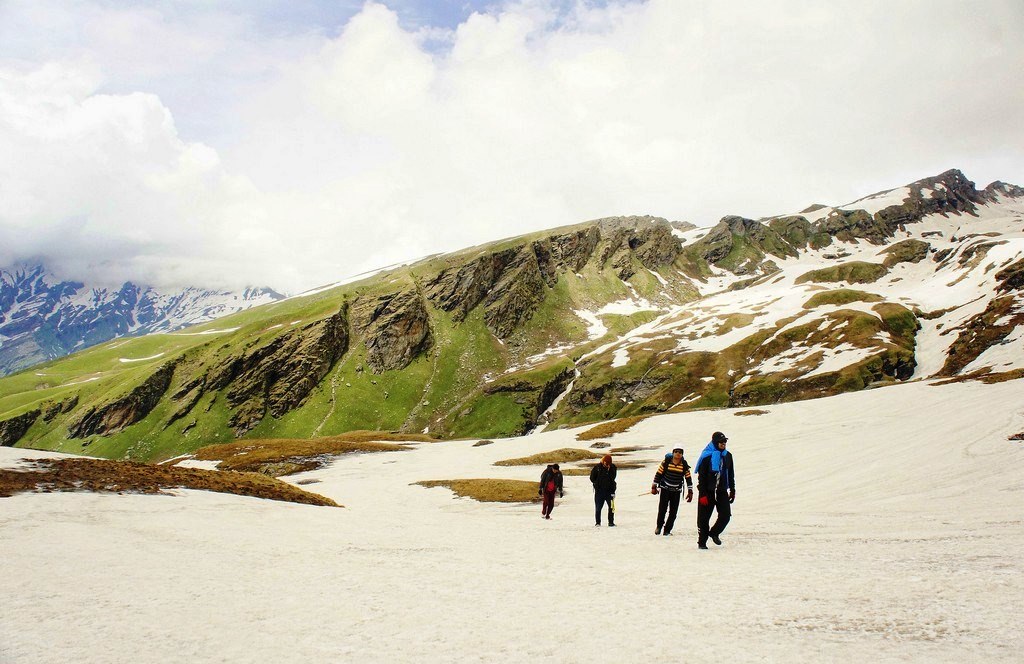 Most of the winter treks in India include camping for night halts. You will not forget the surreal experience of taking a nap inside your sleeping bag laid on the snow. Nor will you forget the efforts made to drag your legs out of fresh, loose snow or doing a 'Penguin walk.' A typical style of walking resembling that of Penguins, this requires sturdy moves without lifting your leg much from the ground. This prevents tripping and falling on hard ice.
The best part of winter treks in snow is that it acquaints you to a new you! And more often than not, a good one, that you can take pride in. All successful and memorable snow treks are result of good team work; you make friends in the face of adversities and as is said, a friend in need is a friend indeed!
Snow treks in Himalayas will continue to beckon the adventure enthusiast in you. With its magnificent scenic beauty and a host of sporting options such as sledging, skiing, skating, snowboarding, and ice climbing, the experience will be unparalleled.
Here are some of the best winter treks in India.
Brahma Tal Trek
Brahma Tal stands as an exception when most of the popular trails of snow trekking in India are closed. As you wade through waist-deep snow on the trail rising steadily to the lake, take some time out for the fantastic view of the surrounding mountains – Mt. Trishul and Mt. Nanda Ghunti being the most prominent of all. Look around you to see the blob of colours indicating your fellow trekkers amid the white carpet of snow covering the forests and the meadows. Here's a photo story of the ever beautiful Brahma Tal! Know more about Brahma Tal Trek!
Winter Kuari Pass Trek
This trek takes you close to the highest mountain peak in India, Nanda Devi. So close that you can actually see the entire south west flank of the mountain, perhaps one of the rarest full flank views of any mountain in the world. Kuari Pass snow trek is ideal for fit beginners as well as experienced trekkers and passes through forests of oak and rhododendrons, covered in snow. The campsites are equally spectacular; the Khullara campsite has Mt. Dronagiri in the background while the Padiyar campsite is flanked by snow-capped pine trees. Know more about Winter Kuari Pass Trek!
Chadar Frozen River Trek
As the name chadar (meaning sheet) suggests, the trek takes you through the deep and icy gorges of Ladakh formed by the Zanskar River that freezes every winter. Revel in the sun rays, shining out of an azure sky, that reach the trail only around mid-day. Listen carefully to the sound the thick and thin layers make to watch out for thin ice layers and decide on where to step. The caves, where locals stay during their travel in winters, are an added attraction as much as the frozen waterfall and the elusive snow leopard conspicuous by their pug marks. Know more about Chadar Frozen River Trek!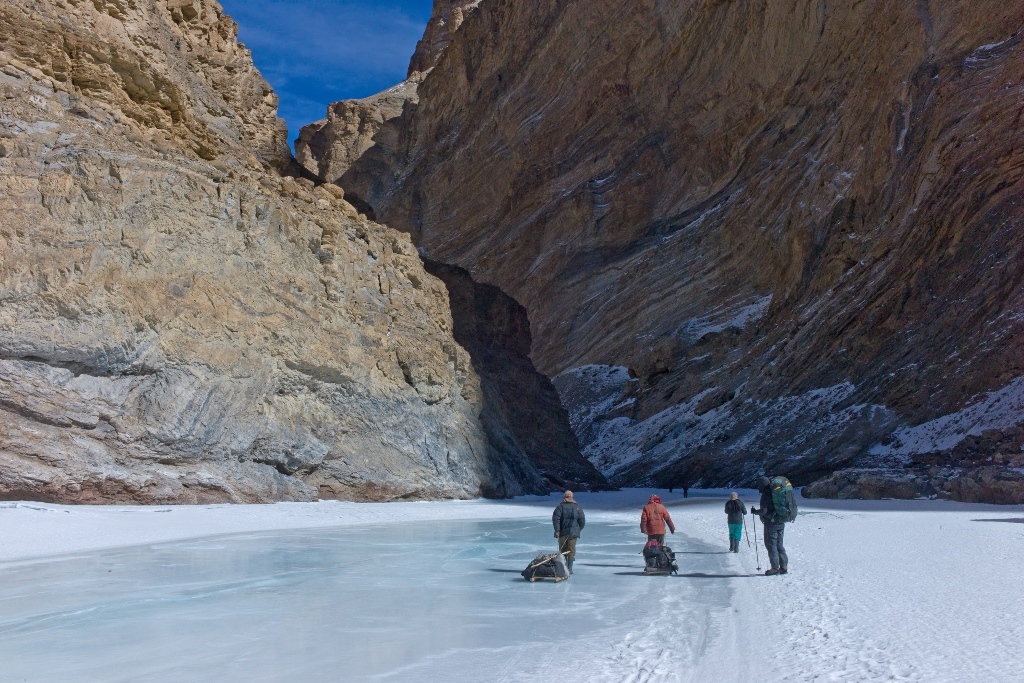 Kedarkantha Trek
When most of the snow treks in India draw to a close, Kedarkantha flaunts snow until as late as April. From the Kedarkantha base camp, you get an unparalleled 360 degree view of the mountains. This trek also offers the prettiest of campsites, set on the edge of pine forests or amid snow-sheeted meadows as well as a refreshingly scenic drive passing through Mussoorie, Nowgaon, Purola, Mori and Naitwar. Know more about Kedarkantha Trek!
Prashar Lake Trek
If you have only a weekend at your disposal, opt for this trek in Himachal Pradesh. The trail passes through forests, rivulets and local villages, and offers a wonderful view of Dhauladhar, Pir Panjal, and Kinnaur mountain ranges. It is one of those rare treks that bring to you a unique mix of natural beauty and Himachali culture. Know more about Prashar Lake Trek!
So, winter is here. Have you booked your trek yet?