5 Unusual Places in India You Can Only Trek to!
I am a happy-go-lucky person, who loves reading, writing and travelling. Gardening and good food are the other things that I am passionate about. My motto in life is simple, "Love what you Do and Do what you Love".
Latest posts by Meenakshi (see all)
"May your trails be crooked, winding, lonesome, dangerous, leading to the most amazing view. May your mountains rise into and above the clouds."
This is what the noted author, Edward Abbey has quoted for trekkers and mountaineers. Perhaps, we can consider this as the ultimate wish of a true adventuresome soul.
More demanding the trail, more would be the thrill. As simple as that…!! This specific mindset boosts trekkers and mountaineers to search for more gruelling trekking routes. Indeed, this keeps them exploring new destinations that are actually more strenuous to cover. And if a trek on such routes is accompanied by some of the most astounding vistas of charming surroundings, then the overall experience becomes more rewarding.
India, a country, which is richly endowed with soaring mountains, cascading landfalls, steep cliffs, dense forests, deep canyons and lush meadows, has been attracting thrill seekers for quite a long time. The mighty Himalayas, extending from the top north to extreme east of India, serve as a great base for admiring scenic landscapes as well as for performing thrilling activities like rock climbing, trekking and mountaineering.
Most of these places are highly acclaimed for their stunning beauty, and a few of them are only accessible through trekking. Here, we take a look at some such offbeat destinations in India that can keep you thrilled and engaged throughout your trip.
Roopkund Lake – The Inexplicable Lake of Skeletons
Often called the Mystery Lake, Roopkund is a glacial lake, located at a breathtaking height of around 16499 feet above sea level in the Chamoli district of Uttarakhand. It is situated in the Trishul Massif of the Himalayas, and numerous human skeletons can be seen in the lake when the snow melts; thus, giving it its mystery aspect.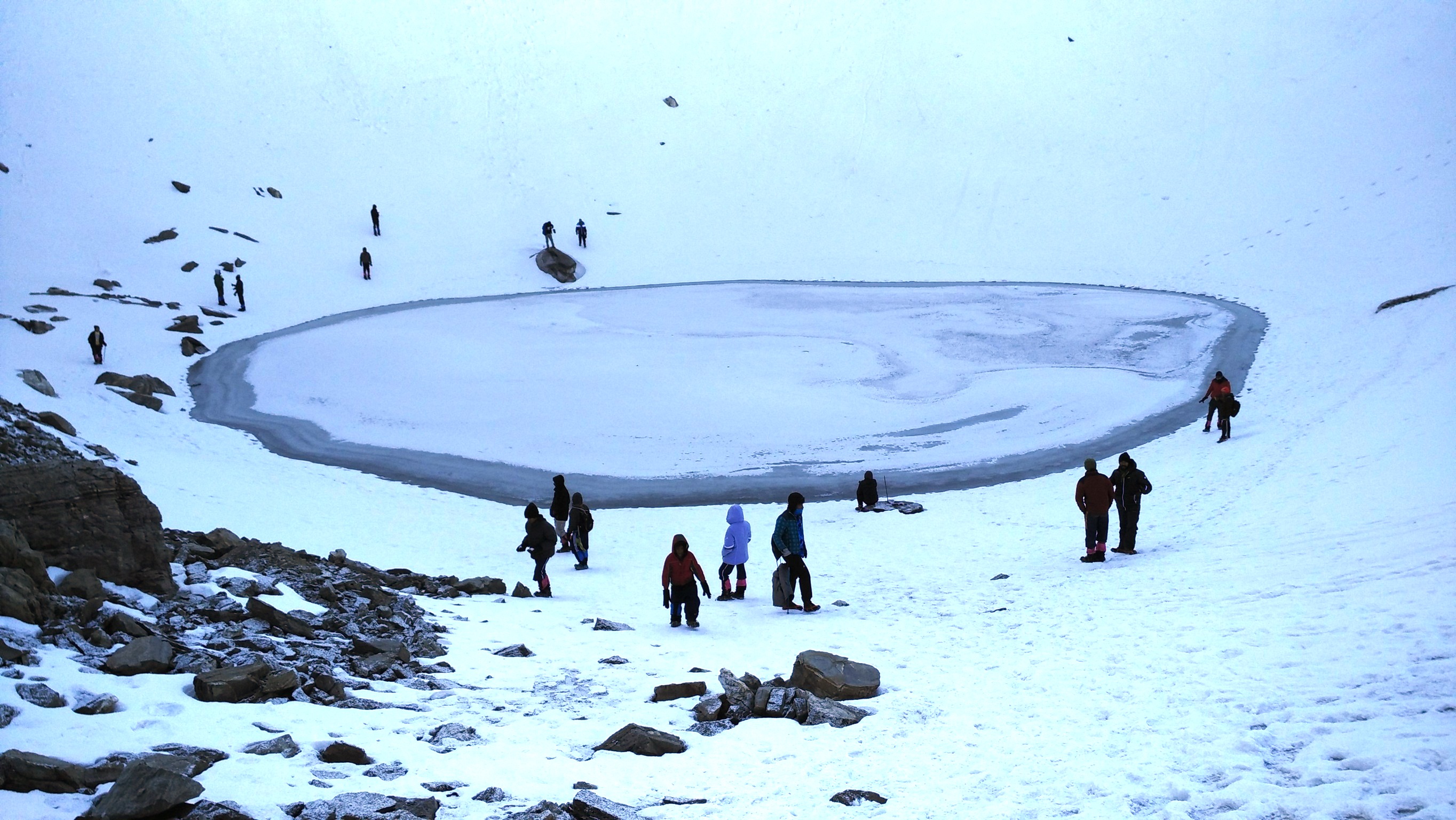 The stunning Roopkund Lake is a popular trekking destination and the way to here is one of the most scenic trails in the country to trek on. Roopkund is covered with snow almost throughout the year, and numerous routes that lead to this lake are surrounded by picturesque snow-clad mountains.
One of the most preferred treks to it starts from Loharjung or Wan. From here, you will trek for Ali Bugyal via Gaheroli Patal. Further, you will cover Ghora Lotani, Pathar Nachuni and Bhagwabasa before reaching your ultimate destination. Overnight camping at various points is sure to add more excitement to your trip.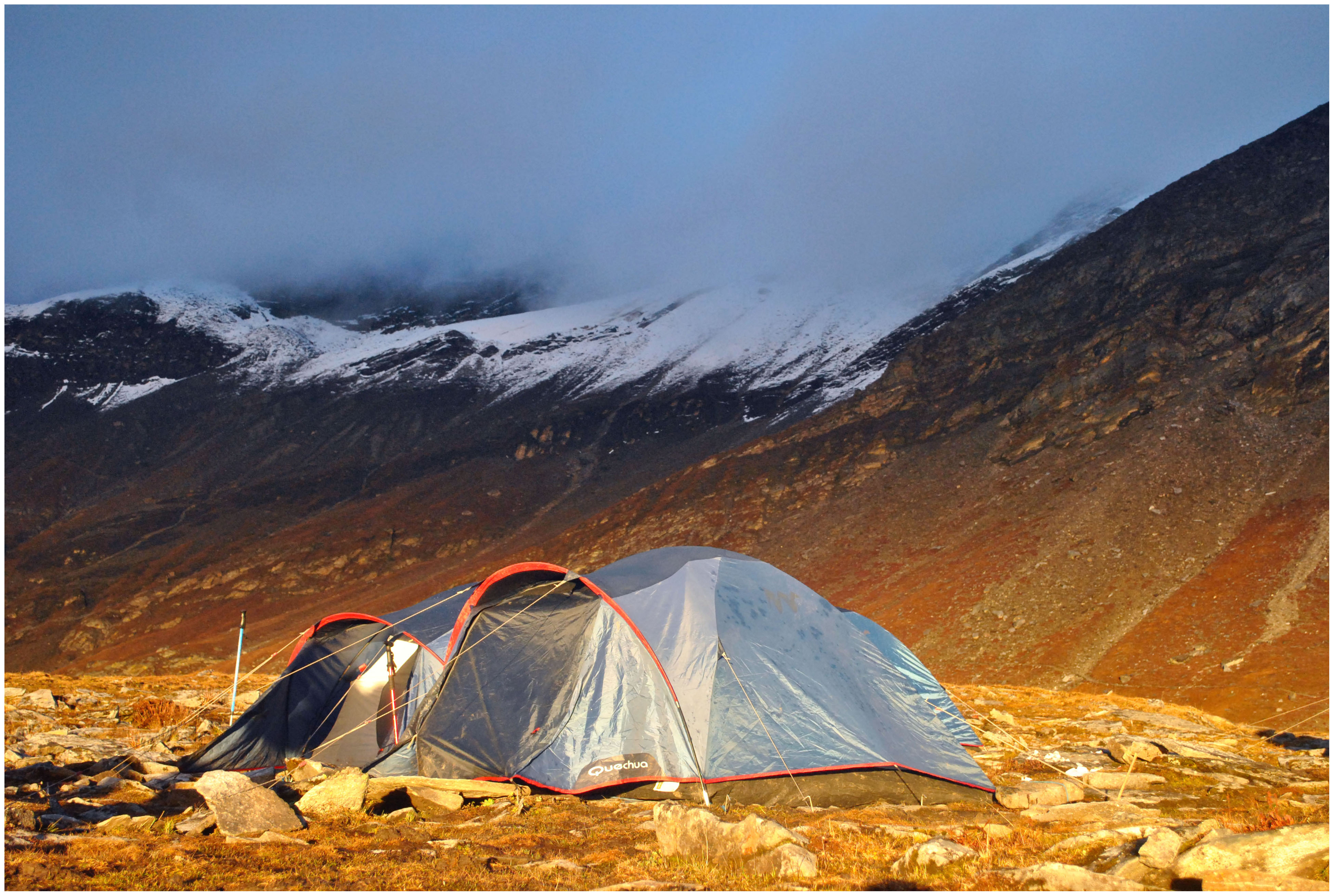 The skeletons that can be observed in this lake are a major attraction and supposed to be of pilgrims, who had lost their life due to some sort of natural disasters that occurred during their journey. Though there are many stories related to the skeletons in the lake, some say they are of  the local people who were caught in a hailstorm and some say they are of war soldiers. Nobody knows the truth and that is the beauty of the mystery!
A trail-based journey to Roopkund is a great experience as you would get a chance to make your way through thick groves and traverse through and along flowing waters of tiny streams. A vast stretch of scenic meadows, known as bugyals, will also come along your way while you enjoy the captivating views of the surrounding mountains and roaring waterfalls. On reaching this lake, enchanting views of the Roopkund glacial pond along with the peaks of Nanda Ghunti, Trishul and Chaukhamba would simply leave you spellbound.
Malana – Athens of the Himalayas
Malana is a tribal village in the state of Himachal Pradesh. At an altitude of around 9937 feet and to the east of the Kullu Valley, this remote village is located in the picturesque Parvati Valley. In addition to its unique language, traditions and culture, this village has a distinct democratic system of governance, and is called the Republic of Malana by locals. A famous legend about the natives of Malana is that they are the descendants of Greek soldiers, who served Alexander the Great's army.
A trek to reach the village of Malana is not too demanding, and you would go through lush grasslands and bushy forests on the way. The best time to visit the village is the period when the region is not under the influence of monsoon. On your way to Malana, spellbinding views of the snow-laden Hanuman Tibba and Ghalpo peaks would definitely wash away all the exhaustion that you might incur while trekking.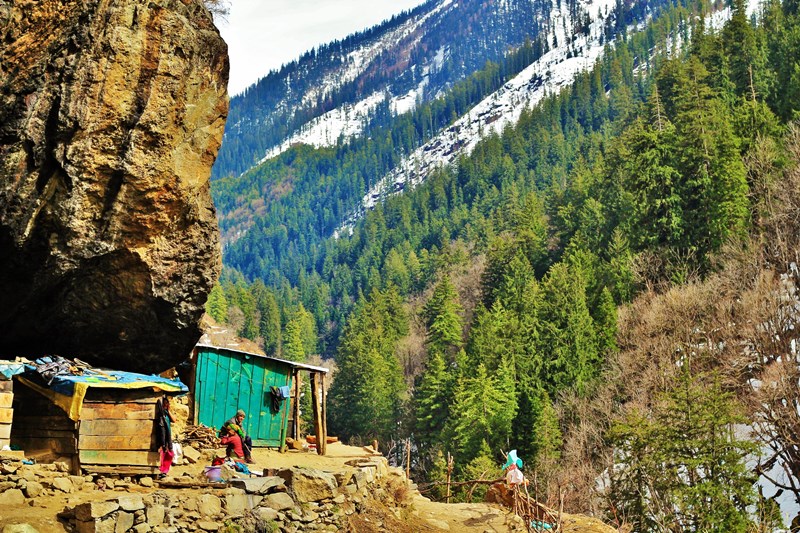 Your trip starts from Ganachalani and will take you to Dadru after crossing Chanderkhani Pass. From Dadru, you will trek for nearly 3 hours to reach Malana. Another option to reach the village includes an approximately 10-hour trek from Manikaran (Parvati Valley) over the 10433 feet high Rashol Pass. However, the shortest possible and easiest way is from Jari village that is aptly linked to Kullu Valley. This trip will take around 6 hours, during which you can enjoy enchanting views of Malana nala and waterfalls. Another viable option is beginning the hike from Manali via Naggar, Rumsu Thach, Nauya Tapru and Chanderkhani Pass.
Living Root Bridge – Natural Wonders of Meghalaya
Living Root Bridges are only found in the southern part of Meghalaya, one of the Seven Sister States in Northeast India. These are intertwined clusters of thick aerial roots, forming bridges that can hold several people at a time. Made from the roots of banyan trees (Ficus elastica), these bridges are built across small streams by the Khasi people, an indigenous tribe of Meghalaya.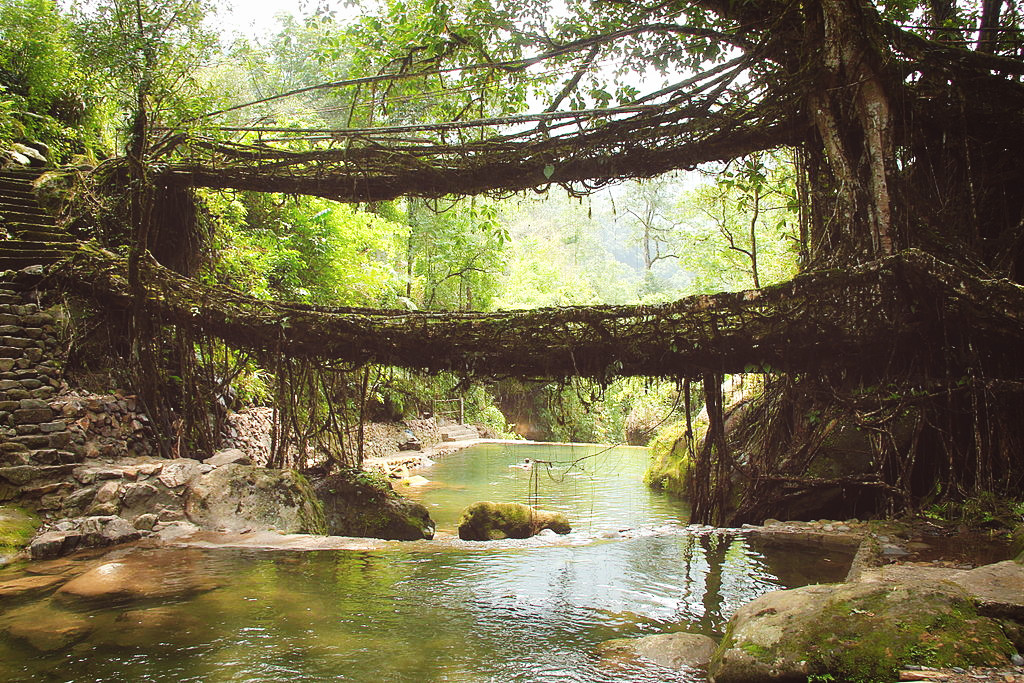 Single-decker and double-decker root bridges can be found in the regions of Cherrapunjee (Sohra) and Mawlynnong. A trek from Cherrapunjee, which itself is a popular tourist destination, to the living root bridges is slightly tough to cover, and requires a considerable amount of stamina. On the contrary, the same from the beautiful village of Mawlynnong is relatively an easy one.
Some of the famous root bridges in these regions are Ummunoi Root Bridge, Umkar Root Bridge, Umshiang Double-decker Root Bridge and Ritymmen Root Bridge. The time to trek down to these natural wonders may vary from 1.5 to 4.5 hours. During the trip, which usually is a mix of walking, stepping down through stone stairs and a bit of hiking, you may enjoy scenic views of the surrounding valleys and go past traditional Khasi villages and cultivated slopes. If you are a true nature lover, then this is a must for you. Birding is also possible in these regions as these are a temporary home to some well-known migratory avian species.
Phuktal Monastery – Meet Tibetan Monks
Situated in the trans-Himalayan region of Ladakh, Phuktal Monastery is a Buddhist Monastery, which is nestled in the secluded valley of Lungnak in south-eastern Zanskar. As a matter of fact, this monastery can only be reached by foot. Built of mud and wood, Phuktal is perched on the side of a cliff, and from a distant point it seems to be a honeycomb. Anmu and Cha villages are the only two establishments that confirm the existence of humans in this region.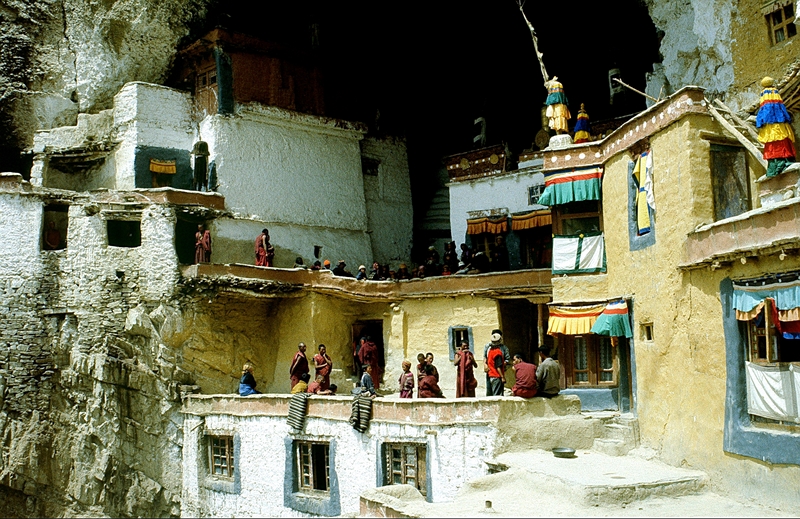 The trek leading to this monastery begins from Raru. After trekking through a deserted region alongside the Lungnak River, you will reach the village of Chatang. An overnight stay in this village would give you a chance to mingle with locals. The next destination on the way to the monastery is Purne village. Here, you can again stay for a while and get to know about the life and culture of the natives.
Phuktal Monastery is located nearly 7 km from Purne village on the northern bank of the Tsarap River. The meandering path, which takes you to this monastery, is a long one and almost barren. En route Phuktal, the scenic beauty of lush meadows (at some places) along with surrounding valleys and mountains are enough to take your breath away.
Chadar Trek – Walk Over the Frozen River
Chadar trek or more precisely the Chadar Frozen River Trek is basically a winter trail in the Zanskar region of Ladakh. In winters, when snowfall blocks several roads in the Zanskar Valley, this trek on the frozen Zanskar River connects Chilling village (on the way to Leh) to the valley.
It is considered as one of the most adventurous and sought-after treks across India, and in fact, is used by locals to travel to the other side of the valley. During this trek, you have to cover a distance of around 80 km, and the best time to take on this expedition is from January to February.
Depending on weather conditions, the icy surface along this trek could be hard and slippery or may be scattered with dust all around. On your way, you would encounter numerous small and big caves along with several frozen waterfalls. These stunning waterfalls and surrounding snow-clad mountains are truly a sight to behold. Making your way through deep gorges poses a fair level of challenge, but simultaneously adds a bit of excitement to your trip. However, this whole journey is quite strenuous, and one needs to be physically fit to perform it.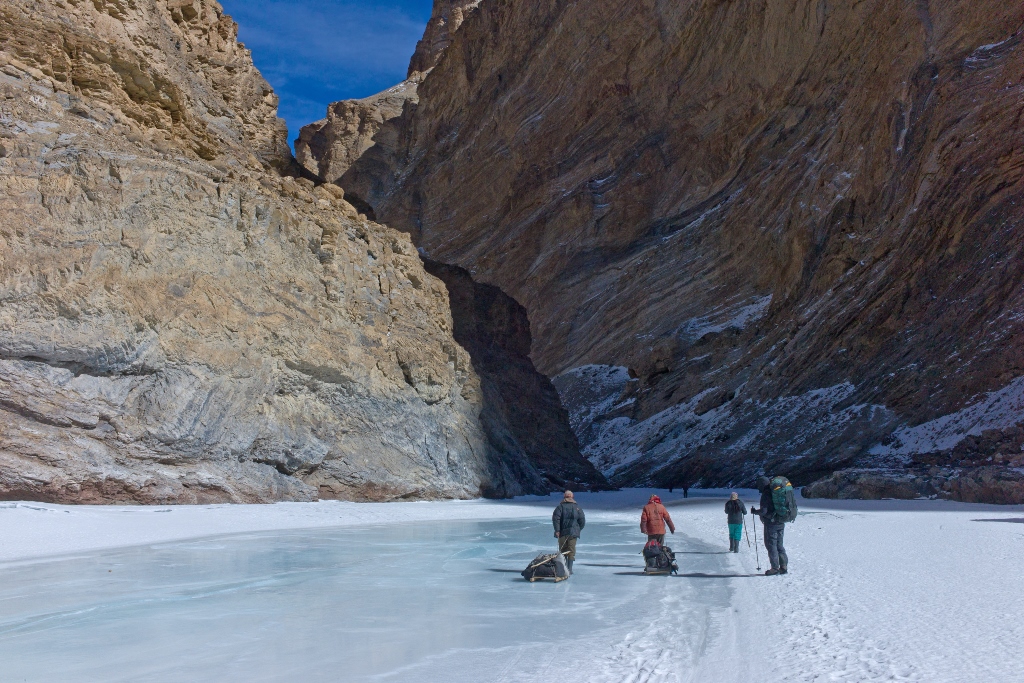 In a nutshell, the fact that these mind-boggling destinations are only accessible through a trek makes them more arresting; thus, compelling adventure enthusiasts to find their own path to reach these amazing destinations. Even the renowned essayist, Ralph Waldo Emerson once said:"Do not go where the path may lead, go instead where there is no path and leave a trail."