Give a start to your winter trekking in India in December
I am a happy-go-lucky person, who loves reading, writing and travelling. Gardening and good food are the other things that I am passionate about. My motto in life is simple, "Love what you Do and Do what you Love".
Latest posts by Meenakshi (see all)
Our routine during winters is lying in bed, curled up in a blanket in front of the television. Year after year, this is how we have spent our winters, and especially our winter vacations. I know it's not just me, who has been living like this, there're plenty of others too. But, it's not our fault! I guess it's just that there is nothing motivating us to get out of our cocoons, leaving those thick blankets behind, to do something. A few days ago, one of my long-time friends asked me what I was doing during this winter vacation, and this got me thinking. I had no answer for my friend at that moment, but I was in search of it, soon after that.
It was when I was throwing out my past year calendar that I came across a beautiful scenery of the Alps, and realised that this is a good option to go to in winters. I am not talking about touring Europe; although, that is a good idea too, but what I am talking about is exploring mountains. Just think about it. Walking on fresh snow, knee-deep in it, with clouds in your face, and everything beautifully frozen still with below-zero temperatures; even imagining this can give one chills. And, so will the cold winds, blowing at heights of thousands of feet above the ground.
I am not ready to spend another winter tied up in a blanket, and I don't think you should either. I want to make this December of mine adventurous. I have compiled a list of winter treks that can be enjoyed during December. You can also choose any of these treks and give an adventurous touch to your December too.
Winter Dodital Lake Trek
Imagine a high-altitude lake, situated around 10000 feet above sea level, surrounded by mighty peaks and forests of oak, pine and rhododendrons! It's beautiful, right?! Such a lake exists, and it lies within the boundaries of India, in the state of Uttarakhand. The awe-inspiring lake is known by the name of Dodital. The allure of this lake beckons thrill seekers and nature lovers from near and far. During the winter season, the entire landscape gets covered in a blanket of snow, turning into a white fairyland. The view is surely beautiful during summers, but the feeling of being here becomes even more majestic, when the cold winds fill the atmosphere.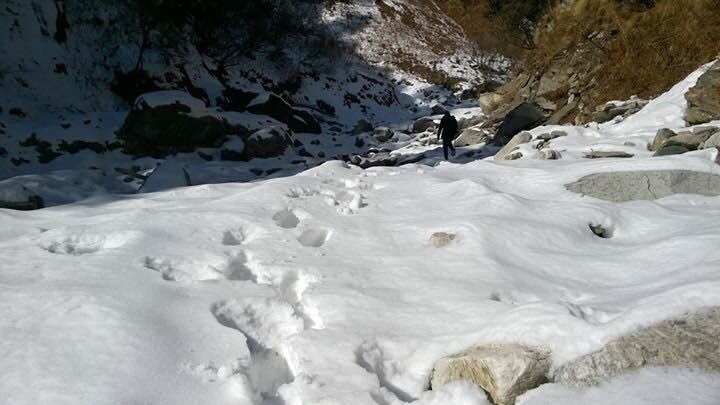 The journey begins from Haridwar, from where you will be driven to Uttarkashi. The trekking part of this 6-day tour actually begins from the small village of Sangam Chatti. On the way, you will pass many other quaint villages, where you can learn the local way of life. On the third day of this venture, you will arrive at the scenic Dodital. One sight of the lake will leave you awestruck, making you forget all the hustle and bustle of your life.
This is an ultimate adventure, taking you on narrow trails, steep climbs and across numerous streams. During this journey, you will also have to walk through knee-high snow, which will test the strength of your thigh muscles. You will also get to spend some time at Darwa Top; the views of Swargarohini and Bandarpunch Massifs are truly magical from here. Moreover, you will also get plenty of time to click selfies against the backdrop of these gigantic mountains.
Kedarkantha Trek
Kedarkantha Trek, which is considered to be quite easy during summers, becomes a little tough in winters, due to the thick layer of snow, which covers the whole region. That is why, many mountaineers believe December to be one of the best times to go on this trek (these are of course people, who like challenges). If you also like to do daring things, then I reckon you go for it. The trail to the summit of Kedarkantha, about 12500 feet above sea level, goes past many scenic lakes and peaceful villages. During the journey, your eyes will be treated to spell-binding views of the Garhwal Himalayas.
The tour begins from the tranquil hill station of Dehradun and takes you first to the small village of Sankri. The passage through Govind Pashu Vihar National Park and Wildlife Sanctuary will give you ample opportunities to come across regional wildlife. Sprawling over an area of 958 sq km, this protected territory is home to Himalayan black bears, brown bears, bharals and musk deer among numerous other animals. This sanctuary also provides refuge to the rare snow leopard. If it's your lucky day, you might just spot a golden eagle, flying over your head, looking for a hunt. In case you are a wildlife enthusiast like me, I guess this trek has already become your favourite option on the list.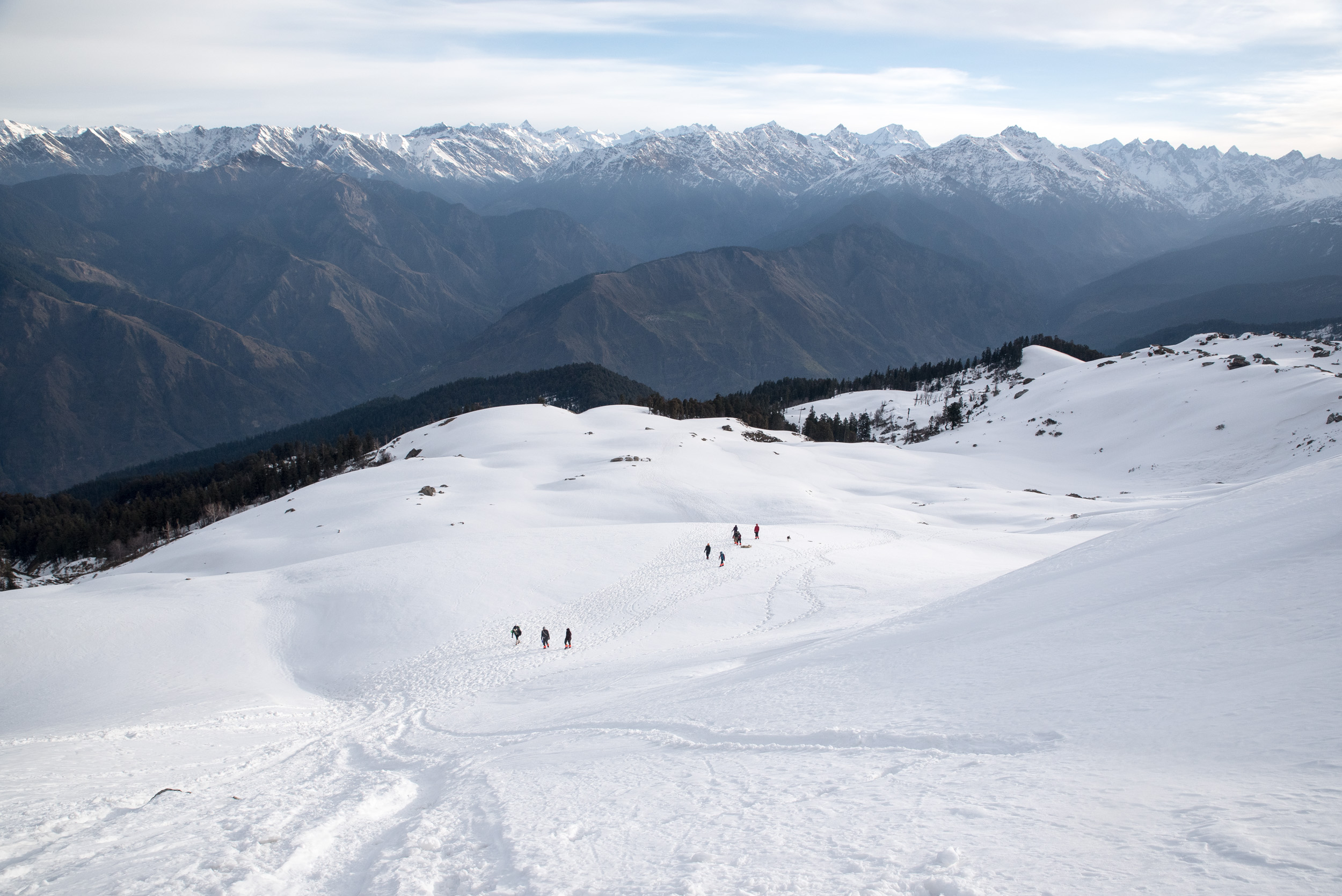 Your senses will come to life, when you pass through forests of oak and spruce. Would you believe that we still haven't gotten to the highlight of the package? One of the best things about this trail is that it takes you to the surreal Juda Ka Talab. As the lake sits uninterrupted in the middle of a dense forest and is surrounded by high peaks, it makes for a very stunning sight. Isn't this a feast for the eyes?
Triund Trek
Merely 2 days long, the Triund Trek is the perfect weekend getaway during the cold month of December. Even if you are just going through this blog in order to kill time and have no plans to make a trekking excursion this December or you feel you are not fit enough for hiking, just go for the Triund Trek and enjoy the weekend. The trek is not only short, it's quite easy too. Taking you to an altitude of just a little over 10000 feet, the trail covers about 18 KM. Want more? This short excursion is a perfect blend of thrill, vistas, culture and sightseeing.
You can start this amazing journey either from Dharamkot or from McLeodganj. The trail from the former origin will take you via the revered Galu Devi Temple, while from the latter place it will take you via a dense forest. But no matter what trail you are going for, you will be treated to astonishing vistas of the bountiful nature in Himachal Pradesh. On reaching Triund, your eyes will light up at the views of the magnificent, snow-capped peaks of the Dhauladhar Range. The trek further takes you to the Laka Got Glacier, adding more thrill to the venture.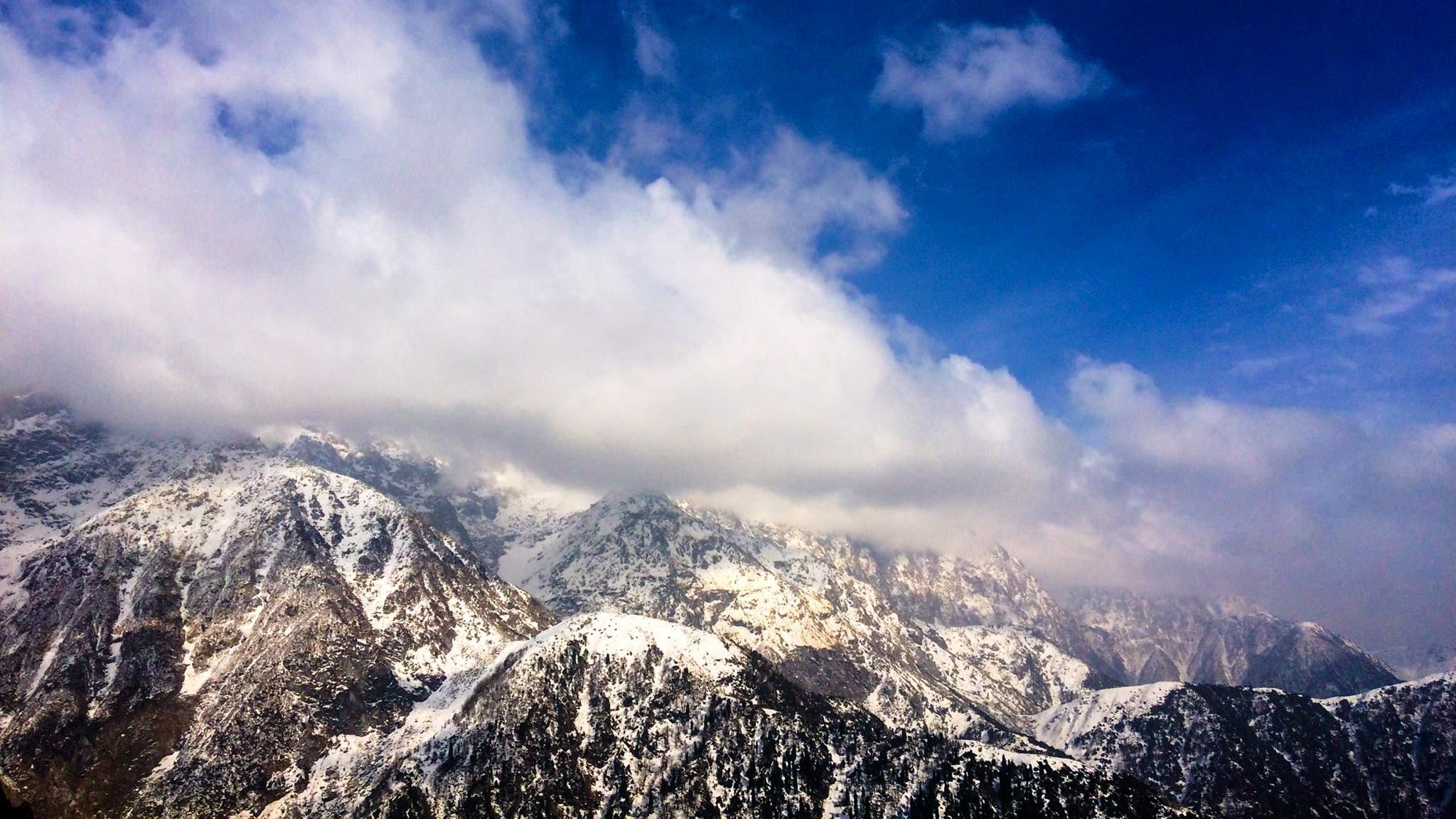 Pangarchulla Peak Climb
Pangarchulla Peak Climb is a rollercoaster ride of thrill and excitement. Surrounded by the mighty Himalayan peaks in Uttarakhand, you will be trekking amidst fascinating vistas of nature. Strolling through beautiful meadows, travelling across thick forests and staring at sky-piercing peaks, you will feel a unique closeness to nature like you have never felt before. Anytime during the journey, when you are sleeping at night, just head out of your camp to find a shimmering canopy of stars over your head. You don't see such clear skies and glittering stars ever while living in a polluted metropolitan city.
On the hike, you will be walking on the rugged terrain of scree, boulders and rocks. Though the journey demands a lot of efforts, it is all going to be worth it. The spectacular views you enjoy on the trail will make you forget about every pain or exhaustion you might have endured. The trek is not so easy, and I suggest you prepare well for it.
Narayan Parbat, Mana Peak, Nilkanth, Abi Gamin, Rataban, Hathi Parbat, Gauri Parbat and Dunagairi are some colossal peaks, you will see during your trek. Winter is perhaps the best time to embark on this trek as the snow makes the landscape absolutely stunning. This will also make it easier for you to spot footprints of leopards and Himalayan bears.
Har Ki Doon Trek
This is another trek apt for novices. Any vacation, spent exploring the mountainous terrain of Uttarakhand, marvelling at sky-piercing peaks and meeting the Himalayan village people, is a holiday well spent. The gorgeous Har Ki Doon Valley, situated in the foothills of Fateh Parvat, is nothing short of a paradise; a sight of lushness with the backdrop of high mountains. The trail will take you past many isolated villages that are still untouched and unadulterated by the rest of the world. Here, you can mingle with the local people to understand their way of life. You can talk to them about how it feels to live in a beautiful place like this.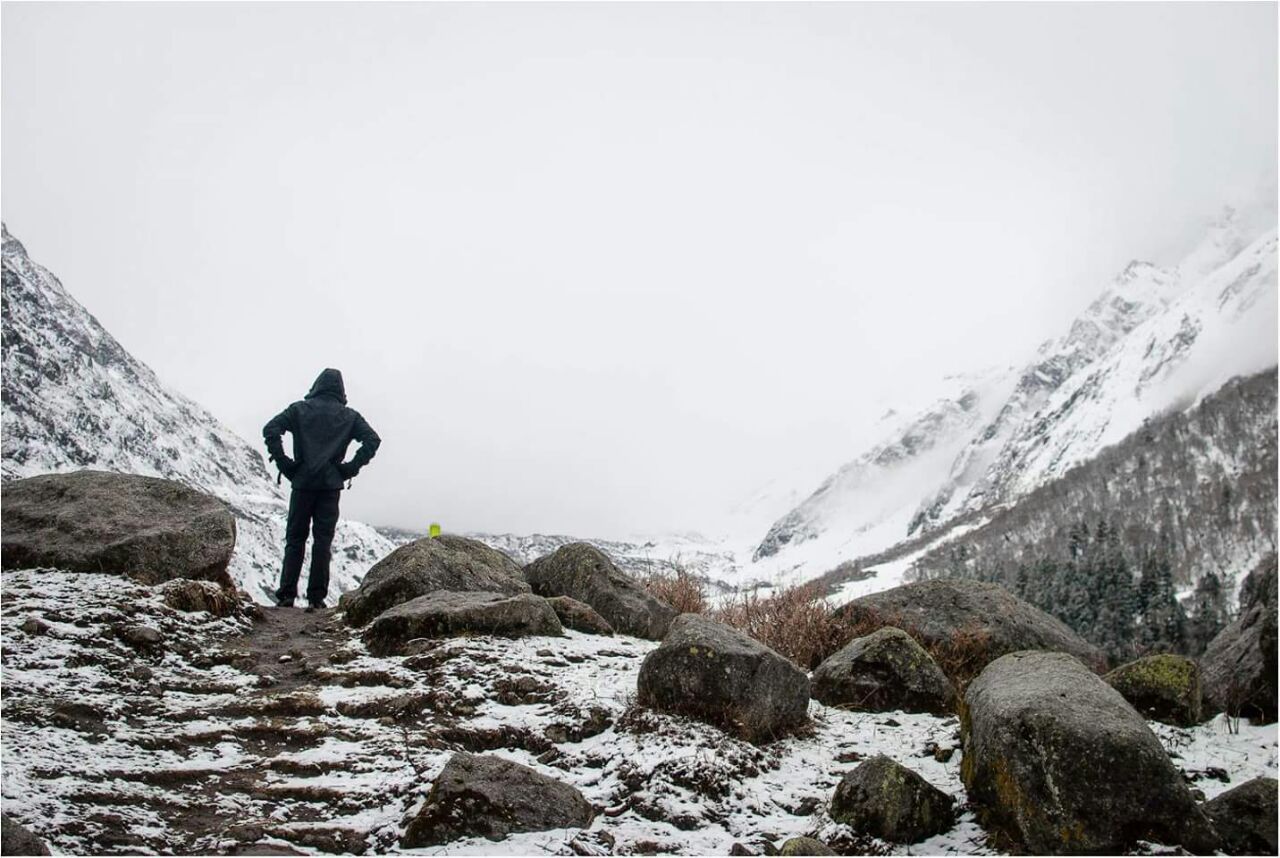 This trail will also allow you to get a glimpse of the Jaundhar Glacier, and your pictures against Swargarohini Mountain will surely be enchanting. Didn't you like the passage through Govind Pashu Vihar National Park and Wildlife Sanctuary in one of the above-mentioned treks? During this trek too, you will pass the expansive wildlife sanctuary and get the chance to spot the various animals that call it their home.
Though there are many other trekking trails you can follow during December, the above mentioned are the ones that I believe are the best. No matter which one you choose, you are sure to make the most of your time. Don't let this December be like your regular old December; life's too short to be spent wrapped up in a blanket.