'Beaut' from the Bush
I am a happy-go-lucky person, who loves reading, writing and travelling. Gardening and good food are the other things that I am passionate about. My motto in life is simple, "Love what you Do and Do what you Love".
Latest posts by Meenakshi (see all)
Folk heroes come from the most unlikely of quarters. Albert Ernest Clifford "Cliff" Young, a potato farmer from Colac, in rural Victoria, Australia, was one such bloke. Only, Young was as un-Australian as they come – a vegetarian and a teetotaller.
'Cliffy' is a feelgood tale of this salt-of-the-earth Aussie's journey from utter unknown to national hero. Cliff Young was the winner of the first Sydney-Melbourne Ultra Marathon, back in 1983. The tele-movie, released this year to mark 30 years of a feat that still warms the heart, is an affable movie about an affable man. Cliff, not surprisingly, became the toast of a nation, earning words of commendation from (besides others) then Prime Minister Bob Hawke, and also winning the Medal of the Order of Australia.
Almost scruffily dressed in workaday slacks and an inconspicuous pair of running shoes, the sight of Cliffy would not have raised many eyebrows but for his running method, a method that felt as home-grown and lived-in as the farm on which he worked. But it was also a method that left the crowds anxious: Would this guy last the distance? Surely he couldn't! But Cliffy's technique, ungainly as it seemed, was effective, and deceptively so. It helped him endure. And it disguised an earthy resourcefulness and a stout ticker.
Years of rounding up sheep in gumboots helped Cliff build up stamina. And when he wasn't doing hard yakka on the farm, he was running – wherever his feet took him. These runs in the country, in the unforgiving ranges bordering his farm, would go a long way towards preparing him for the rigours of the ultra marathon.
When Cliffy, 61, approaches the organizers of the Sydney-Melbourne race with a request to participate, an officious fellow talks about responsibilities to sponsors and the media, telling him (if not in so many words) that his taking part in the ultra marathon would turn it into a farce. It's an almost copybook reaction of officialdom when faced with quirky individuality –mock it when you can't accept it.
Cliff wangles his way into the race much to the amusement of the spectators. Clearly, no one – not the organizers, not the media, not the sponsors, not the disbelieving onlookers – expects him to last a day, let alone the whole race (which is expected to stretch to seven days). But despite trailing on the first day, Cliff confounds all expectations by completing 875kms (544 miles) in five days, 15 hours and four minutes, lopping an incredible two days off the record.
And how does a sexagenarian manage to do all that? Well, while the other competitors are sleeping, and tending to sore limbs, Cliff is clocking up the kilometres through the night, getting by with just a couple of hours' rest, and employing a running technique that helps him conserve energy. The "Young Shuffle" was a shambling, camel-like lope, the back almost ramrod-straight, the arms hanging by the side. This stagger-sway became famous after the event – more than a few marathoners would adopt a similar running style to save energy.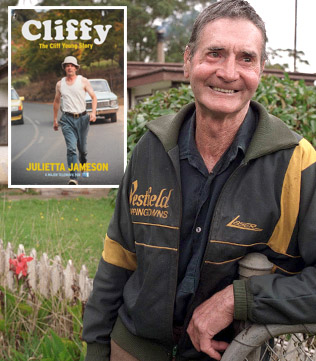 'Cliffy', ultimately, is a story of a fellow of ordinary means and goals who achieves something extraordinary, in a nation that values its sporting achievers. The performances are top-notch and affecting. Kevin Harrington essays the role of Cliff Young with an endearing simplicity, his hardscrabble features imitating the tough living that's part of the experience of the bush. Life might change for Cliffy, but he manages to retain a childlike wonder at the world, and a wide-eyed optimism no matter what.
Cliffy's coach, his comrade in arms, is Wally (played by Roy Billing), an eccentric with a fondness for drink who has seen better days. Wally's unsophisticated but homespun training methods would leave much to be desired in today's science-obsessed milieu, yet they work for our Cliffy. Wally, in his own way, is an engaging cobber. Indeed, it's not hard to relate to every character here (leave aside the pushy sorts from the corporate/media worlds), and that's 'Cliffy's' triumph. The wide-screen cinematography, faithfully capturing the Australian topography in all its unvarnished beauty, complements a story that jogs along in step with the inexorable Cliffy.
Cliffy, meanwhile, returned to anonymity as quickly as he'd arrived from it. He weds country girl Mary Howell (charmingly played by Krew Boylan), a fellow runner 39 years his junior; running in tandem, the two strike up a touching companionship (they would eventually split up but their friendship would survive). In the movie, Cliffy memorably says that he runs "to stop death from catching him". He eventually succumbed to cancer in 2003, in the warm embrace of the farming country where he was born, raised and lived, the epitome of perseverance.