5 Must Visit Places in Manali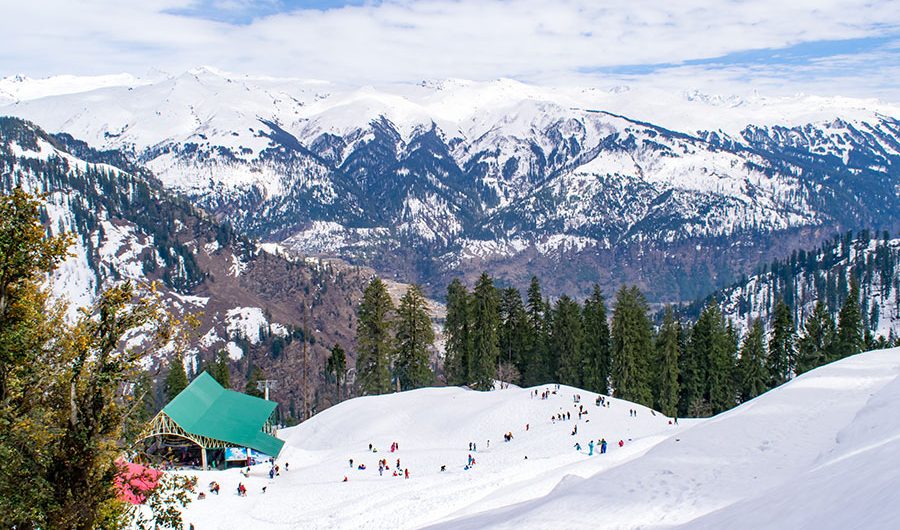 Neha loves exploring off the beaten path places and is an avid reader. When she isn't reading, she is probably cooking while singing, dreaming of food, or playing with her adorable 7 months daughter.
Latest posts by Neha Raheja (see all)
Manali situated in the northern end of Kullu, Himachal Pradesh is a beautiful hill station with snow-capped mountain peaks, cool weather, and eye-pleasing surroundings. It is situated at a height of 2050 m in the Himalayas and is nestled in the scenic Beas valley. It is a very popular destination for adventure sport lovers. Manali is a perfect mix of tranquility & fun activities. A lot of tourists engage in activities like paragliding, river rafting, trekking & mountain biking. The localites in colourful puttoos, Tibetan ladies donning ankle-length multi-colour striped pinafores, Buddhist monks, and men in woolen gonchas make Manali a lively place.
Explore Popular Treks in Manali & Manali Leh Manali Motorbike Trip
Read on to know the top 5 destinations one must not miss while visiting Manali:
1. Hidimba Devi Temple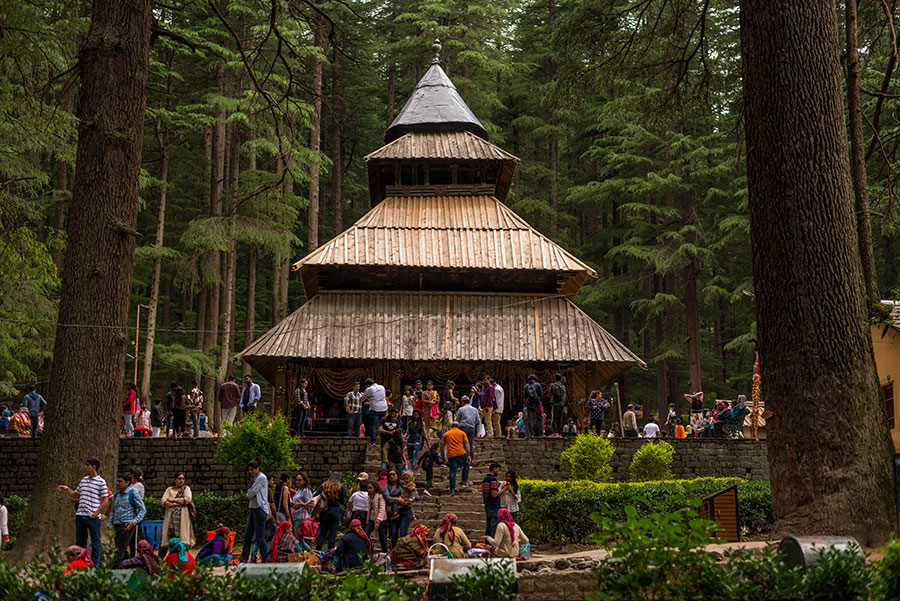 Also known as Dhungari temple, or Hadimba Temple is an ancient cave temple dedicated to Hidimbi Devi, wife of Bhima, a popular figure in the Indian epic Mahābhārata. The temple is enclosed by a cedar forest called Dhungiri Van Vihar at the foot of the Himālayas. There is an interesting story behind this temple. The temple is built around a cave where Devi Hidimba performed meditation. Hidimbi supposedly lived there with her sibling Hidimb, who was said to be quite brave and fearless. Born into a Rakshasa family, Hidimba wished to marry the one who would defeat her brother Hidimb. During the Pandava's exile, Bhima, one of the five Pandavas, defeated Hidimb while in Manali. Subsequently, Hidimba married Bhima and gave birth to their son Ghatotkacha. Nestled away in the snow-capped mountains, this temple has a unique exterior with wooden doors and attracts tourists from all of the place for its history and beauty of the surroundings.
Explore Skiing in Manali
2. Naggar Village & Castle
The splendid village of Naggar is situated at stone throw distance from Manali, along the left bank of river Beas. It is an ancient town in the Kullu district and was once the capital of the Kullu kingdom. This place has a charm of its own. It is usually not swamped by tourists which makes it all the more alluring. Naggar Castle (now a heritage hotel) is the most popular attraction of Naggar. This castle was built by Raja Bhosal more than 500 years ago. The castle survived the earthquake of 1905. While most of the houses in the surrounding were completely ruined, the castle's use of earthquake-proof techniques helped it sustain despite the calamity. In 1978, the castle was converted into a rest house and subsequently a heritage hotel run by HPTDC. The castle is an extremely scenic property. There is a sacred slab of stone called Jagti Patt in the castle. Being the only surviving castle in Kullu district, it is believed by the localites that this Jagti Patt stone protects everyone against the ill eye. The museum in this castle is also quite popular among the tourists.
Expolre Naggar to Manali Snow Trek
3. Solang Valley
Situated 14 km to the northwest of Manali, Solang valley is one of the most loved destinations. A favourite among adventure lovers, there are options to paraglide, horse-ride, and drive open jeeps in the beautiful mesmerizing valley. In winter, when it is covered with snow, skiing is the trend. Once the snow begins to melt, zorbing comes into the picture. You can see people in huge transparent balls rolling up and down inside the ball shrieking with joy and excitement. If you are new to skiing, you can also avail of the classes from ski institutes at this location. Solang Valley is also quite popular for its tea and many tourists like to carry back tea leaves with them. You could also hop onto the rope-way cable car and soak in the splendid view of glaciers and snowy mountains.
4. Jogini Waterfall
Jogini falls also known as Jogni, is one of the most popular trekking destinations. Situated near the Vashishth Village, the Falls are merged into the Beas River. You can start the trek from Vashishth Temple, where you can enjoy the hot springs known for its therapeutic effects. At the base of the fall, you can plunge into the small pool of cold water and make lifetime memories. Post that, you can also visit Jogini Mata Temple. Overall, the trek is a beginner-friendly trek and has scenic views with apple orchards and pine trees. If you love mild adventure and nature, then this is the perfect destination for you.
Explore Beas Kund Trek in Manali
5. Old Manali
Ever heard of the 'Banana Pancake Trail'? It is the name given to growing routes around Southeast Asia travelled by backpackers and other tourists. The Trail has no clear geographical definition but is used as a metaphor for places that are popular among Western tourists. Old Manali is a part of the Banana Pancake Trail. To enter this hippie land, just cross over to the Manalsu River. If you don't like huge crowds, then this is for you. Lined up with great restaurants & themed cafes, fresh pure air, drinking water that comes from waterfalls, foreigners all around, amazing trekking trails, old Manali has a lot to offer. There are great music festivals organized in this place. Not the ideal location for families or honeymooners, old Manali is preferred by younger people for its hip vibe. Some of the places will give you a retro feel. Visit old Manali and soak in the majestic views with lesser crowds around.
So these 5 spots were difficult for us to shortlist, but if you are pressed on time make sure to visit these 5 for sure. With something for everyone, Manali will definitely please you!