The Most Loved Motorbiking Routes In India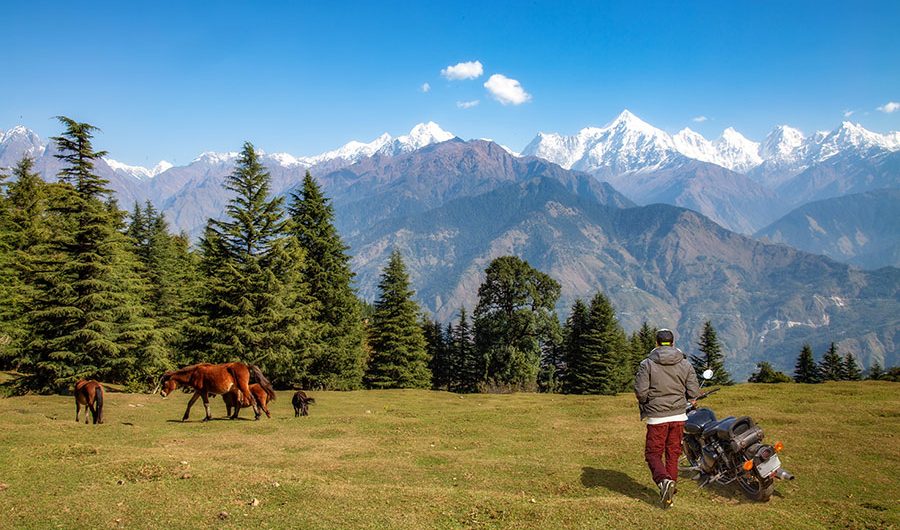 Neha loves exploring off the beaten path places and is an avid reader. When she isn't reading, she is probably cooking while singing, dreaming of food, or playing with her adorable 7 months daughter.
Latest posts by Neha Raheja (see all)
If you are an avid biker, and can't wait for the lockdown to get over to ride your bike again, we feel you. We can't take out our bikes right now, but we can read about beautiful biking routes in India & dream about crossing them off our lists after COVID-19 is over. For wanderers and dreamers, India has the most perfect routes. The joy of experiencing new cultures, new mystic lands on your two wheels is unparalleled with any other joy in this world. The prospect of biking on an endless road entices the kid in you to just to set forth on a journey of self-exploration.
We Ride- To Love, To Heal, To Communicate, To Touch, To Feel, To Breathe, To Live, To Fly….
While you may have seen endless bikers chose Leh Ladakh as their biking destination, it indeed is spectacular, but there are many more mesmerizing motorbiking trips in India worth exploring.
Take a look at the most loved and most scenic motorbiking routes in India, in no particular order-
1. Delhi To Leh Through Manali – Leh And Leh – Srinagar Highway
Hands down, the most popular route in India. This is the dream ride of many, the views in this route will leave you speechless. You will come across cobalt blue skies, bright rainbows and glistening lakes as pure as magic, this route entirely is magical and will leave you spellbound. Beauty & More Beauty. You will cross Chandigarh, Manali and reach the beautiful Jispa. This route will throw everything one can wish in a motorbiking adventure tour, from long plain highways to tricky mountain passes to river crossings. You get to cross the mighty passes like Rohtang La, Baralacha La, Tanglang La, Chang La, Zoji La and the mighty Khardung La which is considered to be the highest motorable pass in the world along with many other low and high passes of interest. This exceptional motorbiking adventure will take you through some dream locations like Manali, Pangong Tso, Nubra Valley, Leh, Kargil, Dras and Srinagar. Your entire journey will be filled with beauty every single minute of it.
Explore Leh Ladakh Motorbiking Expedition
2. Cliffhanger Route-Sach Pass
If you love extreme adventure, then this one is for you! Sach Pass is a high altitude pass in the Chamba district of Himachal Pradesh. It's located at an altitude of 4,420 meters and connects Chamba valley to Pangi valley. The pass is open from June or early July to mid-October. The roads are narrow and unmetalled. The terrain is pretty rough, the road is quite uneven and the weather is quite unpredictable. It is the gateway to the Pangi Valley. You can enter this route either from Kishtwar in Kashmir, Chamba or Manali in Himachal Pradesh. Due to the extreme riding conditions and scary cliffs, the route is fondly known as the "Cliffhanger Route". If you want to travel the off-beaten route, with a majority of the ride being dirt and mud track then Sach is a great choice.
Explore Cliffhanger Route-Sach Pass Motorbike Expedition
3. Spiti And Lahaul in Himachal Pradesh
Spiti is a desert mountain valley that lies in the north-eastern part of Himachal Pradesh in India. This mountainous cold desert with mesmerizing valleys, beautiful landscapes, wide snowfields, the sun-kissed snow peaks, and gorgeous glaciers is often compared with Ladakh. The entire route will leave you spellbound, the access to the valley is usually from Shimla via Rampur and Pooh or from Manali crossing the Rohtang Pass and Kunzum Pass. The Shimla access is open throughout the year and is a favourite route for extreme snow rides. The access from Manali is closed in winters due to the heavy snowfall on the high passes. It has fewer travellers than Leh and is relatively less crowded, which is a plus. The scattered villages in Spiti come along in your way while the pristine stream of the Spiti River is your near-constant companion. The entire route is scenically spectacular.
Explore Spiti Valley Motorbike Trip
4. Guwahati in Assam to Tawang in Arunachal Pradesh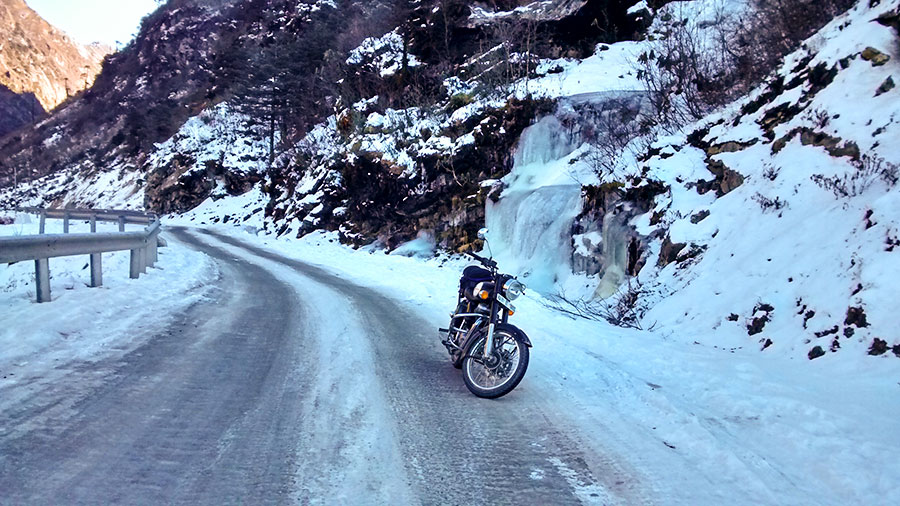 Tawang also is known as Dawang, will flatter you with utmost natural beauty wrapped in spirituality. The ride from Guwahati to Tawang will expose you to breathtaking views, the ride in Assam until entering Arunachal Pradesh is scenic plain farmlands and forests. Winding mountainous roads with hairpin bends start marks the entry into India's northeastern-most state. 80 % of Arunachal Pradesh is covered with forest and mountains, which will give you a raw and untouched by humankind feel.Connected to the rest of India via the Sela Pass, Tawang, also known as the 'land of Monpas', is a historically well-known town, forming an important part of the Silk Route and also a reminder of the sacrifices of the men guarding our nation in the borders. The natural beauty and solitude of Gudpi and Chong-Chugmi ranges, Tawang chu River and Tawang valley are spectacular.
Explore Tawang Motorbike Trip
5. Sikkim
Super clean, full of greenery and 'all organic' since 2016, Sikkim entails plunging, super-steep valleys loaded with lush trees, rising in the north to the spectacular snow-laden eastern Himalayan peaks. Sikkim is also home to the world's third-highest mountain, Khangchendzonga (8598m).
Feel the cool mountain breeze on your face as you head towards scenic Gangtok and then to the North Sikkim Plateau where you will be left speechless to see Gurudongmar Tso Lake. Gurudongmar Lake is one of the highest lakes in the world and in India, located at an altitude of 5,425 m (17,800 ft). Unveil hidden gems as you ride towards Yumthang Zero Point, where you will come across lots of snow, crooked pathways and probably a frozen river. The entire route is scenic and consists of Emerald alpine valleys and mystic waterfalls. The entire place is bursting of colours, from the monasteries, temples, to the sky and also the warm-hearted people.
Explore Sikkim Motorbike Trip
6. Bhutan
Bhutan is no ordinary place. Also known as Druk Yul, meaning "Land of the Thunder Dragon". Bhutan is home to the pristine eastern Himalayan landscape, where snow-capped peaks sit tall above lush forests and lovely small villages. The villages are full of majestic dream-like fortress-like dzongs and monasteries, many of which host spectacular tsechus (dance festivals). Ride along Bhutan's west-east highway which is as challenging and thrilling. The entire road trip is dotted with winding roads that go up and down thousands of feet, which will keep your adrenaline rushing. Some of the dream locations a rider can't miss riding through in Bhutan are Phuentsholing, followed by Paro, Thimpu, Punakha, the beautiful Phobijkha Valley. You will come across spectacular valleys, ridges and quaint villages. The chanting of monks and clinking of chimes in the monasteries will surely put you in a trance-like a state!
Explore Bhutan Motorbike Tour
7. Bangalore To Kerala & Tamil Nadu
This road trip will be full of different flavours. Start with your ride to the city of beautiful and clean beaches, Pondicherry. Explore the beautiful French colonies and its architecture. Head towards Thanjavur, which is famous for art, painting, and architecture. Then ride to Rameshwaram, which is famous for beaches, temples and is known as a revered site for Hindus in India; a part of the Char Dham pilgrimage. Then ride out to Madurai, Munnar, and The beautiful Ooty. Savour all the different flavours that come across in your route. Enjoy the lush green trees with tea plantations and the backwaters and paddy fields. The entire route will leave you mesmerised. Kerala is rightly known as God's own country.
Explore Bangalore to Kerala Motorcycle Tour
9. Rajasthan Circuit
Rajasthan Motorbike Tour is the perfect dose of adventure. Start your riding trip from Mandawa – a quaint 18th-century town which is popular for its spectacular haveli architecture. Explore the magnificent view of the "Blue City" from the Mehrangarh Fort in Jodhpur.  You will also come across the stunning City of Lakes – Udaipur. The sunsets here are truly mesmerizing. Ride to the sacred land of Pushkar which is famous for its Brahma Temple. End your trip in the colourful city of Jaipur, also known as the "Pink City". Your trip will be full of royal forts, castles, palaces, vibrant markets, desert villages and warm people.
Explore Rajasthan Motorcycle Tour
10. Uttarakhand
For travel lovers, nothing could be better than exploring the Himalayas from your two wheels. Devbhoomi, meaning Land of Gods encompasses raw nature and the scenic Himalayas. It is also home to several glaciers including the Ganges. In this route, you will ride from Delhi to the beautiful land of Rishikesh, followed by Chopta, where you can undertake the Chopta Chandrashila trek. You can then proceed towards Joshimath and Auli which is a Himalayan ski resort and hill station. You will come across coniferous and oak forests, along with the Nanda Devi and Nar Parvat mountains. HEad towards Kausani and soak in the panoramic view of Nanda Devi, Trishul and Panchchuli peaks. When you reach Binsar, wildlife will truly amaze you. You can then ride to Jim Corbett with your cameras ready (not while riding) and then back to Delhi with beautiful memories.
Explore Uttarakhand Motorcycle Tour
So, while you are locked in and reading this on your couch probably, feel free to wander off to one of your favourite routes in your thoughts.
Four wheels move the body, and two wheels move the soul.