Check This List For Your First Trek Ever
Vanika Sumbly has graduated from Delhi University with a major in English Literature. She believes traveling is truly the best way of passively exploring oneself. And writing about it is active exploration.
Trekking in India is an experience only accorded to the luckiest of travellers. It is an exciting way to combine Ecotourism and Adventure Sports to add value to your experience. It challenges you and pushes the best in you to the fore so you always end up learning a few things about yourself by the end of each trek; be it easy, moderate or difficult.

India is home to a lot of accomplished travellers who have made the impossible possible. However, they all had to begin somewhere. So, if you are a beginner who is looking for a credible compilation of solid advice that ensures a safe, exciting and environment-friendly travel, read on!
Budgeting


The first step towards going on a trek that makes for memories of a lifetime, and definitely begins your long tryst with adventure in India, is to have a budget. Allocating a budget to a trek is now easier than ever. If you plan to avail the services of a travel agency (which is recommended for a beginner), you can easily look up the fixed rates for different treks they offer in a certain region. A few travel companies also give you the option of making the payment in monthly

instalments

. So, save up because money is no excuse to miss out on an opportunity of a lifetime!   
Research
A very, very important point is to do a thorough research about the trek you're going to take. Reading up on blogs such as these will be of great help. Contacting the agency is another way to gain some insight. You can also get in touch with some of your friends who have relevant experience.



Your

primary research

should be based on

where

you're going. This entails having information on the kind of region you're headed to; its climate, flora and fauna, places to visit, local culture, etc. You're

secondary research

should be based on

how

you're going to do this. You should read detailed itineraries and decide whether it's something you're ready for or not. Your

tertiary research

should be based on

what

you're going to need for doing the trek – this includes having knowledge about all the essentials, like water bottles and food items, trekking gear and other accessories, and medical aid that you will need while on the trek.
Easy Trek


The excitement to take on tough challenges and shoot that adrenaline level through the roof can be exhilarating. It is important to understand that trekking requires significant training and clarity of thought and judgement to tackle adverse conditions at such high altitudes without compromising your own safety.





So, for your first time ever, choose an easy trek. Choose a trek you can imagine yourself completing without draining yourself of motivation. Even though all treks can be tiring, easy or moderate treks are less dangerous and great stepping stones for bigger accomplishments in near future.

Nag Tibba in Uttarakhand makes for a perfect beginner's trek


How To: Websites enlist all treks and classify them on a grading scale that has at least three scales– Easy>Moderate>Difficult. Look for this information and choose wisely.
Scheduling


Scheduling is an important step for having a safe and exciting experience. Contact the guides and the trek operators in advance to know the detailed itinerary. Get in touch with other people who are going with you prior to embarking on the trek. Inform family and friends about your plans so if you need some immediate assistance, they can be called up. Remember, caution is better than cure.   
Fitness/Training


On the same note, some amount of training prior to the actual trek needs to be taken in order to both build mental and physical stamina and get some motivation.




a) Try walking at least 3 km everyday for three weeks up to the final day. Try completing one km in 20 minutes.




b) Jog for about 1-2 km everyday for three weeks up to the final day.




c) Try doing some yoga to improve breathing. This will help you to handle high altitudes.




d) You should try exercising your shoulder and back so you don't find it difficult to carry your bag on the back and trek for long distances.




e) You should not smoke or drink while trekking. So, if you're someone who smokes or drinks try steadily reducing it and then stopping it in the build up to the final day.



Packing


Here is a list of things you might need.

Trekking Gear:
Waterproof and well-broken shoes
Waterproof backpack
Raincoat
Down jacket
Woollens: Sweater, Pants, Shirt/T-shirt, Socks, Gloves
Cotton: Shirt/T-shirt, Underwear
Sunglasses and Hats

Other Accessories:
Pocket Knife
Ready made energy food (protein bars and other snacks)
Flashlights with extra battery
Water bottle

Your guide/trek operator will provide you with food, water and camps for overnight stay.
Advice


a) It's

not a race

. Try making the best of your experience instead of competing with others. Do not overly exert yourself.

One campsite to another, the journey is far more important than the destination.





b) Carry

medical aid

. A first aid box and medicines that relieve altitude sickness are important. It is advised that you take a course of medicines before you go to high altitudes. Seek medical advice beforehand both from experienced friends as well as the trek operators.





c) Wear

layers of clothes

to help avoid the biting cold.




d) Make sure you have

sufficient water supplies

on you. And don't forget to carry purifying tablets. You can suck on candies to reduce thirst.





e)

Do NOT litter

. Abide strictly by the environment-conservative rules of eco-tourism. Do not trouble the locals or disrupt their routines or destroy their treasured places of stay.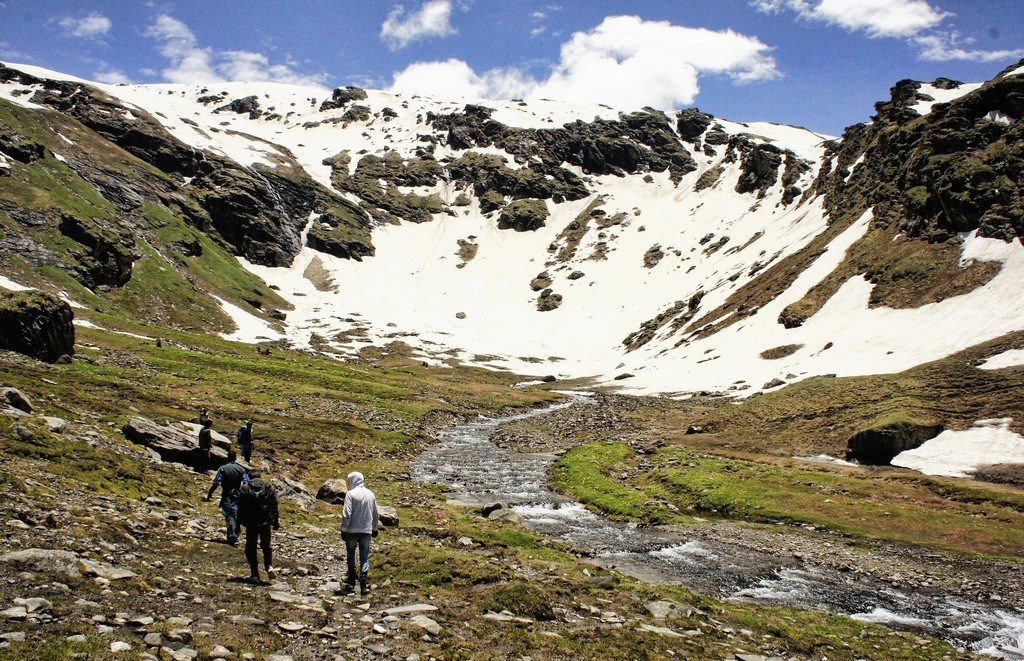 Sure, trekking takes strength and a resolute mind, but it's a fun thing to do. Proper training and guidance ensure you have a thrilling experience as you conquer the snow-clad mountains!