Everest Base Camp Trek – All you need to know!!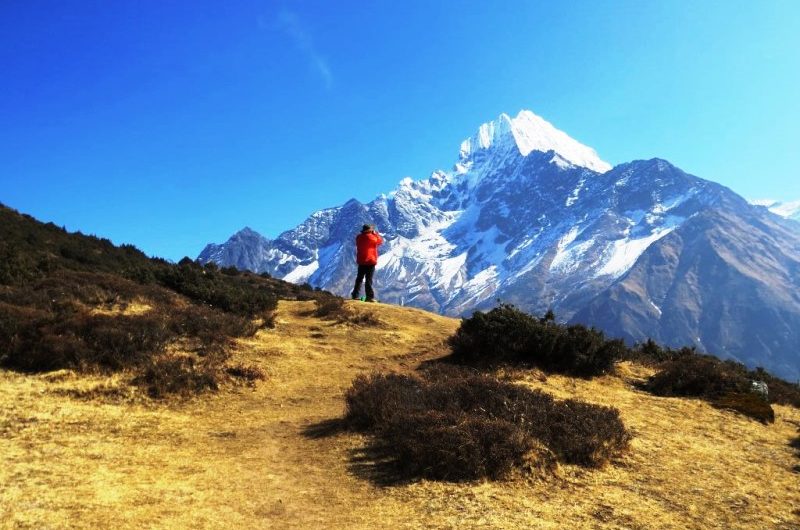 Geetika is a workaholic, but never leaves a chance of holidaying with her soul mate. An avid blogger, she loves to introduce the diverse aspects of a destination to travel aficionados and tourists. She also loves to spend quality time with her only daughter, whom she calls 'her world.'
The Everest is undeniably majestic! The world's highest mountain overlooks the world from an altitude of more than 29000 feet above sea level. This is the highest you can get without your feet leaving the ground. I have been fascinated by it, ever since I saw it first in my general knowledge book, when I was in school. At that time, I didn't really know the true magnificence of the giant, but over the years, as I have learnt about Everest and the Everest region, I have become more and more intrigued by it.
I have no plans to summit it, since I have heard how difficult the climb is, and I do not feel fit enough for that. But, if you feel you are, I say you go for it. Though many have tried it, only a few have been able to reach the top of the earth. Who knows? You might be the next to do it! So, although I am not thinking about reaching Mount Everest, I do want to behold the behemoth with my own two eyes. Not a picture or a video, just face to face with the mountain, a real experience. That's why I am thinking of trekking to its base camp, and that too not so soon, maybe after few years. Don't be mistaken, it's not easy either.
From what I have read and heard, the Everest Base Camp Trek (EBC Trek) is one of the most picturesque journeys one can find. What can I say about the Everest region, every inch of which brims with surreal beauty?! Glistening glaciers as far as the eye can see, some of the rarest animals in the world, roaming around, and the backdrop of some of the highest peaks in the world; this should give you an idea. 
About the Trek
First things is first, it is a 2-week trek, and it is not easy at all. The highest altitude, hikers reach on this trail, is about 18192 feet, and they have to cover a distance of about 62 KM. Combine this distance with the tricky mountainous landscape of Nepal, and you know how difficult and amazing this trek will be. If you do not have the physical fitness and mental preparedness for it, it is better to choose an easier trip. But, if you do go for the EBC Trek, you will be treated to unique vistas of nature. The trek tests you, and it is only after you overcome these challenges that you reach the base. Every step of it is an adventure, and every second is a photography opportunity.
Kathmandu, the Nepalese capital and gateway to the country, is where this adventure begins. Though trekking doesn't start right from the arrival in the country, the time one gets to spend in this melting pot of cultures is an experience in itself. You cannot just visit Kathmandu and not explore its shrines. Boudhanath, Swayambhunath and Pashupatinath, if one doesn't visit these, the trip is considered incomplete. Those, who do not have their trekking gear as they plan to buy it in Nepal, should do it here, since they will find a large number of options here, and the equipment will also be priced competitively.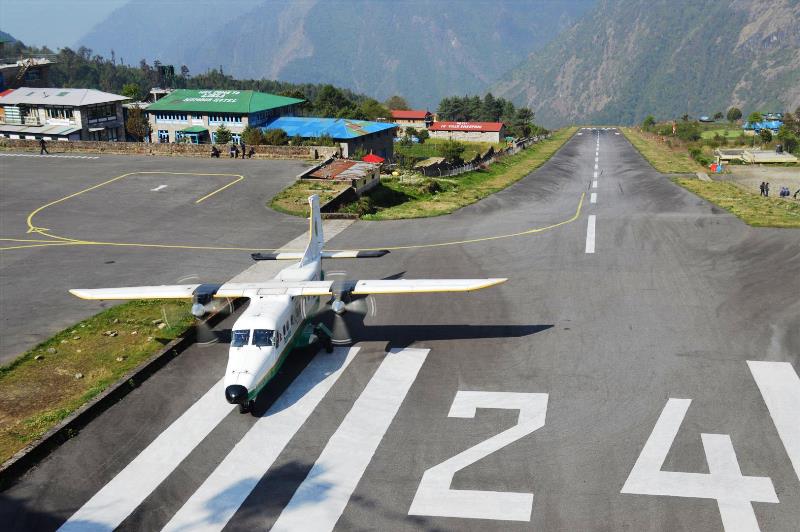 Participants move from the bustling city of Kathmandu to the quaint town of Lukla on a flight. Yes, on the EBC Trek, you fly before you walk. What most travel operators do, is after arriving in Lukla, they take you on a short trek to Phakding village. I believe travelling with a tour operator is a sensible idea if you are new here as this one is a difficult trek. Even if one is already travelling in a group, a guide or travel operator seems practical and doesn't hamper the fun.
The next stopover on the journey is Namche Bazaar, a slightly larger town. This is the stage, which lets hikers experience the altitude of 10000 feet, for the first time on the hike. It would be a good idea to spend a day here to acclimatise to high-altitude weather. If there are any signs of AMS (Acute Mountain Sickness) like dizziness, nausea, breathing problems, headache or fatigue, this is the time to take corrective measures. When you are at such heights, it is better to climb less and not strain the body too much. Therefore, many operators take you first to Tengboche and then to Dingboche, the former being about 1400 feet above Namche, and the latter around 1600 feet above the former.
Though it can be completed soon, it is better to spend time resting than to hastily run to the top. Enjoy the climb, click pictures, interact with the local people; what's the hurry? People say that the trek is difficult, but what good has ever been achieved without hard work? Trekking on glaciers, you won't realise how quickly the next couple of days go by, and then, suddenly you arrive at the Everest Base Camp. Feel the cold air, click pictures with the behemoth; you rarely enjoy such moments in your life.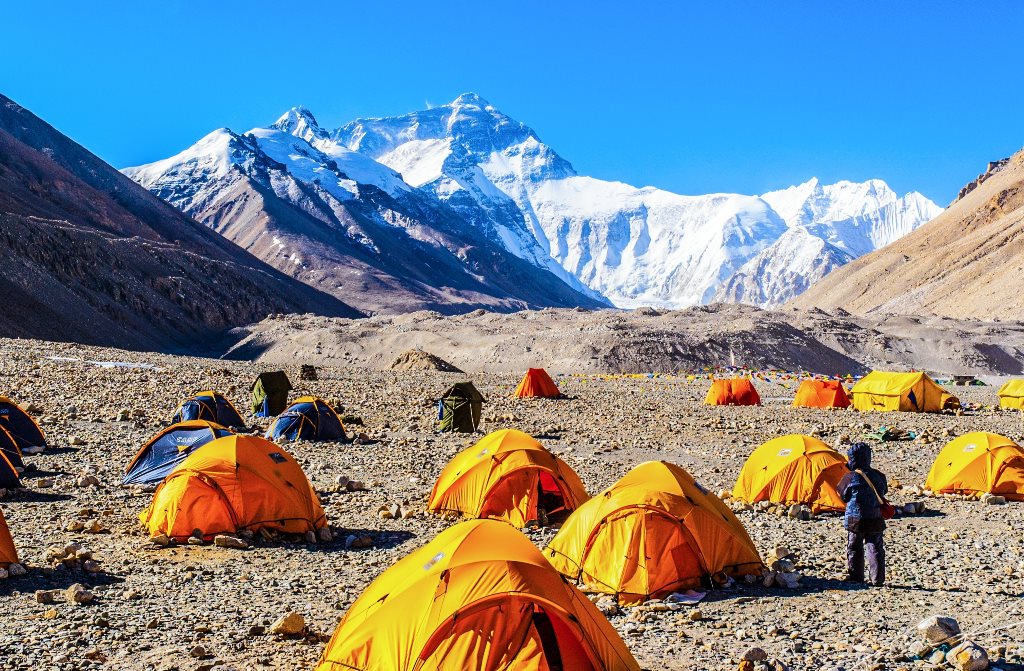 The return from the camp is slightly different from reaching here. The downhill trek takes hikers to Monjo after they leave from Tengboche. Some tour operators skip Tengboche and Dingboche and take their clients to Pheriche for an overnight stay.
What to Carry
Besides basic mountaineering stuff like trekking shoes (good quality ones, please), a sleeping bag, thermal inner-wear, trekking pole(s), insulated jacket, raincoat, waterproof trousers, trekking socks and a backpack to put the stuff in, make sure you are carrying other things that you might need. You can complete this list by adding other things like a water bottle, towel, gloves and woolen cap. Do not forget to pack a strong sunscreen lotion as the sun might not be too friendly here. Also, do carry a few chocolate energy bars; these can be lifesavers, providing a boost of energy whenever needed. Plus, they are yummy, so why not? Protecting the eyes from the cold, dry winds of the Himalayas, ski goggles can come in handy. Since snow reflects the ultraviolet rays of the sun, one could face snow blindness if he/she does not take proper care of the eyes. Therefore, carry a pair of mountaineering sunglasses to have proper vision throughout the journey.
Also, a pair of cosy shoes can be of good use on acclimatisation days, when one is not trekking. Tour operators usually have a doctor, who carries a first aid kit on each excursion. Those, who are travelling without an operator, must carry their own medical kit. Besides things like antiseptic and bandages that are included in every first aid kit, the medical box, when travelling to the Everest Base Camp, should also have AMS medicine and a portable oxygen tank. Essential for every tour, take a camera to click high-resolution pictures of the snow-laden mountains.
What to See
Well, the first is the mighty Everest. How can I start the list with any other name?! Though the vistas of the world's highest mountain are the highlight of this trek, that is not the only thing to feast your eyes on. Aplenty other mountain peaks, many of them 8000ers, are also visible on the route. Some mention-worthy names are Cho Oyu, Makalu and Lhotse. The route to the highest point on earth that requires crossing the magnificent Khumbu Icefall is also visible from the Everest Base Camp.
From inanimate, let's move to animate beings that can be seen here. Did you know that the region, in which Everest lies, has been declared a national park, owing to the fascinating animals found here? Yes, it's true! It's called Sagarmatha National Park, home to a large number of red pandas and Himalayan black bears. While walking to the EBC, it is not unlikely that you come face to face with a snow leopard. Those, who do not want to miss the chance of beholding these beasts, must carry a good pair of binoculars with them, since these animals camouflage well.
When to Go
There's no bad time to plan a trip to the Everest Base Camp; however, the fresh snow during the last week of December, and months of January and February makes trekking in the region exponentially difficult. Therefore, you can go on the Everest Base Camp Trek anytime of the year except for these two and a half months.
If you have read the whole blog and still remember most of it, then you know what the Everest Base Camp Trek actually entails. In case, you have plans to take on the EBC challenge sometime in future, just start preparing, dreaming about the mesmerising vistas ahead.