High Road to Ladakh: Beginner's Guide For A Motorbike Expedition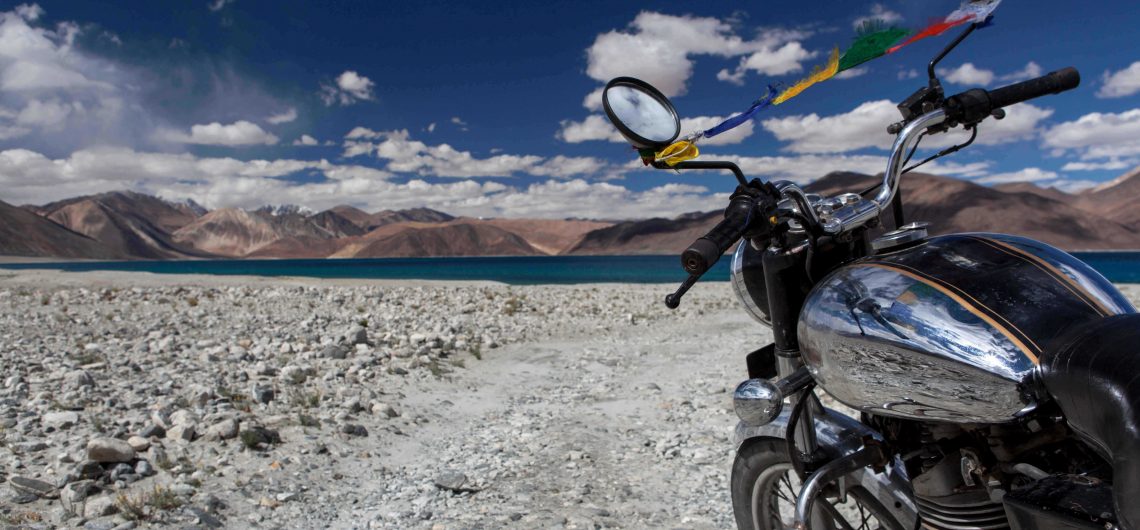 Vanika Sumbly has graduated from Delhi University with a major in English Literature. She believes traveling is truly the best way of passively exploring oneself. And writing about it is active exploration.
So you have finally given in to adrenaline's demands and decided to go on a motorbike expedition all the way to Ladakh. Or maybe you are still in the process of finding out how thrilling an adventure it is.
Maybe you dare to make this journey all by yourself or maybe this is an extended bachelor's party or a 'girls gone wild' trip which is actually going to be something that will be talked about for years to come instead of a night out or a vacation. Or you are someone who is down for some fierce, life-changing experience just for the sake of how valuable an experience like this one is.

For all of you, this is a beginner's guide to exploring how you could have this heck of an experience and take the high road as you embark on your Ladakh Motorbike Expedition, in the land of high passes with all its hauntingly beautiful, snow-clad peaks, rugged and challenging routes that will make sure you have the time of your life.
Explore the Popular Motorbike Tours in India
Ride In The Right Season
The preferred season for Ladakh motorbike expeditions is from the months of June,July to September, October. This is the best time to minimise potential dangers and deal breaker weather. Some people choose to do this in winter too. The worst weather to do this is definitely the rainy season so plan accordingly.
How many days of work leave do I need to complete this?
You need at least 15 days to comfortably complete a the Ladakh motorbike trip and visit all the places that you should while you have the opportunity.

What's the route like?
From Delhi, there are two possible routes that get you to Ladakh. Choose on the basis of three factors: a) how much time you have, b) what all you want to cover and c) what level of danger you desire.
Delhi-Jalandhar-Jammu-Srinagar-Kargil-Leh-Karu-Sarchu-Manali-Delhi



You will be covering almost 2,300 kms. Best weather and road conditions. Round trip.  
Delhi-Manali-Sarchu-Leh-Khardung La-Nubra Valley-Kargil-Srinagar-Delhi

You will be covering almost 2,600 kms. More distance, more challenging routes and rough roads. Covers picturesque Ladakhi locations.
Petrol: On a mileage of 35 kms per litre, you will be needing close to 100 litres of petrol. (Rounded off) 
Manali to Ladakh- a ride of a lifetime 
I do not have a bike. Where do I find one?
If you do not already have a bike that can be your partner in exploration then you will have to rent one. Delhi's Karol Bagh is one rental hub where from you can rent a bike at a cost as minimal as a thousand bucks per day.
If you are starting from Manali instead, you can find bikes there a bit on the costlier side. They range from a thousand to fifteen hundred INR per day.
Keep in mind the security deposit and the valid ID proofs that need to be submitted to rent these bikes.
As a general rule, make sure to test drive before you finalise anything. Also, get it duly serviced before you begin your long tryst with the high roads.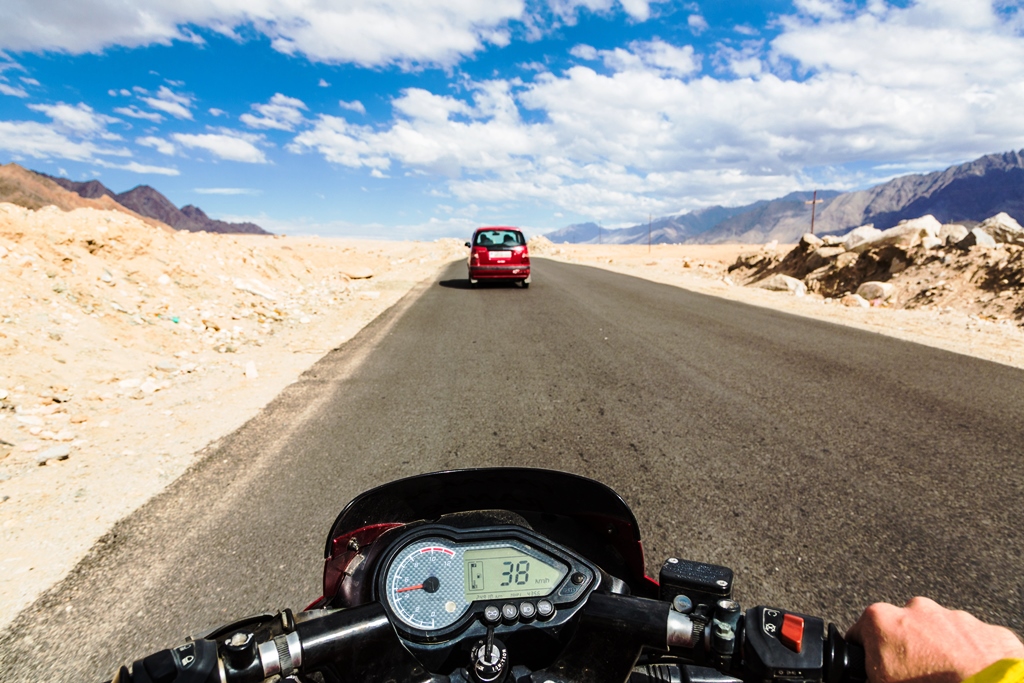 Biking Gear Tips
If you were thinking you only need a bike to do this, you were wrong. There's a ton of other things that are easily available everywhere but that you definitely need to make this ride a successful expedition:
The best full face helmet you can get(you can rent this too); a pair of eye goggles of supreme quality; a pair of solid gloves

One or two leather jackets to protect you from the biting winds when they glaze through you; you are going to be mostly covered so sunscreen might not seem that obvious a gear essential to you but having some will not hurt you

Clothes that suit the weather; wisely pack enough some warm clothes that will last 15 days of use

At least two pairs of trekking shoes are important. One will get dirty after some time, trust us

A first-aid kit is absolutely necessary for the rider. And for the bike, a tool kit

MAPS! Make sure you have physical maps as well as GPS readily available to you

Camping materials such as tents, sleeping bags and essential toiletries as per your need

Swiss knife, torch, matchsticks are important for any potential dangers  

A camera to capture beautiful and exotic landscapes is also an essential for many. Do not forget chargers, power banks for your phones.

Apart from this, not part of the biking gear, but equally if not more important, are the valid ID proofs (including the driving license) you are going to need for the ride to go hassle-free!
What to do while in Ladakh  
If half of the success of your bike trip is dependent on the bike itself, the other half is the beautiful locations you're going to be visiting. So, decide beforehand which ones you are sure to visit and plan routes accordingly. Here's a list of all the Ladakh highlights:
Please note that these are the most popular sites. You can very well choose less popular or even off-beat locations to explore.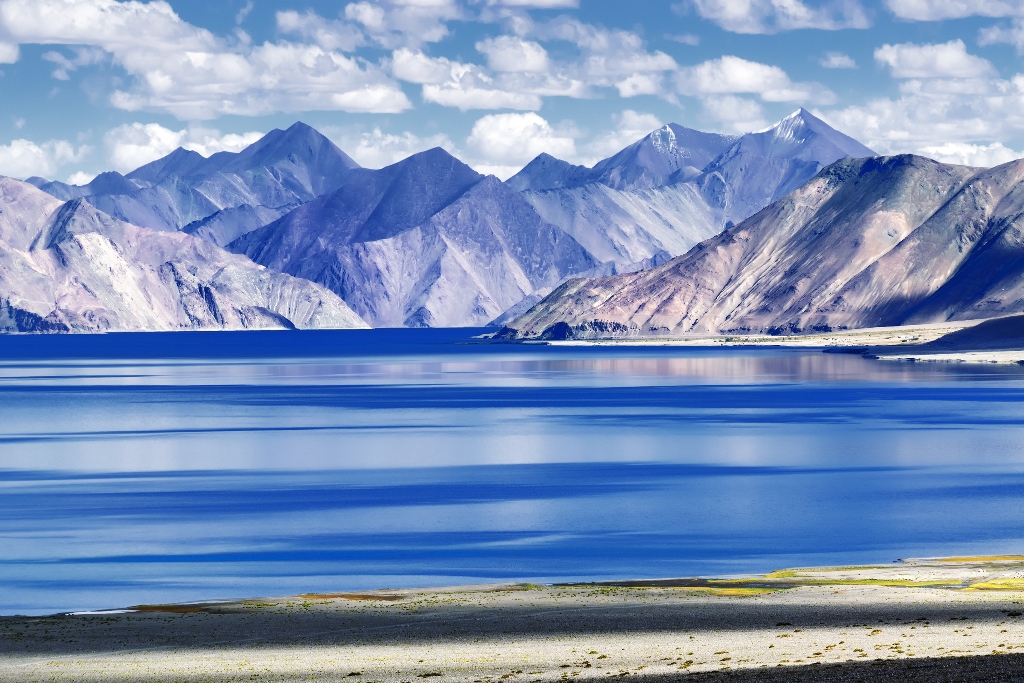 Pangong Tso Lake
130 kms of stretch of water that extends from India to China. Camp overnight by the sides of deep azure waters. If you visit off season, you are bound to find it completely frozen.
Nubra Valley
Be ready to be mesmerized by far reaching cold mountain deserts. The mountainous air here is everything. This is another beautiful campsite.

Magnetic Hill
The mystery of Magnetic Hill is such that it is an uphill ride on the Srinagar-Leh highway yet if you were to completely shut your engine down, the vehicle will still keep moving. Test it for yourself!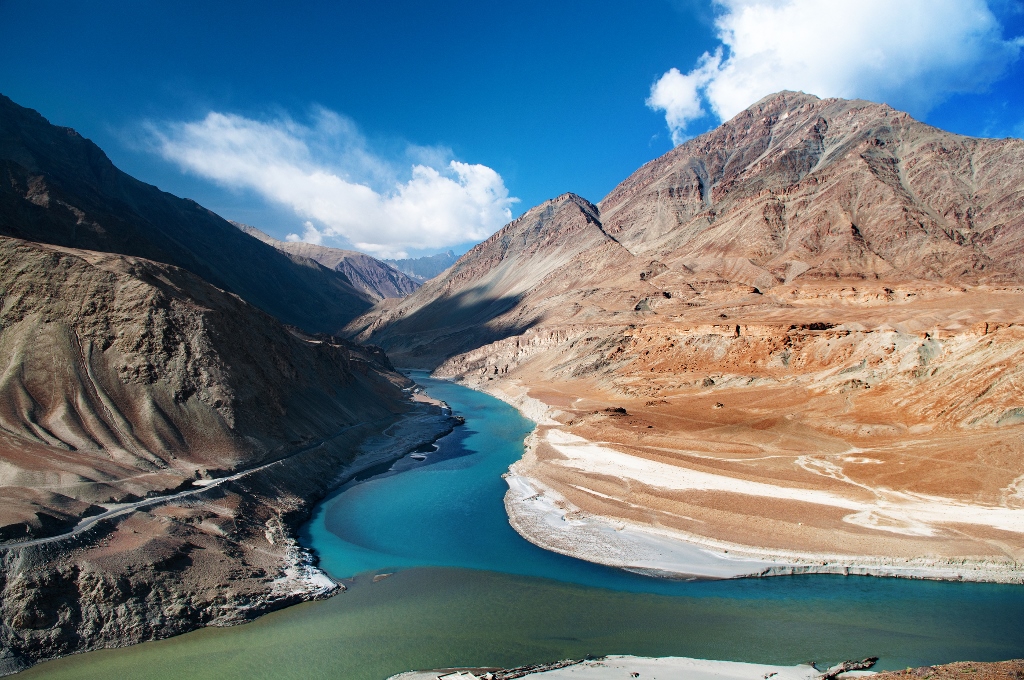 Zanksar Valley
Long stretches of brown surrounded by snow-white peaks. The beauty of Zanskar is a heartening sight.
Lamayuru Monastery
On the Srinagar-Leh highway, this Tibetan Buddhist monastery is a must-visit. It is situated at a height of whopping 3,510 m. A masked dance festival is performed here annually.
Shanti Stupa
Overlooking all of Leh, this marvel atop a hill (4,267 m) is the perfect stop to witness a beautiful sunset.  
Khardung La Pass
World's highest motorable pass called Khardung La at 18,490 feet. Accomplishing this feat is obviously a pass for show-off later. 
Drass Valley
Drass, the second coldest place on earth. Climb up to the Tiger Hill Peak and then restart your road journey. En route, cross Zoji La pass and enter the breathtaking valley of Sonamarg, which is a famous ski resort.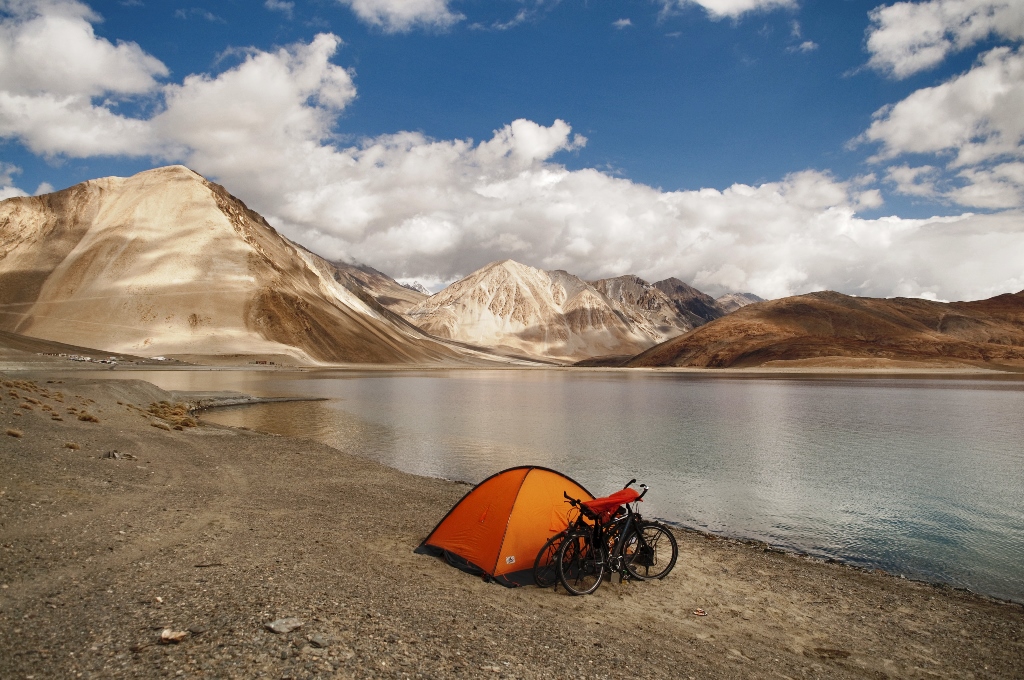 Health Tips
Do not forget that you are going to deal with high altitude so make sure you don't fall prey to altitude sickness. Carry important medicines to deal with that if need be. Hydrate as many times as you can. It is very important and a very easy thing to pull off. Half of your traveling sickness will go away if you hydrate adequately.

Take care of your partner-in-adventure, your dearest bike
Make sure you take the bike for a test drive if you are renting one. Check the lights, the tyres and let the mirrors be. Fill the tank before you set out.
Extra information it wouldn't hurt to know
From Manali to Leh, there are only two petrol pumps you will find on your way. However, Srinagar-Leh has plenty of pumps.

You will find mechanics on the way. Don't worry if you get a flat tyre. But it is advised to take all precautions.

Carry enough cash with you for meals and accomodation. You are not likely to find many ATMs on your way.

Only a few mobile network services work in this area. Check with the concerned authorities before you are stranded without network.
Plan a whole day's route before you set off. And try and set out with sunrise and come to a halt with the sunrise. Riding in the dark is not that safe, still make sure all your lights work.
This is your life. What will you make of it? A Ladakh Motorbike adventure is an experience worth having at least once in a lifetime.