Kashmir Great Lakes Trek: A Walk From Sonmarg to a Valley Dotted with Lakes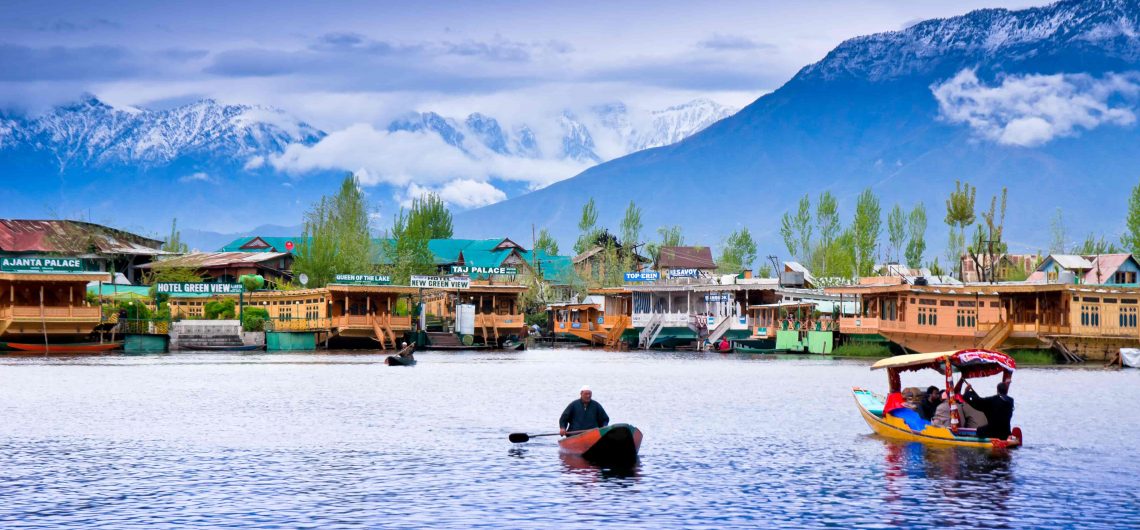 Tanya has been an adventure kid from her childhood days when she explored the deepest secrets of the seas of Tamil Nadu, Andaman and Goa and experienced swimming and scuba diving. She now calls herself a Himalayan Traveler. She claims her first love is the Himalayas, everything else comes after that. Solo traveling gives her a high like meditation and she loves to live outdoors where there is no box. Post backpacking for a few years she decided her calling was trekking and wishes to see the highest mountains of the world, but not climb them as a mark of respect. All the base camps are on her list. She is very inspired by the book "Wild" and wishes to hike the Pacific Crest Trail solo sometime. She loves to write about her travel experiences and connecting them to a way of living life as a person and believes that "Life is either a daring adventure or nothing at all".

Latest posts by Tanya Roy (see all)
A vale bounded by the ranges of Pir Panjal and the great Himalayas, Kashmir is filled with the pristine beauty for which it aptly owes the title of 'Paradise on Earth.' With its ideal geographical position and scenic topography, the place offers several trekking options to the visitors. Located above Sonmarg on the Srinagar-Leh highway, the Kashmir Great Lakes trek tops the list of the best moderate treks in Kashmir as it offers the awe-inspiring vistas of the rustic nature.
It is often believed that the true beauty of nature lies in the lush-green isolated places that are not accessible by roads. And surprisingly, the Kashmir Great Lakes, which includes alpine lakes, meadows and exotic flora and fauna, also remained unknown for years. Many of these beautiful lakes have interesting stories behind their formation and existence, besides being named after Hindu gods.
Some of the stunning lakes covered during the trek include Krishnasar, Gangabal, Gadsar and Vishansar. A magical view of ice sheets sliding off from the glaciers and feeding the alpine lakes is truly a feast for the eyes. And the icing on the cake is the sight of milky white ice sheet floating on the sapphire lakes.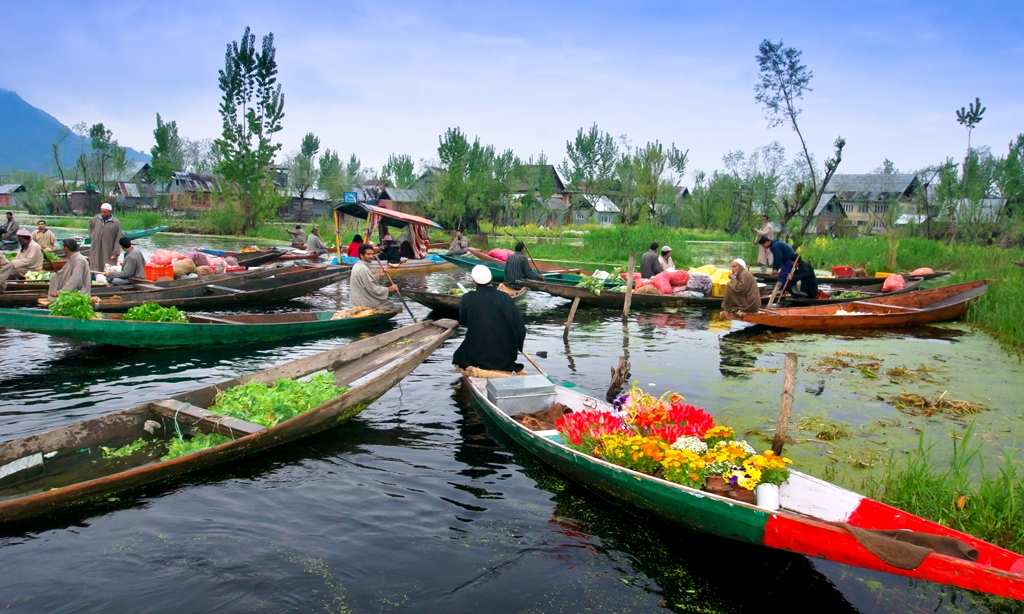 Get a chance to explore five stunning glacial lakes situated at higher altitudes

Know about Kashmiri lifestyle, culture and traditions

Enjoy lip-smacking authentic delicacies of Kashmir

Witness a sight of snow-capped mountains along with the exotic wildlife

Spend a night in the camp, which is set aside the cold blue lake and under the glittery sky

An encounter with herders and their livestock,  including cattle and goats

Walk on the sharp gradient and pasture land with snow patches

Follow a trail that passes through green meadows, crystal clear glaciers, rocky barren land and gushing streams
Best time to plan your visit: April to October is considered as the best time to undertake the Kashmir Great Lakes trek. At this time, the pleasant weather allows you to witness the charming mountains and the beautiful valley. The average temperature during these months ranges from 17°C to 20°C in daytime and 3°C to 4°C at night.
Region: Jammu and Kashmir
Duration: 8 days
Altitude: 4206.24 m
Trekking distance: 63 km
Difficulty level: Moderate
Minimum age: 10 years
Starting Point: Sonmarg
Ending Point: Naranag
Railway Station: Srinagar railway station
Airport: Sheikh ul-Alam International Airport
A Quick Recap of Elevation Points
The trek will begin from the mesmerising hill station of Sonmarg to Nichnai (3505 m). The trail goes through the dense forests, beautiful streams and enchanting valley encompassing green pasture land. Hiking through the rough and rocky terrain, the next stop will be Vishansar Lake (3657 m). The terrain will take you to Gadsar (3657 m) via Krishansar Lake and Gadsar Pass (4192 m). Next day, while enjoying breathtaking views of mountains, hike through steep slopes and rough mountainous region to reach Satsar (3657 m). Follow the course that goes through the coniferous forest to arrive at Gangabal Twin Lakes (3503 m). On the last day of expedition, descend to reach a rustic hamlet called Naranag (2270 m).
Trekking through the Sublime Beauty of Kashmir Lakes
Being an admirer of nature and its enchanting beauty, the Kashmir Great Lakes trek gave me lifetime memories of splendid nature residing in the abode of Sonmarg Valley. The trek is known for reflecting an astonishing contrast in the landscape that begins from lush green valleys and ends at the semi-arid and cold region of Naranag. A walk through dazzling meadows, alpine forests, grassland and glaciers made my journey truly enthralling and exciting.
After comprehensive research, I planned the trek with my childhood friends and booked our flights to Srinagar and then we packed our bags with all the necessary equipment like trekking pole and shoes.
Day 1: Reach Srinagar and then Drive from Srinagar to Sonmarg
We boarded a flight from Delhi to Srinagar at 9 am from Indira Gandhi International Airport. After enjoying a stunning view of sun amidst the floating clouds, we reached Srinagar in 1 hour and 15 minutes. Our guide was waiting for us at the arrival hall. He greeted us with a bouquet and said Khush Aamdeed, which means you're welcome. From there, we left for Sonmarg and reached there in next 2 hours. The place is famous for lush green meadows and is said to be the last Kashmiri town on the way to Ladakh.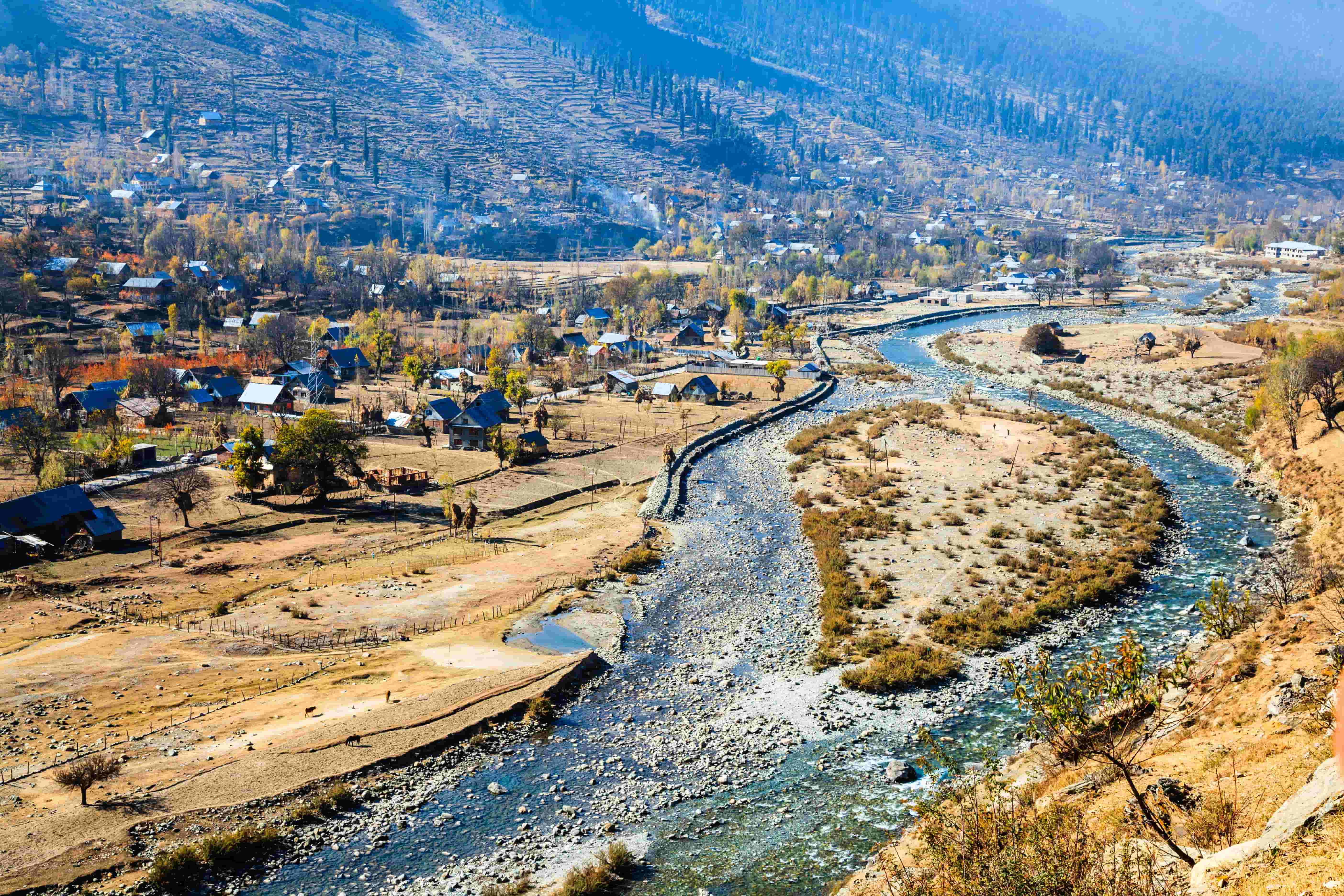 We reached our guesthouse by the afternoon. After gorging on a refreshing hot cup of Kashmiri tea called kahwah with snacks, we were briefed about the trek by our tour representative. In the evening, we took a stroll in the town and found some singers who were singing melodious folk songs. Despite being unaware of the language, every word of that folk song was falling on my ears like a magic that was taking me to the ancient times. We clicked pictures with these women and also played pithoo with the children. At night, we were served delicious Kashmiri thali in dinner.
Day 2: Trek from Sonmarg to Nichnai
We got up at around 6 in the morning. After breakfast, we were driven to Nichnai, which was situated just a few kilometres away from Sonmarg. In 35 minutes, we reached a point from where we had to start our trekking expedition. Initially, the trek was a steep climb up to a place called Table Top. While hiking, our eyes were able to catch the magnificent views of the famous Sonmarg glaciers and the valley in the background. It was our first day of trekking and climbing in an upward direction wasn't an easy task for us, as many of us had started facing breathing issues.
But thankfully, we encountered a dhaba (eatery) at Table Top, which is run by a beautiful Kashmiri couple. We spent around 20 minutes there and had a cup of tea and snacks. And, it literally gave us the much-needed energy. From here, the trail also turned gradual as we entered a valley of birch trees. We reached Nichnai at 2.30 pm and found that a beautiful campsite next to a stream was arranged for us. We quickly settled down in our tents as we were about to get some tea, pakoras (fritters) and Maggi noodles. We spent a night in the camp.
Day 3: Nichnai to Vishansar Lake | Day 4: Acclimatization
Next day, we hiked for around 30 minutes, following a stream next to our campsite. The steep path later led to alpine grasslands. After an hour, we encountered a small glacial lake, where we captured several pictures. Thereafter, we crossed a stream of River Beas and then ascended towards the Nichnai Pass. We kept resting after every hour.
Later, we descended towards a beautiful meadow that took us to Vishansar Lake. It was such a big and beautiful lake, which is named after Lord Vishnu. We also enjoyed a sight of the majestic glaciers that feed this lake. As it was important for us to acclimatize before heading upward, another day was also spent in a campsite set aside Vishansar Lake.
Day 5: Trek from Vishansar Lake to Gadsar via Krishnasar
If you ever try this trek, this is going to be the longest and prettiest day on this trek. After crossing Vishansar, we steadily ascend towards Krishnasar, which is the second beautiful lake on this journey. This lake is named after Lord Krishna. Notably, our guide told us that scientists have classified these lakes as oligotrophic lakes, which mean these lakes have higher levels of oxygen and less organic content; making it perfect for drinking. After crossing this stunning lake, we climbed towards Gadsar Pass.
Now, the most difficult part of the journey began as the trail challenged us both mentally and physically. While trekking, we had energy drinks and bars. Gradually, after a walk of about 2 hours, we were able to see dazzling Vishansar Lake. Later, we crossed Gadsar Pass and descended towards Gadsar Lake. The course passed through the beautiful grassland filled with vibrant wildflowers. That day we were quite lucky as we saw Himalayan Marmots too. The dazzling view of Gadsar Lake with glacier and wildflowers in the background is breathtaking. We reached Gadsar Lake by the late afternoon. The best part about this journey was that we got a chance to spend a night in an Indian Army Camp.
Day 06: Gadsar to Satsar
It was a day when we all were ready to start our expedition to Satsa which was located about 10 km from the military camp. We walked on a sloppy land and crossed a river and then ascended to the heavenly mountains. On the way, we found apple and walnut orchards and of course, we plucked some to eat. After 2 hours, we arrived at mountainous grassland, which was surrounded by lofty mountain peaks. Now, we had to take a permit from the army to hike deeper as an army check post was located there. After getting the permission, we reached a stunning glacial water body called Satsar Lake.
Day 07: Satsar to Gangabal Twin Lakes
We woke up to a dazzling view of sunrise and after heavy breakfast, we moved ahead on the 9-hour expedition. We crossed a rocky terrain and ascended to a valley from where we could see the striking Mt. Harmukh. This mountain is said to be the abode of Lord Shiva and it is believed that no human feet can touch the Harmukh Summit. Later, we entered a dense forest of pine and oak trees, where we captured the sight of beautiful birds in our camera. We passed through around three ridges and gradually the course became sharp and rocky. Also, we met a few locals here who came to the hilltop from the nearby village with their cattle. In next four hours, we arrived at Nundkhol Lake and walked further for 30 minutes to reach Gangabal Lake. This lake is named after the River Ganges and is considered sacred to Kashmiri Pandits.
Day 08: Gangabal to Naranag | Drive towards Srinagar
The last day of this beautiful expedition started from Lake Gangabal to Naranag. The path going along the lake entered a green landscape dotted with yellow flowers. We walked around 2 hours in the forest and then descended to the village of Naranag. Following the stony trail, we finally reached the picturesque village and visited a Lord Shiva temple, which was built by the Kashmiri ruler of the 8th century, Lalithdatiya Muktadiya. Later, we boarded a taxi and went back to Srinagar, which was around 2 km far from here.
Apart from providing a beautiful sight of the Kashmir Great Lakes, this expedition surely has a lot more to offer. A lovely meeting with the locals, listening beautiful folk songs from them and knowing about their socio-cultural lifestyle was a lifetime experience.