Love makes the world go Vroom!
I am a happy-go-lucky person, who loves reading, writing and travelling. Gardening and good food are the other things that I am passionate about. My motto in life is simple, "Love what you Do and Do what you Love".
Latest posts by Meenakshi (see all)
Satish Gopalkrishnan and Savera D'Souza, the Bangalore husband-wife pair, have redefined teamwork in motorsport by being the only couple to consistently win rallies across the country. Most recently, the duo topped the Rally Ndure (TSD) category at the 12th Maruti Suzuki Desert Storm.
While India's champion TSD rallyists could not find a strong footing at the Desert Storm, they were able to race on a sure pitch from the opening day – this, then, was a triumph based less on flamboyance than on endeavour and strategy. From the first stage of the six-day motorsport marathon, Satish and Savera worked on building up a strong lead and regularly left their competition far behind – by the time the last stage got under way, there was little chance of them getting caught.
Top honours in the Desert Storm made for a welcome change after a string of runner-up finishes in 2013, including in the Maruti Suzuki Desert Storm, the Mughal Rally, and the Maruti Suzuki Dakshin Dare. So what made the difference in the sands of the Thar Desert? "The X factor," said Satish, matter-of-factly. "Sometimes it makes you win. Sometimes nothing seems right."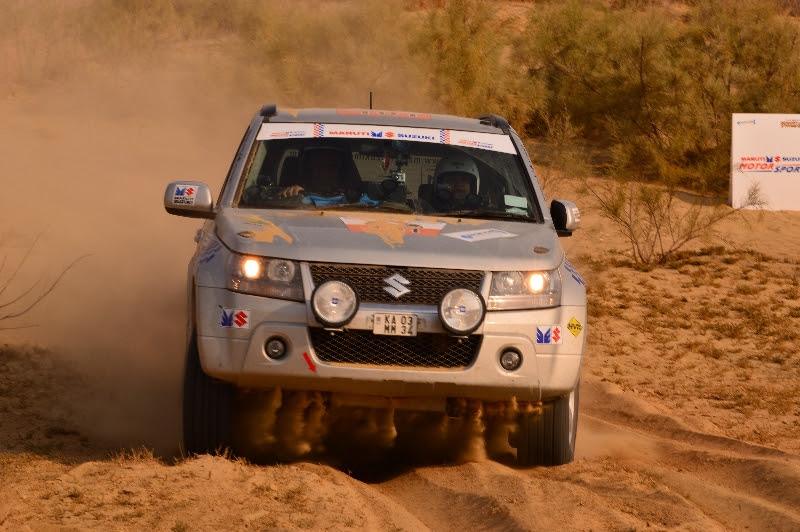 Savera revealed that during the tough dune stretches, their plan was to make it successfully to the end of the stage. Satish believed that in a demanding rally like the Desert Storm, driving and navigation were equally important. "A bad driver will get stuck on the dunes or the challenging terrain. A bad navigator will make you lose way. Everything had to come together to keep us going."
Satish, incidentally, is the software guru who is responsible for the 'TSD Meter', a development that has changed the face of time-speed-distance rallying in India. Satish developed the meter to make navigation calculations simple for his wife, and to minimize the room for error. Savera, now considered among the best navigators in the country, said they put in a lot of effort into rallying – more importantly, they have great fun doing what they do.
"In our busiest year, we did 22 rallies in a year. Rallying can take a lot of mind space and energy. The fact that we are able to make it happen together is highly fortunate for us," Savera signed off. Next on the couple's 2014 calendar is the Mughal Rally in Kashmir, followed by the Maruti Suzuki Dakshin Dare and then Maruti Suzuki Raid De Himalaya – don't bet against Indian motorsport's in-form couple to add to their win tally.