With snow-capped mountains, rustic hamlets, striking temples, waterfalls, sacred rivers and exotic flora and fauna, the eternal charm of Uttarakhand remains unmatched and ever-lasting. The glaciers of Uttarakhand are home to several sacred rivers including the Ganges. The second tallest peak of India, Nanda Devi also lies here, and its aura works as an added charm to the scenery of the state.
Trekking in the 'Land of Gods'
For travel enthusiasts, nothing could be better than exploring the Himalayas in Uttarakhand. This paradise, surrounded by the raw beauty of nature, is considered as an idyllic destination for both amateur and ardent trekkers from around the world.
Round the year, several people come to explore the jewels of the Himalayas. Most of the trekking destinations in the picturesque region of Garhwal do not demand immense strength, but simply a willingness to accept the Himalayas, and courage to chase the rough and smooth trails of the mountains.
Have a look at some of the best getaways in Uttarakhand right here: 
Valley of Flowers and Hemkund Sahib Trek
Base Camp: Govindghat
Duration: 6 days
Grade: Easy
Maximum Altitude: 3,600 m
Trekking Distance: 38 km
Best Time to Trek: June to September
Famed for a range of vibrant Himalayan flora, Valley of Flowers is a national park, which has received a title of the UNESCO World Heritage Site. This heavenly site is situated in Chamoli District of the Garhwal region. Whether you're a nature lover, mountaineer or botanist, trekking to this sublime beauty will offer you awe-inspiring vistas of the mountains and breathtaking surroundings. The course which passes through the off-beat trail, isolated hamlets, abandoned areas will take you to the scenic landscape and green meadows, encompassing diverse species of flora and fauna.
Best time: In the Spring season, thousands of species of colorful flowers bloom in the region. 
And if you're lucky enough, you'll get a wonderful sight of endangered animals, including Asiatic black bear, blue sheep, red foxes, Himalayan tahrs, and snow leopard. The expedition starts from the sacred city of Haridwar and goes through Auli, Govindghat and Ghangaria. You will enjoy the mesmerizing views of Zanskar Range, which is the place for the sages, who would have come here to pursue meditation and Yoga. Another best thing about this excursion is that it gives you a chance to visit one of the most sacred Gurudwara, the Hemkund Sahib. The lake besides the gurudwara is a scenic spot to just sit back and indulge in some nature photography.
---
Har Ki Doon Trek
Base Camp: Sankri
Duration: 7 Days
Grade: Easy to Moderate
Maximum Altitude: 3566 m
Trekking Distance: 54 km
Best Time to Trek: Mid April to June
Situated at the high altitude of 3,566 m, Har Ki Doon is among the most scenic treks of Uttarakhand. The cradle-shaped valley is surrounded by the splendid peaks of Fateh Parvat, Swargarohini and Jaundha. The trail is packed with vibrant Himalayan flowers, gushing streams, rare wildlife species and lush green meadows. 
On the way to the destination, the trekkers get a chance to explore the mountain ridges, ancient temples, glaciers, rustic hamlets and alluring caves. Locals believe that the religious significance of the valley is connected to the age of the Mahabharata. Not only this, there is an ancient temple dedicated to Duryodhana, who is said to be the eldest brother of Kauravas. At the initial stage, the trek starts from Sankri Village and goes to Taluka. The trail which is filled with moraine ridges, icy pools, alpine meadows and oak forests, motivates you to aim higher and accomplish the trek calmly. Har Ki Doon is also considered as an ideal trek for the photographer enthusiasts as it offers spectacular views of the valley, consisting of Brahma Kamal flower and Mahinda Taal.
---
Roopkund Trek
Base Camp: Kathdogam
Duration: 7 Days
Grade: Easy to Moderate
Maximum Altitude: 4570 m
Trekking Distance: 59 km
Best Time to Trek: Mid May to June, September to October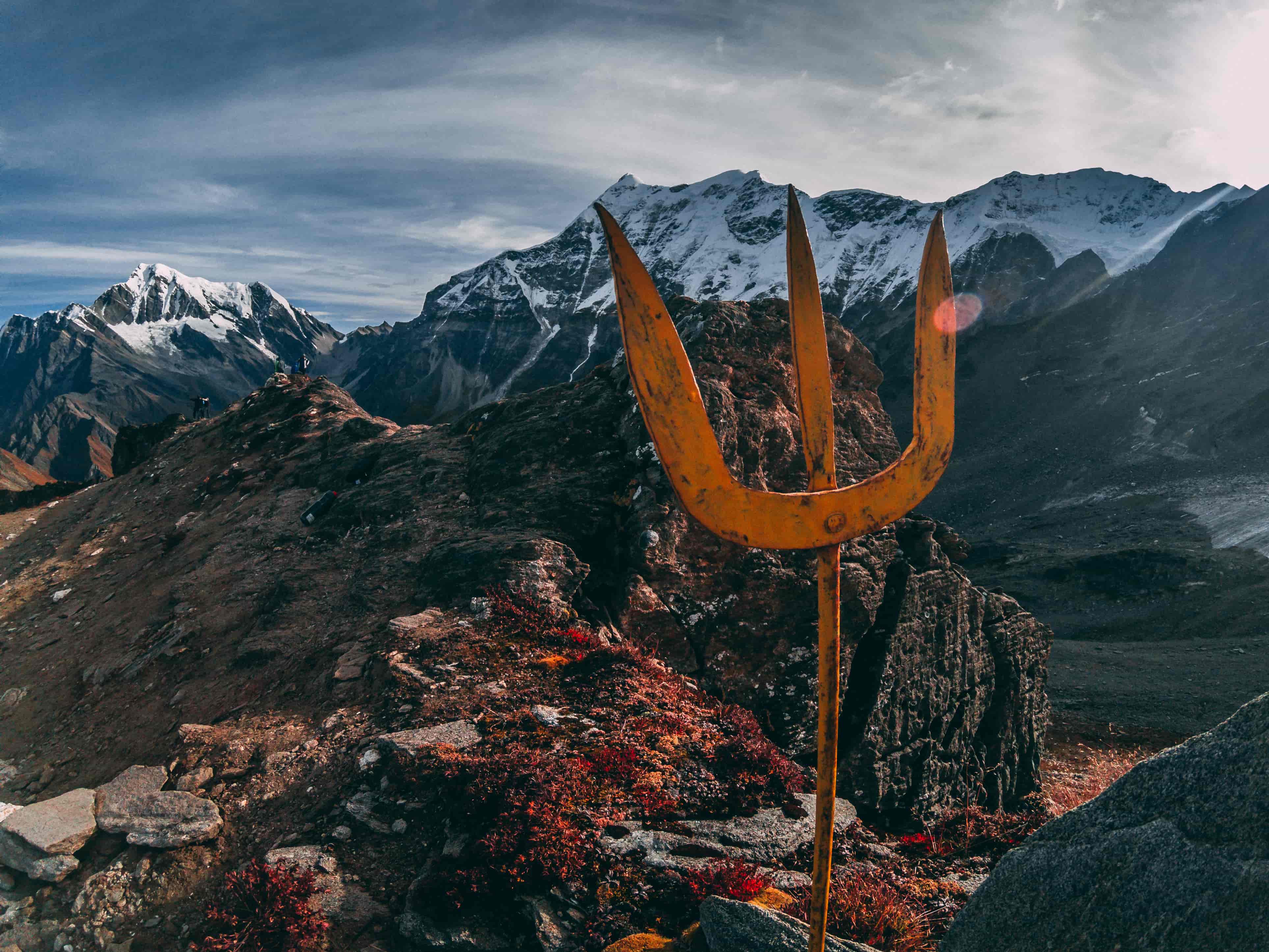 Perched in the snow-white majesty of Mt. Trishul (4,800 m), Roopkund trek offers picturesque terrains which give you an opportunity to explore the hidden gems of nature. Trailing through lush green valleys, alpine meadows, snowy terrains, enthralling ridges will make you feel that you have reached very close to the heaven. Also called as Skeletal Lake, Roopkund Lake is one of the major attractions on the trek. This 'Mystery Lake' gives you an adrenaline rush filled with both fear and excitement as you could see hundreds of skeletons either inside or around the lake. So, if you want to unravel the myths related to it then Roopkund trek is a must-try.
Moreover, the trekking starts from Loharjung and takes you through mountains replete with a wide variety of biodiversity and pictorial surroundings. Hiking on a scenic course that goes through forests of deodar and firs to Ali Bugyal, is a unique experience in itself. On your way to the summit, you get a chance to meet locals and explore their lifestyle. And you may also encounter mountain animals that come to graze on pastureland.
---
Nag Tibba Trek
Base Camp: Pantawari
Duration: 2 Days
Grade: Easy
Maximum Altitude: 3050 m
Trekking Distance: 20 km
Best Time to Trek: October to April
Beautifully nestled at a high elevation of 3,050 m in the great Himalayan region of Uttarakhand, Nag Tibba trek is an ideal trek for those searching peace for their mind and soul. Situated at isolated place, Nag Tibba is replete with the enchanting beauty of the lush green forest, snow patches and rare species of flora and fauna. Locals believe that Nag Devta dwells in the hills, thus, it was named as Nag Tibba, which means the abode of Lord Serpent. Several Hindu devotees visit the site to pay reverence to the deity.
On accomplishing summit, trekkers can enjoy a sight of great peals like Gangotri, Changabang, Kedarnath, Bandarpoonch and the Doon Valley. It is a circular trek, which begins from the rustic hamlet of Pantwari. Trekkers visit the temple of Nag Devta on the first day of the trek. Later, the trail goes through stunning waterfalls, gushing streams, dense forests, villages and alpine meadows. The camping experience is truly inexplicable as nothing could be better than spending a night under the glittery sky while being surrounded by the lush green forest.
---
Kedarkantha Trek
Base Camp: Sankri
Duration: 6 Days
Grade: Easy to Moderate
Maximum Altitude: 3,810 m
Trekking Distance: 22 km
Best Time to Trek: April to June, September to December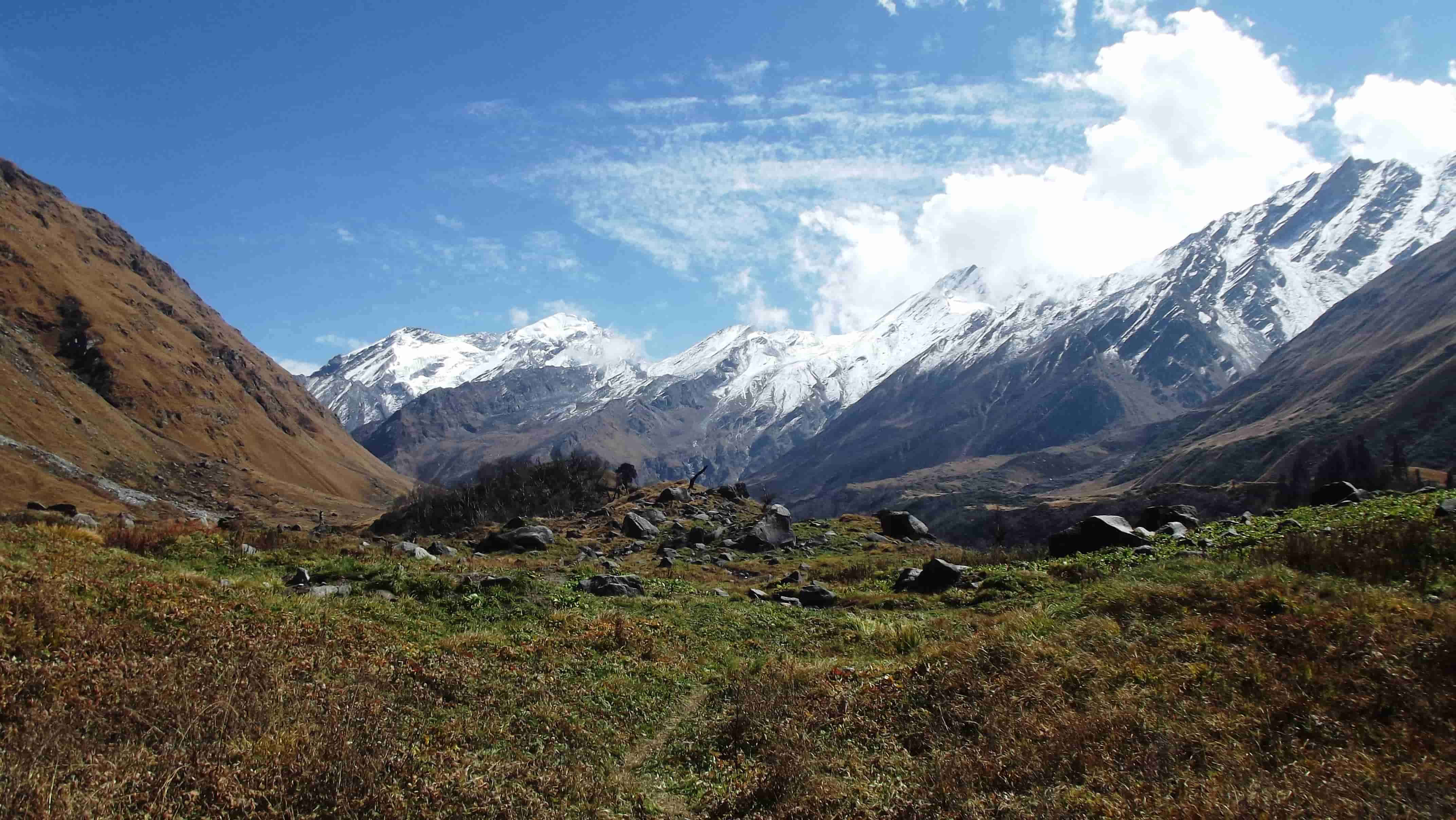 Kedarkantha peak is situated in Uttarkashi district at an altitude of 3,150 m. It is located inside the Govind National Park, and is home to rare species of flora and fauna. The ever-modifying scenery of the place will motivate you to hike on the challenging and rough course. On your way to the summit, you will come across an old temple of Lord Shiva and his wife Goddess Parvati. Just beside the temple, there is a small shrine of their son, Lord Ganesha too. There is a Trishul erected in the valley at a certain place, which is said to be a weapon of Lord Shiva. And villagers believe that it is a reason behind their survival on such a height and extreme cold weather as it protects them from any kind of disaster.
Moreover, the trek begins from a peaceful village called Sankri and gradually leads you to the River Tons. From the summit, a stunning view of 13 different Himalayan peaks like Bandarpoonch and Swargarohini, is a delight for trekkers' eyes and soul.
---
Kuari Pass Trek
Base Camp: Dhak Village
Duration: 6 Days
Grade: Easy to Moderate
Maximum Altitude: 3877 m
Trekking Distance: 33 km
Best Time to Trek: April, November and December
Fact check: You know who reached Kuari Pass first? It was Lord Curzon who explored the place in 1905.
Locals named this place as Kuari Pass, which means 'doorway'. The main highlight of the trek is the magnificent view of the twin peaks of Nanda Devi and several others like Kamet, Hathi Ghodi Parvat, Dronagiri, Trishul, Bertholi, Mana, and Neelkanth. Moreover, the course takes you through pristine forests of oak and deodar. On this venture, you can enjoy a common yet the breathtaking sight of Himalayan snow leopards and black bear. Spending a night at the dazzling campsite is one of the most amazing experiences!
This expedition also gives you a chance to explore the two most-charming sites of Uttarakhand i.e. Joshimath and Auli. Sri Shankaracharya has attained enlightenment in Joshimath and Auli is famous for skiing and astronomers. The journey basically begins from Haridwar but the trekking expedition starts from the beautiful village of Dhak. On your way to the summit, you will come across to the enthralling view of Devprayag, Bhagirathi and Alakananda confluence. The course that goes to Chitrakantha, Chaukhamba and Tali Top has many hidden surprises for you! ory.
---
Dayara Bugyal
Base Camp: Barsu
Duration: 5 Days
Grade: Easy to Moderate
Maximum Altitude: 3688 m
Trekking Distance: 25 km
Best Time to Trek: April to June, September to December
Standing tall at a high altitude of 3,688 m in the district of Uttarkashi, Dayara Bugyal is said to be the most amazing and breathtaking trek in "Land of the Gods". In the lush green landscape of meadows, one can catch a beautiful sight of the Barnala Tal Lake. Moreover, you can enjoy a majestic sight of stunning peaks like Srikanth, Jaonli, Draupadi ka Danda I & II, Rudregaira, Gangotri I, II & III, Black peak, Bandarpunch, etc.
The trek begins from the little hamlet of Barsu and takes you to the summit through the dense forest of oak, clear-crystal water bodies and sprawling meadows.
Take a break from the nine-to-five grind and explore the hidden beauty of the Himalayas to gain a lifetime of experience.