Roopkund Trek: A Journey To An Unusual 'Skeleton Lake' That Remains Frozen In Past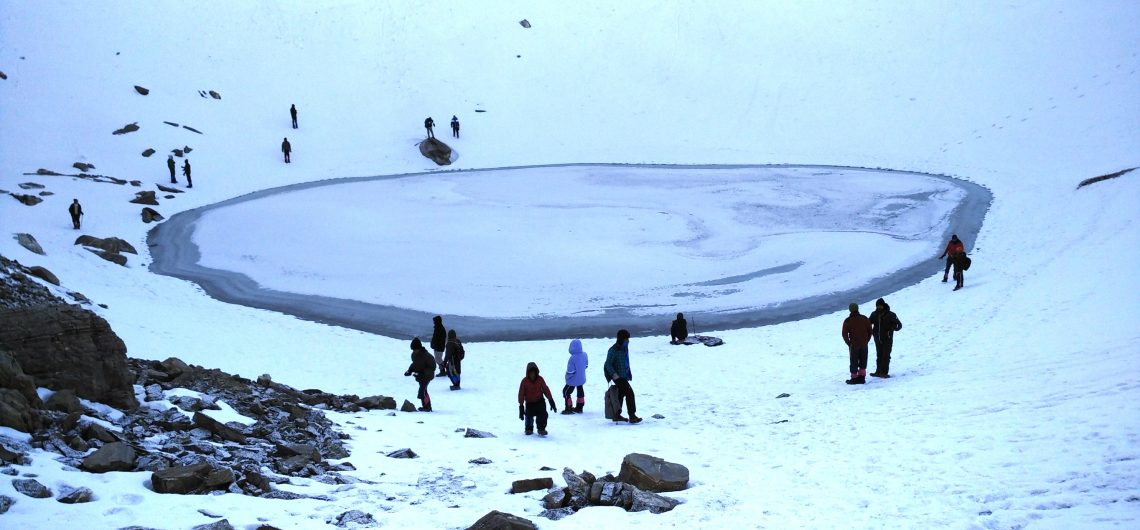 I am a happy-go-lucky person, who loves reading, writing and travelling. Gardening and good food are the other things that I am passionate about. My motto in life is simple, "Love what you Do and Do what you Love".
Latest posts by Meenakshi (see all)
Magical! Yes, it's the one word that comes to mind whenever I think about the Roopkund trek. The fact that it has consistently been one of the most booked trekking destinations in North India owes to the snow-capped mountains, lush green forests, picturesque views and tricky routes. It challenges and thrills, puts your trekking potential to test and rewards you greatly, equally so. 
So, if you want to breathe amidst the striking icy glaciers of Nanda Ghunti and Mount Trishul, this is an ideal place to be!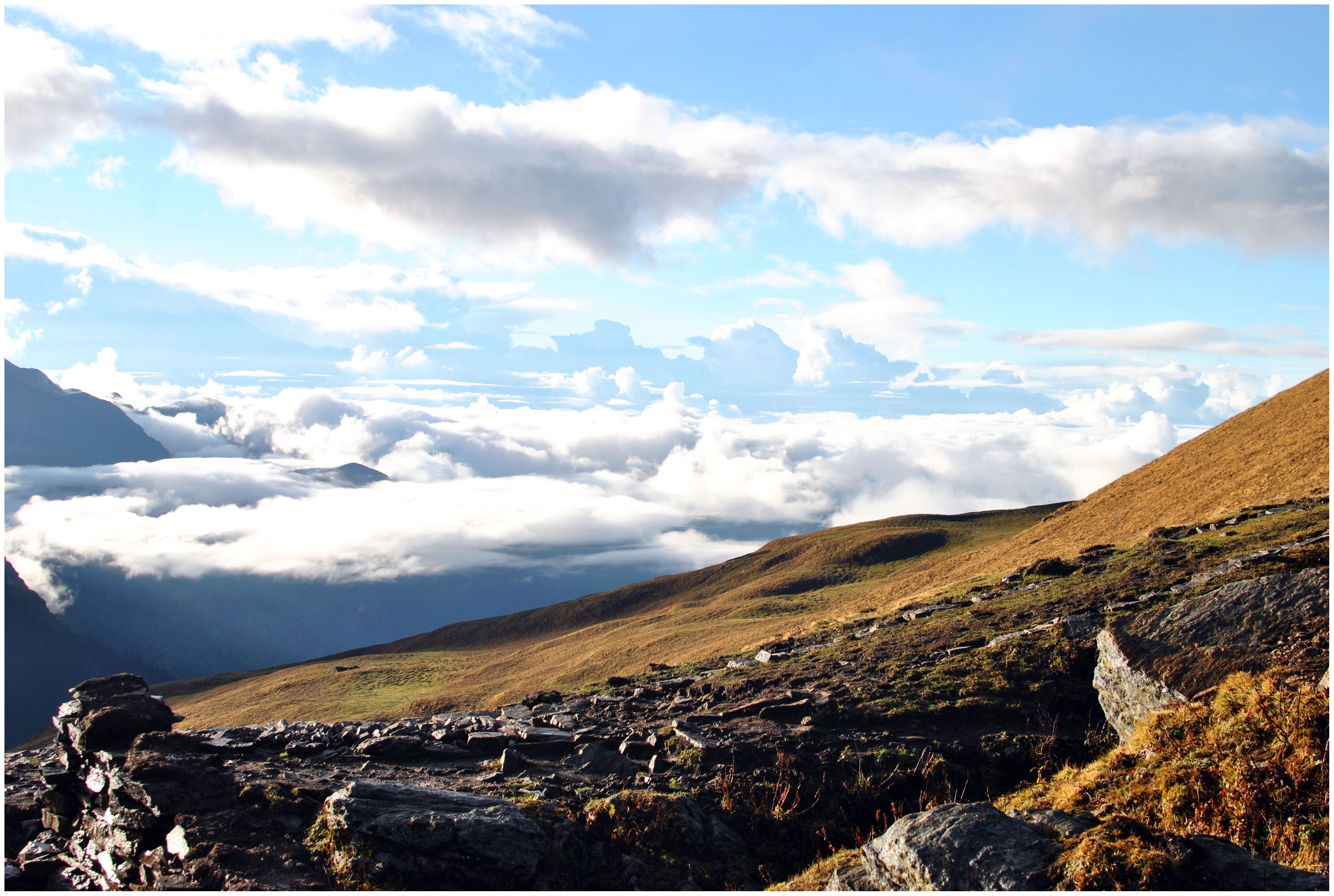 Situated in the lapse of Chamoli District of Uttarakhand, Roopkund trek paves the way to Roopkund Lake which lies serenely at an altitude of 5,029 m. The biggest highlight for the trek though has to be the 'Skeleton Lake,' Roopkund Lake that supposedly consists of over 500 human skeletons. Spooky, right? [Legend: It is said that an ancient army who came on an unscheduled pilgrimage had faced the wrath of the Weather God as they travelled without his permission.]
The mythological mystery around Roopkund Trek; Nanda Devi Raj Jat Yatra
The 'Nanda Devi Raj Jat Yatra' is among the biggest religious yatras in the 'Land of Gods', Uttakhand.  The hill folks of Uttarakhand organize the yatra in every 12 years to honor Goddess Nanda Devi. It is said that people take her to Lord Shiva's home which is located in the icy folds of the Himalayas. The three-week-long grand procession begins from Nauti village near Karanpraayg and ends at Homkund near Roopkund. Despite the harsh climatic conditions, the devotees remain barefoot throughout the yatra.
Where does it all begin?
Wan is the base camp of the trek and it is accessible from Kathgodam (210km) or Rishikesh (270 km). A trekker can take a bus from any of these two places. The bus will likely drop you at Deval which is 27 km away from Wan.
When should I start packing?
There are two phases during which a visit can be made safely:
May to June: The temperature ranges from 15 °C to 20 °C during the day time and 7 °C to -2 °C at night.
September to October: The temperature ranges from 10 °C to 15 °C during the day time and 5 °C to -5 °C at night. At this time, you can enjoy the clear view of snow-clad mountains.
Nearby Attractions
The Roopkund trekking experience is not meant for beginners. So, if you don't qualify for the same or are simply not in the mood to explore the mystique of Roopkund, following are the places you can check out instead:
Brahma Tal and Bekhal Tal: These are two most stunning lakes situated near Hemkund.
Bedni Bugyals: One can witness the raw beauty of nature at Bedni Bugyal – a green pastures. It is also a stopover on the Yatra of Nanda Raj Jaat.
Hemkund Sahib and Hemkund Lake: It is the holiest place for Sikhs and Hindus. The glaciers from the peak of Hathi and Saptrishi feed the Hemkund Lake.
Facts and numbers for Roopkund trek
Duration: 7 days
Max Altitude: 15,696 ft
Trekking Distance: 53 Km
Grade: Moderate to difficult
Here is a shorter version of the itinerary…
Day 1: Driving from Kathgodam to Lohajung (2130m)
Day 2: Lohajung to Didana (2550m)
Day 3Didana to Bedni Bugyal (3350m)
Day 4: Bedni Bugyal to Bhagubasa (4100m)
Day 5: Bhagubasa to Roopkund and Junargalli(4750m) to Patal Nauchaniya (3850m)
Day 6: Patal Nauchaniya to Bedni Bugyal (3350m) to Wan (2550m) – Lohajung
Day 7:  Lohajung – Kathgodam
Roopkund Trek: A high dose of adventure filled with natural splendor all along 
To escape from the mundane city life, I decided to go on a trek to experience the serene beauty. The expedition was an opportunity to discover a wide variety of flora and fauna and the giant mountains that I had only ever previously dreamt of.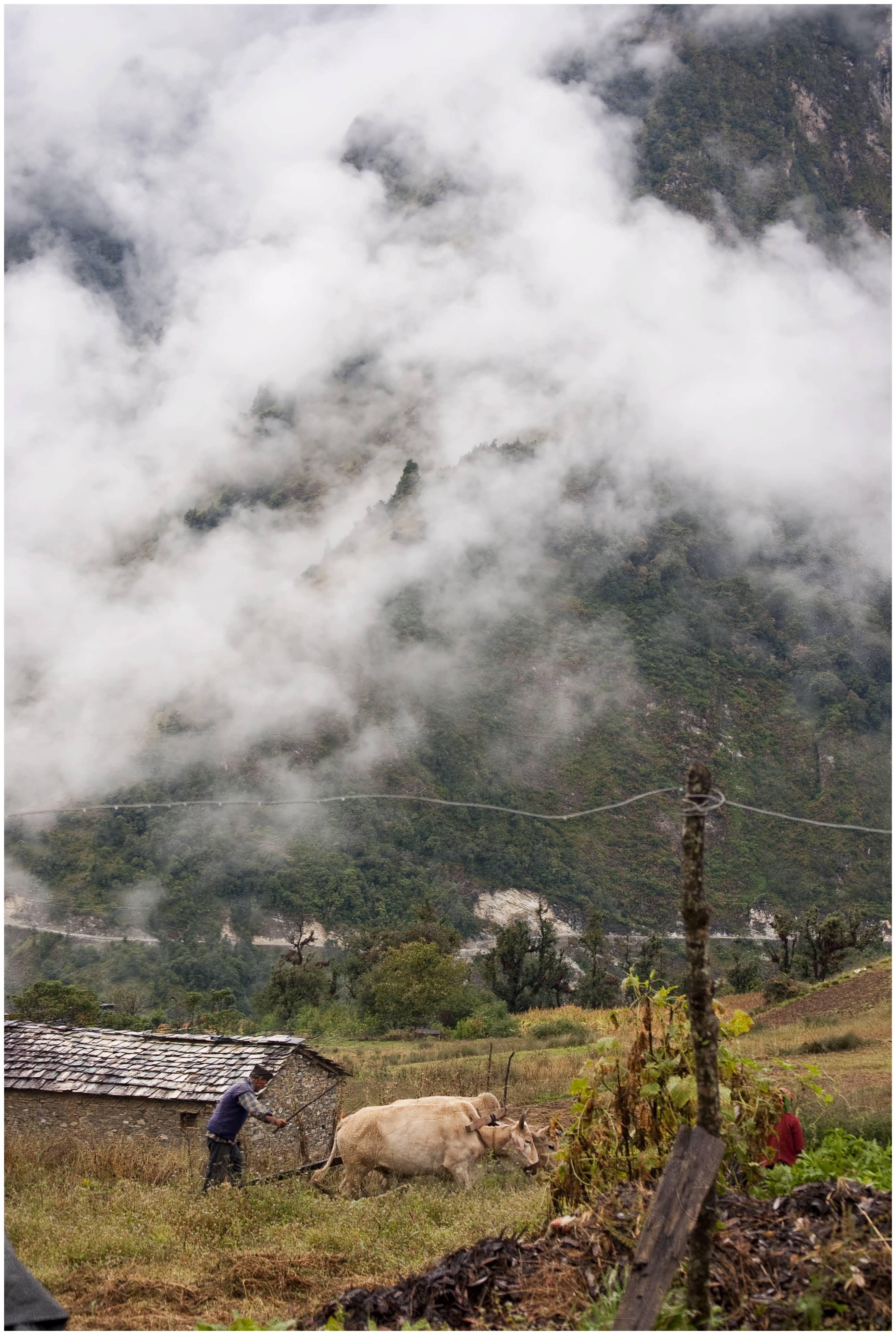 The journey began one morning with one of my closest friends from Delhi. We hired a cab that dropped us to Kathgodam – a town in the Uttarakhand's Nainital district. From there, we both moved to Lohajung which was the base point of our trek. Even after a tiring journey, the excitement didn't let us sleep on the bus. Travelling through a scenic route, we arrived at the destined place after 7 hours. The purest form of nature, Lohajung is replete with rich biodiversity. The beautiful surroundings of evergreen alpine forests were so captivating that we thought to not move further!
Next day, we walked through a pictorial forest lined with Himalayan cedar and oak trees. Crossing an old bridge over the River Neel Ganga, we reached Ruan Bagad after 2 hours of easy trek. Our guide told us that people also take a road route from here that goes to Wan Village. Despite the uneven terrain, the hike from Ruan Bagad to Didna village took just around 2 hours. The night was spent in a camp.
On day 3, the trail moved ahead to the village of Ali Bugyal which is one of the highest inhabited locations in India. Since I'm not a regular trekker, I opted for the easier route and it took almost 6 hours to reach the Ali Bugyal. To keep the pace with other trekkers and to reach on time, we were advised to consume dry fruits and energy bars. It really gave us energy throughout the expedition.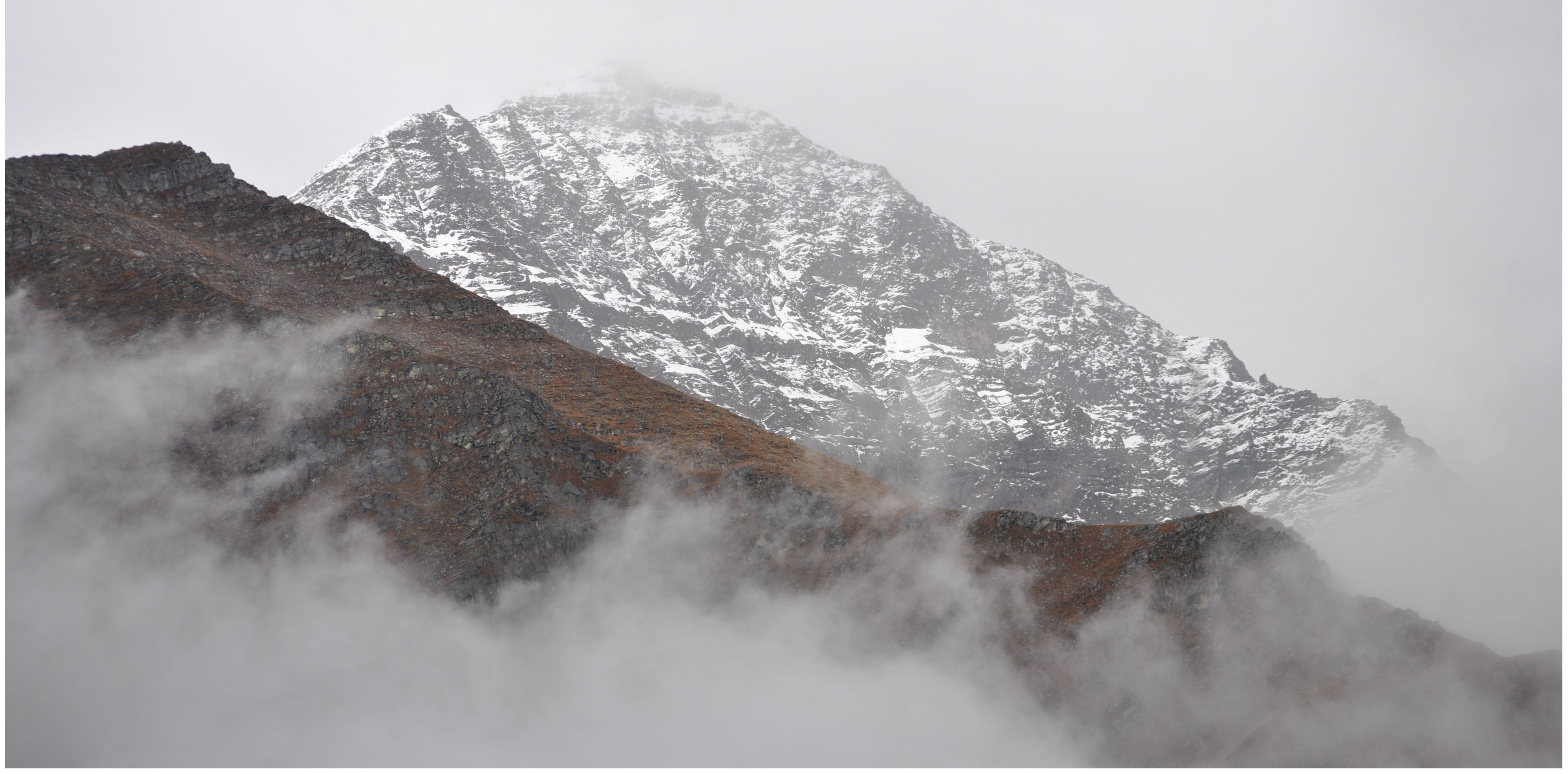 Thankfully, we reached bang on time! We arrived at Ali Bugyal by noon where we enjoyed magnificent views of Nanda Ghunti and Trishul peaks. And it was right there that I couldn't control my emotions and took around 170 pictures in just 15 minutes. Fun times! Later, we moved towards Bedni Bugyal – a campsite for our overnight stay.
Next morning, we woke up to the beautiful views of the sunrise. Our guide briefed us about the program and then, we all were ready to move towards Bhagubasa. A trail first entered to the coniferous forest that took us to an area of high altitude. After crossing a zigzag path, we reached the temple of Lord Ganesha 'Kalu Vinayak' which is constructed with irregular pebbles and bricks. We stayed there for about 20 minutes and we prayed for 5 minutes. After receiving much needed blessings from the Lord, we hiked further.
After 1 hour we reached a spot where we got an opportunity to capture the astonishing views of Chaukhamba, Neelkanth and Hathi peaks in our cameras. Though the distance was short, the slippery path made it a bit challenging for us. We reached our beautiful campsite at the hilltop of Bhagubasa after 1 hour.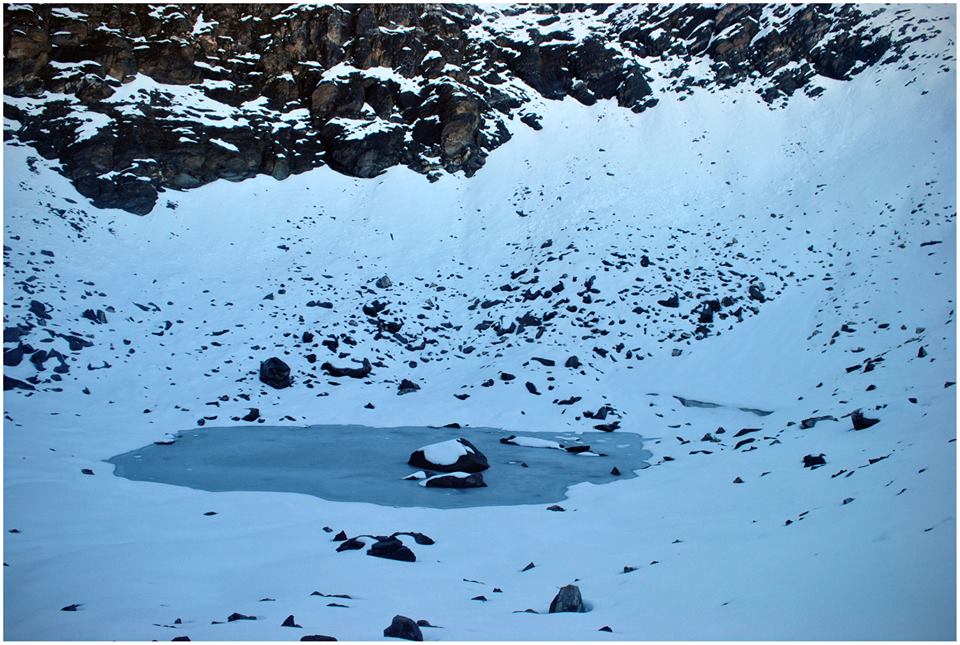 It was day 5, our guide had set a goal for us and according to that, we were supposed to reach the lake in about 2-3 hours. The mysterious Roopkund Lake gave me an adrenaline rush. Our guide was carefully watching our steps around the lake as we were walking around the tricky terrain. It was quite a moment, as we viewed the human skeletons and bones. We all were so happy that there were tears of joy in our eyes. After hugging each other, some of our group mates moved towards Junargali ridge. However, I spend time in capturing gorgeous views of the mountains. After staying up there for an hour, we later headed back to Patal Nauchaniya. It was a long walk down and we stopped at two spots for rest along the way. After reaching the camp, we realized that it was time to celebrate our victory! We organized a bonfire, played cards and finally, clicked a lot of group photos.
Day 6,7 : The way back to Kathgodam
We woke up at 5 am and after grabbing toasts from the camp we tramped down to the forest of pine, rhododendron and oak to reach Wan village. We had a scrumptious lunch at a Garhwali restaurant which served us traditionally style Thali filled with local food. We went back to Lohagunj and spent the night in tents at the campsite. After saying goodbye to each other, we moved to Kathgodam.
Mobile connectivity and ATM facility
One can find ATM machines in two places i.e. Kathgodam and Dewal. Notably, there is no ATM after crossing Dewal as the trek begins from here.
Most of the mobile networks work at Lohajung. There is hardly any connectivity in the mountains which means all important calls should be made at Lohajung.
Things to carry
Trekking pole, trekking shoes, 6-7 pair of socks, power bank
Sweaters, warm jackets, caps and gloves
Sunscreen lotion
Water bottles, backpack, energy bars and drinks
A pair of sunglasses, camera
Basic toiletries, bed sheets
Flash light (with spare batteries) and Swiss knife
Insect repellent, emergency medical kit
First-aid kit, binoculars, sleeping bag
And with that, the dreamy journey of 7 days came to an end. What I brought back with me was a box full of beautiful memories.