Tell the Craziest Travel Stories Once You Are Back from Hampta Pass and Chandratal Lake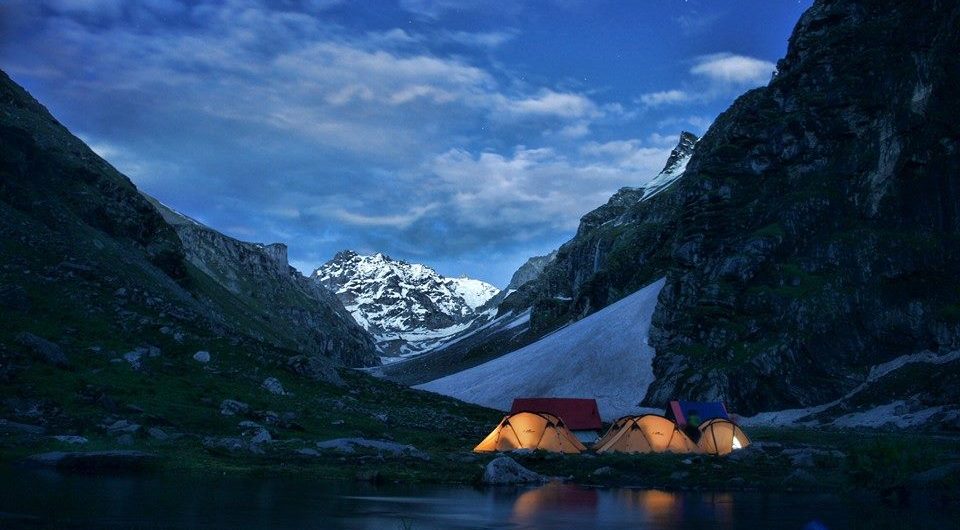 Vanika Sumbly has graduated from Delhi University with a major in English Literature. She believes traveling is truly the best way of passively exploring oneself. And writing about it is active exploration.
Traveling is as much about the experience you gather while on the trip and the pleasure you take when sharing it while after the journey ends. One such place, a favorite among the most adventurous travel enthusiasts, is Hampta Pass and its better half, Chandra Tal Lake.
Read further why you need to go on this trek to make the best memories and tell the craziest stories later.
What's so unique about this
Hampta Pass is not just splendid in its charm but a rare spectacle at that. It is a narrow pass that climbs out of the Kullu valley and overlooks Lahaul valley's long, desertous and scenic stretches. There is a vast difference in landscapes that this trek packs.
Traverse through alpine forests, huge rock formations and exotic flora-fauna to reach the glistening Moon Lake, a mythicized beacon of nature. Not only does this trek offer Lahaul's vegetation and cold deserts, it provides the best views of Dhauladhar ranges. What's more is that you get to closely observe the culture of the inhabitants of nature's high altitude marvels. Why travel? Experience.
What's the trail like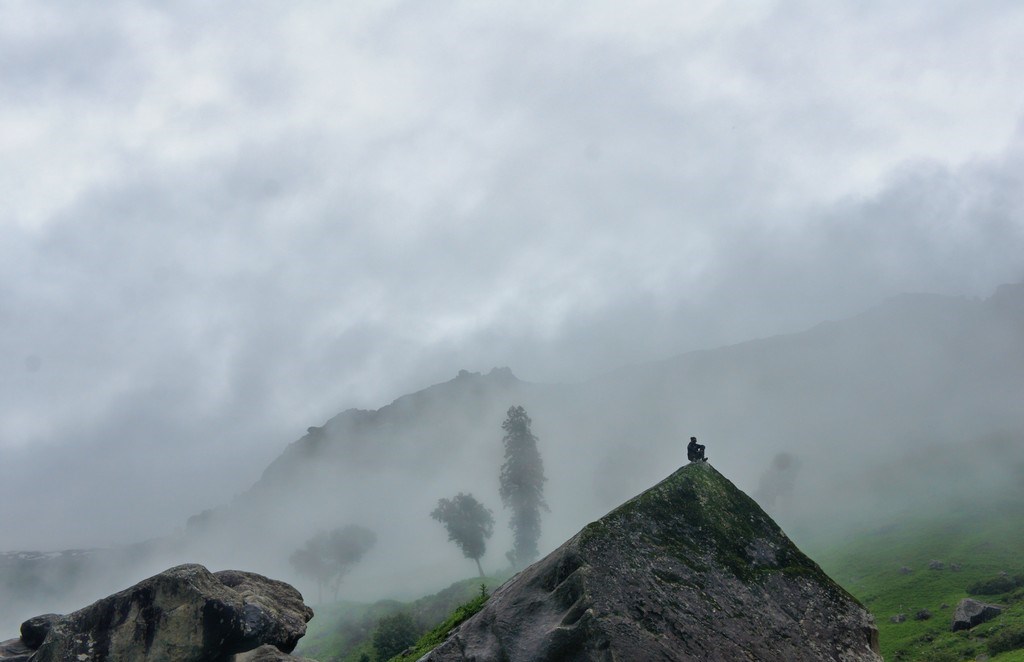 Chikka: You will begin your journey from Hampta Dam. Trek to Chikka, close to Manali, after spending a day acclimatizing at the base camp in Manali.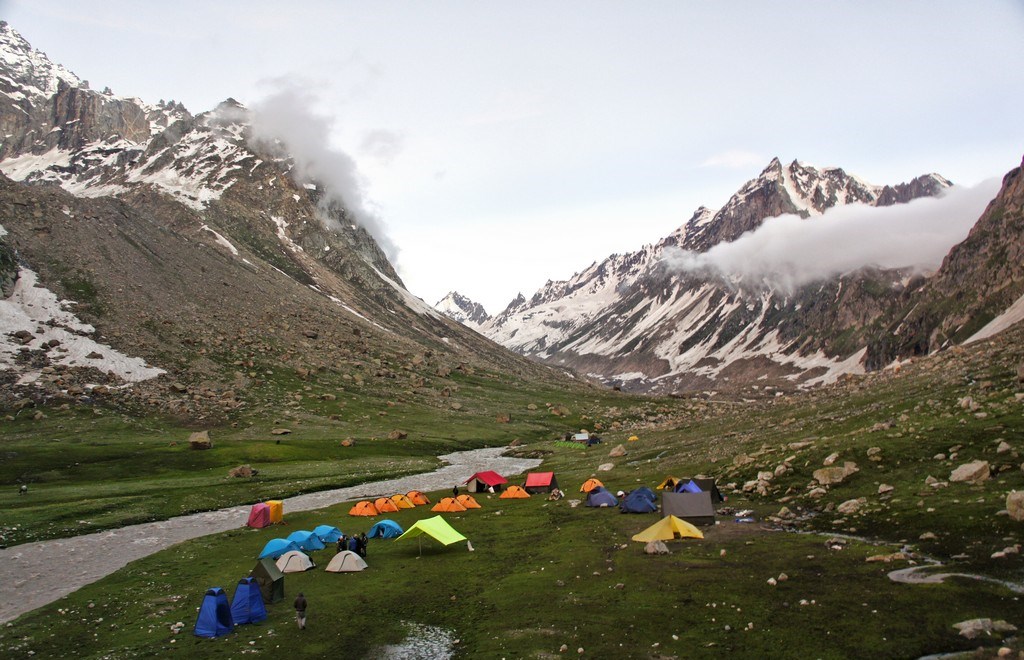 Balu Ka Ghera: This location is basically a heap of sand ("balu ka ghera") right below the Hampta Pass. This is one of the best campsites in the entirety of your trek. The whole view is picturesque. It is a lush, expansive plain ground on the bank of a river. Marvel at the surrounding Dhauladhar ranges, the outer Himalayan peaks.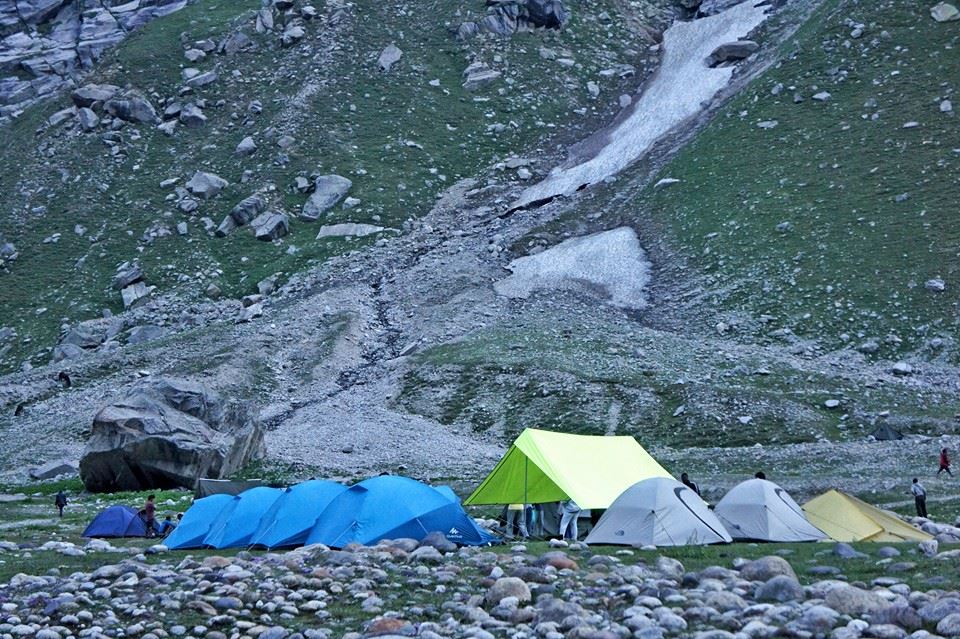 Hampta Pass via Shia Goru: From Balu ka Ghera, you will trek further to Hampta Pass (4270 m) via Shia Goru. Gaze at the desertous Lahaul valley in a panoramic view. Notice the vast change in landscapes this trek has to offer. Descend back to Shia Goru for a star-studded overnight stay.
Chatru and moving on to Chandra Tal Lake – 
Chandratal Lake or "Moon Lake"; why it's the best addition to your Hampta Pass Trek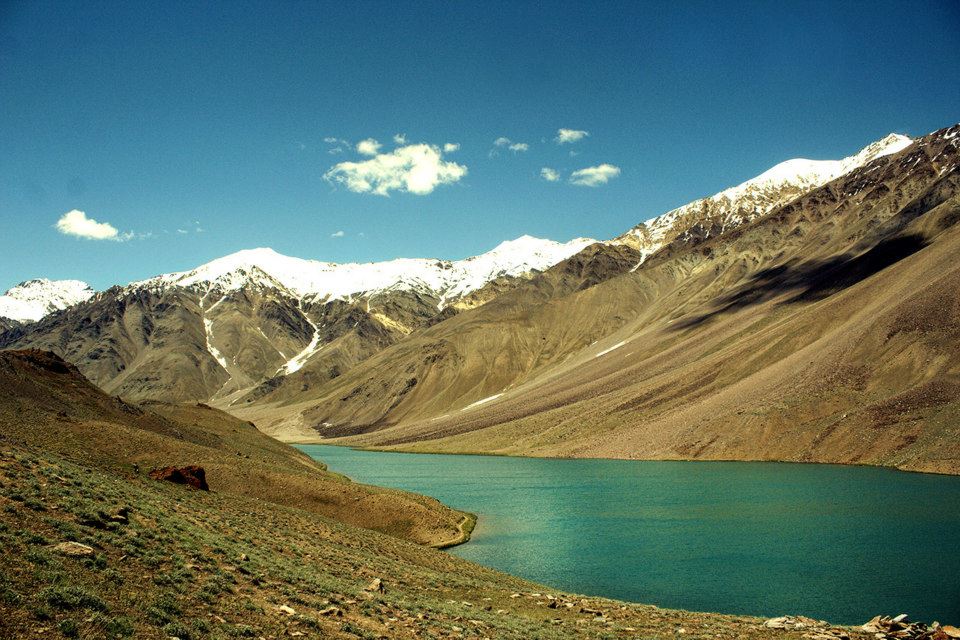 The cherry on the top (quite literally, since it sits atop the Hampta Pass) is this high altitude glacial lake called Chandra Taal (Moon Lake). In mythology, this is the point where from Yudhisthra (in Mahabharata) ascended to heaven. Surely, the feeling of just standing by its side and holding its reflection in admiration is nothing short of heavenly in itself.
Likely on your last day of the trek before you descend, you will visit the lake. Set out on a early morning and trek to Pir Panjal ranges and to Chandratal from there. Descend back to Chatru, the point where Spiti valley, Rohtang Pass and Hampta Pass meet – for your overnight stay.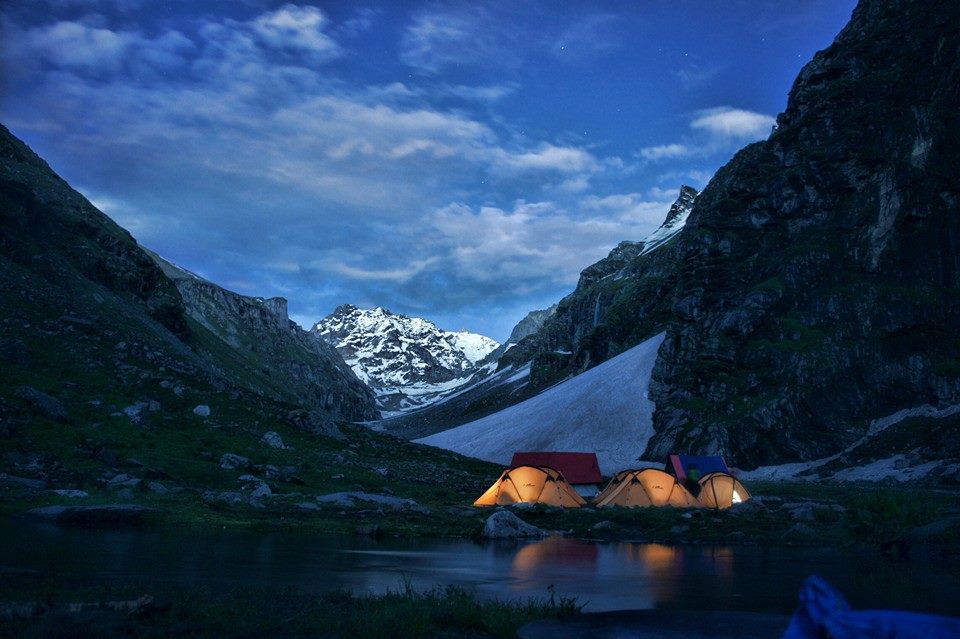 So what is the best time to make your way to Hampta Pass and Chandratal Lake?
Best time to take a getaway and spend a charming week in Hampta Pass is from June to late September. Within this time frame, most people visit in June or the next month. It is clad with snow, perfectly and all over. What a breathtaking view!  
Hampta Pass, the starting point of your tryst with Himachal Pradesh
Hampta Pass in Himachal Pradesh is a favorite among trekker's who are not too advanced but have some prior experience. These trekkers love an escape into the beatific Himachal which offers unparalleled views of the Himalayan peaks and is home to some of the most exotic Himalayan scenery and flora-fauna.
Once here, you will forever cherish and long for another visit. Most people go on to trek to other places in Himachal Pradesh after they get back from Hampta Pass. You are likely to continue being on a long and rewarding journey with nature after this one.