Top Places to Have Hot Cup of Tea in the Himalayas!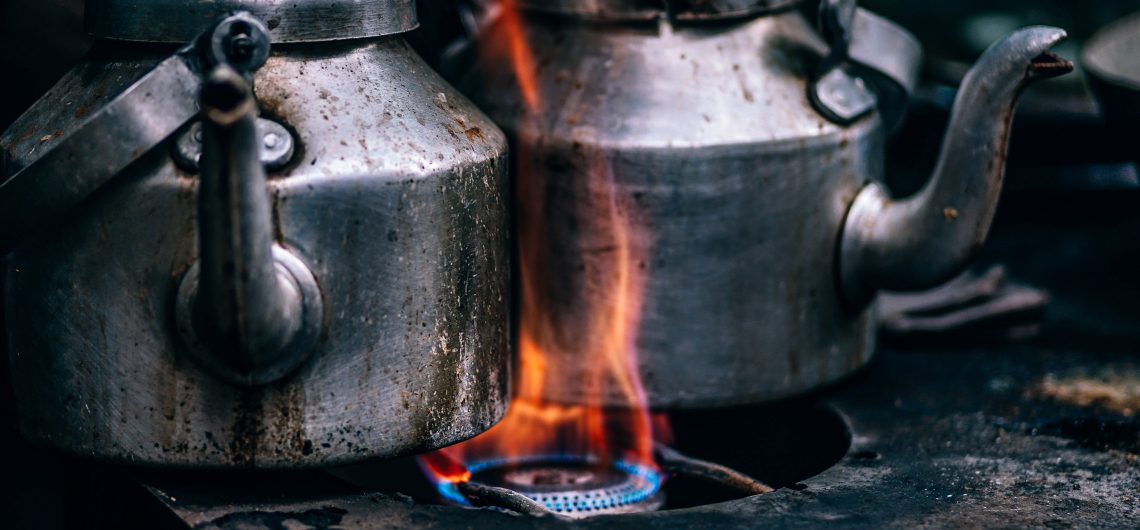 I am a happy-go-lucky person, who loves reading, writing and travelling. Gardening and good food are the other things that I am passionate about. My motto in life is simple, "Love what you Do and Do what you Love".
Latest posts by Meenakshi (see all)
Did you know tea drinking in India was prevalent since 750 BC? However, it was not tea per say, but more of a vegetable dish that consisted of tea leaves, oil and garlic. Technically, India was introduced to tea by some officers of the British army, who started tea cultivation here with seeds brought from China. This led to a revolution, and by the end of the 19th century, tea produced in Darjeeling and some parts of Assam were exported to different parts of the world, especially Britain. Slowly and steadily, this revolution spread across the entire Himalayan foothills and other parts of the country.

Today, tea forms an integral part of every Indian household, and probably, this is the reason why tea producers in the country have appealed to successive governments in the past to declare it as the national drink. Whether that happens or not, unofficially it is!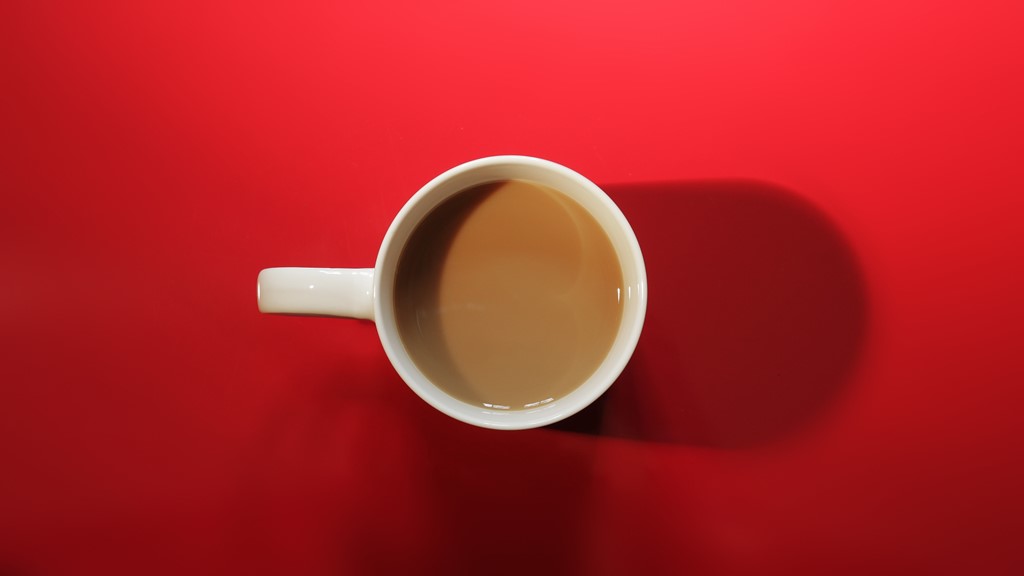 Wondering why are we discussing tea rather than adventure? Well, have you ever thought what makes you take up an adventure sport? Is it only about adrenaline rush? What about satisfaction…the satisfaction of doing something, which you won't get to do normally; probably, which is why it is called adventure. And what if that satisfaction is complemented by a hot cup of tea; pure bliss isn't it! And that's why we bring you a list of some top destinations in the Himalayas, where not only you will get an adrenaline rush, but loads of satisfaction and definitely a hot cuppa tea to make it a truly memorable experience. Read on and find out more about these fantastic destinations.
Chandratal Lake
Chandratal Lake, picturesque to say the least, in Himachal Pradesh is our first pick. Situated at an approximate elevation of 4300 m above sea level, this crystal-clear blue water lake lies in the district of Lahaul and Spiti. Over the years, this crescent-shaped lake has become a paradise for nature lovers, trekkers and campers. However, there was a time, when it served as a halting spot for traders coming from Ladakh and Tibet, and heading towards the valleys of Kullu and Spiti.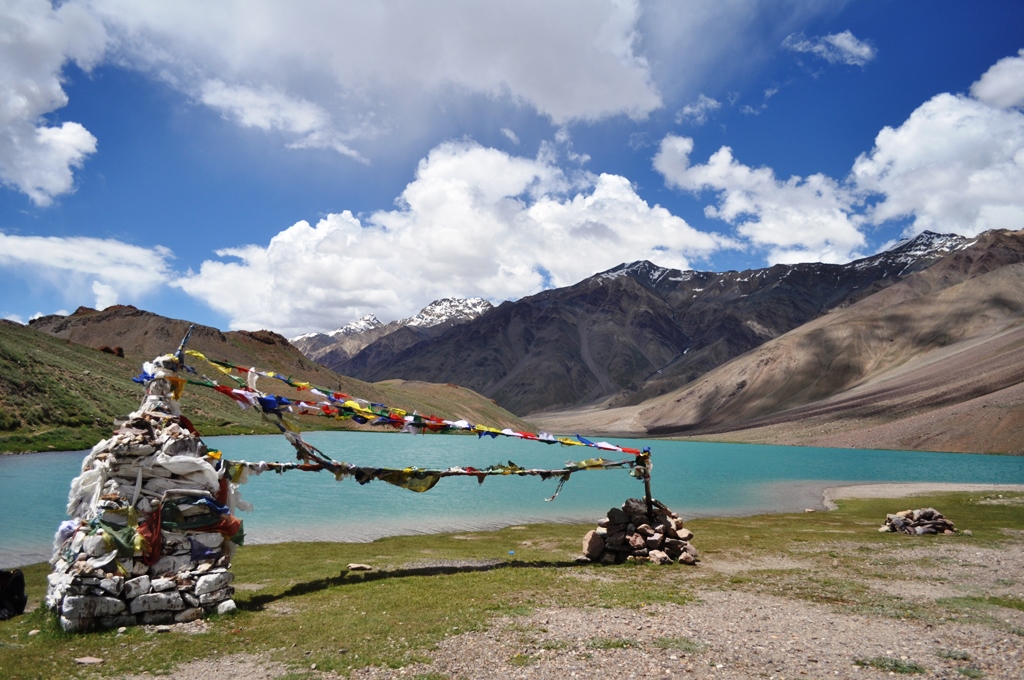 The best time to come to this destination is from June to September; during this period, shepherds from Mandi, Kangra and Kullu regions can be seen here with their herds of sheep. What makes a trip to this lake in the Himalayas a wonderful experience is the moderate trek that one has to undertake from Battal to reach here and witnessing all the natural beauty along the way. Sitting by the lakeside, bewitched by its enchanting beauty and sipping a hot cup of tea can make the experience ever so surreal at Chandratal. The reflection of the surrounding mountains in the lake is something worth witnessing.
The landscape in this region mainly consists of lush meadows and brown rolling mountains, with the beautiful Chandra River flowing below. During the day, the temperature remains mild at the lake; however, after sunset, it drops quickly. Overnight camping at this splendid destination is not allowed; hence, you need to go back to Battal for accommodation.
Gulmarg
Our next pick is one of India's top hill resorts – Gulmarg, which lies in the district of Baramula in Jammu and Kashmir. The discovery of this charming destination was made by Sultan Yusuf Shah in the 16th century, who was completely smitten by its rich flora. The natural beauty of this destination is so enchanting that it draws thousands of tourists, each year. Khilanmarg, Nagin Valley and Botha Pathri are some of the scintillating sites in Gulmarg, where one can head to get mesmerised by the splendidness, this place has been bestowed with.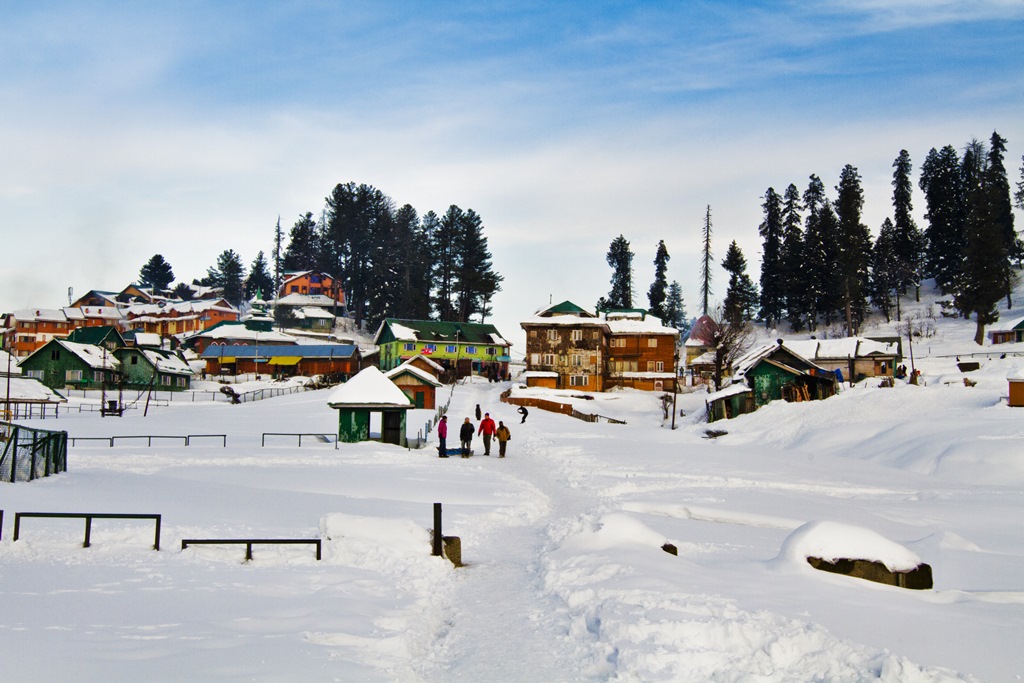 Besides its natural sights, what draws adventurers to this place is the opportunity to indulge in skiing. After the establishment of the Ski Club of India by the British in 1927 here, it has become one of the major winter sports destinations in Asia. Generally, the skiing season begins here in mid-December and continues till April. Apharwat Peak is considered among the top skiing slopes at this place. This peak can be reached by taking a cable car ride. Another major highlight of Gulmarg is its Gondola ride till Kongdori. It is the highest and longest cable car ride in Asia.
One more special thing to do in Gulmarg is to visit the local terraced tea plantations and sample some Kashmiri Kahwah or salt tea.
Triund
Situated amidst the Dhauladhar Mountain Range of the Himalayas, Triund lies about 18 km from Dharamsala in Himachal Pradesh. Over the years, it has become one of the most favourite trekking spots among adventure seekers. The trek to this fascinating destination begins from McLeodGanj, which most adventurers would find small and easy. Along the way, apart from scenic views of the mountains, one can also admire towering oak and rhododendron trees. In addition, one can halt at various tea shops along the way to relish hot tea with snacks to get refreshed for the remaining part of the trek.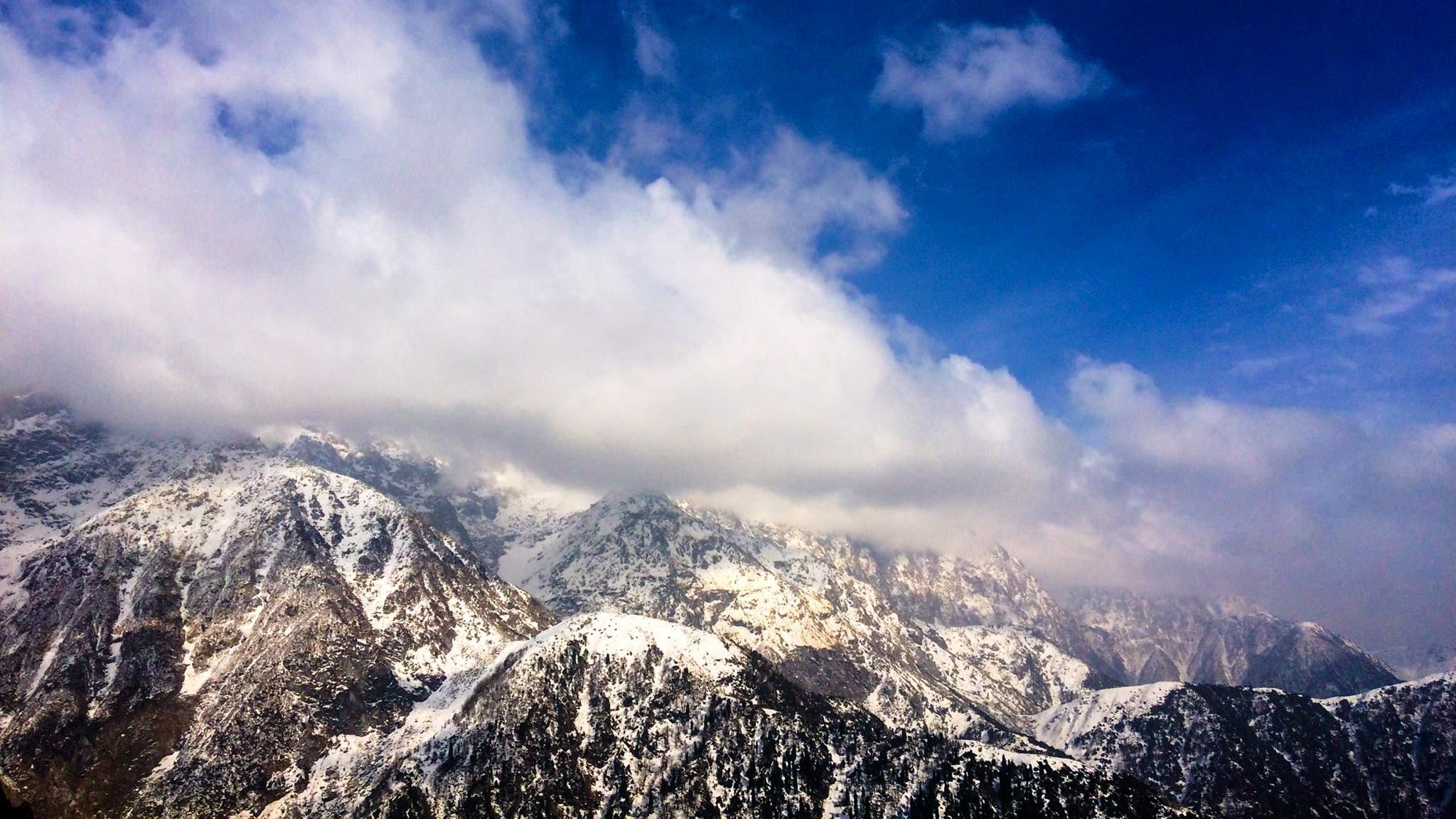 Except for January and February, when the byway to it is closed due to heavy snowfall, Triund can explored all round the year. Trekking can be enjoyed most from March till May and then from September till December. During June and July, this place gets plenty of rainfall and the region is blanketed by lush greenery. Those, who are confident enough to trek even in these months, will get the opportunity to witness this enthralling sight.
Pangong Lake
One of our favourite picks is Pangong Tso Lake in Ladakh. The scenic beauty of this lake is so alluring that people make plans months before visiting this heavenly attraction. Interestingly, this lake has been a backdrop for many Hindi movies' scenes and songs over the years. In winters, this saline-water lake freezes making it a hotspot for ice skating.
It is a disputed territory between India and China, with the Line of Actual Control passing through it. Till 2014, it was mandatory for Indian nationals to take Inner Line Permit (ILP) from the concerned authorities to come here; this rule has been relaxed and now, one can show their authentic photo identity card to get access to this region. The peace and tranquillity one finds at this lake cannot be described in words and can only be felt and cherished.
To reach here, one has to drive through the third highest motorable mountain pass in the world – Chang La (5360 m). This ride starts from the town of Leh and takes approximately 5 hours.
The best way to admire the beauty of this place is to sit by the lakeside, sipping a hot cuppa tea!
Rohtang Pass
Our next pick is the highest jeepable road in the world – Rohtang Pass in Himachal Pradesh. Situated at an approximate altitude of 3979 m above sea level, this mountain pass in the Pir Panjal Mountain Range of the mighty Himalayas connects Lahaul and Spiti with the Kullu Valley. In addition to Spiti and Lahaul, this pass also serves as the gateway to Pangi as the valley of Ladakh. The sights of glacial peaks, Chandra River and Lahaul Valley mesmerise one and all, who drive through this scenic pass; even the twin peaks of Geypan can also be witnessed from here.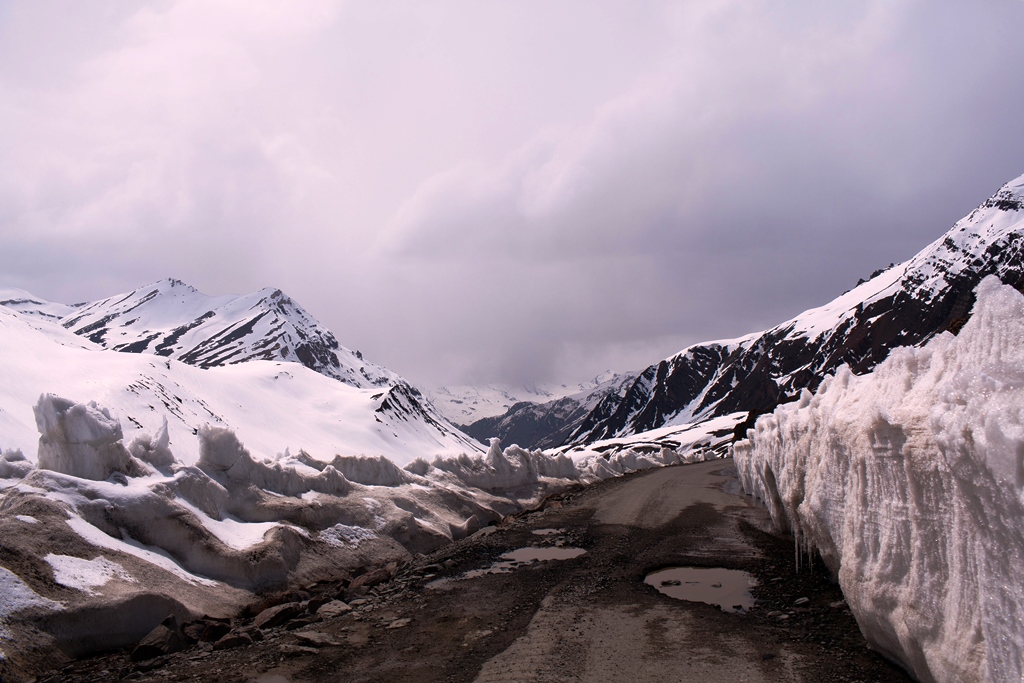 Besides local sightseeing, one can enjoy skiing and sledging at this destination by getting the required equipment on rent from local shops. This pass remains open only from June till October as the rest of the year it is closed due to heavy snowfall. During this period, vehicles are allowed to cross this pass, but trekkers can access this pass before June as well. Riding bikes on this pass is something that a lot of adventure freaks love to do. Along the way to Rohtang Pass, one gets enough opportunities to halt, and sip a cup of hot tea at local shops, while admiring the magnificence of nature.
Khardung La
Our final pick is the one of the highest motorable roads in the world – Khardunga La, which lies at an approximate altitude of 5359 m above sea level in Ladakh. Historically, this scenic mountain pass in the Karakoram Range was a caravan route to Kashghar in Central Asia from Leh. Since it was opened to public motor vehicles in 1988, this pass has become one of the most top motorbike and mountain bike expedition destinations in the country. It is strategically quite important to the Indian Army as this route leads to the Siachen Glacier. The pass remains closed from October to May owing to heavy snowfall. Besides sightseeing and adventure sports like mountain biking, one can enjoy a hot cup of tea along with scrumptious snacks at the army canteen located here.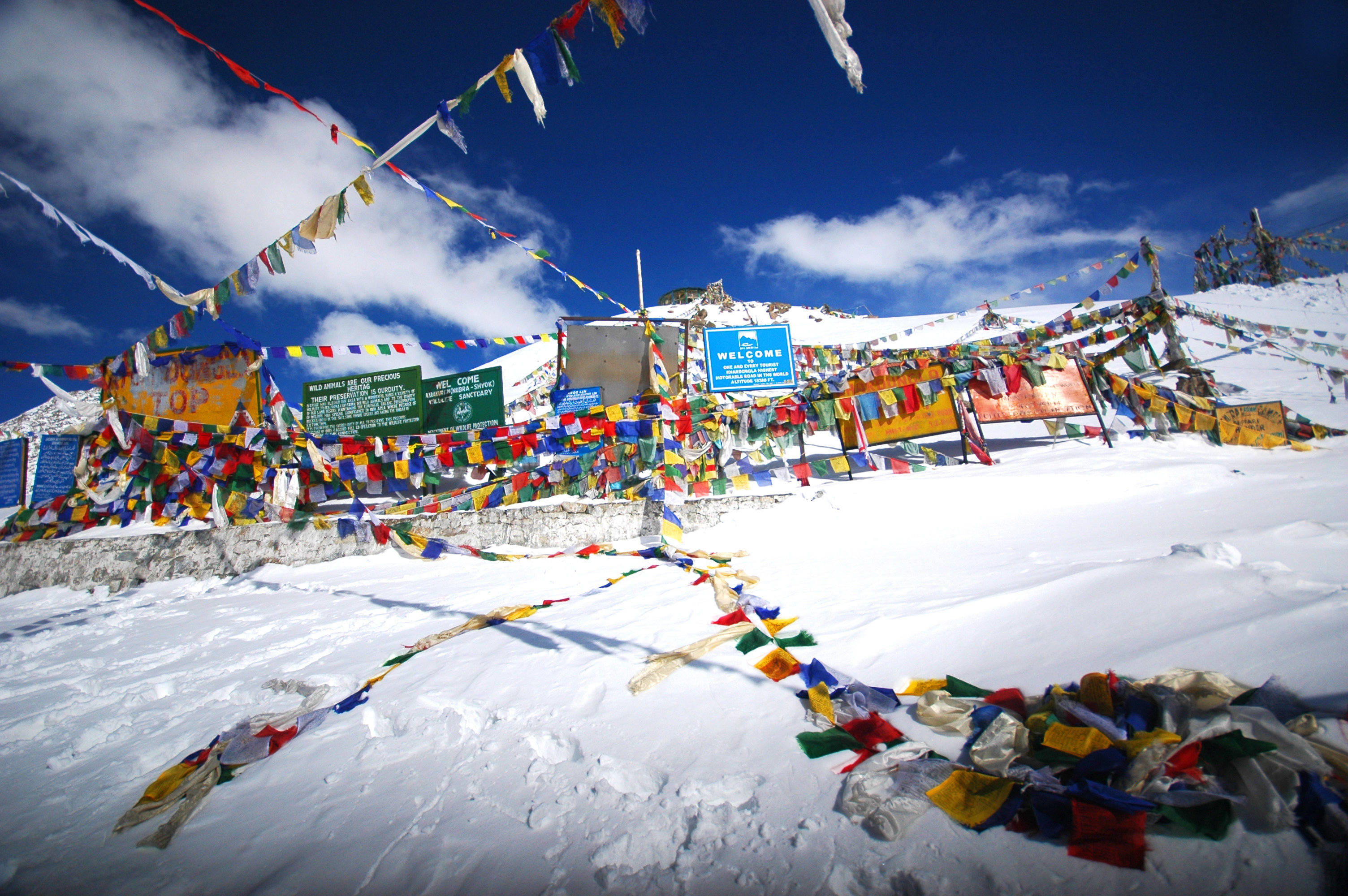 So, get ready to enjoy your daily cuppa not within the closed walls of your home, but amidst nature, at some of the most freezing, adventure destinations of India!