Bhrigu Lake Trek – Best Weekend Trek in Himachal Pradesh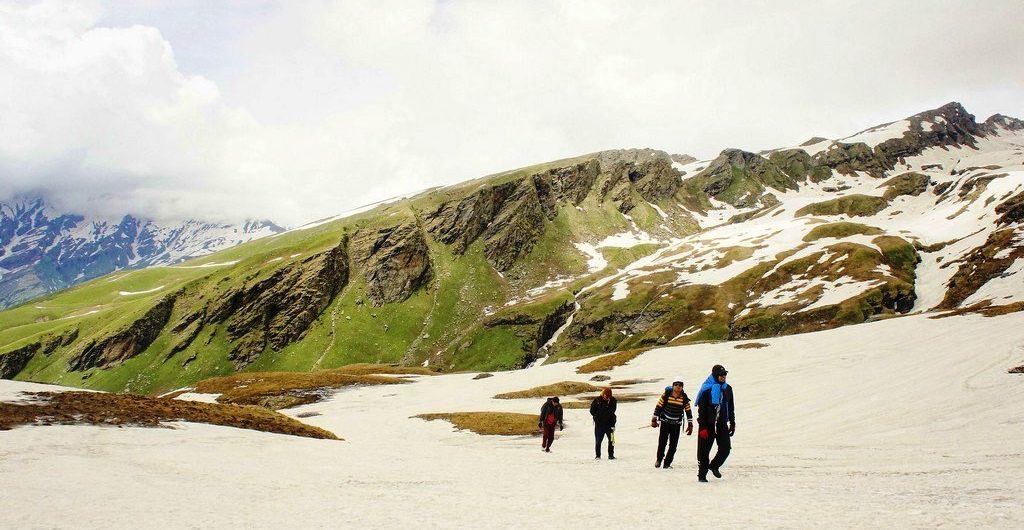 I am a happy-go-lucky person, who loves reading, writing and travelling. Gardening and good food are the other things that I am passionate about. My motto in life is simple, "Love what you Do and Do what you Love".
Latest posts by Meenakshi (see all)
Ask any 20-something about what they cherish the most and see them talk lovingly about weekends. Yes, weekends are truly the best! From extroverts who love to socialise with just about everyone to introverts who prefer to stay back in the familiar comfort of their home, weekends are fervently awaited by each of us. They are after all the only two days in a week when we can ignore work-related mails and focus on ourselves and our loved ones. It is that magical period of time which makes us feel that we were not born to just work, pay taxes and leave the world without having lived at all. Whatever our idea of a good time may include, a weekend is when we indulge ourselves in what we love.
As far as I am concerned, I wake up around noon on a Saturday, only to be even more unproductive the rest of the day. And if in some out of ordinary circumstance, I do feel like doing something productive I may end up cooking. I know I am not alone in this, since most of us who live away from home spend weekends refusing to make any social contact. Though spending weekends as I do is not as bad as it sounds, I realise that it would do me good to actually make use of my two days of freedom. Therefore, instead of waiting around for my leave application to be accepted, I plan to celebrate my love for the mountains on those holidays which all of us are entitled to!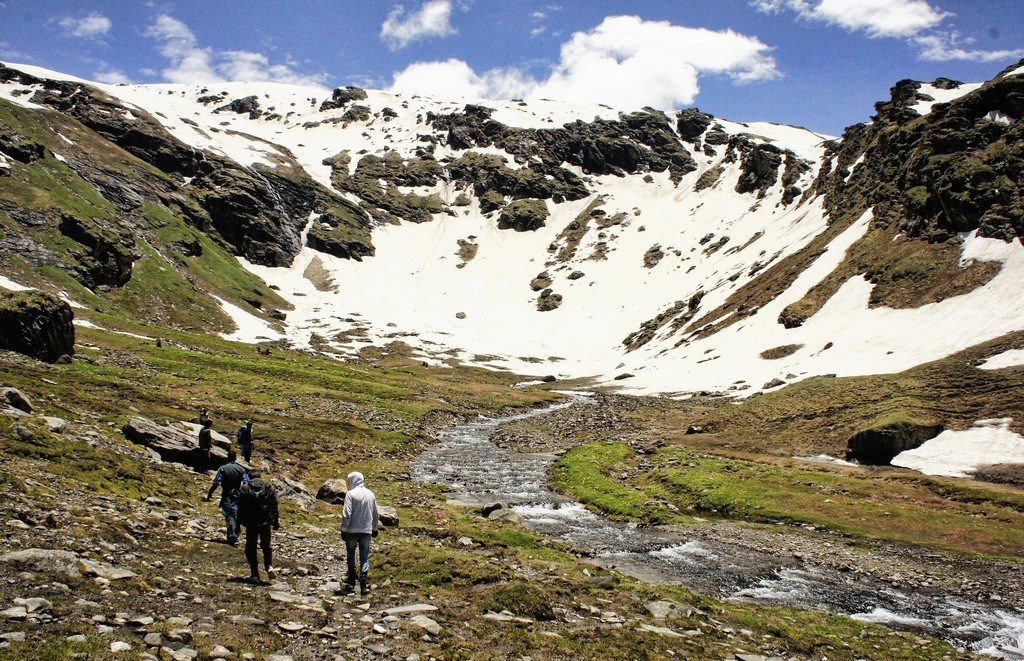 Out of those umpteen easy treks that can be done in the beautiful state of Himachal Pradesh, the trek to Bhrigu Lake has managed to fascinate me the most. The reason being, that this trek does not require one to miss college or office as it can be finished in a short time. Moreover, it brings along with itself an opportunity to see the mesmerising town of Manali. Read on to know what all about this trek can make you feel high-on-life on a weekend and inspire you enough to spend more time outdoors.
The Majestic Himalayas
Nature has blessed our nation with an abundance of scenic features. Among every natural wonder we can boast of, the towering Himalayan peaks are ranked among the best. And when it comes to experiencing the grandeur of the Himalayas, you can never go wrong with Himachal Pradesh. The Bhrigu Lake trek is yet another exciting way to marvel at these magnificent mountains. The shepherd trail that leads to the picturesque lake never lets you lose sight of the surrounding vistas. If you can find a better way to make a weekend special than treating your eyes to such breathtaking sceneries, by all means do let me know!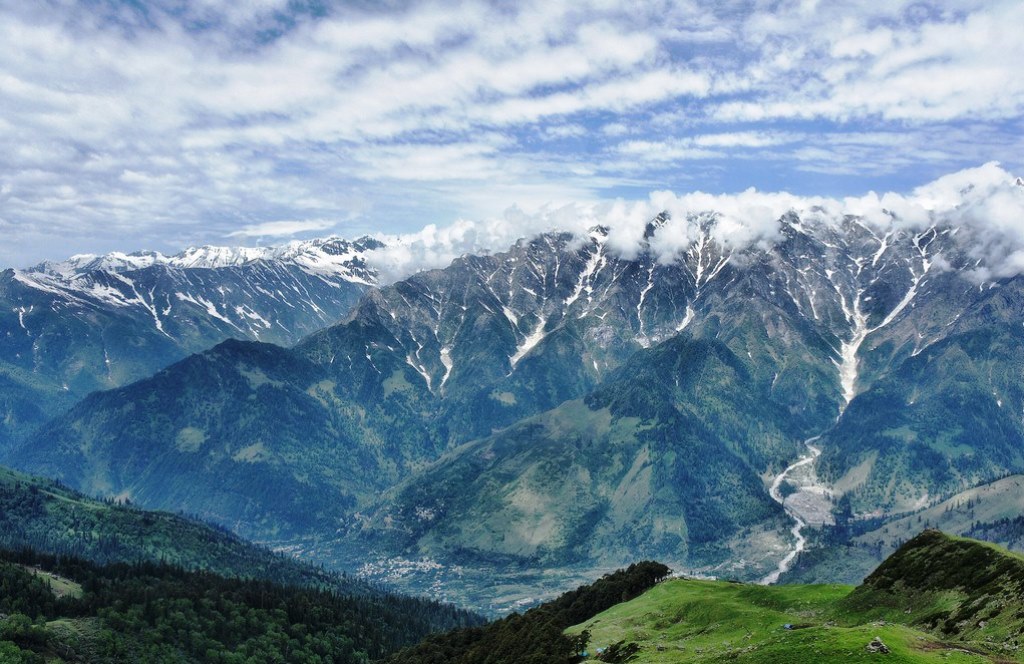 The Enchanting Trail
Steve Jobs, the late co-founder of Apple, believed that the journey is the reward and I couldn't agree more. The thought is rendered especially true when we are talking about the trek to Bhrigu Lake. You will get to encounter various hues of Himachali lifestyle and culture en route as the trail will take you through tranquil hamlets tucked away in the mountains. Dense greenery of magical forests, sweet fragrance of apple orchards and the cool mountain air will rejuvenate your senses even before you reach the idyllic lake. On the first day of trekking, a forest trail from Gulaba Village to Rola Kholi will lead you through some of the most engagingly beautiful sights a hilly region can offer, including green pastures and meandering rivulets. Along with these, the breathtaking views of the Kullu Valley are also guaranteed. The second day is when you will reach your destination from Rola Kholi. This journey will make you ecstatic if walking on snowy paths is something you have dreamed of, I know I have! After a tiring expedition, the suddenly appearing Bhrigu Lake might take you aback with its astounding beauty and dream-like setting.
Your Happy Wallet
Most of us need to take several looks at our bank account before we can plan a holiday. Splurging on a weekend trip is not exactly the most sensible thing to do when you are a student or have average-sized savings. Therefore, one of the most amazing things about Bhrigu Lake trek is that it won't burn a hole in your pocket. The town of Manali can be conveniently reached by a bus from Delhi. The area is a widely-popular tourist spot, therefore, accommodation and food options available here are also extremely pocket-friendly. A small break in the lap of Himalayas will cost you next to nothing while the memories you will make here will turn out to be priceless.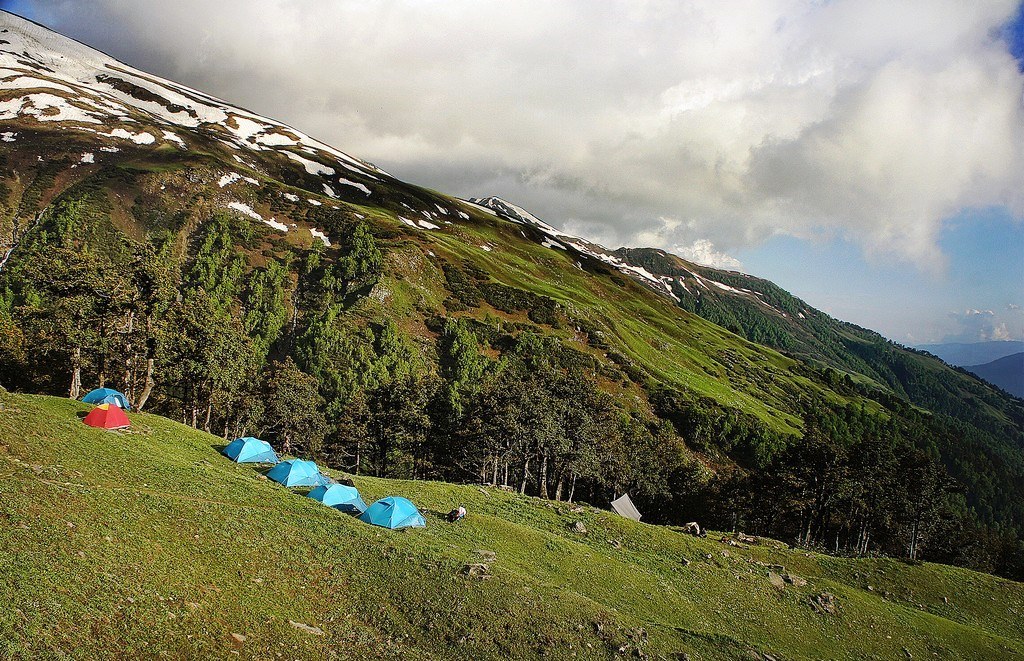 Easy on the Altitude
Before you plan a weekend getaway to the mountain, you should ensure that your daily routine after the break is not adversely affected in any way. If going back to work on the following Monday turns out to be physically difficult because of your weekend plans, then the break is basically pointless. One should be feeling completely refreshed after having indulged in such an experience and not unbearably tired. For this reason, the Bhrigu Lake trek is picked by many experienced travellers. This short and easy trek fills you with a reignited passion without exhausting you. The maximum altitude you will have to face on this trek is some 4200 m, which is pretty manageable for anyone with a decent fitness level.
Suitable for Families
If your weekend plans include your family, this trek is ideal in such a case. The well-explored trail and the friendly crowd of other trekkers together make this an experience, which can be enjoyed with family and friends. As mentioned above, the base of the trek is a favourite tourist destination in the state, thereby ensuring warm hospitality from the local businesses and tourism industry.
The Stunning View of Bhrigu Lake
Set amidst a velvety patch of grass in summers and frozen to become one with its snowy surroundings in winters, Bhrigu Lake is a sight to behold. The lake sits snugly between two mountain ridges and is associated with an ancient legend. It is believed that the lake used to be the site of meditation of Maharishi Bhrigu. The lake is around 25 km from the world-renowned Rohtang Pass. After trekking for more than a day, the view that finally unfolds in front of the traveller is simply astounding. You will feel the exertion of the trip melting away upon being fortunate enough to witness a sight as wondrous as this!
Trekking as an activity, in general, is very healthy and revitalising for both body and mind. It is one of those few fun things that are profound enough to become a soul-enriching experience. The best part about trekking if you ask me is that you can do it either with companions or absolutely solo. If you decide to bring your loved ones along, it makes for a memorable adventure filled with laughter and interesting conversations. In case you are in need of some alone time, exploring a scenic trail on your own will bring you closer to nature and yourself. Whatever may your preference be, one thing is confirmed that after a successful trekking expedition, you will come back a slightly changed person. The world will seem a bit more appealing and Mondays a little less dreary. Especially needful in these excruciating summer months, a getaway to the mountains and trekking to Bhrigu Lake are almost life saving!
All you need to experience a blissful weekend, away from the heat and noise of your city, is a small bag of essentials to hop on a bus going to Manali. Once there, Bhrigu Lake will seem to beckon you to its idyllic milieu and you just won't be able to resist.