Travelling Solo and Loving it – My Himalayan Love Story!

Tanya has been an adventure kid from her childhood days when she explored the deepest secrets of the seas of Tamil Nadu, Andaman and Goa and experienced swimming and scuba diving. She now calls herself a Himalayan Traveler. She claims her first love is the Himalayas, everything else comes after that. Solo traveling gives her a high like meditation and she loves to live outdoors where there is no box. Post backpacking for a few years she decided her calling was trekking and wishes to see the highest mountains of the world, but not climb them as a mark of respect. All the base camps are on her list. She is very inspired by the book "Wild" and wishes to hike the Pacific Crest Trail solo sometime. She loves to write about her travel experiences and connecting them to a way of living life as a person and believes that "Life is either a daring adventure or nothing at all".

Latest posts by Tanya Roy (see all)
"You are a curious and a restless soul, and that is the problem and the solution to everything!"
Growing up being a defense officer's daughter certainly has its takeaways. I was five when I sailed in a defense ship for the first time, eight when I learned how to swim and thirteen when I scuba dived for the first time in my life, this was in the Andaman. My father served in the Indian Coast Guard for 28 years and hence I spent the first 18 years of my life very close to the sea. Not to mention the need for adrenaline rush began at a nascent stage in my life. Before Goa became Goa, I spent 3 years of my final schooling in Vasco. I had seen so much of Goa in that time that going back there for another mundane vacation was not on my list. Clearly I had seen so much of sea that a beach vacation did not excite me anymore.
I began most of my travel sojourns only after I completed bachelors from Delhi University. I started a desk banking job, made new friends and luckily those that loved to travel, and there it was, the beginning. Lying to parents just to travel had begun! I started exploring the mountains, when I was 22, with the first trip to Dharamshala. I had been to the mountains as a kid, to Shimla and Manali, but with folks (does anyone count those trips?). I traveled nonstop for the next two years and every time to the mountains, the more I'd travel there, the more I'd want!
My first ever Enfield trip was in 2009 through the Grand Hindustan Tibet Road – Spiti Valley. Back then no one knew what or where this valley was. It was the most gruesome experience of my life until then; I was 22 and had no idea of what I was getting into. It was an adventure I took when I was nowhere close to ready and had several falls and injuries during the ride, but I survived and that was all that mattered. I realized that I was stronger than I thought, though I was still too young to understand what that meant.
I had tasted blood and so in 2010 I decided to take the Manali – Leh – Srinagar road trip with friends. This time I was better prepared. I consider myself lucky to have explored these places while they were still untouched. The beauty of the mountains started to infuse in my blood streams in a way that I never imagined it would. I didn't care anymore about the company I was in, I started falling in love with the mountains and that's all I could see and feel around me, the mighty Himalayas!
I moved to Switzerland for my post-graduation and by then the fear of solo travel had gone far away. Even though Switzerland is beautiful, nothing beats the beauty of the mighty Himalayas. I traveled to Netherlands, Belgium, Italy, France and Germany. It was an unforgettable experience no doubt. I started loving the feeling of being a lone gypsy, just heading out to a destination, staying in cheap accommodations and reading maps to find places. Being in Europe for two years I got the chance to fulfill some of my childhood dreams, one was going to Disneyland in Paris and the other was to visit Anne Frank's Memorial in Amsterdam. It was now that I, secretly in my mind, had started thinking of opening my own travel venture, and started building it up in my head. I was 23!
I returned to India and started working in the hospitality sector. If only I knew back then that one can travel, blog, make money and do it all over again! A mainstream job could never hold me and I was pretty much confused in my head as to what am I supposed to be doing with my life! I had quit banking, I wanted to be a chef, but that wasn't happening too. I found myself doing sales for some odd reason. It wasn't bad, but it wasn't great either. I started switching jobs one after another turning my resume into a shocking piece on how unsteady a person can be. I was 25 and still not old enough to know that there was nothing wrong in feeling that way; I was just trying to find my place and my true calling, which society never understood. Guess they never do! This further drew me in, and more solo travel to the Himalayas happened, as that's where I felt the most at peace!
From 2012 until today, while I was hopping jobs one after another, I made numerous trips to the mountains. Starting from spending time alone at the Norbulinka institute (Dharamshala), to living like a hippie in Kasol, to traveling to interiors of Lahaul, I experienced it all. The Buddhist Culture always had strange ways of drawing me towards itself. I was never a religious person (still am not), but I always found myself praying in a monastery, and I don't know why and how.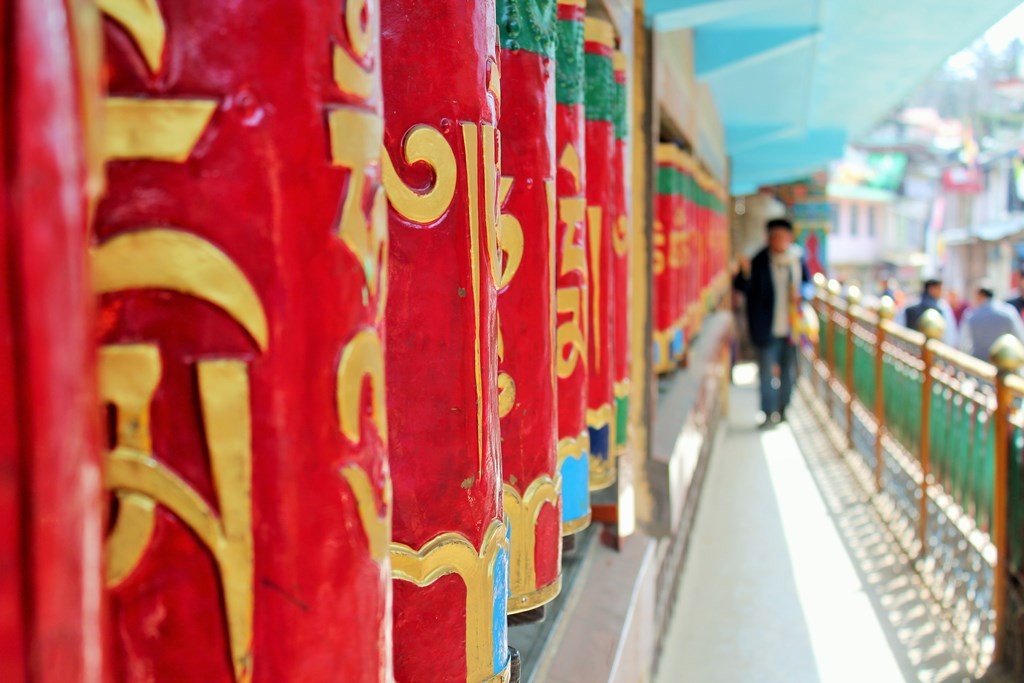 In the year 2012 came the grand turning point of my life with my first ever trek to Malana. I probably can never describe in words what that feeling was. I was at a point in my life where I was convinced that I was good for nothing and didn't deserve a thing. I was a very strong athlete and a swimmer as a kid, but soon I hit the teens and developed Bronchial Asthma which killed my stamina to an extent where I could not walk up the stairs without going breathless, let alone climbing mountains. I also came to know that I have a deformed backbone, which I didn't know until I turned 25. With all that playing at the back of my head I decided to climb up and I made it! Along with that I made another career switch, the telecom sector.
Whenever I traveled or wherever I traveled in all these years, one thing that truly disturbed me was the pollution – the way the places were being degraded by irresponsible tourist activity and lack of knowledge of the locals. I wanted to do something about it but wasn't sure of how and where to begin.
I had done enough backpacking and I wanted to see bigger and higher mountains, so there was just one solution to that problem – trekking. It was 2013 when I started trekking and in this span I did close to 10-12 Himalayan treks. Starting from the basic ones like the Kheerganga, Triund, Beas Kund and then the moderate ones like the Har ki Doon and Hampta Pass and a few more! When you climb; get tired; literally want to cry; get up when you cannot; keep walking; push yourself beyond your physical limits; push the mind; you don't just win beautiful sights but you overcome your demons too. A vacation for me meant trekking and I can literally keep trekking for the rest of my life.
It was climbing mountains that helped me find my true calling in life, which is to save the planet. Soon after telecom I moved to environment conservation. My true teacher was travel and there is no other better teacher than experience itself. That's when I decided what I wished to do with my life – help people travel responsibly, and in this process protect the planet and create harmony.
2016, being the year when I enter my 30s, I am flagging off my Ecotourism venture. I wish to share my experiences, not just in words, but through the experience of travel itself. The world is a beautiful place, and every soul and place has a story to share. I wish to create a world within this world where people are taught on how to respect the gift that we have, the Earth itself, and in this process find themselves, and that's how I shall continue to find myself. I also wish to inspire others to travel solo in the Himalayas.