Hampta Pass: Say Yes to Serene Beauty and Divine Pleasure!
Vanika Sumbly has graduated from Delhi University with a major in English Literature. She believes traveling is truly the best way of passively exploring oneself. And writing about it is active exploration.
Hampta is a dream come true for trekking enthusiasts who are constantly on the look out for an unforgettable experience in the scenic valleys of Kullu and Lahaul in Himachal Pradesh. Why, you ask? Hampta Pass Trek is literally a paradise filled with eye-catching views and ever modifying scenery that captivates travelers in a lasting trance. Every turn of the trail is an immensely rewarding experience as it reveals nature's hidden treasures. The rare sights of alpine forests, glaciers, and Himalayan flora and fauna make this expedition truly spellbinding.
Hampta Pass Trek – A Newbie's Pleasure 

It's a moderate trek that goes to magnificent foothills of the Pir Panjal Range and the great Himalayas. As you gain altitude, the trail offers different shades of nature, from green pine forests to the awe inspiring view of Indrasan and Deo Tibba mountains.
A Quick Overview of Elevation Points
The adventure began from Manali, situated at 2,050 meters. This is the point from where you will head towards Jobri by road, taking you to Chika at 3,100 meters. You will trek from here to your base camp – Balu Ka Ghera Hampta Pass at 3,600 meters. Also known as the 'Heaps of Sand', it is said that brown bears hibernate at Balu ka Ghera in the winters. The place offers the breath-taking sight of the magnificent Dauladhar Ranges.
Trekking will continue to an elevation of 4,000 metres at Shia Ghoru. The next stop will be Chatru and later you will arrive at the crystal clear Chandratal Lake at 4,270 metres. Moreover, steadily flowing streams, the long wavy bridges and a range of vibrant flowers offer great delight and peace.
Measuring the Trek
Region: Himachal
Duration: 6 Days
Grade: Easy to moderate
Max Altitude: 14,100 ft.
Trekking Distance: 26 Km
The Friendly Locals: Living in the beautiful Himalayan region of Himachal Pradesh, the locals are quite reserved about their traditions and living customs. The socio-cultural lifestyle of farmers and artisans is reflected in their conventional heritage. They are ardent lovers of nature and its creation. Uniquely designed handicrafts and paintings can be discovered in the markets. People share a great bond of togetherness and brotherhood. They will surely help you whenever you ask them about the route and even if you're lucky enough, some may offer you scrumptious traditional delicacies at a reasonable price or free of cost.
A Way to trek
Hampta Pass trek originates from the places like Manali, Naggar and Dharamshala. Manali is accessible by rail, road and air and well connected to cities like New Delhi and Chandigarh. The nearest airport is Bhuntar Airport, which is located 52 km from Manali.
Joginder Nagar Railway Station is situated at the distance of 166 km from Manali. Volvos and taxis are considered to be more convenient to reach the scenic destination.
An Amazing Experience of 14, 100 ft.
Actually, the story started on a boring Sunday when on the spur of the moment I decided to gift a solo trip to myself. While doing my research, I came to know about an exciting trek to Hampta Pass. I flew from Mumbai to Delhi and then boarded a Volvo AC bus to Manali. As it was going to be my first solo journey, I was very cynical about taking a long bus ride without any familiar faces. Surprisingly, the solo trip ended right in the bus, as a Korean woman sitting next to me was going for the Hampta Pass trek. This is the fun part of solo trips that you move all alone but come back home making several friends. While sharing some wonderful travel stories, Alena told me that it was the 4th time she had visited India.
After reaching Manali, we both rushed to Rambaug Circle on Manali Mall Road where we met our other group members and guide. We stayed at our booked hotel that day.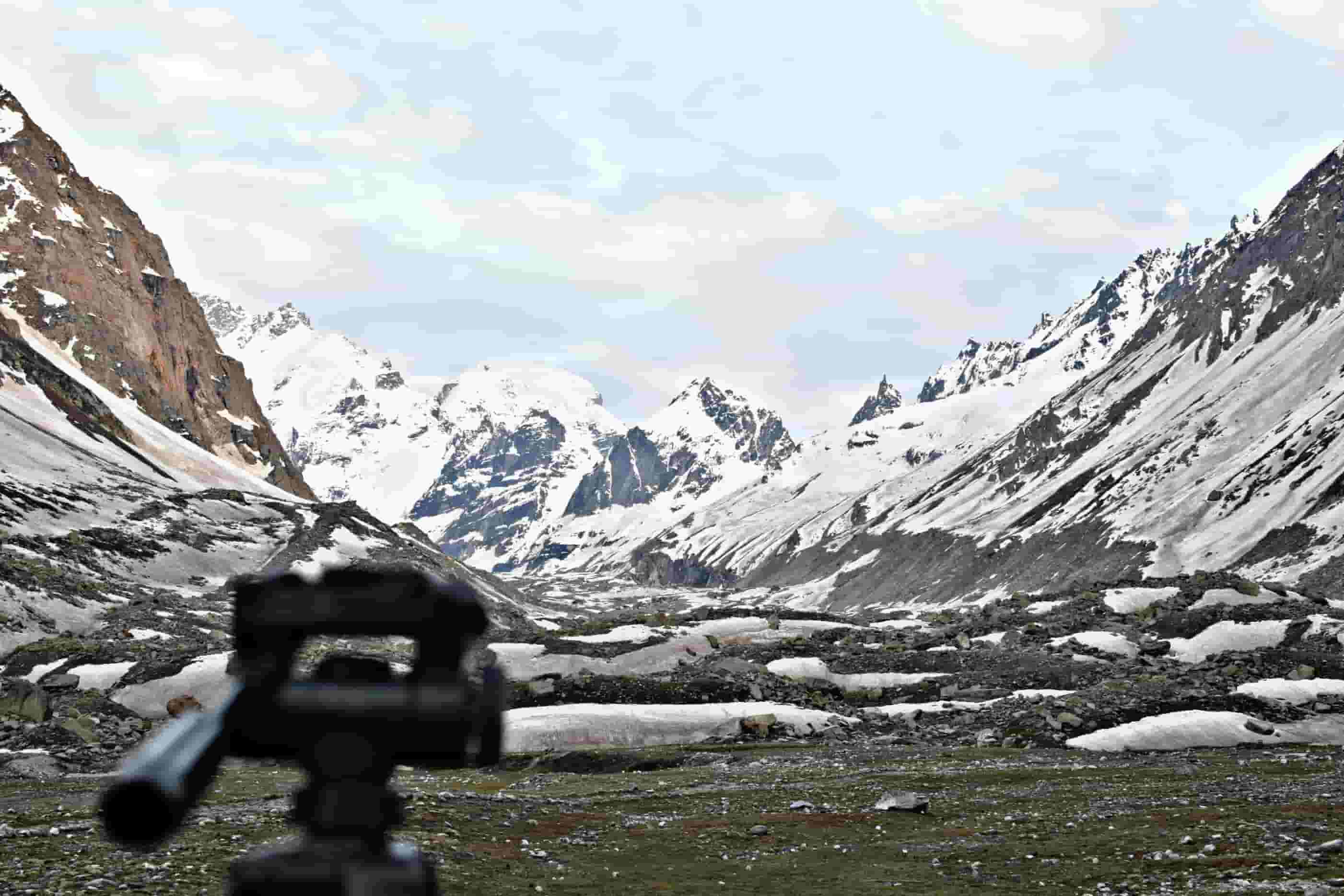 The next day we were headed towards the base camp – Manali to Chika via Jobra. We drove to a certain point and from there we started trekking. When we began, it started raining. Thankfully, we were carrying umbrellas. We climbed through the forest and lush green meadows. As it was just the first day of hiking, I was literally gasping for breath. At that point, I felt like I should have better trained myself for a month before saying yes to the adventure. However, the enchanting sight of a wide range of deodar and oak trees on the way can make you feel refreshed. The slope seemed to be very easy for my Korean friend who was constantly smiling as she was amazed to see such a pristine beauty of nature!
In the evening, our trek leader briefed us about the program and handed out a route map. In the evening, I captured some beautiful views in my DSLR camera which was recently gifted by my father. Later, we enjoyed dinner at the camp.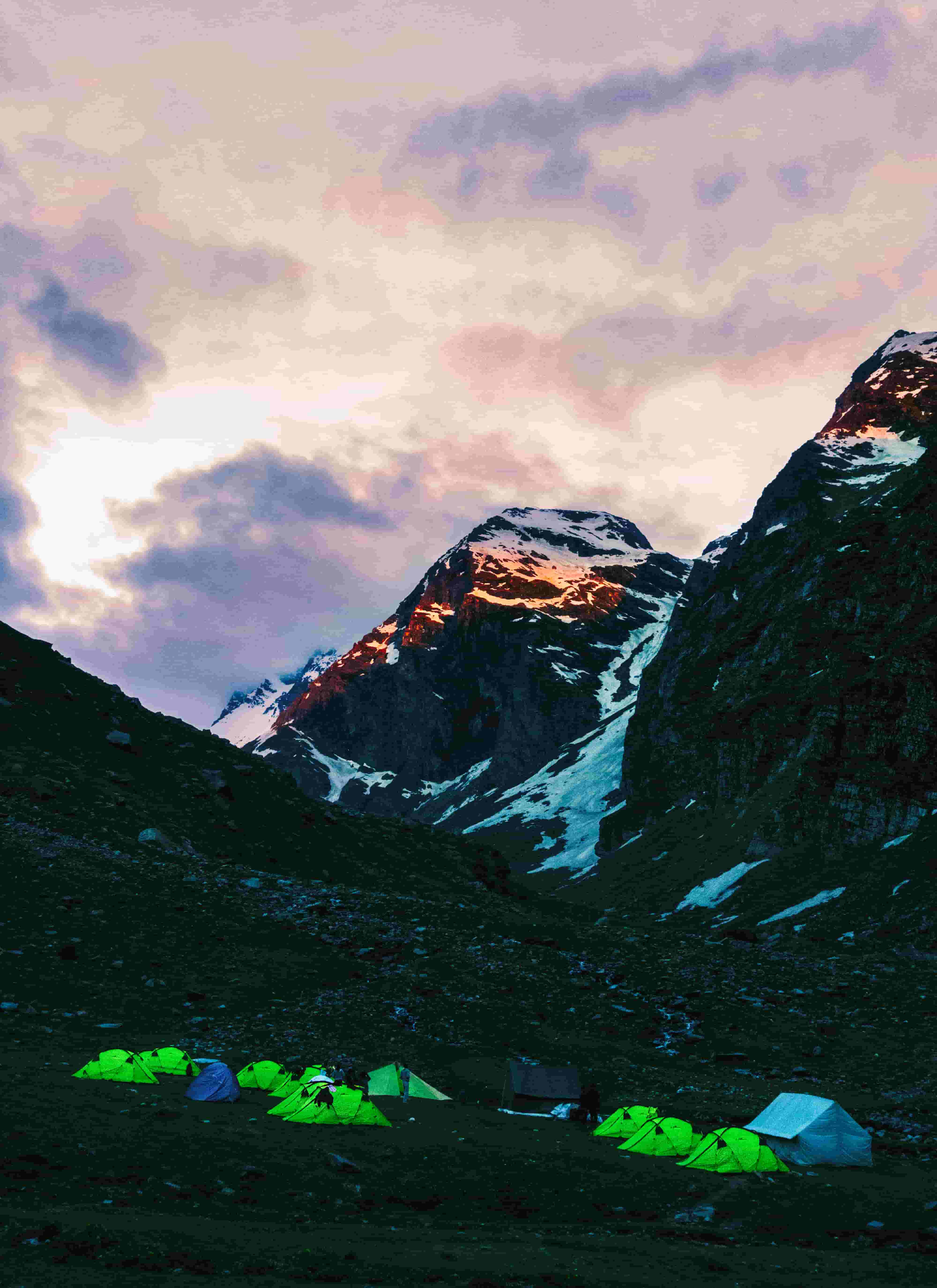 We woke to a stunning view of sunrise and after having Chai and Parathas, we were all set to go on a long trek. Though the trek was very challenging, the sights of the valley, rivers and meadows made it all easier. You know what? I did pretty well on the steep trail which was covered with snow. We reached Balu Ka Ghera. The camp was organised at an elevation of 11,900 ft with a stream on one side and river flowing on the other.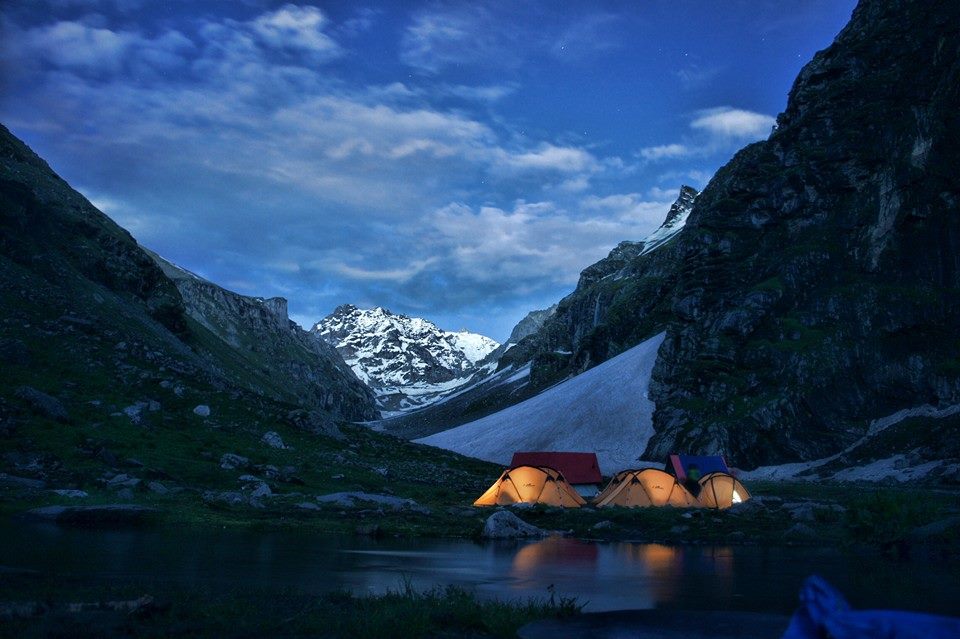 Day 3 was the final day! The most challenging yet the most exciting one, we were going to conquer Hampta today! Many of us were excited and nervous. We wore our snow spike shoes, took out our trekking pole and hiked towards the destined end. I was playing safe as I was mostly trekking in the middle troupe. The green valley made our way to the icy mountains and glaciers.
We finally reached Hampta. It was very foggy there so we were supposed to move forward as early as possible. We stayed there for 20 minutes and descended to Shea Goru. It was a slippery route and many group members rolled down when they fell on the ground. And then we couldn't control our laughter. We created a warm corner of memories by clicking a plethora of pictures that I couldn't even count. When we reached the spot, we saw that our guides had arranged a bonfire night at our camp. So, we sang and danced together that night!
On day 5, we moved towards Chatru and this was the place that gave us an opportunity to capture the most stunning views we only ever dreamt of. The valleys of Lahaul-Spiti and Pir Panjal Ranges added a charm to the beauty of the place. Notably, Chatru is the base point for three locations namely Spiti Valley, Hampta Pass and Rohtang Pass. We spent the night at Chatru.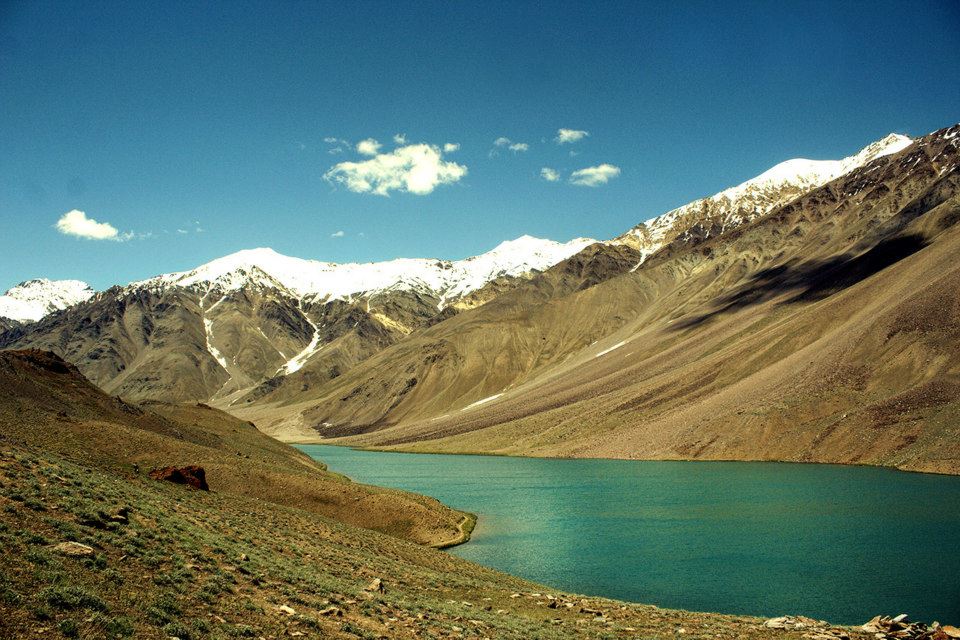 Next morning, we had to say goodbyes to some really nice people that we met on the trek. After taking selfies and exchanging some warm hugs, I boarded a cab that took me to magnificent Chandratal Lake, which is said to be a jewel of the mountains. It is believed that the lake was the home to one of Pandavas – Yudhisthira, the eldest son of Kunti. After witnessing the purest form of nature, I hit the road back to Manali.
Facts|Figures
Know About Mobile Connectivity and ATM Facility
You should withdraw money from ATM at Manali or Prini. No ATM service is available after Prini. So, if there are chances of falling short of money, it's better to take some from here.
Mobile connectivity is quite good till Prini but beyond that, you don't get such facility. You should make sure that all your important calls are made.
Take Note on Temperature and Trekking Time
The best time to go for Hampta Pass is from June to August and September to October. The harsh climatic conditions vary at high altitudes, thus, it is important to choose the right time to get acclimatized. There are chances that you witness heavy snowfall and rain during the monsoon season.
June to August: The temperature ranges from 20 °C to 15 °C during the day time and 7 °C to -2 °C at night.
September to October: The temperature ranges from 15 °C to 10 °C during the day time and 5 °C to -5 °C at night. During this period, trekkers can enjoy the clear views of snow-capped mountains.
Things to Carry
Sweaters, warm jackets, caps and gloves

Trekking shoes, 6-7 pair of socks

Trekking pole, power bank

Sunscreen lotion

Water bottles, backpack, energy bars and drinks

A pair of sunglasses, camera

Basic toiletries, bed sheets

Flash light (with spare batteries)

Insect repellent, emergency medical kit

First-aid kit, binoculars, sleeping bag
Got some time? Check out these nearby attractions!
Siyali Mahadev Temple

Gadhan Thekchhokling Gompa Monastery

Museum of Himachal Culture & Folk Art

Rahala Waterfall and Jogini waterfall

Beas Kund

Tripura Sundari Temple

Solang Valley

Rohtang Pass
Don't Forget to Carry Your Documents
You are required to carry your ID cards and photocopies of your driving license or voter ID or passport (along with visa for non-Indian travelers). Passport size photo is a must. When it comes to your fitness for the trek, you may need to show a medical certificate signed from your doctor.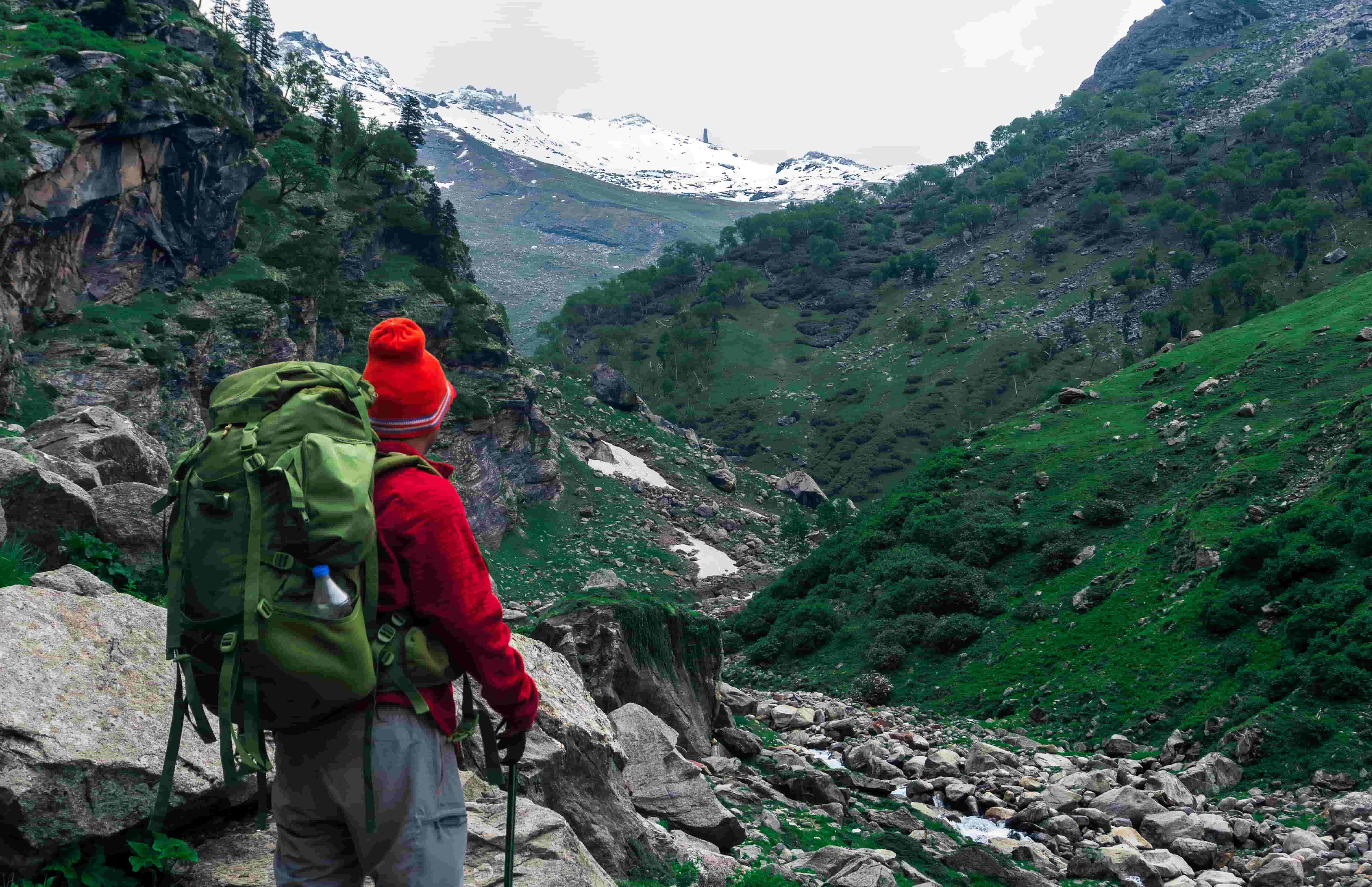 Hampta Pass has been the best experience of my life so far! It came as a confidence booster to me as it had cleared all my hesitation for a solo trip. The natural landscape, amazing trek group and friendly locals gave me a bundle of beautiful memories that will remain entrenched in my heart forever.
Interested in knowing more about trekking in Himachal Pradesh? Read some of our other blogs!
Triund Trek : http://www.adventurenation.com/blog/triund-trek-unraveling-himachal-pradeshs-treasure-trove/
Kasol-Kheerganga Trek : http://www.adventurenation.com/blog/kheerganga-where-the-mountains-meet-the-moon-kasol-to-kheerganga-trek/
Sar Pass Trek : http://www.adventurenation.com/blog/sar-pass-trek-a-little-heaven-in-parvati-valley/