Winter Trek: How to prepare yourself for the icy walk?
In the northern region of India, this year the winters have gone wild. Be it Delhi-NCR or the mountain settlements, the lord of winter is showering cold waves in full-throttle. But does it stop us from exploring the winter treks in India? No, with proper planning, and just the right clothes, we are going to make your winter trek, a fabulous one.
As said by Aristotle "To appreciate the beauty of a snowflake, it is necessary to stand out in the cold." True! But first, you need to stop thinking that it is so cold, and I can't go out of the goddamn blanket. Even a harsh winter is bearable with proper warm attire, and if you are planning to do a snow trek, it is a must. On a snow trek, it is necessary to always follow an onion layering clothing, wear comfortable hiking boots, and carry a lightweight backpack.
Most of the winter treks in India happen during January and February in either Himachal Pradesh or Uttarakhand. Both of these states are chock-full of places to explore and experience winter in its best form. These two states also go through minimum temperatures that can be as low as -1 to -5 degree Celsius, hence it is important for anyone to prepare themselves before heading out for the amazing yet daunting snow trek.
Prepare Beforehand
Preparation is the ultimate way to get ready for a trek, especially a winter one. This season gloats of myriad challenges such as cold weather and short daylight hours, which is not faced during the summer months. So it's important to plan ahead of time, to be able to face any circumstances.
Do thorough research of the treks. Choose a trek that can match up to your fitness level. If not, plan 2-3 months before so that you have time to prepare your body fitness for the ultimate adventure. Either work out in a gym or do 30-60 mins work-out sessions each day till your departure date. Trekking during winter months is far tougher than in summer, as the body has to endure winter winds, miles of walking, slippery paths, and a heavier bag that aids 2 x loss of energy (which is bad). Work hard! Play hard!
Know your trip plan well in advance. Ask your trip operator to provide you with a detailed itinerary, trek essentials, and other information such as where you'll be, how long you'll be, when will you return, where to reach and more. You need to be in the loop of every information needed for the journey.
Novice trekkers, please do not try winter trekking alone. There's a lot of technicalities that one needs to adhere to. Always experience these kinds of treks with a legitimate guide or with a high-altitude experienced trekker. If you go alone, any casualty can occur. You might slip from a boulder, AMS can hit you, or you might simply get an injury. Having said that, the knowledge of a guide will give you peace of mind while trekking.
Prepare yourself for the unexpected. It's always a good idea to have an emergency fund like extra cash, first-aid kit, extra food, and extra clothes. We are not recommending to pile up your bag and make it heavy. All we want to convey is if you are carrying one pair of anything make that two. What if you lose your socks, or your jacket gets wet. Extras are awesome!
Dehydration is common on a winter trek. And if you're someone who drinks less water, you can be a victim of dehydration on the trek. So before dehydration becomes a possibility, make sure you drink sip-sip water in 15-20 mins while trekking. The early symptoms such as sweating are hard to recognize at first due to cold weather and layered clothing. So follow the sip-sip mantra!
Lastly but not least! Food is the major source of energy on the winter treks. Do not shy away, eat adequate food amount because one loses a lot of energy and calories while traversing the mountains on the jagged and rugged paths. You can carry protein bars, dry fruits, instant hot water meals, and snacks that will provide you with instant energy to keep you moving.
Winter clothes Layering Techniques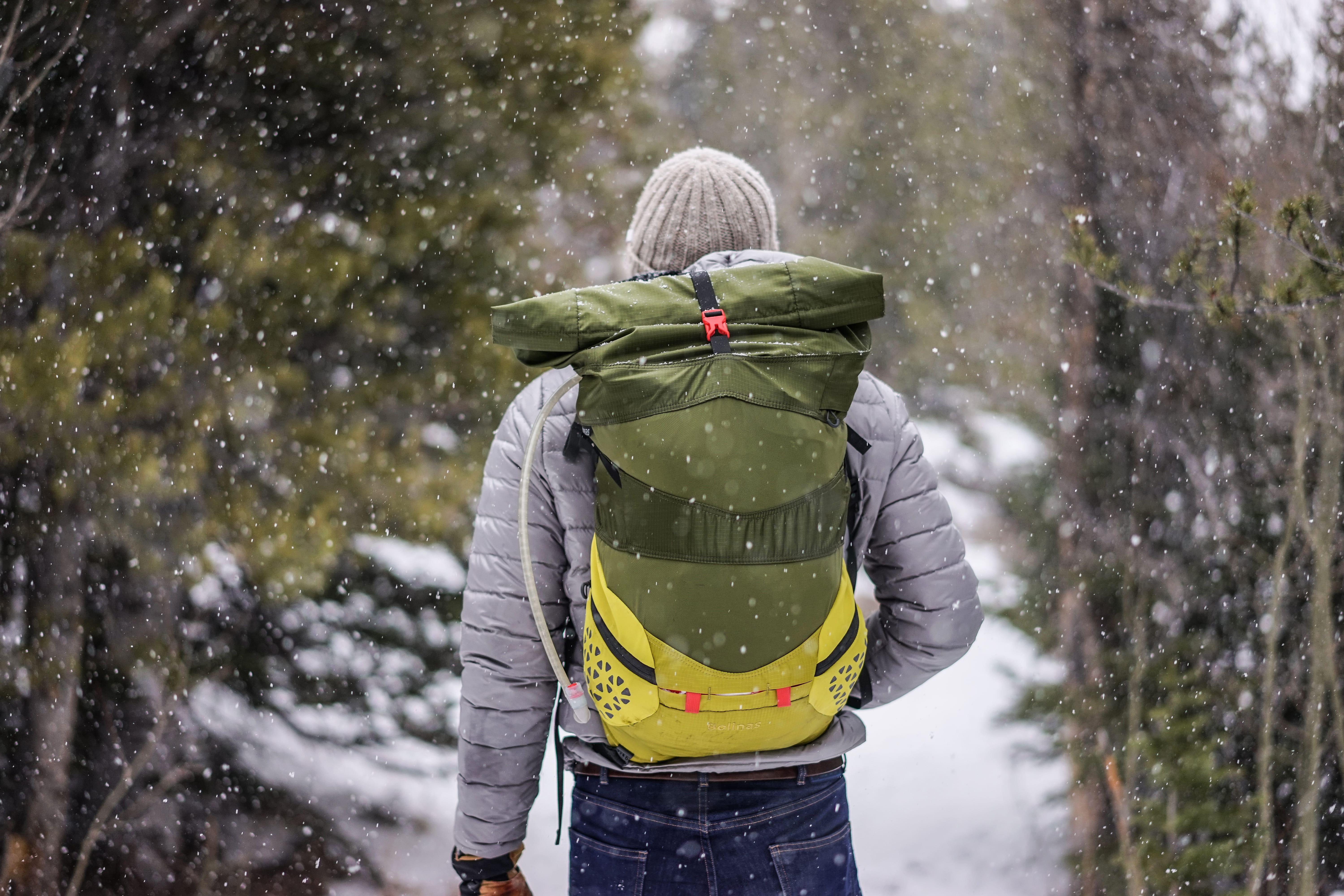 Layers! Layers! Layers! When it comes to preparation on what to wear and pack for a winter trek, it's important to note, layering is the basic funda to select clothes for the base, middle and outer layer. Hence, taking the time to research will benefit you in the long run. With just the right clothes your body will thank you for keeping it warm and not freezing.
Start with your base layer. This one sits against your skin. The best material that works great as the base layer is synthetic or merino wool. It will keep your body dry from all the sweat as it wicks away perspiration from your skin. If you're trekking in winter, wear two base layers for warmness. Stay away from cotton, it retains moisture and takes longer to dry.
For your middle layer, it's time to add an insulated material. This layer is meant to protect you from cold. You can research well on this. However, we recommend a fleece jacket or goose down jacket works best for middle layer as it is warm and retains heat.
For your outer layer, make sure you have something breathable, windproof, waterproof. You will keep adjusting and shredding this layer as you walk from different terrains and climatic zones. The temperature fluctuates a lot during the winters. Make sure you are loaded with all the needed layers.
Socks are another important piece of cloth you must-have for winter trekking. It's best to wear a thin pair of socks under a bulky pair of merino wool or synthetic socks. It will keep your feet dry and warm. Don't forget to carry an extra pair of socks in case one gets wet. Strictly no cotton!
Hiking BOOTS is EXTREMELY important while on a trek. Buy winter hiking or mountaineering boots. They are better than average hiking boots for their insulation and waterproof quality. You can even buy gaiters and crampons if you want.
Apart from all this, you must carry gloves, sunscreen, lip balm, hats, sunglasses and more. Find detailed clothes guide here.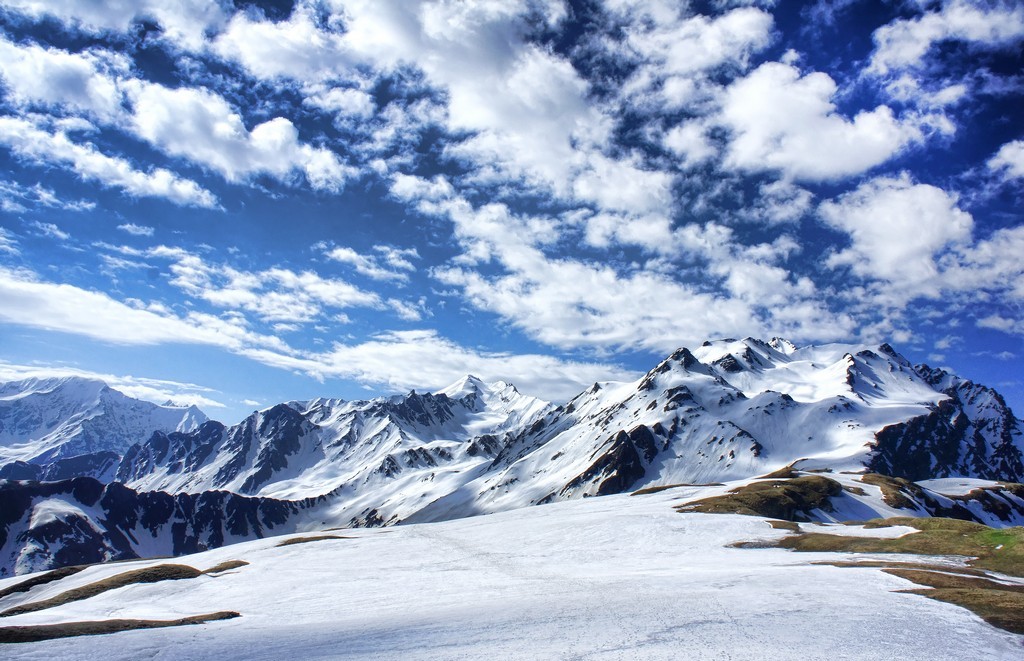 Insights on Hypothermia
Since we are talking about winter planning, one should have knowledge about Hypothermia as well. Opposite of heatstroke, when hypothermia occurs it does not allow your body to produce adequate heat in order to keep the body core at a safe temperature. A life-threatening condition that requires an immediate response. It can happen in a high-altitude region like mountain hiking or in freezing cold water (underwater). If you are not wearing proper attire to keep your body warm, hypothermia can become a threat to your life.
Symptoms
Keep your eye on some symptoms like shivering, apathy, cold-pale skin, poor judgment, unsteadiness, slurred speech, numb hands or feet. Advanced symptoms include stiffness, slow pulse, shallow breathing, sleepiness, weakness, unconsciousness.
Hypothermia Treatment 
The first aid is to restore core body temperature. Immediately warm the victim body core in a dry place, preferably indoors. Use warm blankets, hot water bottles, body warmth to warm them up. Don't stay outdoors, go into a tent or building.
Preparation for a winter trek is quite easier than you might think. If you're organized and follow these basic tips, we promise you will be insulated and also enjoy winters like never before.