10 Most Exciting Destinations in the Himalayas
I am a happy-go-lucky person, who loves reading, writing and travelling. Gardening and good food are the other things that I am passionate about. My motto in life is simple, "Love what you Do and Do what you Love".
Latest posts by Meenakshi (see all)
Sometimes, I wonder how it would feel like to reach the top of the highest peak in the world – Mount Everest. I know it would be gruelling, challenging and painstaking to achieve this feat, but somewhere in my heart, I have promised myself to give it a try once in my life. Ever since I saw a picture of the mighty Himalayas in a school magazine, I have aspired to explore this majestic mountain range.
Like any other kid, holidays meant a lot to me, especially when my family planned vacations to the hill stations nestled in the lap of the Himalayas. The snow-clad peaks, the rocky terrain and gushing rivers of this mountain range always enchanted me and kept me asking for more.
Over the years, I have been lucky enough to explore many Himalayan destinations in India. My favourites have always been Auli, Manali, Shimla and Gulmarg, but I can assure you that the rest are as brilliant as these. I have plans to make a trip to Bhutan and Nepal in the future to explore more of this natural wonder called the Himalayas. Besides enjoying the vistas of these mountains, another thing that compels me to go to this part of the world are the several adventure sports one can indulge in. Trekking, rock climbing, mountaineering and rafting are some activities that I love to take part in, in these mountains.
Even though it is hard to choose among the best, but as per my experience and future aspirations, here is a list of the 10 most exciting destinations in the Himalayas.
Manali
A paradise for backpackers, adventure seekers and honeymooners, this quaint hill station lies in the lap of the lower Himalayas, at an elevation of approximately 6000 feet above sea level. Boasting the serenity of the Beas River Valley, this town is one of the most toured hilly destinations in the country. It is believed that the name Manali came from two words: Manu and Alaya, meaning the abode of Lord Manu – the progenitor of humanity, as per Hindu mythology. Besides sightseeing, this place offers opportunities to partake in adventure sports like paragliding, skiing, climbing, trekking, rafting and mountain biking.

Leh
Leh, positioned in the Ladakh region, is a city in the Himalayas. In the past, it served as an important stopover on trade routes along the Indus Valley. Situated at an altitude of around 11000 feet above sea level, this city is home to many prominent attractions, including Leh Palace, Shanti Stupa, Stok Palace, Jama Masjid, Hemis Monastery, Leh Palace and Chamba Temple. The challenging peaks and rugged terrain of Leh attract many trekkers and mountaineers, every year. Besides these two sports, white water rafting, camel riding, archery and polo can be enjoyed here. In recent times, bike tours to Leh and Ladakh from destinations like Manali via the scenic Rohtang Pass have become quite popular among adventure enthusiasts.

Spiti
A desert mountain valley, Spiti lies in the higher ranges of the Himalayas, in the state of Himachal Pradesh. It serves as a gateway to the northernmost reaches of the country. The majestic Kunzum La separates Spiti from the scenic valley of Lahaul. Home to sacred Tabo and Ki monasteries, this valley serves as a cultural and research centre for Buddhists. It can be accessed from Shimla via Kinnaur on a challenging road, which is around 412 km long. One of the major attractions in this valley is its namesake river. Over the years, trekking in the undulating terrain of this valley has become a favourite adventure for both professional and amateur trekkers.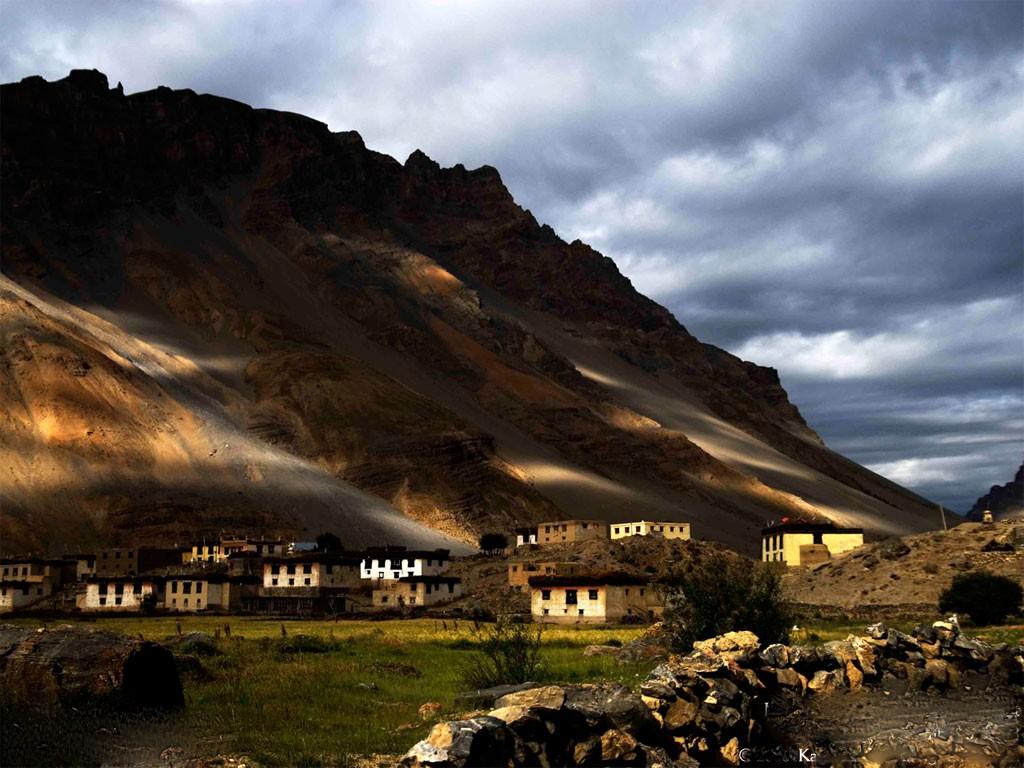 McLeodGanj
This place is located at an altitude of more than 6800 feet in the Dhauladhar Range, which is one of the Outer Himalayan sub-ranges. Home to a large population of exiled Tibetans, McLeodGanj is one of the most sacred sites for Tibetan Buddhism. The most important attraction in this small town is the Tsuglagkhang, which is the abode of Dalai Lama. Other notable attractions here are the Tibetan Institute of Performing Arts, Namgyal Monastery, Mani Lhakhang Stupa and Nechung Monastery. Hiking and trekking are two adventure activities that can be undertaken here.

Sikkim
This landlocked state of India nestles in the Himalayan Range, featuring a mountainous terrain. The highlight of this mesmeric place is that it is home to the third highest peak in the world – Kanchenjunga – situated on its border with Nepal. About 25 per cent of Sikkim is covered by the famous Khangchendzonga National Park. The state is also known for its Buddhist monasteries, such as Phodong, Rumtek and Pemayangtse, along with natural wonders like Nathu La, Zemu Glacier and Gurudongmar Lake. Mountaineering, kayaking, hang gliding, mountain biking, trekking and river rafting are some of the popular adventures that this state offers.

Auli
This Himalayan destination lies in Uttarakhand and is one of the top skiing destinations in the country. Located at an approximate elevation of 3049 m above sea level, this small town offers unparalleled scenic vistas of the Himalayas. This hill station has the longest cable car in Asia, with its length being 4 km. Some of the top attractions of this place are Joshimath, Gurso Bugyal, Chenab Lake and the artificial Auli Lake. Besides skiing and trekking, cable car rides are an ultimate way to behold the beauty of this place.

Shimla
The capital of Himachal Pradesh, Shimla is another picturesque Himalayan destination. At an average elevation of 10000 feet above sea level, the railway line from Shimla to Kalka has been added to the list of UNESCO World Heritage sites. In addition to this, there are some other notable places of interest in this city, including Jakhoo Temple, The Ridge, Mall Road, Baijnath Temple, Summer Hill and Christ Church. Ice Skating, rafting and trekking are among the top adventures that this place is known for.

Gulmarg
This hill station, located in the Pir Panjal Range of the Western Himalayas, at an elevation of 8600 feet above sea level, is among the most famous skiing destinations in the country. It lies within a short distance from the Line of Control (LOC) between Pakistan and India. Considered as the winter sports destination of India, it is home to one of the highest gondolas in the world, which reaches a height of 3979 m. Strawberry Valley, Seven Springs, St Mary's Church and Gulmarg Biosphere Reserve are among the prominent attractions of the town. Besides a cable car ride, trekking, skiing and fishing are the other activities that can be enjoyed here.
Nepal
The neighbouring landlocked nation of Nepal, lying in the Himalayan Mountain Range, is home to some of the highest peaks in the world, including the highest, Mount Everest. As per estimates, there are over 50 peaks above 16000 feet altitude in this country; thus, it is among the top destinations in the world for mountaineering and ice climbing, besides canyoning, bungee jumping, trekking and biking. Nepal is also home to some sacred sites like Pashupatinath Temple, Swayambunath and Muktinath.
Bhutan
This South Asian nation, bordered by India and China, lies towards the eastern end of the Himalayan Mountain Range. Its landscape consists of high and steep mountains drained by swift rivers that form deep valleys. Some of the peaks towards its northern side are located more than 26000 feetabove sea level, with the highest point being Gangkhar Puensum. This landlocked nation is home to sacred sites, including Kichu Lhakang, Rinpung Dzong, Paro Taktsang and Drukgyal Dzong. Similar to other Himalayan destinations, trekking, rafting, canyoning, kayaking and rock climbing are among the top adventure sports that this place is popular for.