Dayara Bugyal Trek – The Green Queen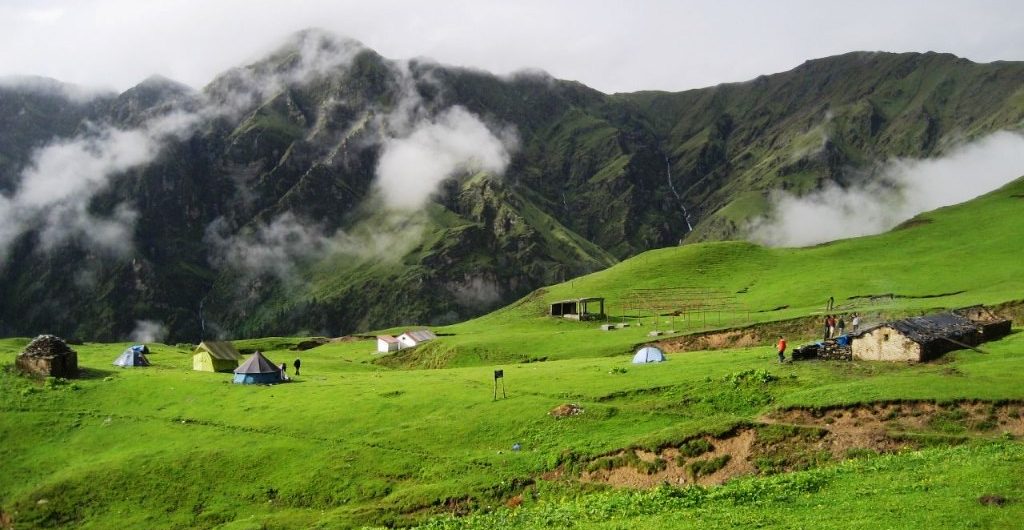 I am an ardent foody, who likes travelling. In my free time, I blast my ears with good-quality Heavy Metal. Watching culinary shows, writing songs, playing drums, guitar and keyboards, playing cricket and singing consume much of my leisure time.
It is highly unlikely that you don't like Hindi movies. And if you have seen those typical love stories of the 90s, wherein Switzerland was a rage as an outdoor location, you must have also seen lush pastures, with the backdrop of mountains. The blog has nothing to do with Switzerland. I'm just giving you a premise to what I am about to tell you ahead. Back to the blog,there may have been times that the Swiss countryside shown on TV seemed so pretty that it made you want to go there. If you ask me, it doesn't make sense to take an international trip just to see an alpine countryside, but if you really want to see such places, there are ways.
In our very own India, there are numerous such hilly meadows you can visit. And believe me when I say that they are more beautiful than any you would have seen in the movies. All through the mountainous areas of Jammu and Kashmir, Uttarakhand, Himachal Pradesh, Sikkim and Arunachal Pradesh, you would see such sites. The reason that these are not picturised is that they are mostly reachable only on foot, which makes transporting the super-heavy filming equipment difficult. Hence, they remain untouched by the modern world, and the traditional way of life still goes on here. Talking about beauty, I think no meadow could ever beat Dayara Bugyal. 
The Physical Embodiment of Divinity
Okay, first of all, let me tell you what a 'bugyal' is exactly. It is an alpine meadow alright, but not just any meadow…a meadow specifically in the state of Uttarakhand. The word, 'bugyal' comes from a local language, some say it means, high-altitude meadow and others, nature's own garden. The reason being they are covered with bright green grass all through summers. Speaking about their geographical setting, bugyals or alpine meadows or alpine grasslands are situated between 10000 feet and 13000 feet above sea level.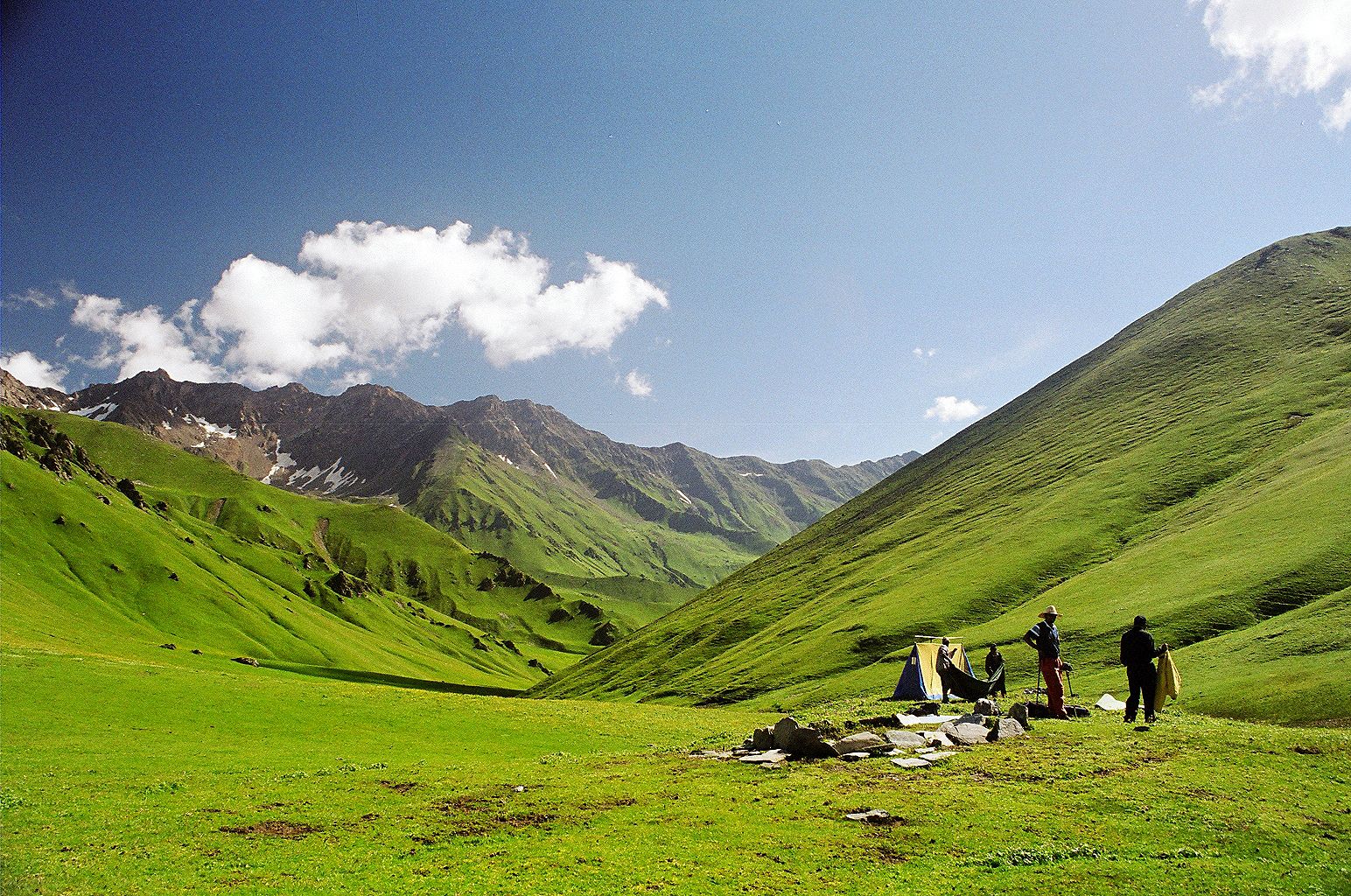 Dayara Bugyal itself has an altitude of around 10000 feet, so it is neither too low nor too high. It is a vast stretch of almost flat land, about 28 sq km in area, with only gentle slopes, covered with, you guessed it, grass. This is the place on the hike for you to run around without the risk of getting hurt. You will probably not feel tired even after exerting as the clean, unpolluted air will stoke up your lungs like dry coal does to a steam locomotive.
I would personally gather a bunch of friends, come up here and start playing cricket! Even grounds like those in Dharamsala, Christchurch or Cape Town would not match up to Dayara Bugyal, even though it is not a ground, but in terms of the experience of playing the game in surreal surroundings. If you are more of a yoga person, then you should definitely wake up early, sit on the grass and start with your meditation and asanas right here.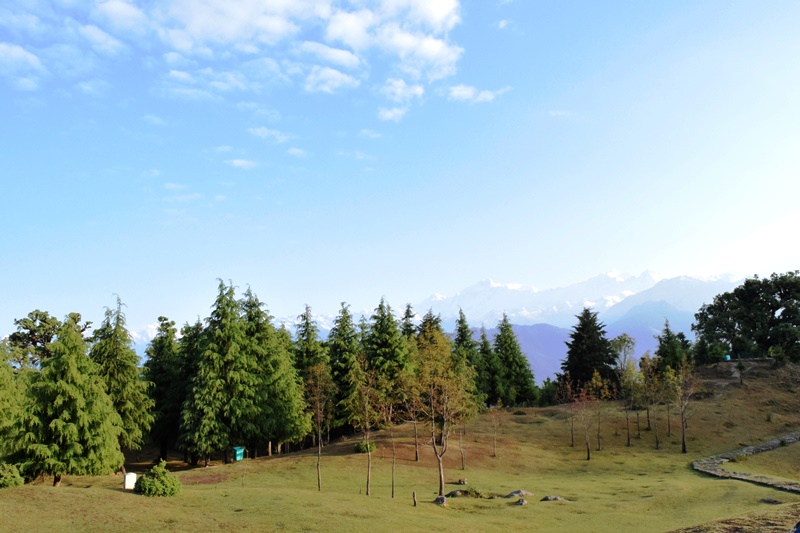 The reason you won't see any trees here or very few trees here is that the meadow is situated above the tree line, which ends at around 10000 feet above sea level. The thin soil layer and high gradient of slopes don't allow trees to grow. From the grassland, an almost 270-degree view of snow-covered mountains is visible in any season. You can see Bhagirathi, Kalanag and Bandarpunch peaks from the grassland.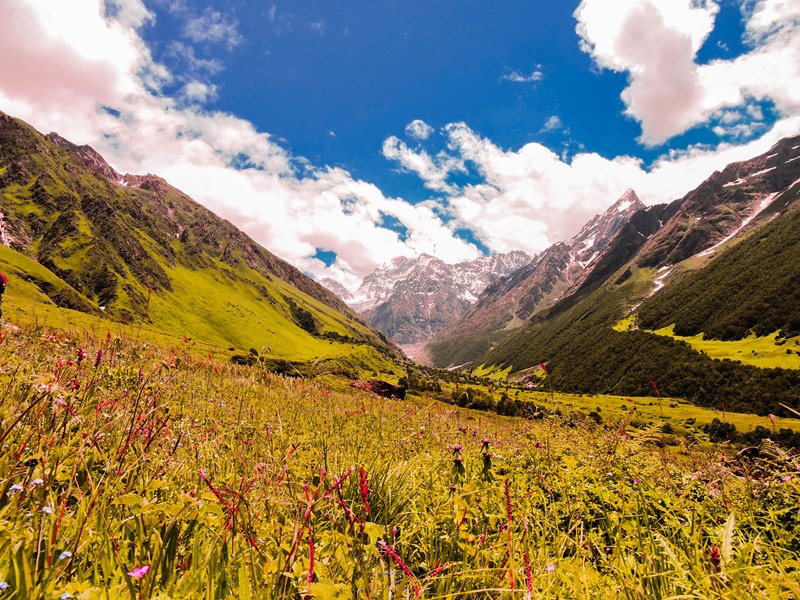 During your Dayara Bugyal trek, you will see loads of red or pink-coloured rhododendrons. If you feel tired, just pluck a bunch of them, wash them with water and eat them up. Yes, you can eat the flowers just like that. Their sweet juice will recharge you instantly. Did you know that rhododendron juice purifies your blood? I love it so much that I had someone specially bring me a bottle of rhododendron or buransh sherbet from Almora. Small shrubs, laden with berries, are another characteristic feature of the area. Ask your trekking guide (if he/she is knowledgeable) about which ones you can eat and which ones could poison you. Another great thing about the trek and region is the abundance of streams and ponds. These are great to fill up your bottles (ask your guide if the water is clean, before filling).
Considering all this, it might not be wrong to say that Dayara Bugyal is the physical embodiment of divinity.
A Place, Animals Call Home
On the trek and at the meadow, you may be able to see dogs, basking in the sun; cattle, grazing happily; langurs, hopping and jumping all around; and crows, flapping their wings. If you are really really lucky and
here in the winters, you may even get to see Himalayan brown bears, hibernating through the season. Apart from bears, you may also get a sight of Tibetan and Himalayan wolves on the meadows. Always, always have your cameras in your hand because you will have to take photos of wild animals, being wild.
The meadow is as much a playground for mammals as for large predatory birds. One of the largest eagle subspecies, the golden eagle, circles the grasslands and preys on small to medium-sized animals. If you see a dead animal on your Dayara Bugyal trekking trip, stay right there and back off a little. The rotting carrion is bound to attract birds of prey or scavengers like cinereous and Himalayan vultures that are huge. Cinereous vultures are black while Himalayan vultures are brown. Should a bone drop from the sky, don't be alarmed. It is not the work of the demons that roam above, but of a lammergeier or bearded vulture, which does it to break the bone into pieces so it can suck the nutritious, and by the way delicious, marrow out of it. Step out of your camp at night, and you may be able to hear the typical sound of owls; the Indian eagle owl and Himalayan eagle owl live in the region.
Not just wild animals, but you may also see domesticated ones like sheep, nibbling at the lush grass here.
Dayara Bugyal Trek – The Heavenly Path
Thinking of going trekking in Uttarakhand? Then, plan one to Dayara Bugyal. The hike is a great way to blow off some steam, do something memorable and see some of the best natural sights in the world. Take out a week for this hike, which is about 28 km long, and reach the village of Barsu via Haridwar. At first, you walk through forests of oak and then enter a dense growth of deodars and rhododendrons. About 20 minutes after crossing a government herbal garden, you reach a clearing, and beyond this the forest becomes even denser. The trail through the jungle will be steep as it goes to the top of a ridge, where the terrain becomes gentle.
After a while, you will reach Barnala, a pretty meadow, which acts like a movie trailer for Dayara Bugyal. There is even a freshwater lake in Barnala, surrounded by towering oak trees. Fill up here if you need to, and take a break; this would be an excellent spot to have lunch. Further from here, the forests begin again and stay will you till you cross the tree line, the point where the bugyal starts. As you walk on the grassland, you will see oak and fir trees on its fringes. You can elongate your trip by hiking to Bakaria Top, a peak at about 12500 feet altitude, for even better views of snow-bound mountains.
One Site, Many Charms
Though Dayara Bugyal is just one site, it has many charms. These are the result of different seasons, each of which bestows it with a different scene. In the spring season (March-April), the grasslands start becoming colourful as numerous wildflowers bloom. As May approaches, the colours are deepened and become even brighter, and this continues through the month of June. Come monsoons in the months of July, August and September, and the heavy rains cast their spell on the grassland. During this time, the grass is at its lushest and greenest. As autumn approaches, the lushness starts to fade and the grass begins to fall or is almost eaten up entirely by herbivores by now. This loss is compensated by the drying up of oak leaves, painting the entire region in a sharp orange hue. The last of the wildflowers, patches of green grass here and there, and the yellowing leaves during October and November make a scene worth capturing in photos.
December, January and February are characterised here by moderate to heavy snowfall, which turns the greenery to whiteness. During this time, the bugyal transforms from a trekker and nature lover's paradise to a buzzing ski resort. With no trees to obstruct you as you come down the slopes, you can let your inner daredevil run wild and speed ahead.
So, no matter which season it is, trekking in Garhwal Himalayas to reach Dayara Bugyal is always an option.
After reading through the blog, I am sure you will have little doubts about the fact that Dayara is one of the most beautiful meadows on earth. With the kind of grass cover it has in summers, it can definitely be called "The Green Queen".