Ladakh – The Land of High Passes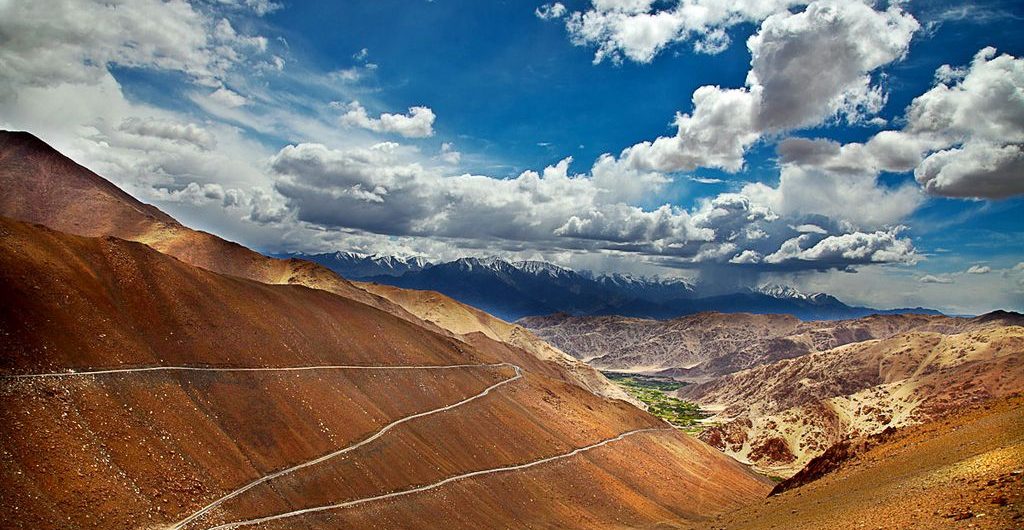 I am an ardent foody, who likes travelling. In my free time, I blast my ears with good-quality Heavy Metal. Watching culinary shows, writing songs, playing drums, guitar and keyboards, playing cricket and singing consume much of my leisure time.
If you know a bit of history, then you would be aware of the fact that India has been ruled by numerous dynasties. Many of these were not from the subcontinent, but from Central or West Asia. And back then, there were no proper roads, cars, aircraft or any other contemporary means to travel. Now, look at the geographical map of India for a while. You will realise that all those, coming from the north or northwest of the Indian subcontinent, had a natural barricade in their way in the form of the mountain system of the Himalayas, Karakoram and Hindu Kush. In the absence of modern transportation means, the question arises, how did they cross the mountains?
Well, obviously they couldn't have all scaled the over 20000-feet high peaks. They made use of mountain passes to cross over to India. Mountain passes are natural pathways between mountain ranges. It was through these paths that the historic silk route went and Indo-European trade flourished. Though not used by traders and conquerors anymore, mountain passes still see a significant footfall, mostly in the form of tourists and geographers.
The entire Greater Himalayan region is dotted with such natural crossings, and you could pick any of them for a visit. However, if you really want to feel like you have achieved something, then no place in the world is better for exploring mountain passes than Ladakh. Just its nickname, "The Land of High Passes" is enough for a traveller to know what awaits him/her there. This northernmost region of the country is arguably home to some of the highest mountain passes in the world. Now, you must have heard about Jeep or motorbike road trips to Ladakh. Why do you think these are so popular and why people opt for them, when they can easily take a flight to Leh? It is because of mountain passes and the thrill they give to riders.
The road to Ladakh, be it via Srinagar or Manali, goes through numerous passes. You will see the suffix, 'La' attached to their name. La means pass in the Tibetan language, which is spoken by almost all native Ladakhis. Go through the following sections to know what all mountain passes are in Ladakh, waiting for you.
Zoji La – Dare to Drive
About 11757 feet above sea level, Zoji La lies around 24 km from Sonamarg. Apart from tourist interest, the road over Zoji La also holds an extremely high strategic importance as it lies on National Highway 1D, otherwise known as the Srinagar-Leh Highway that links Ladakh with the rest of India. While travelling on it, you will definitely see army trucks in a straight line, ferrying troops or supplies for the soldiers already up there. At certain instances, the road is only one-lane wide, with a cliff hanging over your head and a steep drop lining it. This attracts loads of adventure enthusiasts, whereas the scenery, which turns from lush forests before the pass to almost-barren cliffs after it, draws nature lovers.
Khardung La – The Rolls Royce of Mountain Passes
Khardung La is one mountain pass, which needs no introduction. And, why should it? After all, at a supposed altitude of 18379 feet, it is claimed to be the world's highest motorable road. There has been a lot of debate on this fact, with numerous researches arguing that its elevation is about 500 feet lesser than the said 18379 feet. But, the world's highest motorable road or not, Khardung La should be on your list for its sheer natural beauty. It is even more important for national security than Zoji La, as it is the way to the Siachen Glacier, the world's highest battlefield (no debates or doubts here). This is why you would find it functioning even if tens of feet of snow have fallen on it.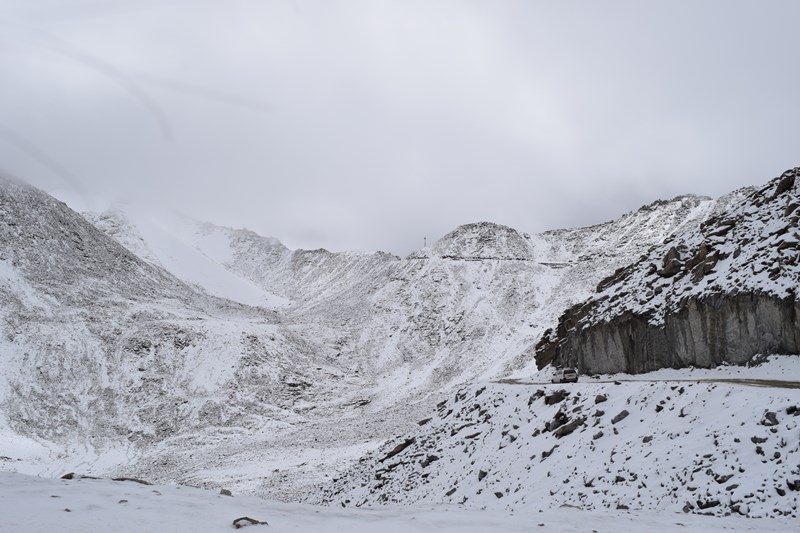 It is also important for tourism as it leads to the Nubra Valley, which has numerous monasteries, sand dunes and Bactrian camels. With sheer cliffs all around and imposing walls of ice on both sides, Khardung La is definitely the 'Rolls Royce' of mountain passes in terms of natural splendour.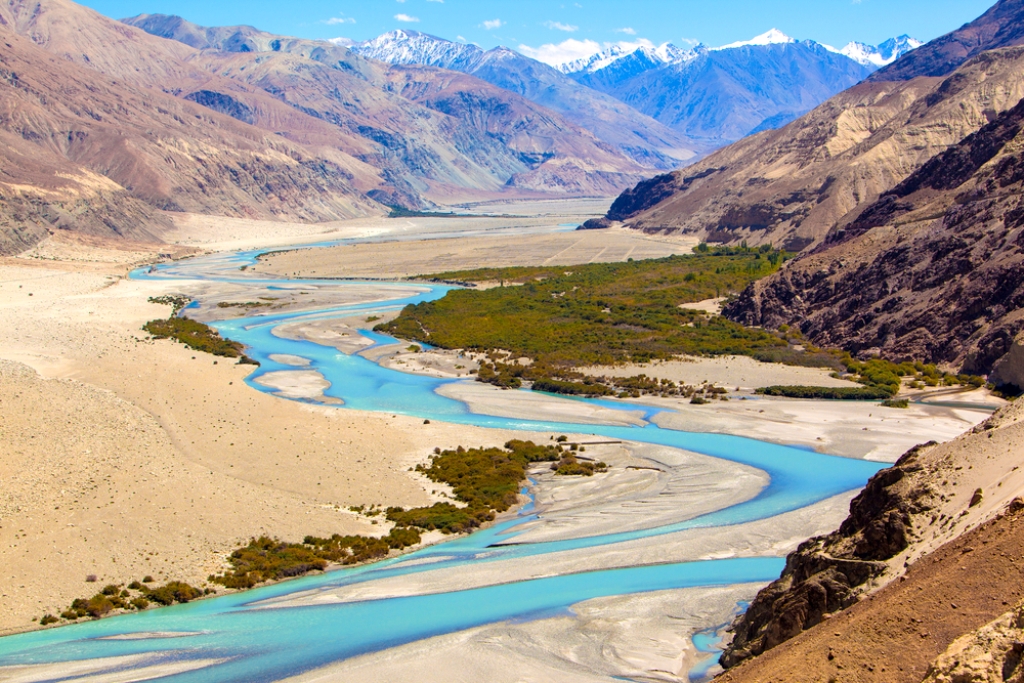 Chang La – See the 3 Idiots Lake
Another of the numerous mountain passes in the Ladakh region, Chang La has an elevation of around 17585 feet above sea level. I don't really need to tell you about the climax scene of 3 Idiots (it was such a hit movie). What I want to talk to you about is the location of that pretty lake, shown there, Pangong Tso. There is where travelling on Chang La will take you. To access the pass, you need to reach Karu, located on Leh-Manali Highway, and then head north. Drive for about 43 km on Pangong Lake Road from Karu to reach your destination.
Tanglang La – Hell to the Heavens
Also spelt Taglang La, this approximately 17480-feet high road through the mountains lies on Leh-Manali Highway. It has a relatively flatter terrain, when compared to the rest of Ladakh, with gently sloping mountains, surrounding it. The road to here and the feeling you get on reaching it will be as spectacular as the pass. To reach this surreal and peaceful place, you first have to cross Gata Loops, the name of which instils fear and awe in the heart of travellers, especially first-time drivers. Looking at the crest of this series of over 20 hairpin bends and switchbacks can give people vertigo. Driving on it, you might start asking, "When will this section end?" After it ends, another such section, but a minor one, comes, before you reach Morey Plains. A flat road, where you can really push that accelerator, would seem as if Hell (Gata Loops) is over and you are in Heaven. The pass takes the feeling of being in Paradise to the next level.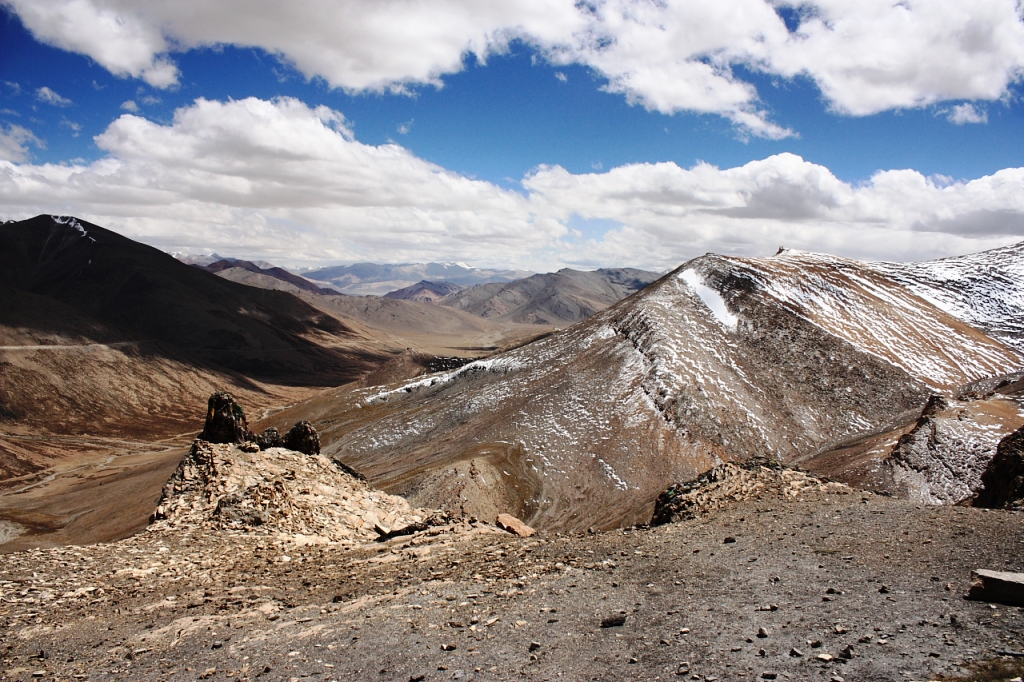 Nakee La – The Reward for Valour
Situated around 16000 feet above mean sea level, Nakee La is part of the series of passes, you encounter while going from Manali to Leh. Reached only by the most lion-hearted of all, it seems to reward them for their act of bravery. Wondering why I'm talking about a road trip like I'm writing a war chronicle? The reason is that to arrive atop it, you need to conquer Gata Loops, which I just described in the former section. On the road, you will see a yellow milestone with the words, "Don't gossip. Let him drive". Though intended to humour travellers, it is a solemn advice as well, which you must follow if you want to reach the beautiful setting, called Nakee La. If you need to take a break from the hectic driving, then stop here, not on the loops.
Lachulung La – Where Peace Reigns Supreme
The approximately 16600-feet high Lachulung La is also called Lachalung La or Lungalacha La. It is about 277 km from Manali on the road to Leh. The way to it is a bit tricky as it goes through numerous switchbacks, hairpin bends and blind curves. All that adrenaline rush, you get while on the road, will subside when you reach the top. There are colourful pieces of cloth with texts, hanging on a rope and fluttering with the wind. As per Buddhist beliefs, the wind sends the prayers to heaven. And, wherever there is a Buddhist presence, there is always peace. So, stop here for a while, write your wish on a cloth and just fix it with the hundreds others. Who knows, you may get what you want, soon.
Fotu La – The Monastic Path
At an altitude of about 13480 feet, Fotu La is a relatively lower mountain pass, when compared to others in the region. It is one of the two major passes on National Highway 1D, which links Srinagar to the Ladakh region. The view you get from atop it is incredible, snow-covered peaks under a bright, blue sky, and patches of green grass on the otherwise barren mountain slopes. While travelling to it from Kargil, you will pass the village of Mulbekh, which has a famous monastery. A Little further from the pass, is another monastic village, Lamayuru. Alchi and Likir that are also renowned for their Buddhist monasteries are also along the road beyond the pass. If you wish, you can visit each of these monasteries or gompas to learn about the faith and take blessings.
Namika La – A Prelude to the Real Deal
Around 12140-feet high, Namika La is among those mountain passes in Ladakh with the least altitude. It is on the section of Srinagar-Leh Highway that leads people from Kargil towards Leh. If you are going to the region for the first time, then it can serve as an ideal acclimatising spot before you go any higher. Atop it, there may be a risk of altitude sickness, but not much. If you find it enchanting, then what will come ahead will be almost inexplicable. It will also take you to numerous monasteries like those in Mulbekh, Likir, Lamayuru and Alchi.
These are the prominent mountain passes you can visit while on the road trip to Ladakh. If you want to do so, remember you have a narrow window as most of these are open only in summers. Even then, you would need to carry enough warm clothes; taking snow chains is also a good idea as there may be snow at the top. So, stop thinking, and plan a trip to see these amazing natural wonders that have been drawing loads to Ladakh.