Must-Do Motorbike Tours in the Himalayas

I am an ardent foody, who likes travelling. In my free time, I blast my ears with good-quality Heavy Metal. Watching culinary shows, writing songs, playing drums, guitar and keyboards, playing cricket and singing consume much of my leisure time.
If self-discovery is what you are looking for, then travelling on the endless roads on a motorbike is just the thing for you. A motorbike tour not just unleashes the adventurer in you, but is a journey of new experiences that can never be felt otherwise. Already feeling the adrenalin rush? Keep reading to know about some of the best motorbike routes in the Himalayas that will immediately beckon the rider in you. Here's our lowdown on the must-do motorbike tours in the Himalayas.
Motorbike Tour in Ladakh 
The concept of motorbike tours in India was made popular by the number of adventure enthusiasts, visiting Leh on their bikes. The challenging circuits, coupled with the beauty of the mountains, have attracted travellers from all across the world. The one thing that makes this trip the ultimate adrenalin-pumping experience is the unpredictability of the rocky terrain. Add to that the close brush-up with Tibetan culture, monasteries and nomadic tribes, and this motorbike tour turns magical.  There are many routes that you could take in this region, like the Manali to Ladakh, Srinagar to Manali, Chandigarh to Manali via Srinagar, Ladakh and back to Chandigarh, or you could simply fly to Leh and indulge in motorbike trips within Ladakh.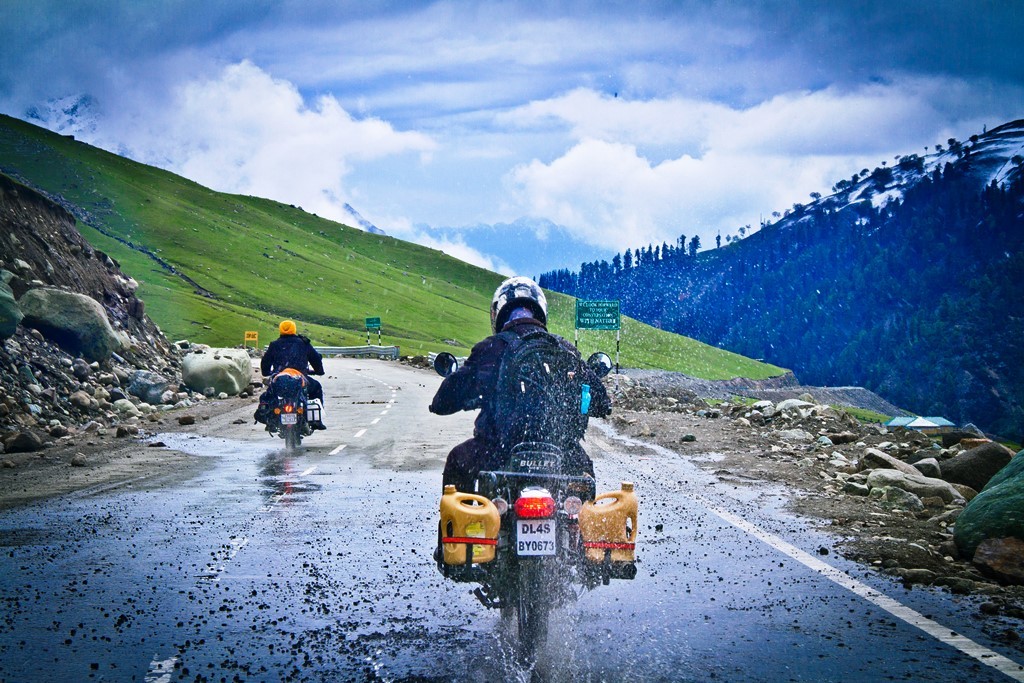 Highlights of the Trip
Biking across the pollution-free Himalayas and the Karakoram Range will revitalise your body, mind, and soul
There are no words enough to describe the exhilarating feeling of crossing Khardung La, Baralacha La, Rohtang Pass, Chang La, Namik La, Fotu La, Tanglang La, Lachlung La, Zoji La, Naki La and Fotu La – the world's highest motor-able passes
From the Hadimba Temple in Manali to the Tibetan Monasteries at high altitudes; they are all a symbol of cultural diversity and this motorbike tour will take you to all these and more
Nature's blessings like Pangong Tso, Nubra Valley and Tso Moriri, where you can just lay back and say goodbye to your troubles for a while
Treacherous roads like Gata Loops and a leisurely drive on the Morey Plains to hone your biking skills
Things to Remember
Ensure that you have packed durable, loose-fitting winter wear so that your movement is not restricted and you are protected from the cold air
Make sure that you are not carrying any expensive valuables
Acclimatise yourself from time to time to the increasing altitude and changing weather conditions
Carry a set of chains for your bike's wheels to help the vehicle get a better grip on the snow and ice
Motorbike Tour in Spiti 
Just like Leh, Spiti is also a popular motorbike tour destination for adventurous souls, who are driven by wanderlust. The Spiti Valley motor-biking circuit is full of scenic towns and villages that will totally enchant and make you want to stay here forever. From Shimla and Kaza to Chandratal and Manali, this motorbike tour is full of surprises and adrenaline-charged experiences. A motor biking tour in the Spiti Valley takes you through the lush apple orchards, past spellbinding mountain peaks and impromptu waterfalls, along mighty rivers, and through immense cultural diversity.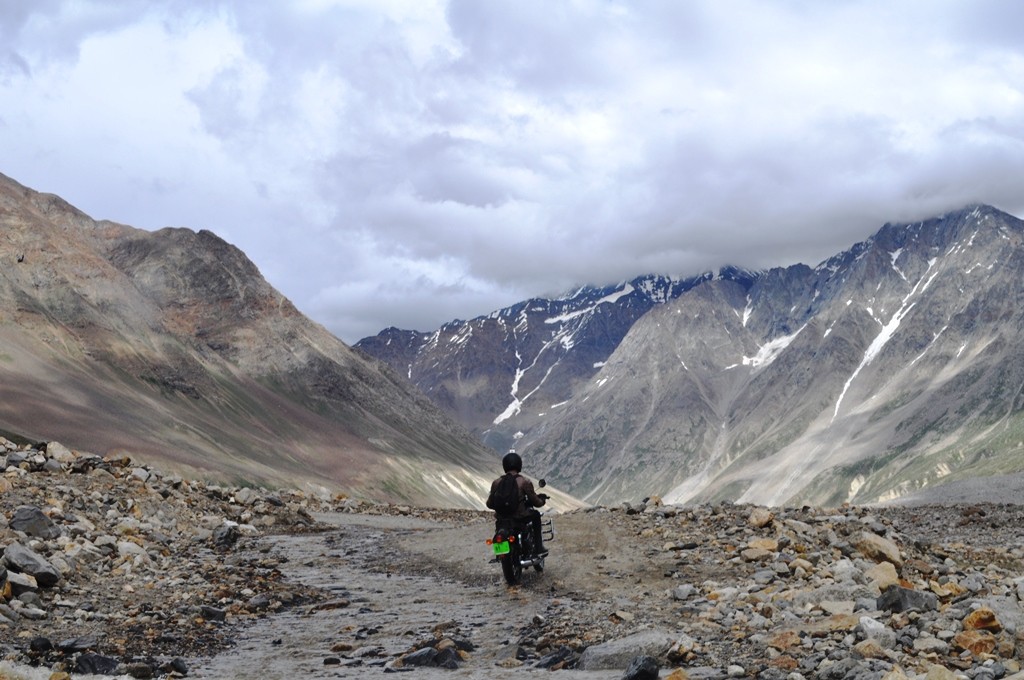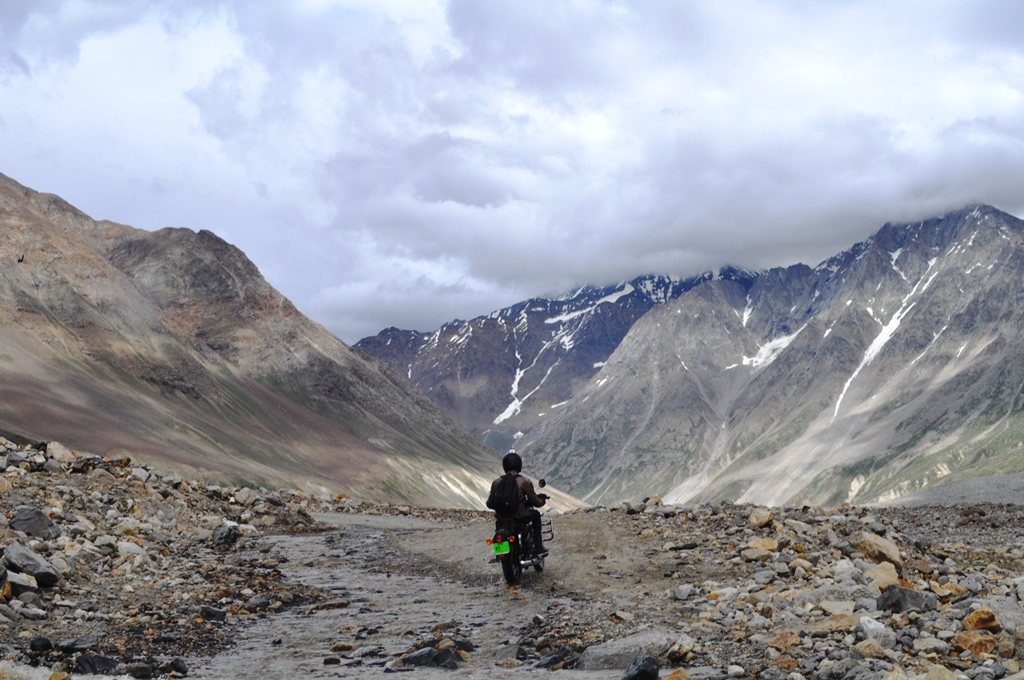 Highlights of the Trip
The amazing trek to Hatu Temple in Narkanda
Sarahan, well known for offering a close brush-up with nature and Buddhist culture
Camping in the apple orchards of the Sangla Valley
Coming seriously close to the Kinner-Kailash Range in Kalpa
Giu Mummy, a symbol of ancient Tibetan Culture
Kah Loops, an experience exclusive to road trippers
Nako Lake, a visual treat for nature lovers
Dhankar Monastery, nestled in the midst of high mountains and the bluest of rivers
Pin Valley National Park, a heaven for wildlife enthusiasts. One can stroll in its untouched landscape and spot animals like snow leopards, griffon and bearded vultures, and ibexes, red foxes and bharals
Things to Remember
The weather conditions in the valley are unpredictable and can be harsh at times even in summers. Remember to pack accordingly
Ensure that you have sufficient gear to repair your motorbike on your own if the need arises
Remember to fill up your tank from time to time because once you are deep in the valley, the petrol pump service will not be always available
Motorbike Tour in Bhutan 
A motorbike tour in Bhutan is an incomparable experience, which will take you to new heights of adrenaline-charged happiness. Its high mountains, challenging routes and dense forests call out to all adventure enthusiasts and will compel you to stay back longer than you intended. The fact that the Bhutan Government limits the number of tourists, who can visit the kingdom, has ensured that its natural beauty remains untouched. It would leave a long-lasting impression on the memories of those lucky enough to come here.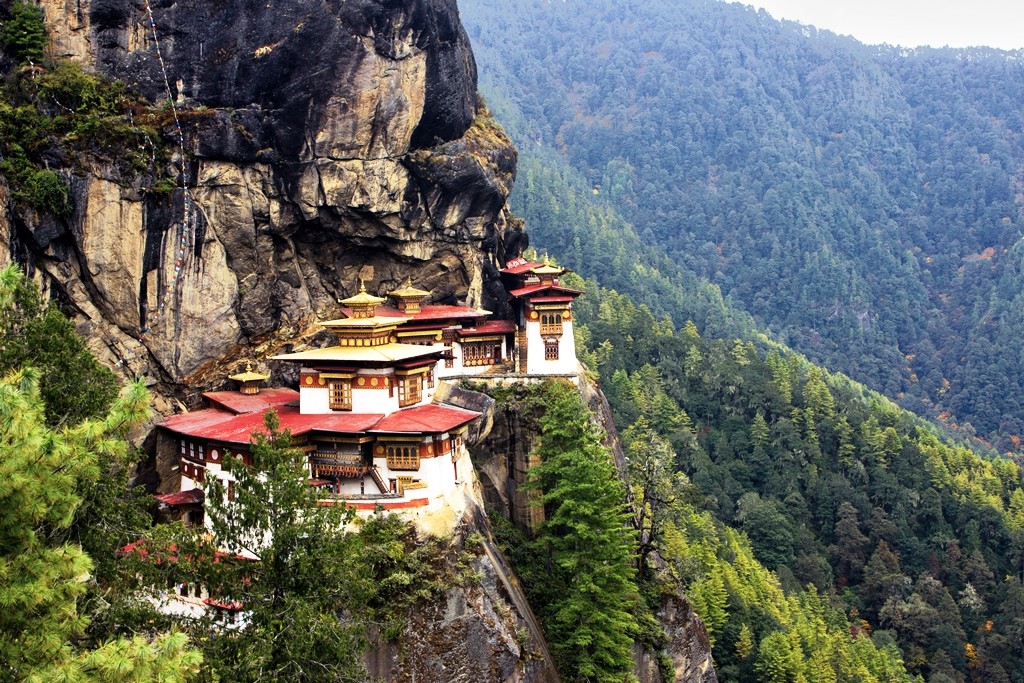 Highlights of the Trip
Paro Valley because it has one of the most scenic country sides
Taktsang 'Tiger Nest' Monastery for its ancient caves and hiking trails
Bumthang for providing an opportunity for canvassing its laid-back markets, and seeing the traditional life of the locals
Jigme Dorji National Park for its pristine lakes and foaming rivers along with sightings of rare species of flora and fauna
Hiking and cycling in Punakha will help you acclimatise. You can also visit the confluence of two mighty rivers, Po Chhu and Mo Chhu, in this region
Bumdeling Wildlife Sanctuary for its ultimate motor biking trails, and the majestic and sacred black-necked cranes
Things to Remember
Try and visit Bhutan at those times when there are local festivals going on. The pomp and fare of these festivals is so grand and colourful that they will fill your heart with happiness.
Motorbike Tour in Rara Lake, Nepal 
The motorbike ride to Rara Lake is nothing less than a ride from earth to moon, and there are only a few rides as challenging as this one. The path to the lake is among the most dangerous roads in the world as mentioned by National Geographic. The hairpin bends, broken patches and endless gorges all add up to the hair-raising and adrenalin-pumping experiences on the way to the waterbody. It is one of the most picturesque landscapes across the entire Himalayan Range. The valleys you pass on this route are blessed with nature in a way that is both unique and inexplicable. From the mountain streams to mountain villages, all are a dreamlike combination of beauty and peace. What makes this motorbike tour even more endearing is that the ride to Rara Lake is as lovely as the place itself. The vibe around Rara Lake is such that it instantly calms your nerves and takes you to your happy place.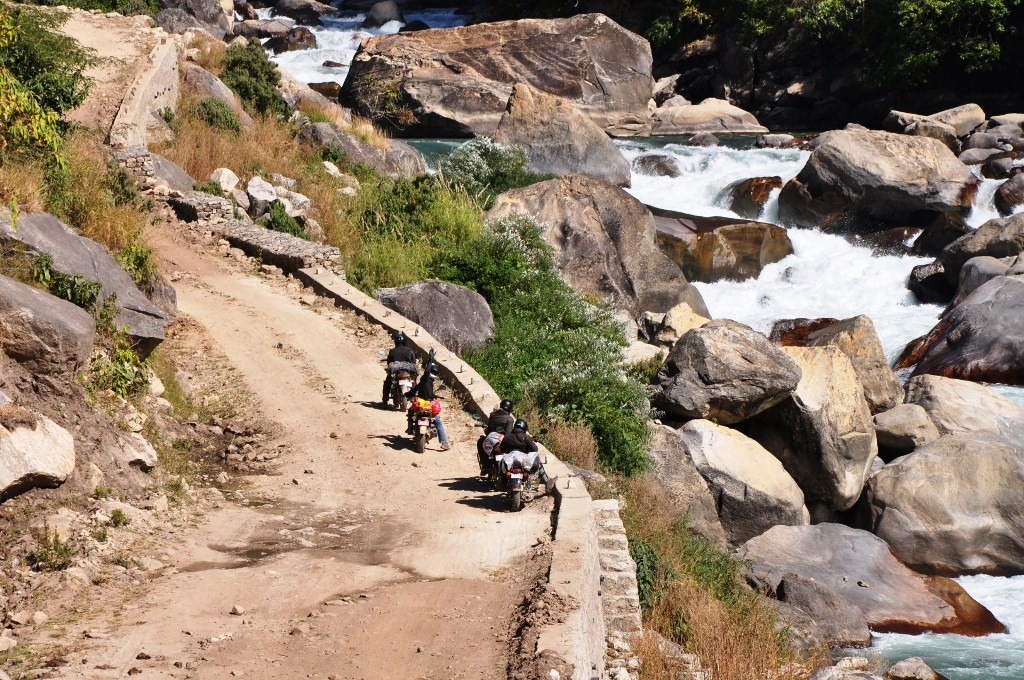 Highlights of the Trip
Bardia National Park, which is lush and offers diverse flora and fauna sightings
The hairpin bends on the way to Rara Lake give the ultimate thrill to motorbike enthusiasts
The road alongside the Karnali River is an experience on its own
Kalikot is an excellent place for gazing at the mighty Himalayas
Things to Remember
Pack light woollens even in summers as the moderately high altitude of the lake results in relatively low night temperatures
Pick tyres with prominent treads for your bikes as the road would be rocky or loose for a significant part of the journey
Motorbike Tour in Mustang, Nepal 
The Mustang motorbike tour can be classified as a 'classic' bike adventure as it has been luring tourists for quite a long time. On the way, the roads are really picturesque, and the entire route is capable of giving you perpetual goose-bumps. If you are lucky, you might even spot some regional animals while biking. The fact that it is travelled by only the biggest, most -ardent adventure enthusiasts makes this motorbike tour a special one.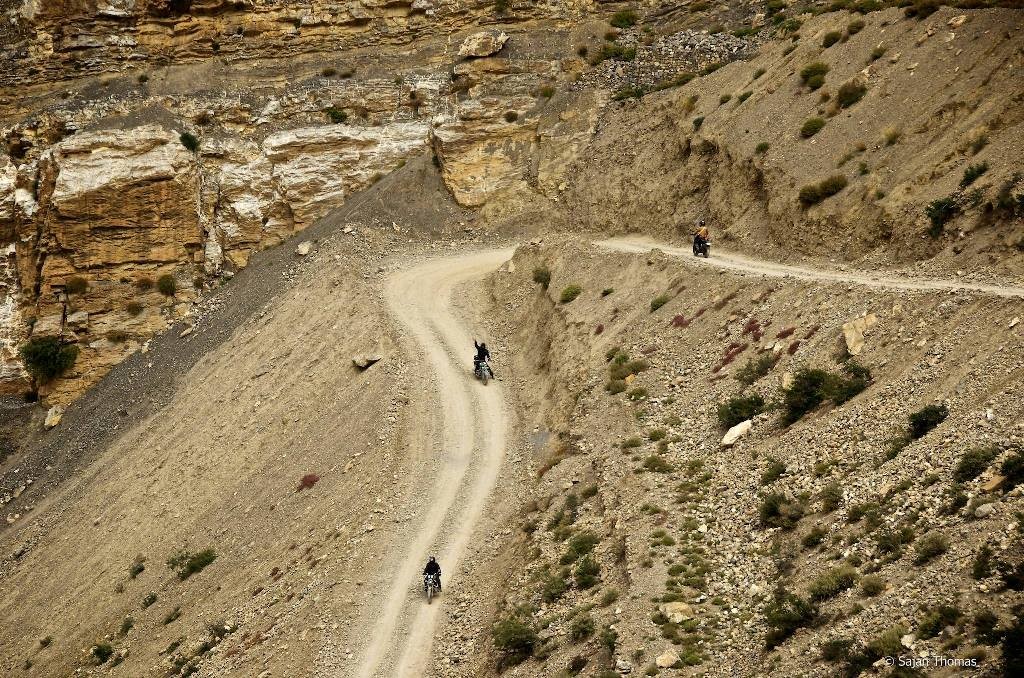 Highlights of the Trip
Pokhara, a lakeside city nestled in the lap of the Annapurna Mountain Range
Tatopani, a hot spring, deep in Nepal
The ancient salt trading route along the Kali Gandaki River
Bandipur, the only town where vehicles are not allowed; therefore, nature's beauty is intact
Things to Remember
The road conditions are very tough and challenging and thus, you need to be mentally and physically well prepared
Remember to rent a Royal Enfield, which is the best vehicle for traversing this route
A motorbike tour across the Himalayas will take you far away from the city madness and bring you closer to your own self. All you need is the will and grit to meet the challenge head on!