Best Ways to See India from the Air

I am an ardent foody, who likes travelling. In my free time, I blast my ears with good-quality Heavy Metal. Watching culinary shows, writing songs, playing drums, guitar and keyboards, playing cricket and singing consume much of my leisure time.
As adolescents, probably we all have imagined ourselves flying in the blue sky among the white clouds and watching all the glory of the world from up above; just like the birds. Isn't it? We all desired so, maybe because we associated a sense of freedom with it, and probably we felt an adrenaline rush just by thinking about it.
Today, after so many years, if you are still unable to put that desire down, then just don't, because now you can actually realise it. How? Well, today a number of aerial activities are being organised all over India by professionals, who guarantee to give you some of the most adventurous moments of your life, assuring safety and top quality. Read on to know more about these sports, and where and how they are offered. See India from the air with us.
Paragliding
Paragliding is an adventure sport, where one flies with the help of a fabric wing which is connected to what is called a canopy or paraglider. Weather, especially wind, plays an important role in this activity as depending on it the launch of a glider is possible. Therefore, most launches are made from a height, where it is not only easy to ascertain the wind flow patterns, but also gives the flier the opportunity to glide a certain distance before reaching the ground and if possible enter thermals (rising currents of air) to climb high, sometimes much higher than the take-off spot. This sport is offered at different places in the country, but there are some places where it can be enjoyed the most, and these are Kamshet, Maharashtra and Bir Billing, Himachal Pradesh. For amateurs or first timers, tandem paragliding is the best option as the flying of the glider is taken care of by the pilot while they enjoy the view from the passenger's seat. Those interested in becoming paragliding pilots can do so by taking certified courses offered by reputed paragliding institutes.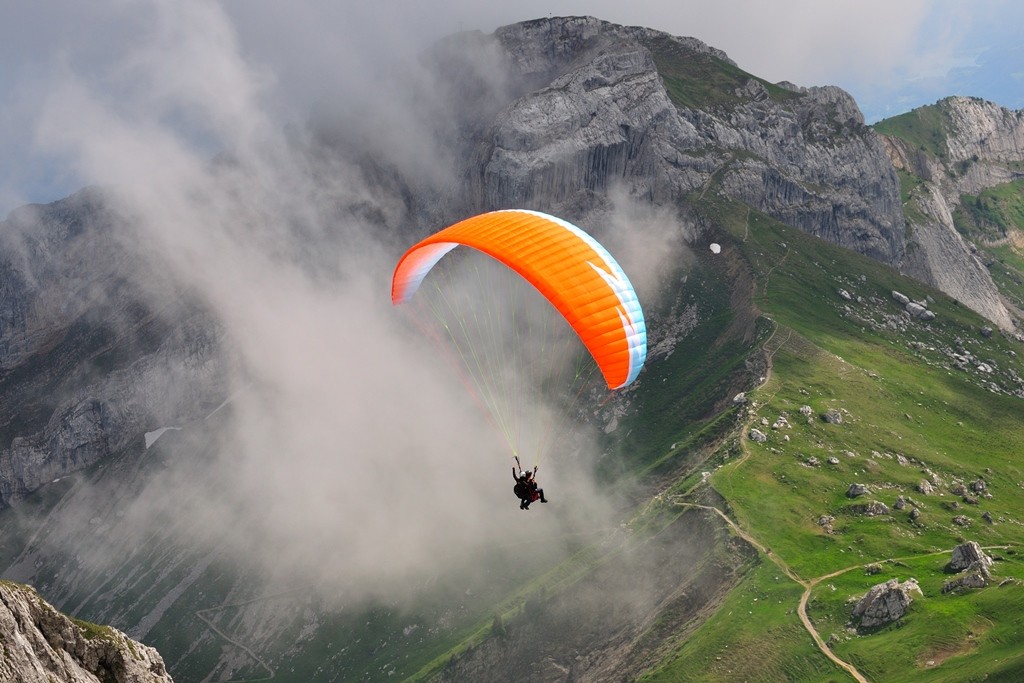 Hot Air Ballooning
Hot air ballooning is another airborne sport, which involves flying a large balloon that is inflated by heating the air inside the balloon using propane burners. Before the launch, the balloon is filled with cold air from powerful fans. Unlike other airborne sports, this is completely dependent on the direction of the wind and its speed. Most hot air balloon launches and landings are performed either two hours prior to the sunrise or sunset, as during these times the winds are gentle, making it easy to launch and land the balloon. Some of the places in the country where this sport can be enjoyed are Lonavala in Maharashtra; Jaipur and Pushkar in Rajasthan, and Goa. Typically, a restricted number of people can be aboard this balloon at a time, and they must be physically fit to stand for an hour (the usual duration).
Paramotoring
Paramotoring is nothing but powered paragliding, which has taken paragliding to a new level. Operated by professional pilots, this light-weight aircraft usually includes two seats, one for the pilot and other for the passenger. Unlike normal paraglider aircraft, this one is less dependent on the wind flow and more on the two-stroke engine attached to it. Usually, a paramotoring ride is offered for an hour, but in addition to that pre-flight instructions are imparted to the passengers for their safety. In India, this sport has gained huge popularity in Gurgaon and Chandigarh. Since it is offered all through the year, you can take part in it when you visit any of the two cities. During the flight, you can enjoy a scenic bird's-eye view of these cities and take some breathtaking photographs.
 Plane Ride
Over the years, private plane rides have garnered a lot of popularity in cities like New York, Dubai and Los Angeles. In India, this activity gained prominence quite recently; however, its presence a few decades back cannot be denied. Mumbai, Chennai and Hyderabad are among those Indian cities where these private plane rides can be enjoyed. This activity includes a 30/60-minute flight, offering the riders an opportunity to admire the aerial view of the landscape below. Another important part of it is the pre-flight briefing by the pilot or an expert. If you live in any of these three cities or are planning to go there for a vacation, then do go for this thrilling activity to witness some of the top attractions of these places from the sky. While you are up in the air, do not miss out on clicking photographs to show them off to your family and friends.
Helicopter Ride
It is similar to a plane ride, and the only added advantage that it offers is that it can fly at a low height encircling an area to give a complete 360-degree view. This activity usually includes a 30-minute flight and pre-flight briefing from the pilot. One of the places where this can be enjoyed is Pune. The type of helicopter used for this purpose is R44. Minimum 3 persons are required to make a booking for this ride, which starts from Pune Airport and flies over Pune Railway Station, Magarpatta, Shaniwar Wada, Pune Municipal Corporation, Lavasa, Deccan Gymkhana, Dagdusheth Ganpati and Kothrud. Probably, it is the best way to get an aerial view of this calm city in Maharashtra. 
Zip-Line
Zip-Line is a sport for those who love the thrills and excitement of extreme adventures. In this sport, a cable wire (usually made of stainless steel) consisting of pulleys is mounted on a slope. Enthusiasts are supposed to wear a harness, which is attached to these pulleys and slide from the slope to the other end of the cable. This activity is a popular sport in Rishikesh and is called flying fox. During this sport in Rishikesh, one gets an opportunity to enjoy panoramic views of this holy city and travel across the mighty Ganga River.
Bungee Jumping
This dare-devil adventure is only those who love heights and dream for jumping off a high cliff. In this sport, the person is attached to a large elastic cord with the help of an ankle attachment. Once all the safety procedures are done, the person can jump from a platform and feel the excitement of freefalling. It is one of the most popular activities in Rishikesh, and the jump offered here is from a height of 83 m. This can be enjoyed by anyone over the age of 12, with a minimum weight of 35 and maximum of 110 kg. Since it is done under expert guidance, safety is never an issue.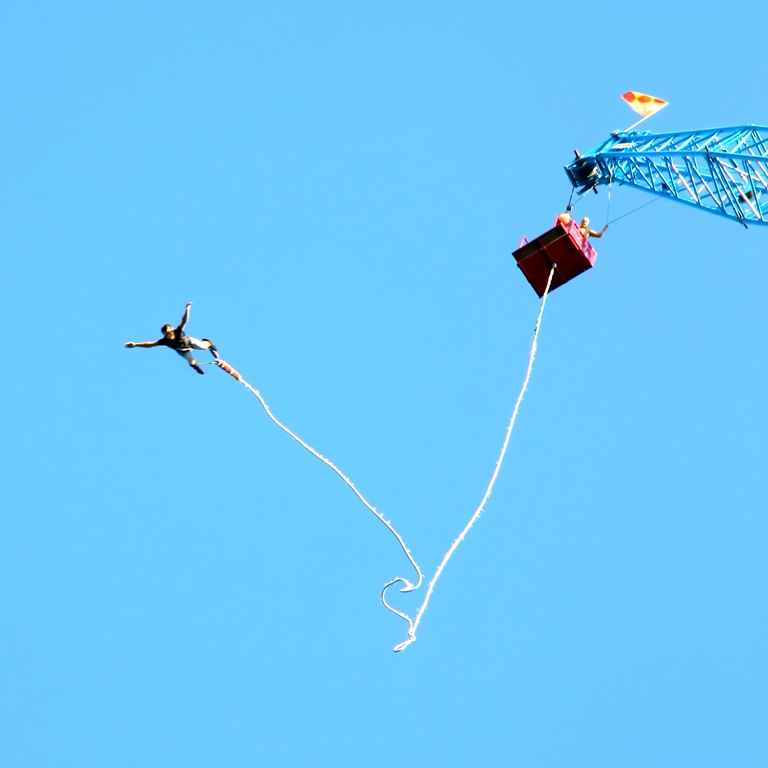 If you are not afraid of heights and are willing to take aerial route to view scenic landscapes like a bird, then do try these activities to take the dare-devil quotient a notch higher.