The Chadar Frozen River Trek

A writer by passion and profession, I spent my school days reading John Grisham, Sydney Sheldon, and Agatha Christie, and often wrote poetry that was rather solemn for my teenage years.
With one foot in the real world and another in Middle Earth, Westeros and sometimes even Westworld, I love nothing more than a good fantasy-fiction story. It provides an escape from the mundane and also a host of characters to form lifelong connections with.
Another form of escape that I quite enjoy is travelling and writing about it. The stories of people and places, when presented with an individual's unique perspective, can make quite an impact on the readers.

Latest posts by Shuchita Joshi (see all)
Located in the Zanskar Valley, the Chadar Frozen River trek offers a unique trekking experience and makes the wish list of every trekking enthusiast. This trek is definitely not for a novice, and even for seasoned trekkers, who have experience of many Himalayan treks; this trek is nothing like they have seen before. The hardly habitable environment of the 'Chadar' has all the makings of an extremely challenging trek – one which dares a trekker to test his/her attitude and tolerance while providing some of the best visuals imaginable. On Chadar trek, the only constant is the freezing cold, with temperatures dropping to 30 degrees below zero at times. Dressing sensibly is of vital importance. It is difficult to accurately predict the environments at the Zanskar frozen river trek; but here is a general outline of what to expect on this winter trek: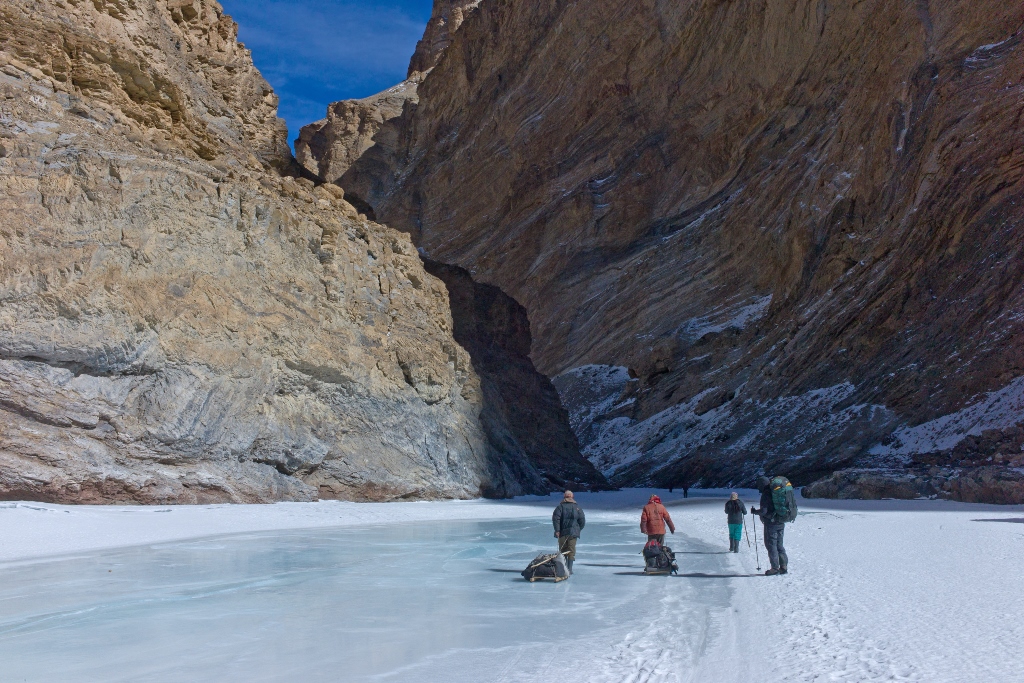 1. Best time to go –
Chadar literally means sheet and in this case a sheet of Frozen River. January to February is the time when the upper layer of the river gets hard and trekkers can walk gently on it.
2. Difficulty level –
The difficulty level of the Chadar Trek can be divided into two parts – terrain and temperature. While the terrain makes it moderate the freezing temperatures make it difficult.
3. Temperatures –
During the day time temperature will be +5 to -5 degrees and during the night time -20 to -30 degree. It's not something that the human body cannot withstand if adequately prepared.
4. Distance covered per day –
Average walking distance is 10- 12 km each day and trekkers mostly cover it in 5-7 hrs.
5. Leaders and guides –
Trek is always lead by a professional and experienced trek leader who has completed basic and advanced mountaineering courses and is also certified in first-aid. In addition to that one local guide, cook, helper, porter and other staff is there too.
6. Group size –
Most groups consist of 15-18 people. However to run a fix departure a minimum of 6 people are required.
7. Safety for women-
Security and safety of women and the rest of the group is our foremost concern. The trek environment is friendly and the support crew and guides are chosen carefully for the trip.
8. Things to carry –
Once the booking is made, we send you the list of all the items you need to carry for the trek.
9. Porter/Mule service –
For those who for some reason cannot carry their own bags, a porter or mule can be arranged at a request made 15 days in advance. There will be an additional cost for this.

10. Fitness level –
It is important to have an optimum level of fitness before setting out on a trek. Going for regular runs, brisk walks and breathing exercises would be good ways to prepare for the trek.
11. Food –
Indian vegetarian food and eggs are served during the trek.
12. Safe drinking water –
Himalayan water is considered clean but to be on the safe side there is boiled water and chlorine tablets are also available at the camps.
13. Medical assistance –
Trek leaders are certified in Wilderness first-aid and aware of high altitude problems. There are first-aid kits and necessary medicines available. Make sure you are medically fit for a trek or take professional advice if you feel you are unable to judge yourself.

14. Personal medicines –
If you are on any prescription drugs or there are other basic medicines that suit you better, carry those.

For more great trips log on to www.adventurenation.com