Via Ferrata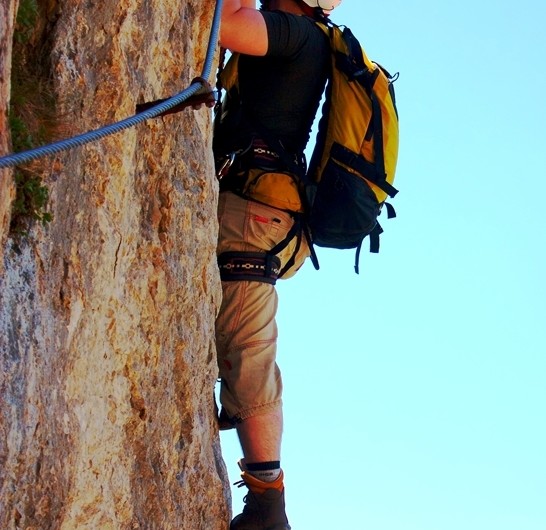 I am a happy-go-lucky person, who loves reading, writing and travelling. Gardening and good food are the other things that I am passionate about. My motto in life is simple, "Love what you Do and Do what you Love".
Latest posts by Meenakshi (see all)
What it means – A Via Ferrata or Iron Way or Iron Roads is a fixed protection climbing path or route found primarily in the Alps. The term originates from the Dolomites mountain range in Northern Italy.  Its core is a steel cable that runs along the path and is sporadically fixed to the rock. Climbers secure themselves to the cable and also use the cable as a climbing aid. Other climbing aids include pegs, carved steps, iron rungs and sometimes bridges and ladders. It makes an otherwise unsafe route relatively easy. Even those with very less or no climbing experience get the chance to reach places otherwise only accessible to avid mountaineers. All you need is some basic equipment and technique coupled with the will to do it!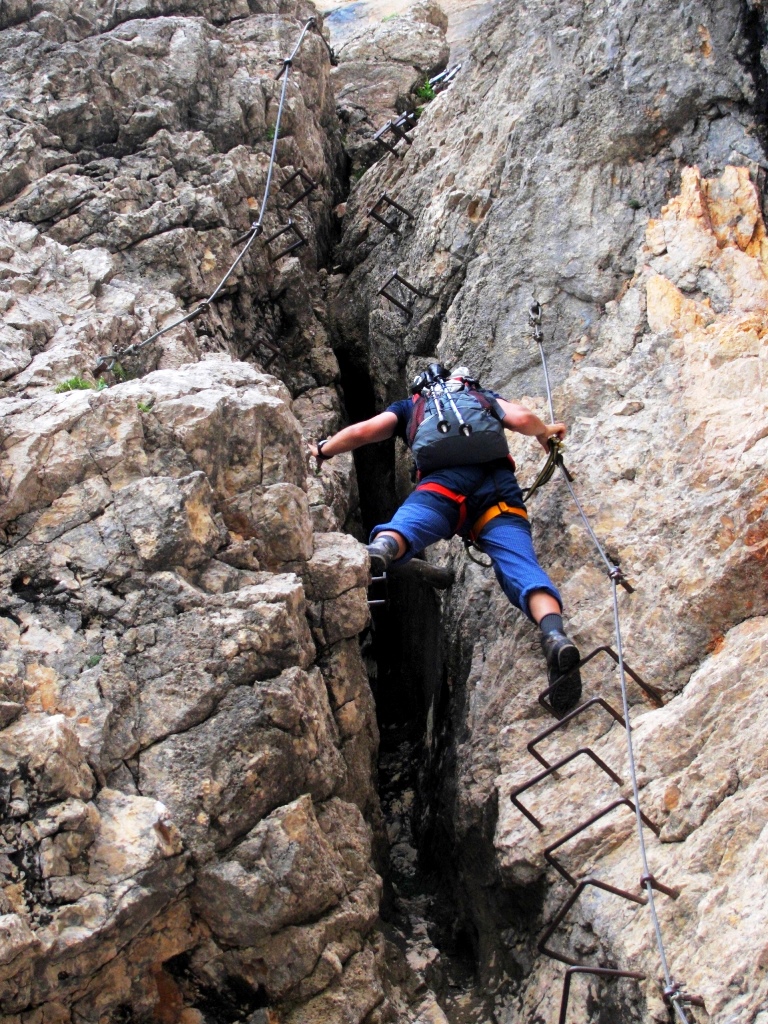 Origin and History – Simple paths with basic protection aids and ladders have been there in the Alps for centuries. These paths helped the natives connect to the high pastures. These constructions date back to the early nineteenth century, during the time of the early Alpine exploration, and can be considered as a harbinger to the modern day Via Ferrata. Via Ferratas are also strongly linked to the First World War when, to assist the movements of the troops, many of them were constructed by the Italian Army on the Dolomite Mountain range in northern Italy. This was primarily to access difficult peaks and to also carry heavy equipment.
Development – Via Ferrata is a new adventure activity and is often tried by people looking for something slightly more challenging than the routine alpine hiking and climbing. Many new paths have been developed over the years, especially recently and their tourism benefits recognized. They have gained popularity amongst serious climbers and amateurs alike. Traditionally associated with the limestone mountain regions in Italy, Via Ferratas have found their way to other mountain ranges outside Europe too. There are more than 1000 Via Ferratas in the world today, majority in the Alps.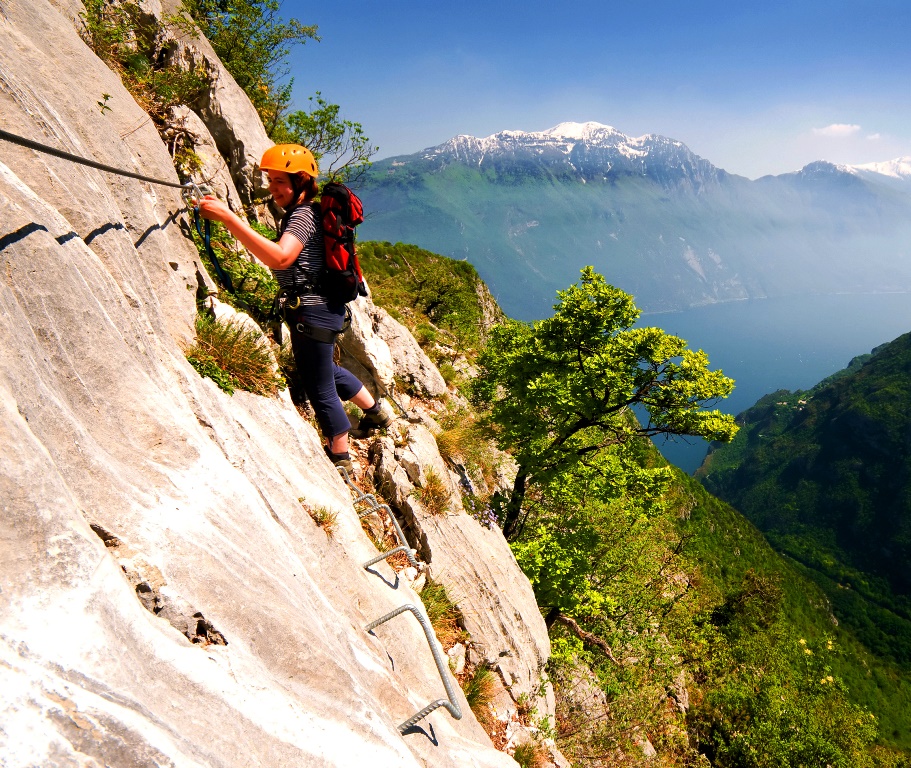 Safety and Equipment – Via Ferratas were primarily climbed using basic equipment like carabiners or slings attached to a rope or harness. However it was soon realized that these did not provide much safety or prevent serious injury. To resolve this, many devices have been developed that act as shock absorbers. These are aimed at dispelling energy of the fall efficaciously, keeping the climber safe. A Via Ferrata set contains a lanyard and two carabiners. The lanyard comprises of an energy absorbing system, two arms that connect to the cable and a way of connecting to the harness, forming a "Y". It's called a Y tape configuration and is the only type to be approved by the UIAA. It is safe and simple.
One of our Adventure Nation Gurus, Amit Chowdhury is an esteemed member of the UIAA.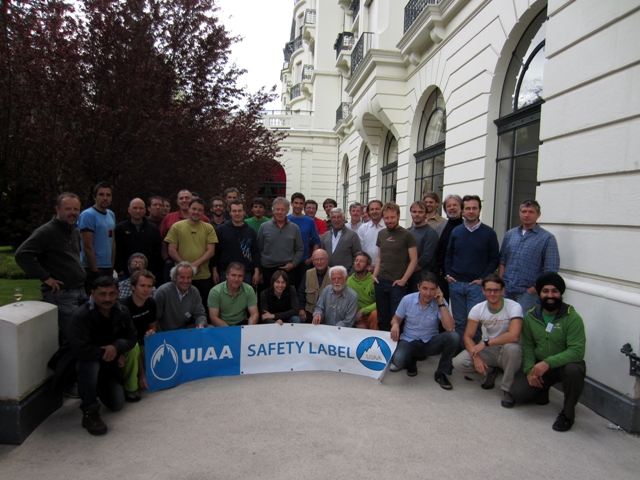 Grading and Types – Via Ferratas vary in length and difficulty levels, from under one hour short tours to long and demanding alpine routes at high altitudes that can take 8-10 hours to finish! These routes can sometimes be just simple paths in spectacular surroundings to very steep and dangerous treks. These definitely require the strength, if not the technique, of serious rock climbing. There are numerous grading systems that exist today and most focus on the difficulty level of the toughest passage, using a 5 or 6 point scale. The Kurt Schall guides use an A to E 5 point scale.
Routes – Even though primarily in the Alps or Northern Italy, Via Ferratas can now be found in Austria, Switzerland, France, Germany, Norway, Poland, Slovenia, Spain, UK, Canada, USA and other countries in Southeast Asia. There are more than 400 Via Ferratas in Italy, over half of them located in the Dolomites.
Most notable routes are Via Ferrata Averau, Via Ferrata del Canalone, Via Ferrata Burrone Giovannelli near Mezzocorona, Via Ferrata Lagazuoi Tunnels. Another interesting and historic route is the VF Ivano Dibona, involving a traverse of the main Monte Cristallo ridge.