National Parks of India


A writer by passion and profession, I spent my school days reading John Grisham, Sydney Sheldon, and Agatha Christie, and often wrote poetry that was rather solemn for my teenage years.
With one foot in the real world and another in Middle Earth, Westeros and sometimes even Westworld, I love nothing more than a good fantasy-fiction story. It provides an escape from the mundane and also a host of characters to form lifelong connections with.
Another form of escape that I quite enjoy is travelling and writing about it. The stories of people and places, when presented with an individual's unique perspective, can make quite an impact on the readers.

Latest posts by Shuchita Joshi (see all)
Jim Corbett National Park
The first National Park to be established in mainland Asia (1936), CorbettNational Park has captured the imagination of many with the diverse wildlife and the natural uniqueness of the area. It is situated in the town of Ramanagar in the Nainital district of Uttrakhand. Covering an area of 521 sq km, it offers a remarkable variety of landscapes formed by the streams, rivers and many ridges crisscrossing the terrain.
CorbettNational Park is home to a varied species of plants, birds and land animals. Among the birds Crested Serpent Eagle, Red Jungle Fowl, Blossom-headed Parakeet are commonly seen. Kalagarh dam located in the south west of the wildlife sanctuary is considered to be the best place for birding.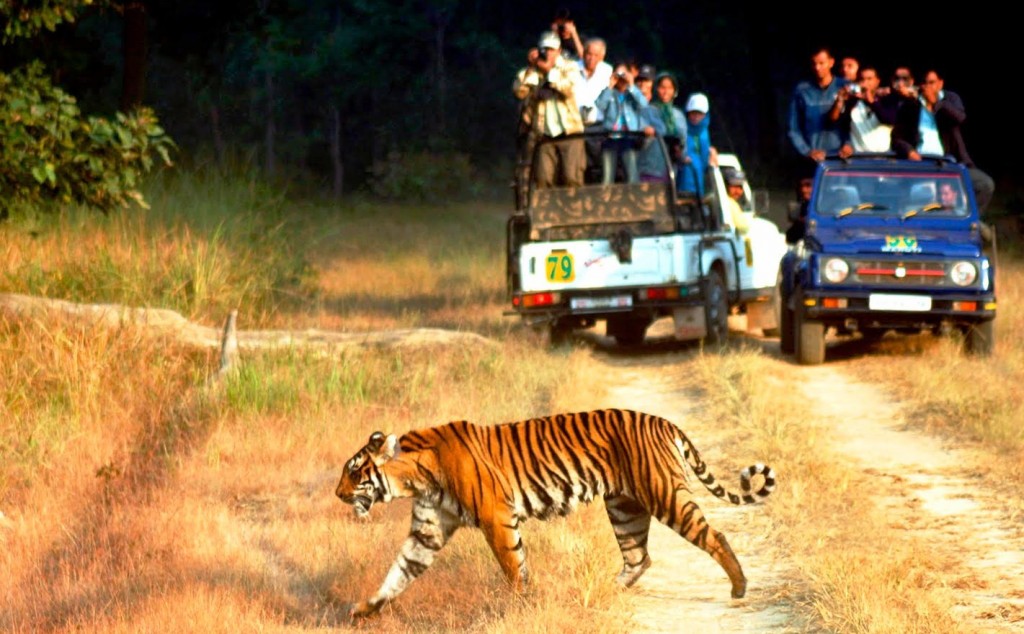 Jeep safari is the best way to travel within the park and witness the majestic Bengal Tigers in their natural surroundings. Dense foliage, the RamgangaRiver and plentiful prey make this a perfect habitat for tigers that are opportunistic feeders. Leopards are also found in hilly areas and other small cats like Jungle Cat, Fishing Cat and Leopard Cat. Other land animals include Hog Deer, Barking Deer, Sambar, Chital, Himalayan Black Bears, Otters, Indian Grey Mongoose, Langur and Indian Pangolins. Indian Elephants are seen in large herds in the summer and the Indian Python found in the reserve is a deadly species, capable of killing large animals. RamgangaRiver is home to local crocodiles that were saved from extinction and released here.
Click Here for trip details
Bandhavgarh National Park
Located in the Umaria district of Madhya Pradesh, BandhavgarhNational Park is one of the most popular National Parks in India (established in 1968). Spread in an area of 105 sq km, it has a large biodiversity and one of the highest densities of Bengal Tiger population in the world along with various species of Deer and large breeding population of Leopards.
In addition to the Tiger, which is at the top of the food chain, it has 37 species of mammals. According to forest officials more than 250 species of birds, about 80 species of butterflies and many reptiles are found here. It has four main zones namely Tala, Magdhi, Khitauli and Panpatta out of which Tala is the richest in terms of biodiversity, primarily tigers. Together these 4 zones form the core of the Bandhavgarh Tiger Reserve constituting a total area of 694 sq km.
The popular Bandhavgarh fort is said to be more than 2000 years old and it has 39 caves. This park has a rich historical past as before being declared as a National Park it was a game preserve of the Maharajas and their guest.
Click Here for trip details
Kanha National Park
Situated in the Mandla and Balaghat districts of Madhya Pradesh, Kanha is a National Park and Tiger Reserve, created in 1955. It stretches over an area of 940 sq km and is the largest National Park in Central India. It has a substantial population of Royal Bengal Tiger, Leopards, Sloth Bear, Indian Wild Dog and Barasingha.
Its meat-eating population includes Tigers, Leopards, Wild Dogs, Foxes, Jackals and Wild Cats. Among the Deer species, Swamp Deer or Hard Ground Barasingha is the pride of the place as it is the only sub species of Swamp Deer in India. Other commonly seen animals in the park include Sambar, Barking Deer, Spotted Deer and the four-horned Deer. Black Buck has recently been reintroduced inside a fenced area in the park. Also present are nocturnal animals like Cobras, Pythons, Rat Snakes and Vipers.
It also houses more than 1000 species of flowering plants and boasts beautiful meadows.
Click Here for trip details
Kaziranga National Park
KazirangaNational Park has a rich history. Established in 1905 as a reserve forest, it was named Kaziranga Wildlife Sanctuary in 1950 and declared a National Park in 1968. A World Heritage Site, it is home to two-thirds of the world's Great One-horned Rhinoceroses. It boasts the highest density of Tigers among protected areas in the world.
Covering an area of 378 sq km, it houses significant breeding populations of 35 mammalian species. In addition to the Rhinoceroses, it is also home to large breeding populations of Wild Asiatic Water Buffalo, Elephants, Eastern Swamp Deer, Indian Muntjac, Wild Boar and Hog Deer. It has close to 57% of the total population of the Wild Water Buffalo in the world.
It is also one of the few wild breeding areas outside of Africa, for multiple species of large cats. This National Park is home to a large variety of migratory birds, water birds, game birds, predators and scavengers. Seven species of Vultures were once found here out of which only 3 have survived.
Click Here for trip details
Sunderbans National Park 
A part of the Sunderbans on the Ganges Delta, Sunderbans is a National Park, Tiger Reserve and a Biosphere Reserve. It is thickly covered by Mangrove forests and is one of the largest reserves for the Bengal Tiger. Home to a variety of birds, reptiles and the salt water crocodile, the Sunderbans Tiger Reserve was created in 1973 and declared a Reserve Forest in 1978, a National Park in 1984, a World Heritage Site in 1997 and the entire Sunderbans area declared a Bio-sphere Reserve in 1989.
It is made up of 54 islands covering 4264 square km in India alone (with a larger portion in Bangladesh). Crisscrossed by several tributaries of the GangesRiver, it is the largest estuarine mangrove forest in the world which consists of 64 plant species.
Apart from the Royal Bengal Tiger, Fishing Cats, Leopards, Wild Boars, Macaques, Indian Grey Mongoose, Chital are also found in abundance in the Sunderbans.
Click Here for trip details
Gir Forest National Park 
Established in 1975, GirForestNational Park is a forest and wildlife sanctuary in Gujarat. Located 43 km north-east of Somnath, it covers a total area of 1412 sq km and is the sole home of the Asiatic Lions.
GirForest has close to 500 species of plants and the forest is an important biological research area. The distinct animal species include 38 species of mammals, close to 300 species of birds, 37 species of reptiles and more than 2000 species of insects.
The prominent meat-eaters are Asiatic Lions, Indian Leopards, Sloth Bears, Indian Cobras, Jungle Cats, Golden Jackal, Indian Mongoose and Striped Hyenas. The herbivores consist of Nilgai, Sambar, Four-horned Antelope, Chinkara and Chital. An on going Lion breeding program is being run from one of the centers established at Sakkarbaug Zoo, Junagadh which has successfully bred close to 180 lions.
For more trips log on to www.adventurenation.com